Thursday, October 26th, 2017 ( 1 year ago )
Stable Notes
Oct 26, 2017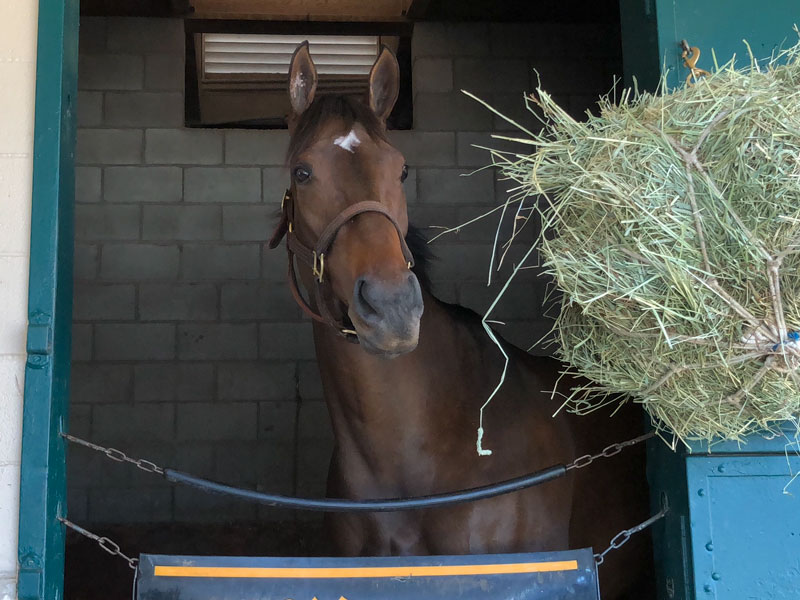 Lady Aurelia
TICK, TOCK, TICK, TOCK … BREEDERS' CUP COUNTDOWN GETS SHORT
The Longines Countdown Clock on the corner of Via de la Valle and Jimmy Durante Boulevard, ticking down to the 2017 Breeders' Cup Championships, of which Del Mar will be a first-time host, dipped under the eight-day mark Thursday.
Preparations have been progressing steadily since the 78th summer season at the seaside track concluded on Labor Day and there's dawn-to-dusk activity on the grounds as the Nov. 3-4 days of 13 Breeders' Cup races totaling $26.5 million in purses approach.
Horses were permitted on the grounds at midnight on Sunday and the main track and paddock opened on Monday. Wednesday was the first for paddock and gate schooling.
Racing Secretary David Jerkens said Thursday morning that there were 150 horses on the grounds for the Bing Crosby Fall meeting that begins on Wednesday, November 1.
Jerkens expects the number to swell into the 600 range with the influx from around the nation and world for Breeders' Cup week and settle in the 450-500 range for the final three weeks.
The first celebrated arrival was Lady Aurelia. The Turf Sprint pre-entrant has been freshened and trained at Keeneland since a victory in the Group I King's Stand Stakes at Royal Ascot in June and narrowly-beaten runner-up effort in the Group I Coolmore Nunthorpe Stakes at York in August.
Owned by Stonestreet Stables and trained by Wesley Ward, Lady Aurelia has five wins in seven lifetime starts and earnings of $814,945. Two of the starts were at Keeneland, the other five in England for the continent-hopping 3-year-old daughter of Scat Daddy.
Lady Aurelia is the standout of seven horses, three of them Breeders' Cup pre-entrants, for trainer Wesley Ward. His West Coast assistant, Blake Heap, is overseeing preparations for Lady Aurelia, Ultima D (Juvenile Fillies Turf) and Hemp Hemp Hooray (Juvenile Turf) for Breeders' Cup events. Master Merion is scheduled for the $75,000 Let It Ride Stakes on Wednesday, November 1, opening day of the Bing Crosby Fall Meeting while McErin, Fairyland, and Elizabeth Darcy are all nominated for the $200,000 Juvenile Turf Sprint on the Breeders' Cup Saturday undercard.
"They all shipped in well and been over the track a few times, they all galloped this morning and just floated over it," Heap said Thursday morning. "I think it's good for our horses to have arrived a little early. They've all put weight back on and settled in nicely.
"They're all turf horses and there aren't any turf works until Sunday, so we'll wait until then."
---
O'NEILL, MANDELLA, HESS STABLES SETTLE IN FOR BC PREPARATIONS
While some of the major Southern California outfits, most notably Bob Baffert, have opted to schedule final Breeders' Cup works at Santa Anita, others have opted to stage dress rehearsals over the host track surface.
Most notably, Hall of Fame trainer Richard Mandella, Doug O'Neill and Bob Hess, Jr. They all have moved upwards of 20 horses into their shed rows and set plans for their Breeders' Cup works.
Mandella, who has saddled nine Breeders' Cup winners, including four in the same day at Santa Anita in 2003, expects to have 22 horses stabled here for the Bing Crosby Fall meeting, among them four Breeders' Cup pre-entrants.
That group is comprised of Avenge (Filly & Mare Turf), Retro (Juvenile Fillies Turf), Paradise Woods (Distaff) and Bal a Bali (Mile).
Weekend works are planned for all four with Paradise Woods and Avenge first up on Saturday.
Leandro Mora, chief assistant for O'Neill, said that 20 of a 25-horse contingent for the meeting are ensconced at Del Mar. Six are aimed for the Breeders' Cup – Pavel (Classic), Piedi Bianchi (Juvenile Fillies), Mopotism (Distaff), B Squared (Sprint), Guns Loaded (Turf Sprint) and Frank Conversation (Turf). Guns Loaded and Frank Conversation were pre-entered Wednesday but not selected for the field in their respective races and will need an opening in order to run.
Mora said all the Breeders' Cup hopefuls will work Friday morning at around 7:45.
Hess, a perennial early arrival for Del Mar meetings, has 38 stalls assigned for the fall meeting. His Breeders' Cup group is Imperative (Dirt Mile), Tell Your Mama (Juvenile Fillies) and American Pastime (Sprint).
Hess was on hand to observe as Imperative worked six furlongs in 1:13.60 Thursday morning over a deep track. Del Mar clockers had the last five furlongs in 1:01 flat. Imperative will have the services of Javier Castellano for the Breeders' Cup race. Corey Nakatani has the call on American Pastime. The rider for Tell Your Mama has not been determined.
---
CLOSERS – The first flight of European horses for the Breeders' Cup arrived at midnight Thursday morning at Los Angeles International and five horses shipped down to quarantine barns here. A flight with 28 European runners is scheduled to arrive Saturday at Lindbergh Field, the first time that horses have flown into the San Diego airport for races here. Previously, internationals went through LAX.