Saturday, November 9th, 2019 ( 8 months ago )
Stable Notes
November 9, 2019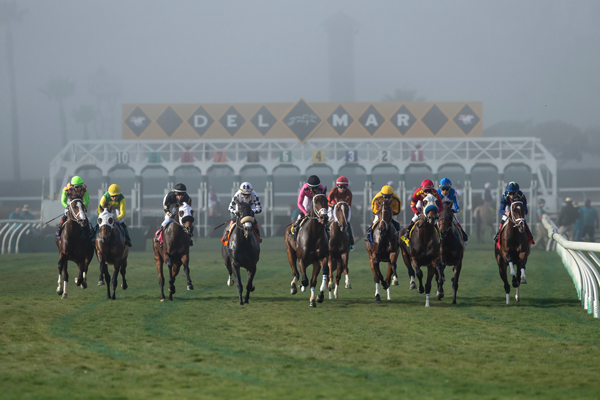 Foggy Start © Benoit Photo
FOGGY RACE ADDS UNEXPECTED FLAVOR TO OPENING DAY PROGRAM
"In 50 years I've never experienced anything like it," Del Mar track announcer Trevor Denman said late Friday after the opening day of the Bing Crosby meeting had concluded.
What Denman, an on-track crowd of 5,011 and viewers of the TVG telecast experienced was an obliteration of the fifth-race field by fog as it approached the final turn in the 1 1/16-mile turf race.
There had been patches of fog for races earlier on the program. But for one race, it seemed a rogue fogbank moved in and took up brief residence at the northwest corner of the facility, leaving Denman to do some honest ad-libbing for his call.
"They are coming to the top of the lane and the fog out here has gotten really bad," Denman said. "You can't see anything as they come to the quarter pole.
"We'll have to wait for them to reappear and there's going to be about three-sixteenths of a mile to go when they do."
Those watching on TV saw nothing but a gray screen until, as Denman said it would, horses and riders reappeared from dense to wispy fog and saw Storm the Bastille, with Tiago Pereira aboard, rally strongly along the rail to overtake 54-1 shot Channel Crossing and Heriberto Figueroa and win by three-quarters of a length.
"Tiago said that (in fog situations) it's not much different from any other race for a jockey," Pereira's agent, Patty Sterling, said Saturday morning. "You keep focused on the horse in front of you and aware of the ones behind. Of course, they have a much better view of what's happening than anyone from high up in the grandstand.
"He said he just followed the six horse (Go for a Ride with Jorge Velez) and then stayed along the rail when it opened up."
Storm the Bastille, a 3-year-old French bred gelding trained by Bill Spawr for Gem Inc., paid $$19.80 to win. Channel Crossing returned $41.20 to place and the $1 exacta returned a healthy $377.10.
Veteran Del Mar observers said fog shrouding the track was rare, but not unprecedented. Visibility was perfectly clear for the final three races of the day.
Fog is far more common at other tracks and it was on a particularly heavy night at Delta Downs in Louisiana on January 11, 1990 that an infamous "Fog Race" incident occurred.
Sylvester Carmouche Jr. was levied a 10-year suspension after being convicted of holding Landing Officer, a longshot $2,500 claimer, in the chute and waiting for the field to come around the second time.
Carmouche didn't quite pull it off. The horse won by 24 lengths, just off the track record, and the come-from-behind specialist, known to end races dirtied from kickback, was clean and showed no signs of exertion from the distance race.
---
SPAWR, PEREIRA COMBINATION GETS OFF TO A GOOD START
Trainer Bill Spawr's strategy of arriving early and training his horses over the Del Mar track paid dividends with long shot wins in two races on the opening day card.
Tiago Pereira guided Impression ($15.60) to a 1 ¼-length victory in the third race and came out of the fog with Storm the Bastille ($19.80) in the fifth. Spawr and Pereira were the only multiple winners in the eight-race program.
---
STAKES WIN MAKES A HAPPY BIRTHDAY FOR TRAINER TRUJILLO
On the occasion of his 55th birthday, Northern California-based trainer Victor Trujillo saw his Wicked Old Fashion pull off a $67.80 upset in the $75,000 Kathryn Crosby Stakes feature on Friday's opening day of the Bing Crosby meeting.
Ridden by Evin Roman, Wicked Old Fashion put on a burst of speed in the final sixteenth of the mile turf race and was a nose in front as four horses were no more than a head apart at the wire.
It was the 11th win in 22 starts for Wicked Old Fashion, 5-year-old daughter of Colonel John. The prior 21 had all been in Northern California.
Trujillo, notching his first stakes victory, said that Wicked Old Fashion is "by far," the best of his 44-horse stable and the decision to come here was one of necessity.
"At Golden Gate we didn't have a lot of choices for the horse to run," Trujillo said. "I ran this filly a few races back against males. I was trying to stay up there, but there weren't enough horses for races I wanted to run. This was my second choice."
The victory in hand, Trujillo, who had run only "five or six" horses at Del Mar in the past, planned to ship Wicked Old Fashion back to the Bay Area immediately and look for a next race up there.
---
LEUCOTHEA, STELLAR SOUND RETURN TO DEL MAR IN DESI ARNAZ
Leucothea and Stellar Sound, 2-year-old fillies who went from maiden victories to the Grade I Del Mar Debutante last summer, are the headliners for Sunday's $100,000 Desi Arnaz Stakes, a 6 ½-furlong main track sprint.
Peter Miller-trained Leucothea was a 14 ½-length winner in her second career start on August 15. Sixteen days later, the daughter of 2008 Del Mar Futurity winner Midshipman was cooked in a speed duel and faded to last of eight in the Debutante.
Misfortune followed her to Santa Anita for the Grade I Chandelier in September when she bobbled at the start and lost rider Norberto Arroyo, Jr. But she returned last month with a wire-to-wire win in the Anoakia Stakes there.
Stellar Sound, trained by Hall of Famer Bob Baffert, was a half-length winner at first asking on August 18 and finished fifth after setting a fast early pace in the Debutante. The Don Alberto Stable homebred daughter of Tapit has had a string of five workouts at Santa Anita since.
The field from the rail: Biddy Duke (Ruben Fuentes, 6-1), Spitefulness (Tyler Baze, 5-1), Roadrunner's Honor (Rafael Bejarano, 12-1), Leucothea (Abel Cedillo, 4-5), Orquidias Biz (Mike Smith, 12-1) and Stellar Sound (Drayden Van Dyke, 5-2).
---
CLOSERS -- Selected works from 28 officially timed Saturday: Brill (3f, :34.00), Instagrand (5f, :59.80) … Fitting Honor Department: Del Mar Thoroughbred Club CEO Joe Harper was recently named the Nice Guy Of The Year by the organization Nice Guys Inc.