Friday, November 8th, 2019 ( 9 months ago )
Stable Notes
November 8, 2019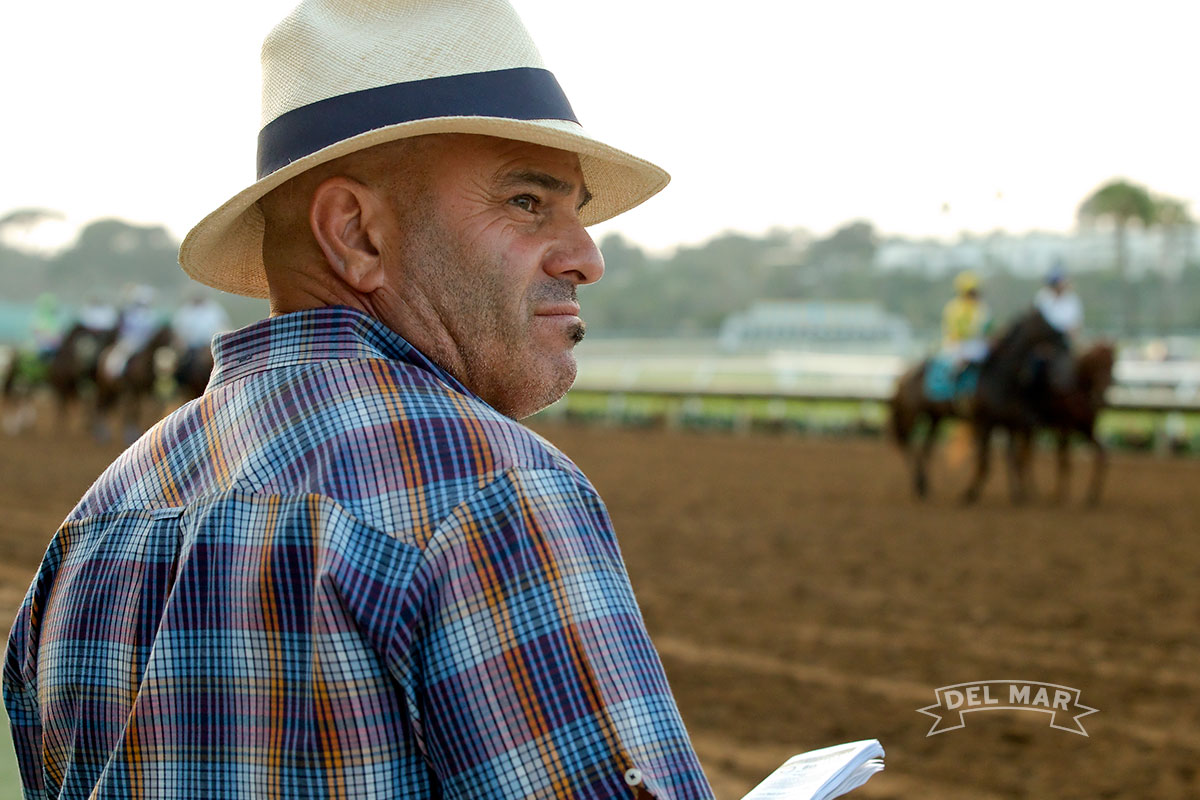 Peter Miller © Del Mar Thoroughbred Club
CUP SUCCESS BEHIND, MILLER BACK AT PERSONAL 'DISNEYLAND'
Another successful Breeders' Cup five days in the rear view mirror, trainer Peter Miller understandably had a smile on his face and a pep in his step Thursday morning as he made final preparations on the eve of the sixth Bing Crosby Fall meeting.
"Always happy to be at Del Mar. My happy place. My Disneyland," Miller said.
Last Saturday, Miller won the $1 million Breeders' Cup Turf Sprint for the third year in a row as Belvoir Bay got home 1 ¼-lengths in front of Miller-trained Om. Stormy Liberal, winner of the 2017 and 2018 editions of the race, was eighth.
The victory was an emotional one for Miller. Belvoir Bay had survived severe burns in the 2017 fire that ravaged San Luis Rey Downs.
"With all she went through in the fire, being lost for three days, having to be sent to the clinic (for hyperbaric treatments) for three weeks … she's just a special horse," Miller said.
Belvoir Bay, owned by Gary Barber, sold at auction for $1.5 million earlier this week. Om is a candidate to be retired to stud but also a candidate for the Grade II $200,000 Seabiscuit Handicap here on November 30. A decision is still pending with the 7-year-old gelding Stormy Liberal, and it won't be an easy one. "He's still sound, loves to train and run, but he's lost a step," Miller said. "Happens to the best of us. I'm not as fast as I was as a 20-year-old." Miller's rundown on the rest of his Breeders' Cup bunch:
Billy Batts (2nd, Juvenile Turf) and Wrecking Crew (3rd, Juvenile) came out of the race in good shape. Both might be seen again this year in stakes fitting their age group and surface preference.
Spiced Perfection (4th, Filly & Mare Sprint) will stay in training with the goal of next year's Breeders' Cup at Keeneland. "She's two-for-two there, so we know she likes the track," Miller said.
Mo See Cal (6th, Distaff), being a California bred, has options for both state-restricted and open races.
Miller is four-for-five in Bing Crosby meet training titles with one runner-up finish (2015) to Doug O'Neill. He's got the equine numbers, 30 at Del Mar and an equal number at San Luis Rey Downs, to be competitive again. But Miller said he's not going in with great expectations of another title.
"We'll just have to wait and see what happens," Miller said.
For now, he's just enjoying his time at 'Disneyland.'
---
MANDELLA CONSIDERING SEABISCUIT FOR BC RUNNER-UP UNITED
Hall of Fame trainer Richard Mandella didn't add to his Breeders' Cup victory totals during the championship event last weekend. But he came close with runner-up finishes by Omaha Beach in the $1 million Dirt Mile, beaten 2 ¾ lengths by Spun to Run, and United, beaten only a head by Horse of the Year candidate Bricks and Mortar in the $4 million Longines Breeders' Cup Turf.
Both horses came out of the races in good shape, Mandella said Thursday. Omaha Beach will be given some time off and pointed toward multi-million-dollar races in 2020. United, a 4-year-old son of Giant's Causeway, has three wins, none of them stakes, while earning more than $850,000 in earnings from 10 career starts.
"We might run him in the turf handicap (Seabiscuit) at the end of the meeting," Mandella said. "He's just run, so it might be a little quick, but we'll see how he is closer to the race."
United won a 1 1/8-mile turf allowance at Del Mar on the July 17 opening day of the summer meeting. The $200,000 Grade II Seabiscuit, on November 30, is 1 1/16-miles over the Jimmy Durante Turf Course.
---
AS USUAL, TEAM O'NEILL FIGURES TO BE A MAJOR PLAYER AT MEETING
The only trainer to win a Crosby meeting title other than Peter Miller is Doug O'Neill in 2015. And after securing training titles at the summer meeting here and the recently-concluded Santa Anita meeting, Team O'Neill figures to be a major threat to continue on its winning roll.
"I have to think it's a gift from God," said O'Neill assistant Leandro Mora, who is annually the on-site supervisor of operations for the meeting. "The horses have been healthy and safe and as long as that's the case we'll keep running them."
O'Neill has 20 stalls on site and plenty more at Santa Anita and San Luis Rey Downs for consideration.
Surprisingly, O'Neill, who has 38 overall Del Mar stakes wins, has counted only one in the fall – the 2016 Cecil B. DeMille with Term of Art. The first opportunity to add to it comes in Saturday's featured $75,000 Let It Ride Stakes for California bred 3-year-olds. Ocean Fury, a son of Stormy Atlantic, will be brought back a week after a troubled trip in the Twilight Derby at Santa Anita.
The field from the rail: Proud Pedro (Rafael Bejarano, 7-2), Dueling (Drayden Van Dyke, 4-1), Ocean Fury (Geovanni Franco, 7-2), Golden Birthday (Victor Espinoza, 8-1), Bob and Jackie (Heriberto Figueroa, 5-2) and Carnivorous (Mario Gutierrez, 3-1).
---
LEUCOTHEA FAVORED OF SIX IN SUNDAY'S FEATURED DESI ARNAZ
Peter Miller-trained Leucothea was established as the heavy favorite in oddsmaker Russ Hudak's morning line for Sunday's $100,000 Desi Arnaz Stakes, a 6 ½-furlong sprint for 2-year-old fillies.
Leucothea, a daughter of Midshipman, enters the race off an 8 ½-length romp in the six-furlong Anoakia Stakes on October 13 at Santa Anita.
The field from the rail: Biddy Duke (Ruben Fuentes, 6-1), Spitefulness (Tyler Baze, 5-1), Roadrunner's Honor (Rafael Bejarano, 12-1), Leucothea (Abel Cedillo, 4-5), Orquidias Biz (Mike Smith, 12-1) and Stellar Sound (Drayden Van Dyke, 5-2).
---
"HOLLYWOOD AT THE RACES" BOOK SIGNING SATURDAY NOON TO 2 PM
Author Alan Shuback will sign copies of his new book, "Hollywood at the Races," Saturday between noon and 2 p.m. underneath the large PEB mural that graces the east wall in the entranceway to Del Mar's Turf Club and Clubhouse.
Shuback, a longtime Daily Racing Form correspondent, spent several years pulling together a fast-paced and delightful history of Tinseltown's love affair with the horses. He's also sprinkled it with a bevy of old-time photos showing many of the "stars" at the track in an association that proved fruitful to both entities.
Starting in the 1930s and through the 1950s nearly 150 racing-themed pictures came out of Hollywood, running the gamut from the Marx Brothers' hilarious "Day at the Races" to the Elizabeth Taylor star-making vehicle "National Velvet." Entertainment titans such as Louis B. Mayer, Bing Crosby, Fred Astaire, Betty Grable and Don Ameche were all major Thoroughbred owners, while celebrity figures Mickey Rooney, Chico Marx and John Huston were known to go to the betting windows with both fists.
Additionally, an entire chapter of the book is dedicated to Del Mar and its founder, Bing Crosby.
---
CLOSERS – Trainer Bob Hess, Jr., said an adverse reaction to Lasix contributed to Heavenhasmynikki's last-of-nine performance in the Breeders' Cup Filly & Mare Sprint, and there's a possibility she may run in the Grade I $300,000 Matriarch on closing day, December 1.