Thursday, November 7th, 2019 ( 9 months ago )
Stable Notes
November 7, 2019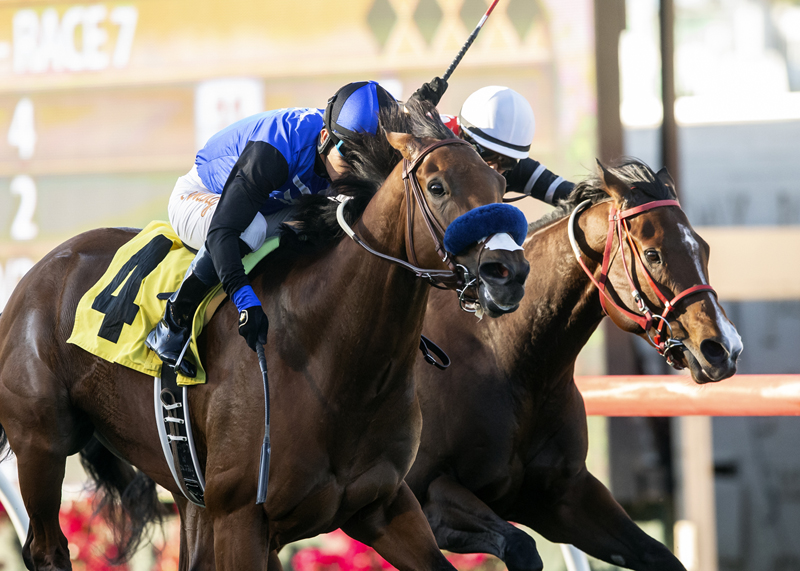 Excellent Sunset (Left) © Benoit Photo
SIXTH FALL SEASON TO COMMENCE WITH KATHRYN CROSBY FEATURE
The sixth edition of Del Mar's fall thoroughbred racing season begins Friday. As in the past, it will have Bing Crosby's name on it and, if history repeats, Peter Miller's fingerprints all over it.
In 2014, with the demise of Hollywood Park, Del Mar assumed the vacant fall dates on the Southern California racing calendar and dedicated the month-long meeting to Crosby, the 20th Century entertainment superstar who founded the track in 1937. And from its inception the meeting has been a showcase for locally-based trainer Peter Miller.
Miller, an Encinitas resident who trains the bulk of his expansive stable at San Luis Rey Downs, won the 2014 inaugural meeting training title and the last three in a row starting in 2016. He has averaged nearly 22 wins per year in the abbreviated (15-16 day) meeting over the last three years. The year Miller didn't win the title, 2015, he had two fewer wins than Doug O'Neill (13-15) from 14 fewer starters.
While Miller has racked up fall training titles, the jockey honors have gone to a different rider every year. The champions, with wins in parentheses, going backward from 2018 are: Drayden Van Dyke (17), Flavien Prat (18), Norberto Arroyo, Jr., (12), Rafael Bejarano (20) and Victor Espinoza (12).
The opening-day featured Kathryn Crosby Stakes, a mile turf test for older fillies and mares with a purse of $75,000, attracted a field of nine. Excellent Sunset, a 5-year-old Irish-bred mare who was disqualified from first and placed second in the race a year ago, was tabbed the 5-2 favorite on oddsmaker Russ Hudak's morning line.
The field from the rail: La Sardane (Mike Smith, 6-1), Storming Lady (Victor Espinoza, 12-1), Poster Girl (Tiago Pereira, 3-1), Curlin's Journey (Ruben Fuentes, 20-1), Wicked Old Fashion (Evin Roman, 8-1), Free My Soul (Martin Garcia, 30-1), Super Patriot (Geovanni Franco, 3-1), Lostintranzlation (Brice Blanc, 8-1) and Excellent Sunset (Flavien Prat, 5-2).
The opening three days of the meeting, Friday through Sunday, lead to three weeks of Thursday-to-Sunday racing, with a closing weekend featuring two Grade I $300,000 events – the Hollywood Derby on Saturday, November 30 and the Matriarch on closing day, Sunday, December 1.
First post is 12:30 p.m. each day with the exception of Thanksgiving Day, November 28, when it will be 11 a.m.
---
PERENNIAL EARLY ARRIVALS HESS, SPAWR READY FOR ACTION
When the stable area opens for occupancy in advance of the Bing Crosby Meeting, two trainers that can be counted on to be in the vanguard of the move-in are Bill Spawr and Bob Hess, Jr.
And so it was, last weekend that the Spawr and Hess contingents were among the first to lead horses into stalls. Hess was allotted 34 of them, second only to the 38 of Peter Miller. Spawr has 24.
"My favorite meeting," Spawr, who will turn 80 in December, said Thursday morning. "It's quiet and cool and you've got a nice track to train on."
His stable's prospects, Spawr said, are good.
"We've got five entered the first day and they're all ready, so we hope to get off to a good start and go from there." Only Hess, with six, has more opening day entries than Spawr.
Spawr has nine stakes victories here in a training career of more than four decades. His most recent Del Mar stakes score came in the inaugural fall meeting of 2014 with Risky Proposition in the Let It Ride.
He'll be aiming to add to that total when he saddles the six-year-old mare Poster Girl in the opening-day $75,000 Kathryn Crosby Stakes. Poster Girl was claimed out of a winning race in early October at Santa Anita. Spawr is part owner with Kentucky-based Farfellow Farms.
The English-bred mare has four wins from 26 career starts and earnings of $191,411.
Hess' camp moved in on Sunday, which, he said was "Not as early as I'd really like," but there was a little piece of business called the Breeders' Cup to be concerned with when the stable gates were opened on Saturday.
Like Spawr, Hess is looking forward to a good season, his definition of which echoed Spawr.
"I think anybody will tell you that would mean having a safe, injury free meeting. I haven't had any problems and I think this has been one of the safest meetings overall every year.
"A couple wins wouldn't hurt," Hess continued. "A couple (victory) dinners at Tony's Jacal and some of the better restaurants around here would be nice."
---
SIX ENTERED FOR SATURDAY'S LET IT RIDE STAKES
A field of six was entered Wednesday for Saturday's featured $75,000 Let It Ride Stakes, a turf mile for California-bred three-year-olds.
Richard Baltas-trained Bob and Jackie, bred and owned by the Zayat stables of Triple Crown champion American Pharoah, will be ending an 11-month layoff and seeking a third straight win.
The field from the rail: Proud Pedro (Rafael Bejarano, 7-2), Dueling (Drayden Van Dyke, 4-1), Ocean Fury (Geovanni Franco, 7-2), Golden Birthday (Victor Espinoza, 8-1), Bob and Jackie (Heriberto Figueroa, 5-2) and Carnivorous (Mario Gutierrez, 3-1).
---
SUMMER CHAMPS PRAT, O'NEILL CARRY SUCCESS OVER TO SANTA ANITA
Jockey Flavien Prat and trainer Doug O'Neill, the champions of the Del Mar summer meeting, took the counterpart honors at the recently concluded Santa Anita meeting, Prat sharing the riding title with Abel Cedillo.
Prat, whose 42 wins were 10 more than Drayden Van Dyke mustered last summer, had 21 wins from 102 mounts during the Santa Anita meeting, which went from September 27 to last Sunday, November 3. Cedillo's 21 wins came from 121 mounts. Cedillo moved his tack from Northern California permanently at the start of the summer season and established himself as a top-level competitor with a third-place finish behind Prat and Van Dyke during the summer season here.
O'Neill, whose 24 wins edged Peter Miller by three for the summer title, had 22 wins from 85 starters at Santa Anita. Richard Baltas and Phil D'Amato notched 12 each there, followed by Bob Baffert (11) and Miller (10).
---
"DAYBREAK AT DEL MAR" BREAKFASTS EVERY SATURDAY FROM 8 TO 10
"Daybreak at Del Mar," the track's popular program where racing fans can do "breakfast with the works," is back for another go-round each Saturday morning during the upcoming sixth fall Bing Crosby Season.
The sessions are held trackside in the Clubhouse Terrace Restaurant and go from 8 to a.m. 10 a.m.
Visitors will be able to take in morning workouts, as well as hear racing tips and information from horsewoman and racing broadcaster Michelle Yu as they dine in the fresh air and sunshine that is part of San Diego's most unique breakfast.
Breakfast is an "order your own" arrangement featuring yogurt, Granola bars and fruit cups, along with fresh-baked muffins and Danish. There also will be oatmeal and hot breakfast sandwiches, as well as fresh orange juice, cranberry juice, milk, coffee and tea.
There is no charge for "Daybreak" and Early Bird wagering is available. Fans are encouraged to park in the main parking lot off Jimmy Durante Blvd and proceed through the Clubhouse entrance to the restaurant on the second floor.
---
SMITH, FLANDERS KICK OFF WEEKEND HANDICAPPING SEMINARS
Dan Smith, Senior Media Coordinator for the Del Mar Thoroughbred Club, and expert tournament player Ryan Flanders will be featured in the initial weekend handicapping seminars of the meeting.
Smith will provide analysis and selections on Saturday. Flanders will be the guest of regular Sunday host Frank Scatoni. The seminars are scheduled from 11:15-noon at the Seaside Terrace near the top of the stretch.