Friday, November 30th, 2018 ( 5 months ago )
Stable Notes
November 30, 2018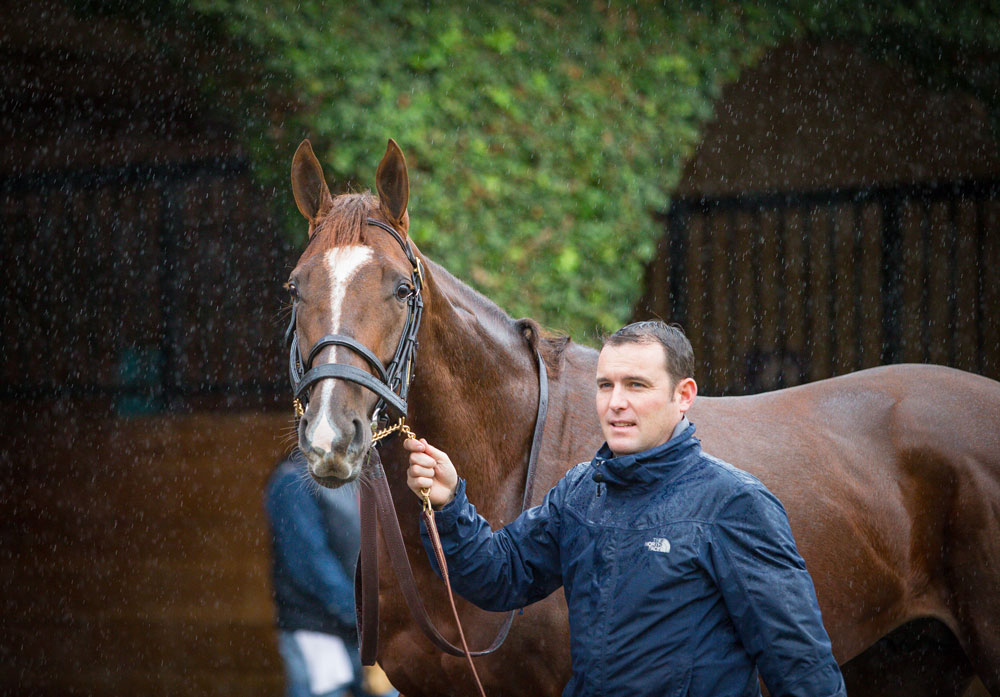 Carrick © Del Mar Thoroughbred Club
NEW YORK INVADERS COULD HAVE BIG SAY IN HOLLYWOOD DERBY
Among his many credentials, Nick Esler is a licensed trainer who this week served an advance man for his "best mate," Tom Morley, and frequent employer Christophe Clement by bringing Carrick and Have At It in for Saturday's Grade I, $300,000 Hollywood Derby.
Carrick, trained by Morley for Donegal Racing, won the Grade I Secretariat Stakes on Million Day at Arlington Race Course in Chicago on August 11 and has three wins in five career starts and earnings of $310,300. Have At It, trained by Clement for Robert S. Evans, won the Grade II Hill Prince at Belmont Park in October, his third victory in nine career starts with earnings of $464,240.
Esler galloped Carrick Tuesday morning then accompanied the two colts as they traveled from Belmont Park to Del Mar later Tuesday to run in the Hollywood Derby, a rare Grade I for 3-year-olds on turf that 14 will contest Saturday at 1 1/8 miles.
"It was a bit of a rough trip," Esler said Friday morning. "Seventeen hours from stall to stall. We got delayed in Kentucky. But they both shipped well and went out for a jog on Wednesday and were feeling good with themselves.
"(Thursday) wasn't ideal to have the track closed and have to just tack walk them, but it was the same for everybody."
Carrick, a son of Giant's Causeway, was a $75,000 purchase at the Keeneland September sale in 2016 by the Donegal Racing partnership headed by Jerry Crawford. Donegal's big triumph at Del Mar was Dullahan winning the 2012 $1 million TVG Pacific Classic.
Unraced at two, Carrick won his first two starts in a maiden and allowance, and has been at the graded stakes level since. He finished third in the Grade III Kent Stakes at Delaware Park in July, shocked the racing world with the Secretariat victory at odds of 38-1 on turf rated "good." His last start was the 1 ½ mile Turf Classic Invitational on September 29 at Belmont Park, on a "soft" course against older, more accomplished rivals. The result was a sixth of seven, beaten 27 ½ lengths by million dollar earner Channel Maker.
"Put a line through it," Esler said. "He didn't like the ground and when that became obvious (jockey John Velazquez) wrapped up and protected him. I think this (Hollywood Derby) was the target all along. There are not that many grade I spots for 3-year-olds this time of year."
Esler didn't think the rains of Thursday and Friday, which might result in the turf course being rated something other than "firm", would compromise the chances of either Carrick or Have At It. "I walked the course on Wednesday before the rains came and it was extremely firm," Esler said. "I think the rains will soften it just nicely and that will be good for everybody."
Have At It, an Evans homebred son of Kitten's Joy, drew the No. 1 post for the third race in a row. After winning the Hill Prince, he was second in the Grade II Twilight Derby – beaten a half-length by Hollywood Derby favorite River Boyne – from the No. 1 stall.
Carrick, who will be ridden by Kent Desormeaux for the first time, will break from No. 11 in the field of 14. "I know (Morley) likes the post position," Esler said. "It's better to be a little outside because Kent can keep him in the clear and ease him over to the inside as opportunity presents. If (Carrick) runs back to his Arlington form, he's the best horse in the race."
Morley, born into an English racing family, came to the U.S. in 2010 and worked for Eddie Kenneally before taking out his training license in 2013. He recorded his first Grade I and Grade II wins in 2016 with Haveyougoneaway in the Ballerina and Honorable Miss Stakes at Saratoga.
Morley was due at Del Mar on Friday to saddle Carrick. Esler will stand in for Clement with Have At It.
The Hollywood Derby field from the rail: Have At It (David Cohen, 6-1), Kazan (Brice Blanc, 20-1), Risky Proposition (Joe Talamo, 20-1), River Boyne (Flavien Prat, 5-2), Fight On (Alonso Quinonez, 20-1), Raging Bull (Joel Rosario, 7-2), Instilled Regard (Florent Geroux, 12-1), Desert Stone (Tyler Baze, 8-1), Platinum Warrior, 12-1), Way Early, (Angel Cruz, 30-1), Carrick (Kent Desormeaux, 8-1), Pubilius Syrus (Edwin Maldonado, 30-1), Prince Earl (Tiago Pereira, 20-1) and Californiagoldrush (Rafael Bejarano, 12-1).
---
STREAKING VASILIKA TABBED AS FAVORITE FOR SUNDAY'S MATRIARCH
Vasilika, putting an eight-race winning streak on the line, drew the No. 9 post in a field of 14 and was established as the 7-2 favorite Friday on oddsmaker Russ Hudak's morning line for Sunday's Grade I $300,000 Matriarch Stakes.
Hall of Famer Jerry Hollendorfer trains and is a part owner of Vasilika, a four-year-old daughter of Skipshot he claimed for $40,000 in February and has saddled through the current winning streak, the last three being Graded stakes, among them the Grade II John C. Mabee here on September 1.
"Just got lucky on that one," Hollendorfer said with typical understatement after the Mabee. "We were looking for a horse and picked out that one. I'd trained Skipshot."
Two of Chad Brown's trio of imports – Uni (9-2) and Rymska (5-1) – are the second and co-third morning line choices. They drew the two outside posts for the one-mile turf run. Uni has won three straight races, progressing to the Grade III level; Rymska has four wins, three at the Grade III level, and one runner-up by a nose in her last five starts.
"Uni is a really nice one, I love her," Brown assistant Jose Hernandez said. "She's always there and she's going to be tough. I don't know as much about Rymska, I haven't been around her as much, but the record speaks for itself."
The field from the rail: Excellent Sunset (Rafael Bejarano, 30-1), Valadorna (Mike Smith, 15-1), Fahan Mura (Edwin Maldonado, 12-1), Mopotism (Geovanni Franco, 20-1), Quidura (Jose Ortiz, 8-1), Ms Bad Behavior (Tyler Baze, 20-1), Daddy Is a Legend (Manny Franco, 20-1), Insta Erma (Drayden Van Dyke, 12-1), Vasilika (Flavien Prat, 7-2), Mission Impassable (Florent Geroux, 5-1), Luminoso (Evin Roman, 30-1), Dona Bruja, (Declan Cannon, 8-1), Uni (Joel Rosario, 9-2) and Rymska (Irad Ortiz, Jr., 5-1).
---
RAIN, RAIN, WE'RE OFF THE TURF AGAIN
With continued rains overnight and into Thursday morning, racing officials opted to move three scheduled turf races onto the main track for today's eight-race program.
There were two scratches from the field of seven in the five-furlong third race, and mile events in the sixth and eighth also did not move unscathed. The sixth lost six of 12 entrants and three defected from an original 10 in the eighth.
Thursday's card was conducted on a track other than "fast" for the first time since July 18, 2015. Before that the last off track at Del Mar was September 6, 1991.
---
STATUS QUO ON JOCKEY, TRAINER LEADERBOARDS
Neither the jockey nor trainer meet leaders were able to notch wins on Thursday, leaving Drayden Van Dyke with a two-win lead over Flavien Prat (15-13) among riders and Peter Miller four up on Jerry Hollendorfer (12-8) among trainers with three days remaining.
The significant movement Thursday was by trainer Phil D'Amato, whose two wins advanced him to third with six wins from 27 starters.
Van Dyke and Prat both had two scheduled mounts scratched Friday morning and were down to two and three mounts, respectively, on the program. Miller scratched Strike That (6-1) from the fifth and was down to two scheduled starters, the same as Hollendorfer.
---
CLOSERS – The Green Flash Handicap here was among nine races upgraded to Grade III status for 2019, the graded stakes committee announced … Lennie Reckabaren, who celebrates his 98th birthday, will be honored in a winner's circle ceremony after today's first race. Reckabaren was at Del Mar for opening day in 1937, was a pilot in World War II and Viet Nam, and has been a member of the Turf Club for 57 years and also owned Thoroughbreds.
---
DEL MAR STATISTICS
Jockey Standings
(Current Through Thursday, November 29, 2018 Inclusive)
| | | | | | | | |
| --- | --- | --- | --- | --- | --- | --- | --- |
| Jockey | Mts | 1st | 2nd | 3rd | Win% | In-money% | Money Won |
| Drayden Van Dyke | 56 | 15 | 8 | 8 | 27% | 55% | $686,658 |
| Flavien Prat | 70 | 13 | 14 | 8 | 19% | 50% | $695,951 |
| Geovanni Franco | 59 | 12 | 7 | 7 | 20% | 44% | $470,851 |
| Heriberto Figueroa | 58 | 9 | 9 | 10 | 16% | 48% | $286,880 |
| Joseph Talamo | 43 | 9 | 4 | 7 | 21% | 47% | $508,975 |
| Rafael Bejarano | 51 | 8 | 7 | 11 | 16% | 51% | $397,150 |
| Tyler Baze | 67 | 6 | 10 | 10 | 9% | 39% | $387,959 |
| Tiago Pereira | 59 | 4 | 6 | 8 | 7% | 31% | $168,505 |
| Evin Roman | 27 | 4 | 3 | 3 | 15% | 37% | $135,690 |
| Edwin Maldonado | 15 | 4 | 2 | 0 | 27% | 40% | $79,148 |
Trainer Standings
(Current Through Thursday, November 29, 2018 Inclusive)
| | | | | | | | |
| --- | --- | --- | --- | --- | --- | --- | --- |
| Trainer | Sts | 1st | 2nd | 3rd | Win% | In-money% | Money Won |
| Peter Miller | 38 | 12 | 4 | 5 | 32% | 55% | $469,085 |
| Jerry Hollendorfer | 34 | 8 | 6 | 4 | 24% | 53% | $392,625 |
| Philip D'Amato | 27 | 6 | 3 | 2 | 22% | 41% | $271,513 |
| Doug F. O'Neill | 54 | 5 | 6 | 6 | 9% | 31% | $239,276 |
| Bob Baffert | 11 | 5 | 2 | 0 | 45% | 64% | $250,875 |
| Brian J. Koriner | 13 | 5 | 0 | 1 | 38% | 46% | $157,620 |
| Richard Baltas | 28 | 4 | 5 | 2 | 14% | 39% | $249,182 |
| George Papaprodromou | 15 | 3 | 4 | 1 | 20% | 53% | $69,500 |
| Richard E. Mandella | 21 | 3 | 4 | 1 | 14% | 38% | $173,920 |
| J. Keith Desormeaux | 18 | 2 | 4 | 1 | 11% | 39% | $93,265 |
Winning Favorites Report
(Current Through Thursday, November 29, 2018 Inclusive)
Winning favorites -- 45 out of 110 -- 40.91%
Winning favorites on dirt -- 29 out of 67 -- 43.28%
Winning favorites on turf -- 16 out of 43 -- 37.21%
Winning odds-on favorites -- 13 out of 24 -- 54.17%
In-the-Money favorites -- 81 out of 110 -- 73.64%
In-the-Money odds-on favorites -- 21 out of 24 -- 87.50%