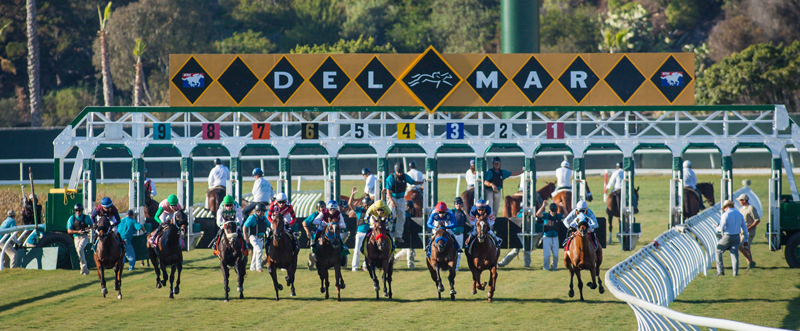 LOOKS BACK, AND AHEAD, AS DEL MAR SAYS 'THAT'S A WRAP' FOR 2021
The curtain comes down today on the Bing Crosby Season and, thereby, racing at Del Mar for 2021. An appropriate time, it would seem, for a few key figures to, upon request, provide thoughts and comments on the summer and fall meetings this year, reflect back on COVID-marked 2020 and ahead to 2022.
Del Mar Thoroughbred Club CEO Joe Harper – "It has been a long couple years (2020-2021) but when all the dust settles, we've done terrific, and we've had a terrific year this year. I've learned not to count the people, just count the money on the tote board and there's your happy ending."
Hall of Fame trainer Richard Mandella – "The summer for our stable was wonderful (three stakes wins highlighted by United in the Eddie Read). The fall? It was nice to be down here, but we're packing up and heading north tomorrow licking our wounds…
"It was a big difference this year to have people back in the stands. That's what we need more of in racing is people to be here and have some fun and excitement. During COVID it was just ourselves and the horses. With nobody to brag to after you won a race it got pretty dull.
"Thankfully, we had racing and I don't want to take away from how lucky we were to have racing. A lot of businesses just stopped and we got to go ahead and continue to make a living without major job losses. But last year compared to this? There's no comparison. We need the people here."
Trainer Peter Miller – "The summer was great (winning the training title and five stakes). The fall has not been up to our standards, but we've closed out with two wins on Friday and the (Jimmy Durante) stakes yesterday."
Earlier this summer, Miller announced he was stepping back from racing and turning day-to-day operations over assistant Ruben Alvarado starting with the end of the Bing Crosby Season.
"Tomorrow morning I'm going to sleep in, have breakfast with my two boys and take them to school," Miller said. "To say that has not been routine to this point is a real understatement."
Hall of Fame trainer Bob Baffert – "It was nice to be able to go to the track and have people there again. Clients love to win at Del Mar and even when you lose it doesn't feel as bad there. It's a fun atmosphere and they've done a good job of keeping it that way. "
Baffert won four stakes in the summer, among them both the Debutante and Futurity and added four more during the Bing Crosby meeting – among them the Breeders' Cup Juvenile. It boosted his track record stakes victory total to 147.
"I have the sign that says record (victory) No. 75, seems like a long time ago," Baffert said … "I'll have a lot of 2-year-olds again next summer…It's the best place to develop young horses."
Trainer Bob Hess, Jr. – "Our summer meet started out pretty darn slow, but we finished with a flourish. The fall has been a bit slow but productive. We had a big winner (Saturday) in Miss Mattie B ($61.80) a 2-year-old filly we look forward to (campaigning) next year.
"For our barn and racing in general, I believe this Del Mar dirt surface is the safest in the country and it's even better in the fall than it is in the summer. That's why I personally like to have my horses down here in the fall. It doesn't make economic sense, but I think it makes a lot of horse sense."
Trainer Phil D'Amato – "We've had a nice exciting year (26 wins overall, six stakes) and we're looking forward to 2022. I think it's only going to get better."
---
SATURDAY STAKES WINNERS ALL COME OUT IN FINE FETTLE
The three stakes-winning horses from Saturday showed no ill effects from their efforts and will be given some well-earned rest before "to be determined" next assignments.
Taken in order in which they were achieved:
Three Diamond Farm's Field Pass, a 4-year-old son of Lemon Drop Kid, recorded career win number eight in his 23rd career start in the Grade II, $250,000 Seabiscuit Handicap and the $150,000 winner's share of the purse boosted his career earnings to $913,143. Nolan Ramsey is trainer Mike Maker's assistant in charge of West Coast operations.
"Everybody's happy for the horse," Ramsey said this morning. "He's a hard-trying horse and it's nice to see him punch his ticket. As far as what's next, the San Gabriel at Santa Anita is an option but we have options back east as well.
"As of right now he's booked on a flight to go back east Tuesday, but we'll find out today what we're going to do."
The win by Tezzaray in the Grade III, $100,000 Jimmy Durante was the second in as many starts for trainer Peter Miller since being imported from England last summer. Ruben Alvarado, who is taking over as Miller takes a step back from training, said all three of the stable's Durante entrants – Liam's Dove (5th) and Travel Smart (6th) in addition to Tezzaray, were fine.
"I thought all three of my fillies ran very well and were give great rides," Miller said after the race. "It's nice to win a stakes race on the way out."
Trainer John Shirreffs said by text that Beyond Brilliant, winner of the Grade I, $400,000 Hollywood Derby was looking very good Sunday morning. "He had his head out waiting for his early morning feed. That's always a good sign."
It was the third victory in nine starts for Beyond Brilliant, owned by the C R K Stable of Lee and Susan Searing of Arcadia. The $240,000 winner's share of the purse, earned via a masterful wire-to-wire guidance by Hall of Fame jockey Kent Desormeaux, raised the son of Twirling Candy's earnings to $381,280.
---
AND SPEAKING OF KENT DESORMEAUX ….
Tony Matos has been a jockey agent for most of his 77 years. He's been the representative for the winning riders in the Kentucky Derby on six occasions – Angel Cordero (Canonade, 1974, Bold Forbes 1976), Laffit Pincay (Swale, 1984), Kent Desormeaux (Real Quiet, 1998 and Fusaichi Pegasus, 2000) and Victor Espinoza (War Emblem, 2002).
And Matos has this to say about Desormeaux, with whom he was reunited earlier this year: "He's riding just as well, maybe better, than he was when I had him and he won the two Kentucky Derbies."
When athletes are having great success the phrase "In the zone" is often applied. Desormeaux, 51, has won eight races in five days the most recent being the Grade I. He's "In the old zone" – in terms of age and with the same skill he displayed decades earlier en route to the Hall of Fame.
"Even though he's 51, he works out and keeps himself fit," Matos said. "When I took him back (from a suspension incurred here last year), I could see that his attitude was good and he's just kept getting better."
---
THREE'S THE OPERATIVE NUMBER ATOP JOCKEY/TRAINER STANDINGS
Juan Hernandez and Phil D'Amato take three-win leads atop the jockey and trainer standings, respectively, with only the final nine races left in the Bing Crosby Season. Hernandez could face a challenge from Flavien Prat, but D'Amato has his third Del Mar training title secured.
Hernandez won aboard Youteyourhonor (6th, $9.80) on Saturday while Flavien Prat was blanked. Hernandez (17-for-72) is scheduled aboard seven runners today while Prat (14-for-75) has eight.
D'Amato (11-for-47) has five runners in the finale while his closest pursuers Bob Baffert (8-for-30) and Peter Miller (7-for-58) have representatives in only two races each.
---
CLOSERS – Trainer Bob Hess, Jr., said that Cairo Memories, last seen running ninth in the $1 million Breeders' Cup Juvenile Fillies Turf, will run next in the Starlet at Los Alamitos. "She just had a brutal trip in the Breeders' Cup and got beat only about three lengths, so we're going to try her again," Hess said … Thanks to all readers of the Stable Notes through the seasons. It will return, under new authorship, in 2022 for the 83rd Summer Season, July 22-September 11 and the ninth Bing Crosby Season November 11-December 4.
---
Del Mar Statistics
Jockey Standings
(Current Through Friday, November 27, 2021 Inclusive)
| | | | | | | | |
| --- | --- | --- | --- | --- | --- | --- | --- |
| Jockey | Mts | 1st | 2nd | 3rd | Win% | In-money% | Money Won |
| Juan Hernandez | 72 | 17 | 13 | 11 | 24% | 57% | $1,127,346 |
| Flavien Prat | 75 | 14 | 18 | 8 | 19% | 53% | $2,012,050 |
| Umberto Rispoli | 72 | 12 | 13 | 11 | 17% | 50% | $1,362,508 |
| Kent Desormeaux | 40 | 8 | 4 | 6 | 20% | 45% | $1,015,176 |
| Victor Espinoza | 31 | 7 | 1 | 3 | 23% | 35% | $794,560 |
| Ricardo Gonzalez | 32 | 6 | 5 | 5 | 19% | 50% | $402,960 |
| Irad Ortiz, Jr. | 24 | 6 | 5 | 0 | 25% | 46% | $2,974,490 |
| Mario Gutierrez | 32 | 4 | 7 | 2 | 13% | 41% | $350,540 |
| Tyler Baze | 56 | 4 | 6 | 3 | 7% | 23% | $228,440 |
| Edwin Maldonado | 37 | 4 | 3 | 9 | 11% | 43% | $337,200 |
Trainer Standings
(Current Through Friday, November 27, 2021 Inclusive)
| | | | | | | | |
| --- | --- | --- | --- | --- | --- | --- | --- |
| Trainer | Sts | 1st | 2nd | 3rd | Win% | In-money% | Money Won |
| Philip D'Amato | 47 | 11 | 6 | 8 | 23% | 53% | $1,032,042 |
| Bob Baffert | 30 | 8 | 4 | 5 | 27% | 57% | $2,769,300 |
| Peter Miller | 58 | 7 | 10 | 7 | 12% | 41% | $602,006 |
| Doug F. O'Neill | 62 | 6 | 16 | 4 | 10% | 42% | $997,440 |
| Vladimir Cerin | 18 | 6 | 0 | 3 | 33% | 50% | $251,880 |
| Richard Baltas | 41 | 5 | 7 | 4 | 12% | 39% | $514,125 |
| Michael W. McCarthy | 21 | 5 | 5 | 4 | 24% | 67% | $1,180,600 |
| John W. Sadler | 25 | 4 | 3 | 2 | 16% | 36% | $540,505 |
| Robert B. Hess, Jr. | 32 | 3 | 4 | 3 | 9% | 31% | $184,536 |
| Jonathan Wong | 13 | 3 | 3 | 2 | 23% | 62% | $125,250 |
Winning Favorites Report
(Current Through Friday, November 27, 2021 Inclusive)
Winning favorites -- 43 out of 125 -- 34.40%
Winning favorites on dirt -- 24 out of 62 -- 38.71%
Winning favorites on turf -- 19 out of 63 -- 30.16%
Winning odds-on favorites -- 13 out of 31 -- 41.94%
In-the-Money favorites -- 94 out of 125 -- 75.20%
In-the-Money odds-on favorites -- 27 out of 31 -- 87.10%