Saturday, November 28th, 2020 ( 8 months ago )
Stable Notes
November 28, 2020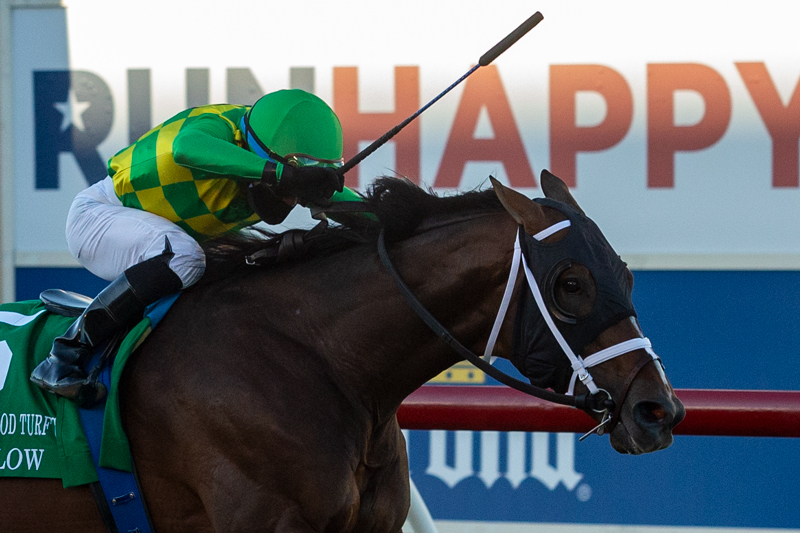 Arklow © Benoit Photo
IRISH, AND LOTS OF OTHER, EYES ARE SMILING ABOUT ARKLOW
Jerry Crawford, head of the Donegal Racing partnership group, and his wife Linda debated "long and hard" about making the trip from Scottsdale, AZ, to Del Mar for Friday's Grade II, $200,000 Hollywood Turf Cup.
Donegal Racing had Arklow carrying its emerald green and yellow colors in a 1 1/2-mile event that, coincidentally, the group's Finnegans Wake had won six years to the day earlier when the event relocated to Del Mar after 48 runnings at Hollywood Park.
Considering the COVID-19 situation and health authorities' cautions against travelling, the Crawfords decided to stay put, and left the on-site support for the 6-year-old son of Arch to a contingent of partners from the Los Angeles or Del Mar areas that numbered in single digits.
From far and near, they were rewarded with a half-length victory under jockey Joel Rosario as Arklow covered the distance in 2:26.31, eclipsing the record for the event, when held at Del Mar, of 2:27.35 by Finnegans Wake.
"Going in, I thought our horse was up against it because of the travel problems he'd had," Crawford said.
A scheduled early evening flight from Louisville, where Arklow had been training at Churchill Downs, was delayed by mechanical problems. Arklow, and some fellow equine travelers, stood on the plane for three hours then were taken off and returned to their Churchill Downs stables. The trip was very much in jeopardy. In the early morning hours notification came of another plane and Arklow and Co. essentially caught a red-eye to California.
"It was a concern, but he's such a calm horse who has travelled well everywhere he's gone, so it obviously didn't affect him," Crawford said.
The race itself unfolded with Rosario having Arklow in a good stalking position throughout, moving to the lead with a quarter-mile to run and holding off the close of Laccario.
"Joel gave him a great ride," Crawford said. "He tipped him out and got him in the clear rounding the turn like we hoped he would. In the Breeders' Cup Turf (6th of 10), he got pinned against the rail and couldn't get out until too late."
It was the eighth win from 30 starts for Arklow with an additional seven runner-up efforts and two thirds for earnings of $2,666,116. He has one Grade I, the 2019 Belmont Turf Classic Invitational, two Grade II and two Grade III wins on his record.
Watching from home, one of Crawford's first actions was to call announcer Larry Collmus in the Del Mar booth.
"There are some great race callers and he's there with the best," Crawford said. "We love it when Larry calls big races we have horses in. He called the (2015) Travers when (Donegal's) Keen Ice beat American Pharoah."
The two Hollywood Turf Cups go nicely with Donegal's other major Del Mar triumph. In 2012, Dullhan, ridden by Rosario and trained by Dale Romans, won the TVG Pacific Classic, going the 1 ¼ miles on Polytrack in 1:59.54. Barring a future change back to an artificial surface, that record may stand forever.
"We love coming over to Del Mar," Crawford said. "I told some of our partners if we keep this up, maybe they'll change the name to Donegal Downs."
---
TURF CUP IN HAND, COX EYES MORE IN MATRIARCH, DeMILLE
Blake Cox, on West Coast assignment from his father Brad, saddled Arklow to win Friday's Hollywood Turf Cup. It was the second Del Mar stakes win for Brad Cox, following the 2019 Shared Belief score by Improbable.
The younger Cox will be looking to add a couple more notches on the Kentucky-based family's Del Mar belt when he saddles Royal Prince in Sunday's Grade III, $100,000 Cecil B. DeMille Stakes for 2-year-olds and Juliet Foxtrot in the Grade I, $300,000 Matriarch, the climactic event of the Bing Crosby Season.
Royal Prince is the 7-2 morning line favorite of 11 in the DeMille. Juliet Foxtrot is a 4-1 shared second choice with two others behind 7-2 Viadera in a talent-loaded field of nine for the Matriarch.
Royal Prince, a son of Cairo Prince who was a $70,000 purchase at the 2019 Keeneland September sale by Steve Landers Racing, has an unusual past performance record that shows two maiden victories.
On September 7 at Kentucky Downs, Royal Prince was in the inside stall for the fifth race when the doors were opened with a couple of horses from the field of 10 still circling behind the gate. Royal Prince did his duty, winning by 1 ¼-lengths, but the race was voided due to the horses left out.
Twenty-five days later, Royal Prince notched a second first-win, again by 1 ¼ lengths.
Blake Cox said that thoughts of a start in the $1 million Breeders' Cup Juvenile Turf were abandoned after the first win was cancelled. The ensuing victory is "the reason we're here," he said.
Juliet Foxtrot, a 5-year-old English-bred mare, is making her second trip to Del Mar for the Matriarch. She finished third last year, beaten 1 ½ lengths by Got Stormy and three-quarters of a length by Daddy Is A Legend.
"She was training great last year and we brought her out here expecting a big effort," Cox said. "This year it looks a little tougher so she's going to have to step it up against Grade I horses, but I think she's capable."
Juliet Foxtrot comes in off a victory in the Grade III Galorette at Pimlico on October 3.
"That race was really good, I think it got her confidence level up and it should suit her well for this one," Cox said.
The Matriarch field from the rail, with jockeys and morning line odds in parenthesis: Mucho Unusual (Abel Cedillo, 10-1); Maxim Rate (Umberto Rispoli, 8-1); Sharing (Manuel Franco, 5-1); Blowout (Flavien Prat, 4-1); Juliet Foxtrot (Mike Smith); Viadera (Joel Rosario); She's Our Charm (Juan Hernandez, 30-1); Bodhicitta (Ricardo Gonzalez, 12-1), and Tamahere (Irad Ortiz, Jr., 4-1).
The Matriarch goes as the ninth race on a 10-race program with first post at noon.
---
BIG FISH SWIMS WITH SOME SHARKS IN CECIL B. DeMILLE
Legacy Ranch's Big Fish has made three starts at Del Mar and won twice – a maiden breaker last August 7 followed by a victory in the $100,000 Del Mar Juvenile Turf on closing day of the summer meeting.
After a couple months away at Santa Anita, and one fifth-place finish as the favorite in the Zuma Beach Stakes there last month, trainer Dave Hofmans shipped the son of Mr. Big back to Del Mar for two workouts on the Jimmy Durante Turf Course. The second, last Sunday, was 5 furlongs in :59.60, the best of 15 at the distance that day.
"He's been back here for the last couple weeks and he seems to have gotten back to his old form," Hofmans said. "He seems to really like it and he runs well down here."
So it appears Big Fish is ready for the big test he figures to get against 10 other 2-year-old turf runners in the Grade III, $100,000 Cecil B. DeMille Stakes on Sunday.
In addition to Ebeko, Cotopaxi and Caisson, who finished 1-3-4 in the Zuma Beach, the DeMille includes eastern shippers Royal Prince and Wooton Asset from the stables of Brad Cox and M. Graham Motion, respectively. Big Fish is the only California-bred in the bunch.
"He was a little too fresh and had a wide trip in the Zuma Beach, which cost him a couple lengths," Hofmans said. "The race is tough, but I think he'll be competitive. He's pretty good for a little old Cal-bred."
The field from the rail with jockeys and morning line odds in parenthesis: Ebeko (Ricardo Gonzalez, 6-1); Harlan Estate (Abel Cedillo, 20-1); Cotopax (Tyler Baze, 15-1); Beer Can Man (Juan Hernandez, 8-1); Commander Khai (Mario Gutierrez, 15-1); Party Game (Irad Ortiz, Jr., 6-1); Big Fish (Umberto Rispoli, 5-1); Coastal Kid (Geovanni Franco, 30-1); Caisson (Flavien Prat, 6-1); Royal Prince (Joel Rosario, 7-2), and Wootton Asset (Manuel Franco, 9-2).
---
BALTAS PASSES MILLER FOR TRAINER LEAD WITH TRIPLE FRIDAY
A change atop the Torrey Holistics leader board in the trainer standings was forged Friday when Richard Baltas saddled three winners to pass Peter Miller.
Baltas, the defending Bing Crosby Season champion, sent out Yeng Again (1st, $6.00), Gallovie (3rd, $7.40) and Lady On Ice (4th, $4.40) to go one up (10-9) on Miller, the leader through the first 12 days of the meeting.
The competition continues today with both Baltas and Miller set to send out five representatives.
Abel Cedillo rode Yeng Again to victory in the first for Baltas and has a second straight Bing Crosby Season jockey title in hand every way except mathematically with a 19-11 lead over Flavien Prat and Umberto Rispoli.
---
CLOSERS – First post Sunday will be at 12 noon. There will be a 10-race card featuring two Graded stakes on the final day of the 2020 Bing Crosby Season.
---
Del Mar Statistics
Presented by Torrey Hollistics
Jockey Standings
(Current Through Sunday, November 27, 2020 Inclusive)
| | | | | | | | |
| --- | --- | --- | --- | --- | --- | --- | --- |
| Jockey | Mts | 1st | 2nd | 3rd | Win% | In-money% | Money Won |
| Abel Cedillo | 86 | 19 | 10 | 9 | 22% | 44% | $743,360 |
| Flavien Prat | 54 | 11 | 14 | 6 | 20% | 57% | $548,464 |
| Umberto Rispoli | 66 | 11 | 8 | 13 | 17% | 48% | $505,814 |
| Mike Smith | 35 | 9 | 4 | 4 | 26% | 49% | $450,900 |
| Tiago Pereira | 70 | 7 | 6 | 7 | 10% | 29% | $318,380 |
| Juan Hernandez | 71 | 6 | 16 | 18 | 8% | 56% | $474,178 |
| Ricardo Gonzalez | 65 | 6 | 9 | 8 | 9% | 35% | $462,104 |
| Tyler Baze | 71 | 6 | 8 | 8 | 8% | 31% | $334,320 |
| Edwin Maldonado | 50 | 6 | 2 | 4 | 12% | 24% | $243,702 |
| Drayden Van Dyke | 40 | 4 | 8 | 9 | 10% | 53% | $317,508 |
Trainer Standings
(Current Through Sunday, November 27, 2020 Inclusive)
| | | | | | | | |
| --- | --- | --- | --- | --- | --- | --- | --- |
| Trainer | Sts | 1st | 2nd | 3rd | Win% | In-money% | Money Won |
| Richard Baltas | 42 | 10 | 9 | 1 | 24% | 48% | $407,360 |
| Peter Miller | 35 | 9 | 6 | 2 | 26% | 49% | $451,624 |
| Richard E. Mandella | 20 | 8 | 2 | 5 | 40% | 75% | $395,760 |
| Philip D'Amato | 34 | 7 | 5 | 4 | 21% | 47% | $326,580 |
| Bob Baffert | 15 | 7 | 1 | 2 | 47% | 67% | $294,660 |
| Doug F. O'Neill | 54 | 6 | 7 | 6 | 11% | 35% | $313,204 |
| Robert B. Hess, Jr. | 31 | 4 | 7 | 7 | 13% | 58% | $190,240 |
| Mike Puype | 18 | 4 | 0 | 1 | 22% | 28% | $166,220 |
| Mark Glatt | 23 | 3 | 5 | 2 | 13% | 43% | $169,162 |
| Michael W. McCarthy | 19 | 3 | 2 | 1 | 16% | 32% | $129,520 |
Winning Favorites Report
(Current Through Sunday, November 27, 2020 Inclusive)
Winning favorites -- 42 out of 112 -- 37.50%
Winning favorites on dirt -- 24 out of 59 -- 40.68%
Winning favorites on turf -- 18 out of 53 -- 33.96%
Winning odds-on favorites -- 9 out of 19 -- 47.37%
In-the-Money favorites -- 85 out of 112 -- 75.89%
In-the-Money odds-on favorites -- 16 out of 19 -- 84.21%