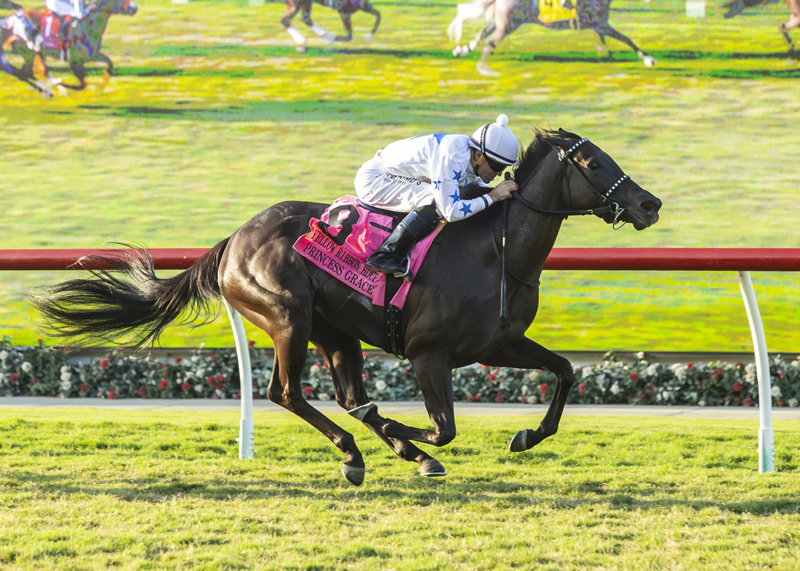 Princess Grace © Benoit Photo
YEAR-LONG TARGET MATRIARCH STRAIGHT AHEAD OF PRINCESS GRACE
If the third start at Del Mar of 2021 for Princess Grace -- Sunday's $400,000, Grade I Matriarch Stakes -- turns out as well as the first, it will be a plan coming to fruition for trainer Mike Stidham.
Stidham shipped the 4-year-old daughter of Karakontie, owned by Susan and John Moore, from one of his Midwest bases to Del Mar for the Grade II, $200,000 Yellow Ribbon on August 7 and saw her burst between horses at the top of the stretch and stride home a 1 ¼-length winner in the 1 1/16-mile turf event. A September win in the one-mile Ladies Turf at Kentucky Downs, in similar stretch-rally fashion, extended to four her winning streak in Grade II and Grade III events.
That streak ended with a third-place effort after setting the pace in the Grade II, one-mile Goldikova here on November 6, the first day of the Breeders' Cup World Championships. Now comes the Matriarch, like her two most recent at a mile on turf, and the aim of her 2021 campaign.
"This was the long range goal all along from the beginning of the year, try to make the Grade I and run well in the Matriarch," Stidham said this morning. "So, here we are. We're glad to be here and the filly has done well since the Breeders' Cup."
Princess Grace stayed at Del Mar after the Goldikova, a two-length loss to Going Global. She has been housed in Barn X just east of the grandstand and under the care of Stidham assistant Greg Hendricks. She worked four furlongs in :50.80 last Sunday.
"Just a comfortable half-mile breeze and I couldn't be happier with the way she's going into (the Matriarch)," Stidham said.
Princess Grace, who drew the No. 1 post and will be ridden by Kent Desormeaux, is the 8/5 morning line favorite, marginally ahead of 9/5 Regal Glory, a Chad Brown-trained multiple stakes winner looking to add a Grade I to her resume.
"Certainly, any time you run against Chad Brown it's never going to be easy," Stidham said. "So we hope we're going to be good enough to meet the challenge."
Hall of Famer Desormeaux, 51, notched his 86th stakes victory at Del Mar aboard Say The Word in Friday's Grade II, $250,000 Hollywood Turf Cup with a ride that was highly praised by trainer Phil D'Amato, among others. Desormeaux was aboard Princess Grace for both the Yellow Ribbon and the Goldikova.
"I'm hearing nothing but great things about the way that Kent has been riding lately, so that's great to have him ride for us," Stidham said. "He rode (Princess Grace) for us on Breeders' Cup Day and that race kind of set up funny.
"She wound up on the lead, where she'd never been before. I don't know if that took her out of her game, but this race sets up similarly. That's when you leave it up to a guy like Kent. He's got a lot of experience winning these kinds of races and he's going to make the choices once the gate opens.
"Whether we wind up on the lead or in a stalking position is to be determined after they break out of the gate."
The field from the rail with jockeys and morning line odds in parentheses: Princess Grace; Bodhicitta (John Velazquez, 12-1); Viadera (Flavien Prat, 5-2); Fast Jet Court (Drayden Van Dyke, 20-1); Zofelle (Umberto Rispoli, 5-1), and Regal Glory (Jose Ortiz).
---
TURF CUP 1-2 SAY THE WORD, ACCLIMATE HAVE MET BEFORE, WILL AGAIN
Say the Word and Acclimate, the 1-2 finishers in Friday's Grade II, $250,000 Hollywood Turf Cup, both came out of the race in fine fettle, trainer Phil D'Amato said this morning.
And, barring unforeseen circumstances, it's likely the stablemates – who raced against each other for the fourth time in a little over a year – will be competing head-to-head again in the future.
"For both of them marathons are the ideal distance," D'Amato said. "They like to run as far as races can be written. They've kind of taken turns getting the better of one another."
Say the Word, a 6-year-old gelded son of More Than Ready, prevailed by a length after making up four in the stretch in the 1 ½-mile Turf Cup running down Acclimate – who formfully had led from the outset. Exhibiting the same running styles, Say the Word was third and Acclimate fourth in the 2020 Turf Cup.
"(Say the Word) has been a horse that has been riddled with traffic trouble this past year," D'Amato said. "It (1-2 finish) is so bittersweet. I love (Acclimate) so much. He gives it his all every time and to have him get beat the way he did … Hats off to him, he laid it on the line and just got beat."
---
BROWN'S VERBAL FAVORITE AMONG 11 FOR SUNDAY'S CECIL B. DeMILLE
Verbal, a Juddmonte Farms homebred son of Flintshire, is the 5/2 favorite in a field of 11 on oddsmaker Jon White's morning line for Sunday's Grade III, $100,000 Cecil B. DeMille Stakes at one mile on turf for 2-year-olds.
The colt, a four-length winner at a mile on turf in his racing debut on October 10 at Belmont Park, was part of a seven-horse contingent for trainer Chad Brown that arrived Tuesday from New York. Jose Ortiz, aboard for the Belmont win, will be in the irons again, one of five scheduled mounts on the closing day card for the nation's No. 4 rider by purse earnings.
Trainer Michael McCarthy, who saddled standout Smooth Like Strait to win the race in 2019, has the second choice in 3-1 Optimising.
The field from the rail with jockeys and morning line odds in parentheses: Optimising (Umberto Rispoli); Khantaro d'Oro (Juan Hernandez, 12-1); Groovy Huey (Edwin Maldonado, 30-1); Derecho Dandy (Joe Bravo, 5-1); Barsabas (Tyler Baze, 12-1); Il Capitano (John Velazquez, 20-1); Cabo Spirit (Victor Espinoza, 6-1); Stotland (Kent Desormeaux, 30-1); Get Back Goldie (Kyle Frey, 6-1); Verbal, and Lottery Pick (Flavien Prat, 8-1).
---
JOCKEY RACE CLOSE; D'AMATO EDGES AWAY ATOP TRAINER STANDINGS
Juan Hernandez and Flavien Prat recorded two wins each on Friday as Hernandez maintained a two-win lead atop the jockey standings.
Hernandez won with Champagne Camie (3rd, $6.00) and Badger Kitten (9th, $7.80) to counter victories by Prat aboard A Paycheque Smile (2nd, $5.40) and Admirably (8th, $4.00). Hernandez has 16 wins from 65 mounts and has 14 starts scheduled, seven each day, in the final two days of the meeting. Prat, 14 for 67, is booked on eight mounts for the nine-race programs today and Sunday.
Phil D'Amato's three wins on Friday opened up a three-win margin on Bob Baffert for the training title. D'Amato's wins came with Red Storm Risen (1st, $4.80), Say the Word (7th, $13.00) and Badger Kitten (9th, $7.80) to break an 8-8 tie with Baffert and give him 11 from 42 starters.
D'Amato, who won a Del Mar title in 2016 and was co-winner with Richard Baltas in 2017, has representatives scheduled in four races today and five on closing day. Baffert, who had no starters on Friday has two daily to close the season.
Perennial training contenders Doug O'Neill and Peter Miller have nine and eight starters, respectively, to close the season but need to make up five wins each on D'Amato.
---
CLOSERS – Hot Rod Charlie worked 4 furlongs in :48.20 this morning for trainer Doug O'Neill, fastest of 11 at the distance. The 3-year-old son of Oxbow, who has topped more than $2 million in earnings this year for Boat Racing, Gainesway Stable and partners, is being pointed for the Grade I, $300,000, seven-furlong Malibu Stakes on opening day of the Santa Anita meeting, December 26.
---
Del Mar Statistics
Jockey Standings
(Current Through Friday, November 26, 2021 Inclusive)
| | | | | | | | |
| --- | --- | --- | --- | --- | --- | --- | --- |
| Jockey | Mts | 1st | 2nd | 3rd | Win% | In-money% | Money Won |
| Juan Hernandez | 65 | 16 | 12 | 10 | 25% | 58% | $1,047,946 |
| Flavien Prat | 67 | 14 | 18 | 6 | 21% | 57% | $1,936,810 |
| Umberto Rispoli | 65 | 11 | 10 | 10 | 17% | 48% | $1,094,828 |
| Kent Desormeaux | 37 | 7 | 4 | 6 | 19% | 46% | $772,396 |
| Victor Espinoza | 30 | 7 | 1 | 3 | 23% | 37% | $794,060 |
| Ricardo Gonzalez | 32 | 6 | 5 | 5 | 19% | 50% | $402,960 |
| Irad Ortiz, Jr. | 17 | 5 | 2 | 0 | 29% | 41% | $2,847,190 |
| Mario Gutierrez | 29 | 4 | 6 | 2 | 14% | 41% | $329,540 |
| Diego Herrera | 34 | 4 | 2 | 4 | 12% | 29% | $141,680 |
| Jessica Pyfer | 28 | 4 | 0 | 7 | 14% | 39% | $173,899 |
Trainer Standings
(Current Through Friday, November 26, 2021 Inclusive)
| | | | | | | | |
| --- | --- | --- | --- | --- | --- | --- | --- |
| Trainer | Sts | 1st | 2nd | 3rd | Win% | In-money% | Money Won |
| Philip D'Amato | 42 | 11 | 5 | 6 | 26% | 52% | $962,902 |
| Bob Baffert | 28 | 8 | 4 | 5 | 29% | 61% | $2,768,300 |
| Doug F. O'Neill | 56 | 6 | 15 | 4 | 11% | 45% | $974,940 |
| Peter Miller | 50 | 6 | 9 | 6 | 12% | 42% | $497,666 |
| Vladimir Cerin | 16 | 6 | 0 | 3 | 38% | 56% | $249,000 |
| Richard Baltas | 35 | 4 | 6 | 4 | 11% | 40% | $450,205 |
| Michael W. McCarthy | 17 | 4 | 4 | 4 | 24% | 71% | $1,118,300 |
| John W. Sadler | 25 | 4 | 3 | 2 | 16% | 36% | $540,505 |
| Jonathan Wong | 13 | 3 | 3 | 2 | 23% | 62% | $125,250 |
| George Papaprodromou | 12 | 3 | 1 | 0 | 25% | 33% | $85,900 |
Winning Favorites Report
(Current Through Friday, November 26, 2021 Inclusive)
Winning favorites -- 43 out of 116 -- 37.07%
Winning favorites on dirt -- 24 out of 58 -- 41.38%
Winning favorites on turf -- 19 out of 58 -- 32.76%
Winning odds-on favorites -- 13 out of 29 -- 44.83%
In-the-Money favorites -- 90 out of 116 -- 77.59%
In-the-Money odds-on favorites -- 25 out of 29 -- 86.21%