Friday, November 27th, 2020 ( 8 months ago )
Stable Notes
November 27, 2020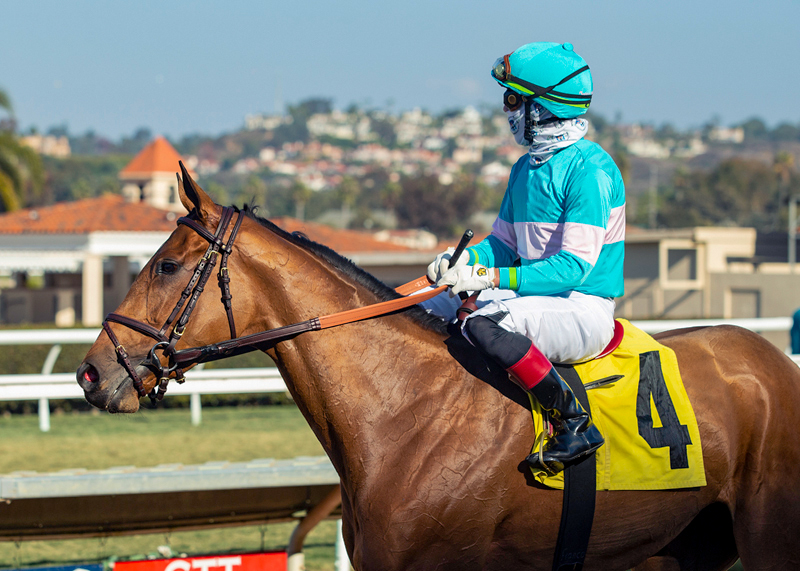 Orglandes © Benoit Photo
ONE DOWN, FOUR TO GO FOR TEAM CHAD BROWN
Phase I of Operation Del Mar Turf Festival for trainer Chad Brown's contingent was successfully accomplished Thursday when favored Orglandes made a late burst under Irad Ortiz, Jr., squeezing through a narrow opening between horses to win the Grade III, $100,000 Red Carpet Handicap.
One down for Team Brown among the seven graded stakes events over the final four days of the Bing Crosby Season. They'll be represented in four of the remaining six stakes after journeying west with eight horses and orders to add as many stakes victories as possible to the five previously notched by Brown representatives in the seven years that Del Mar has been the site of the events.
And that's not counting his two Breeders' Cup scores when the event was held here in 2017.
Orglandes is a 4-year-old French-bred who won the 1 3/8-mile Red Carpet marathon in her third U.S. start.
On Saturday, Team Brown will send out favored Fluffy Socks (5-2) in the Grade III, $100,000 Jimmy Durante for 2-year-olds; favored Flavius (5-2) and Spirit Animal (8-1) in the Grade II $200,000 Seabiscuit for older horses; and Domestic Spending (5-1) in the Grade I, $300,000 Hollywood Derby for 3-year-olds.
On Sunday, it's an all-out assault on the Grade I, $300,000 Matriarch for older fillies and mares with the trio of Blowout (4-1), Viadera (7-2) and Tamahere (4-1).
---
VIADERA SLIGHT FAVORITE AMONG NINE IN COMPETITIVE MATRIARCH
Chad Brown-trained Viadera was tabbed the 7-2 favorite, over stablemates Blowout and Tamahere and Brad Cox's Juliet Foxtrot – all 4-1 – on oddsmaker Jon White's morning line for Sunday's Grade I, $300,000 Matriarch Stakes.
The one-mile run over the Jimmy Durante Turf Course is the climactic event on the closing day of the Bing Crosby Season and the last of seven stakes of the Turf Festival over the final four days of the meet.
English-bred Viadera, owned and bred by Juddmonte Farms, was imported from Ireland last summer and comes in off stakes victories in the De La Rose at Saratoga in July and Grade III Noble Damsel at Belmont Park in September, both at the Matriarch distance.
The field from the rail, with jockeys and morning line odds in parenthesis: Mucho Unusual (Abel Cedillo, 10-1); Maxim Rate (Umberto Rispoli, 8-1); Sharing (Manuel Franco, 5-1); Blowout (Flavien Prat); Juliet Foxtrot (Mike Smith); Viadera (Joel Rosario); She's Our Charm (Juan Hernandez, 30-1); Bodhicitta (Ricardo Gonzalez, 12-1), and Tamahere (Irad Ortiz, Jr.).
The Matriarch goes as the ninth race on a 10-race program with first post at noon.
---
ROYAL PRINCE IS MORNING LINE CHOICE OF 11 IN CECIL B. DeMILLE
Steve Landers Racing's Royal Prince, trained by Brad Cox, drew the No. 10 post in a field of 11 and was named the 7-2 morning line favorite for Sunday's Grade III, $100,000 Cecil B. DeMille Stakes, a one-mile turf test for 2-year-olds.
A son of Cairo Prince who was a $70,000 purchase at the 2019 Keeneland September sale, Royal Prince comes in off a maiden win at the Lexington track in October.
The field from the rail with jockeys and morning line odds in parenthesis: Ebeko (Ricardo Gonzalez, 6-1); Harlan Estate (Abel Cedillo, 20-1); Cotopax (Tyler Baze, 15-1); Beer Can Man (Juan Hernandez, 8-1); Commander Khai (Mario Gutierrez, 15-1); Party Game (Irad Ortiz, Jr., 6-1); Big Fish (Umberto Rispoli, 5-1); Coastal Kid (Geovanni Franco, 30-1); Caisson (Flavien Prat, 6-1); Royal Prince (Joel Rosario, 7-2), and Wootton Asset (Manuel Franco, 9-2).
---
CEDILLO IN HOME STRETCH FOR SECOND STRAIGHT RIDING TITLE
Abel Cedillo was winless with five mounts in eight race on the Thanksgiving Day program, but still has an 18-11 lead over Flavien Prat entering the final three days of the meeting as he tries to defend his 2019 Bing Crosby Season riding title.
Cedillo has 18 wins from a meeting-high 81 mounts while Prat, who missed the first four days of the stand while away at the Breeders' Cup, has 11 wins from 49 opportunities. Prat guided Beguiled (4th race, $12.00) to a win Thursday and Umberto Rispoli scored with Gregdar ($15.00) in the eighth-race nightcap. Those three riders are the only ones with double-figure win totals. Rispoli has 10 victories from 60 mounts.
Training leader Peter Miller also was blanked from four starters Thursday, but holds a 9-7 advantage over Richard Mandella, Richard Baltas and Phil D'Amato. Baltas and D'Amato saddled one winner each to gain a share of second with Hall of Famer Mandella, whose seven wins have come from only 16 starters.
---
DEL MAR FALL BETTING CHALLENGE SELLS OUT SATURDAY
The "Del Mar Fall Challenge" champion will be crowned on Saturday.
The "live money" Challenge, now sold out at 100 entries, is played online through TVG.com. Players deposited $4,000 to enter with $3,000 going to the the live bankroll and $1,000 goes to the prize pool.
Contestants will compete for $100,000 in cash and prizes including three 2021 Breeders' Cup Betting Challenge entries held next year at Del Mar.
With their starting $3,000 bankroll, contestants will make win, place, show, exacta, trifecta or double wagers on the exceptional nine-race card featuring three graded stakes. Last year's Fall Challenge winner, Mark Streiff from Mission Viejo, CA, turned his bankroll into $18,705 and with prize winnings of $35,000 brought home more than $50,000.
---
CLOSERS – The saddle that Mike Smith used when he rode Life Is Good to a romping 9 ½-length debut win for Bob Baffert in last Sunday's second race – an effort that had 2021 Kentucky Derby contender written all over it – is a story in itself. It was the saddle Baffert used during his undistinguished riding career 50 years ago and was found by Baffert's brother Bill at the family home on a ranch near Nogales, AZ. Smith asked to use it when Baffert showed it to him and the saddle went out a winner in its last assignment before retirement while strapped to the back of Life Is Good.
---
Del Mar Statistics
Presented by Torrey Hollistics
Jockey Standings
(Current Through Sunday, November 26, 2020 Inclusive)
| | | | | | | | |
| --- | --- | --- | --- | --- | --- | --- | --- |
| Jockey | Mts | 1st | 2nd | 3rd | Win% | In-money% | Money Won |
| Abel Cedillo | 81 | 18 | 10 | 9 | 22% | 46% | $705,720 |
| Flavien Prat | 49 | 11 | 14 | 3 | 22% | 57% | $507,420 |
| Umberto Rispoli | 60 | 10 | 8 | 12 | 17% | 50% | $457,154 |
| Mike Smith | 31 | 8 | 3 | 4 | 26% | 48% | $406,860 |
| Tiago Pereira | 67 | 7 | 6 | 7 | 10% | 30% | $316,880 |
| Juan Hernandez | 66 | 6 | 13 | 18 | 9% | 56% | $438,978 |
| Ricardo Gonzalez | 60 | 6 | 9 | 8 | 10% | 38% | $458,924 |
| Tyler Baze | 64 | 6 | 8 | 6 | 9% | 31% | $310,040 |
| Edwin Maldonado | 49 | 6 | 2 | 4 | 12% | 24% | $239,100 |
| Drayden Van Dyke | 37 | 4 | 7 | 8 | 11% | 51% | $298,368 |
Trainer Standings
(Current Through Sunday, November 26, 2020 Inclusive)
| | | | | | | | |
| --- | --- | --- | --- | --- | --- | --- | --- |
| Trainer | Sts | 1st | 2nd | 3rd | Win% | In-money% | Money Won |
| Peter Miller | 34 | 9 | 6 | 1 | 26% | 47% | $442,420 |
| Richard Baltas | 35 | 7 | 9 | 0 | 20% | 46% | $330,780 |
| Philip D'Amato | 30 | 7 | 5 | 3 | 23% | 50% | $286,080 |
| Richard E. Mandella | 16 | 7 | 2 | 4 | 44% | 81% | $350,800 |
| Doug F. O'Neill | 49 | 6 | 5 | 6 | 12% | 35% | $288,904 |
| Bob Baffert | 14 | 6 | 1 | 2 | 43% | 64% | $259,260 |
| Robert B. Hess, Jr. | 30 | 4 | 7 | 7 | 13% | 60% | $189,740 |
| Mark Glatt | 19 | 3 | 3 | 2 | 16% | 42% | $140,460 |
| Michael W. McCarthy | 13 | 3 | 2 | 1 | 23% | 46% | $123,600 |
| Mike Puype | 14 | 3 | 0 | 1 | 21% | 29% | $115,140 |
Winning Favorites Report
(Current Through Sunday, November 26, 2020 Inclusive)
Winning favorites -- 38 out of 103 -- 36.89%
Winning favorites on dirt -- 23 out of 55 -- 41.82%
Winning favorites on turf -- 15 out of 48 -- 31.25%
Winning odds-on favorites -- 9 out of 18 -- 50.00%
In-the-Money favorites -- 77 out of 103 -- 74.76%
In-the-Money odds-on favorites -- 15 out of 18 -- 83.33%