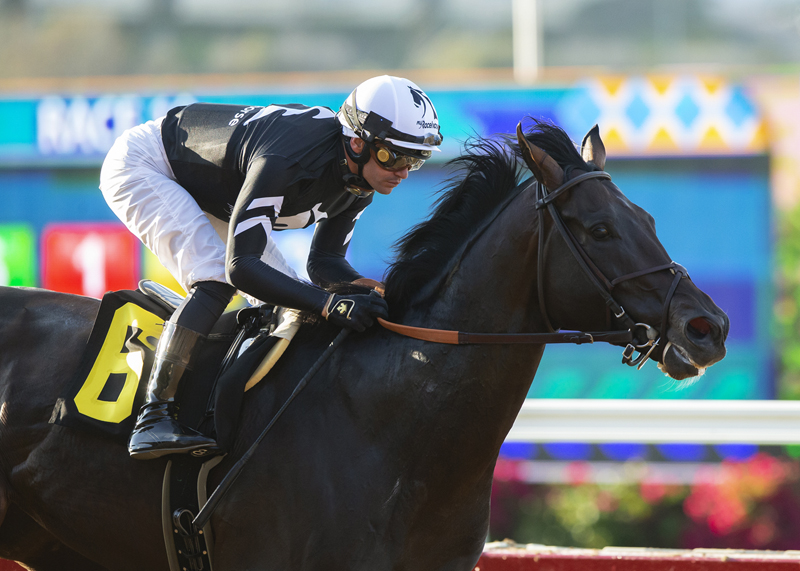 Tizamagician © Benoit Photo
TIZAMAGICIAN LOOKS TO END YEAR-LONG DROUGHT IN NATIVE DIVER
Tizamagician will try again to get back in the winner's circle when the stakes action at Del Mar shifts to the main track Sunday for the mile and an eighth, G3 Native Diver.
The son of Tiznow heads up a six-pack of horses, 3-year-olds and up. He hasn't had his picture taken after a race since winning the G3 Cougar II during the summer meet at Del Mar in 2021. Since then he's run in nothing but Graded stakes, finishing in the money four out of six times. He was runner-up in the 2021 Pacific Classic, runner-up in defense of his crown in this year's Cougar II, and third in his latest race, the G3 Tokyo City at Santa Anita last month.
'I wish it was another 3/8's of a mile," trainer Richard Mandella says of the Native Diver. "He likes a mile and a half. But it's the only place I had to run him and he's doing good so we'll just give it a try."
Tizamagician isn't the only Mandella horse having a hard time finding the winners circle. The Hall of Fame trainer got off to a slow start to the Bing Crosby meet, going oh-for 11 before winning back-to-back races Friday afternoon.
"I'm doing everything to my whole barn to get them over the hump," Mandella says. "They've had me under a cloud since summer. So I'm doing anything I can to try to break out."
Standing in the way of Mandella and Tizamagician are two horses in good form right now. Defunded is coming off of a breakout win in the G1 Awesome Again at Santa Anita last month.
"It was one of his better races," trainer Bob Baffert says. "He keeps getting better but he hasn't run well at Del Mar for some reason."
The son of Dialed In had a rough summer at Del Mar, running seventh in the G2 San Diego and then sixth in the shorter G2 Pat O'Brien. Baffert says he was going to send Defunded out of town to run, but decided to keep him here for the Native Diver Sunday.
"I think it's a good spot for him," he says. "It's a nice race and he likes the distance."
Baffert is also giving Azul Coast a chance to defend his title in the Native Diver. The 5-year-old son of Super Saver hasn't won since winning last year's race, finishing eighth and last in the Awesome Again and then fifth and last in an allowance last out.
He was beaten that day by former Baffert trainee Newgrange, who is now in the Philip D'Amato barn and is also entered in the Native Diver. The 3-year-old son of Violence made some noise on the Kentucky Derby trail earlier this year but went to the sideline after a sixth-place finish in the G2 Rebel Stakes at Oaklawn Park in February.
He returned in September and ran third in the Shared Belief here at Del Mar but then won a second level allowance by five lengths at Santa Anita last out.
"He's got every right to keep improving, "D'Amato says. "He was a nice graded stakes winner earlier this year, was sold privately, and he's just getting better and better."
The G3 Native Diver is the eighth of nine races on the Sunday card. First post is at 12:30 p.m.
Here's the field from the rail with the jockeys and morning line: Azul Coast (John Velazquez, 6-1); Tizamagician (Flavien Prat, 4-1); Go Joe Won (Jose Valdivia, Jr., 12-1); Newgrange (Ricardo Gonzalez, 5/2); Defunded (Edwin Maldonado, 6/5), and Parnelli (Victor Espinoza, 6-1).
---
STRENGTH IN NUMBERS FOR D'AMATO'S TURF WORKERS
Del Mar is unique in so many ways, one of which manifests itself this time of the year. Nowhere else can horsemen on the West Coast find a place to work their horses on the grass than at Del Mar. While most tracks back east have closed their grass courses for the winter, Del Mar offers training on the Jimmy Durante Turf Course on Sundays during the fall meet.
That's why last Sunday trainer Phil D'Amato broke out his arsenal of turf runners, 17 in all, during the morning session that lasts from 30-to-35 minutes. Quite a feat when you consider the amount of riders needed to work all those horses and the planning needed to get everybody to the right place at the right time.
"There's definitely a lot of planning," D'Amato says. "Figuring out the sets, who's going to breeze with who and with what rider."
If you visit D'Amato's barn on the backside at Del Mar, posted just outside of his office is a board where all the pieces come together. On it you'll find horse's names and who's going to ride them listed below different times of the morning.
"It's easy here (at Del Mar)," D'Amato continues, "because we have so many jockeys that are set to ride for the weekend. So to get them to breeze two horses back-to-back is not as tough as it seems."
Those from the D'Amato barn, who took a spin on the turf course last Sunday (Nov. 20), included Hollywood Turf Cup winner Prince Abama and fifth-place finisher, Cash Equity; his entries in the G2 Seabiscuit, Masteroffoxhounds and Hong Kong Harry; his nominee for the $100,000 Stormy Liberal, Coulthard; for the G3 Cecil B. DeMille, Classical Cat and Excelia, and for the G2 Matriarch on closing day, Hamwood Flier.
"I'm a firm believer of being able to run your horses right out of their stall," D'Amato says, "as opposed to shipping on race day. To come here where it's nice and quiet during the fall meet when there is not a lot of traffic and the horses can take a deep breathe, relax and train on the dirt and turf. I think it's very beneficial for them."
It appears to be working. D'Amato won the trainers' title at last year's Bing Crosby meet and he's leading so far again this fall with eleven wins in 28 starts.
The turf course will be open for the last time this season Sunday morning.
---
COALITION FORMED TO PROMOTE BENEFITS OF HORSE RACING
The Del Mar Thoroughbred Club has joined several Thoroughbred associations to form the California Horse Power Coalition, designed to preserve the state's vibrant equine culture. Santa Anita Park, the Thoroughbred Owners of California (TOC), the California Retirement Management Account (CARMA), the California Thoroughbred Breeders Association (CTBA) and others have joined the effort.
The coalition also consists of organizations representing backstretch workers and jockeys, animal wellness advocates, and family and fans of the horse racing. Together they hope to educate the public on the benefits of having an equine industry in California and the economic impact it has on communities.
For instance, the horse industry contributes over $8.3 million dollars to California's economy annually and $1.7 billion in tourism dollars from participants and spectators. The equine industry generates over 77-thousand jobs throughout the state and provides homes and active lifestyles for over six thousand horses.
To learn more or to become a member, visit: californiahorsecoalition.com
---
FREE & FUN SUNDAYS ON TAP TOMORROW AT DEL MAR
"Free & Fun Sundays" will be happening tomorrow at Del Mar, a racing fan's delight that brings a bounty of good things for those who belong to, or join, the track's Diamond Club.
Members get free admission and a program. The also get a free seat. And they get food and beverage discounts like a Coors Light beer for only $5 and a Brandt Beef hot dog, also for only a fiver.
For those who aren't already a Diamond Club member, the sign up only takes a few minutes and is readily available just outside the Stretch Run admission gates.
---
COOLING OUT: Jockey Flavien Prat put a serious dent in Juan Hernandez' sizable lead in the jockey standings Friday when he won four races. Prat dominated the Del Mar rider standings for several years and returned from back east this fall. He now has 12 wins, only three back of Hernandez…Lava Man is being celebrated in Kentucky today. The multiple grade one winner, turned lead pony, retired after the Breeders' Cup this year. Today Old Friends is hosting an open house for fans to meet Lava Man. Pizza and lava crunch cakes will be served…Another quiet day of training at Del Mar. In all, 17 horses put in official workouts this morning.
---
Del Mar Statistics
Jockey Standings
(Current Through Friday, November 25, 2022 Inclusive)
| | | | | | | | |
| --- | --- | --- | --- | --- | --- | --- | --- |
| Jockey | Mts | 1st | 2nd | 3rd | Win% | In-money% | Money Won |
| Juan Hernandez | 47 | 15 | 8 | 5 | 32% | 60% | $823,120 |
| Flavien Prat | 49 | 12 | 12 | 2 | 24% | 53% | $794,470 |
| Ramon Vazquez | 39 | 8 | 8 | 4 | 21% | 51% | $417,560 |
| Edwin Maldonado | 35 | 5 | 3 | 2 | 14% | 29% | $223,512 |
| John Velazquez | 26 | 4 | 4 | 9 | 15% | 65% | $325,020 |
| Hector Berrios | 25 | 3 | 6 | 4 | 12% | 52% | $239,980 |
| Joe Bravo | 20 | 3 | 3 | 7 | 15% | 65% | $209,215 |
| Mario Gutierrez | 19 | 2 | 4 | 1 | 11% | 37% | $119,540 |
| Abel Cedillo | 25 | 2 | 3 | 4 | 8% | 36% | $137,320 |
| Umberto Rispoli | 34 | 2 | 2 | 5 | 6% | 26% | $139,752 |
Trainer Standings
(Current Through Friday, November 25, 2022 Inclusive)
| | | | | | | | |
| --- | --- | --- | --- | --- | --- | --- | --- |
| Trainer | Sts | 1st | 2nd | 3rd | Win% | In-money% | Money Won |
| Philip D'Amato | 28 | 11 | 7 | 3 | 39% | 75% | $674,544 |
| Doug F. O'Neill | 21 | 6 | 4 | 2 | 29% | 57% | $289,600 |
| Bob Baffert | 16 | 5 | 4 | 2 | 31% | 69% | $333,800 |
| Peter Miller | 23 | 5 | 4 | 2 | 22% | 48% | $269,940 |
| Jeff Mullins | 13 | 3 | 3 | 1 | 23% | 54% | $183,360 |
| George Papaprodromou | 22 | 3 | 2 | 4 | 14% | 41% | $133,791 |
| Carla Gaines | 10 | 3 | 1 | 1 | 30% | 50% | $164,556 |
| Vladimir Cerin | 4 | 3 | 0 | 0 | 75% | 75% | $76,340 |
| Steve R. Knapp | 18 | 2 | 4 | 4 | 11% | 56% | $118,540 |
| Mark Glatt | 20 | 2 | 3 | 5 | 10% | 50% | $195,372 |
Winning Favorites Report
(Current Through Friday, November 25, 2022 Inclusive)
Winning favorites -- 25 out of 69 -- 36.23%
Winning favorites on dirt -- 12 out of 33 -- 36.36%
Winning favorites on turf -- 13 out of 36 -- 36.11%
Winning odds-on favorites -- 7 out of 11 -- 63.64%
In-the-Money favorites -- 50 out of 69 -- 72.46%
In-the-Money odds-on favorites -- 9 out of 11 -- 81.82%