Thursday, November 26th, 2020 ( 10 months ago )
Stable Notes
November 26, 2020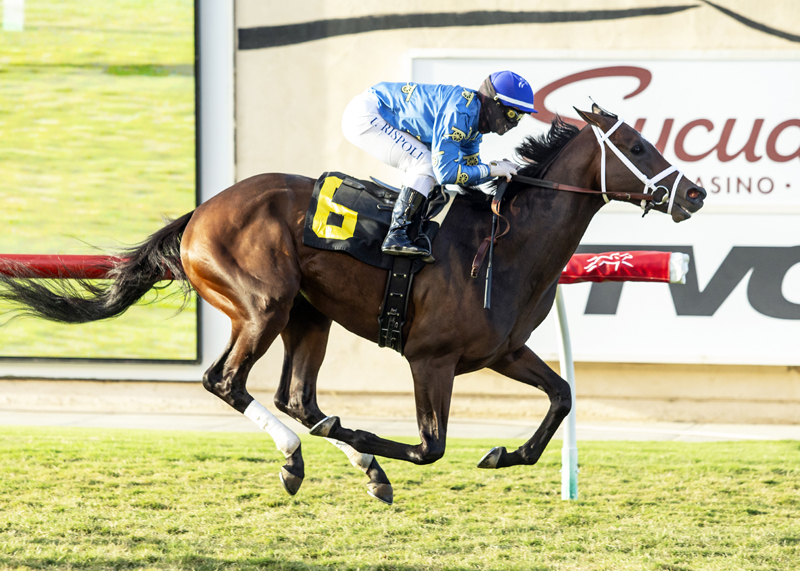 Smooth Like Strait © Benoit Photo
CAN SMOOTH LIKE STRAIT FEND OFF INVADERS IN HOLLYWOOD DERBY?
Home field advantage has become a dubious concept in these times of limited spectators at sporting events. But the term 'horse for course' still carries a lot of weight in racing.
And even with five highly-regarded shippers entered in Saturday's Grade I, $300,000 Hollywood Derby, Mike McCarthy-trained Smooth Like Strait deserves major consideration based on past performances on the Jimmy Durante Turf Course.
On the closing weekend of the 2019 Bing Crosby meeting the son of Midnight Lute, owned and bred by Cannon Thoroughbreds, won the Grade III Cecil B. DeMille Stakes for 2-year-olds, wire-to-wire by 3 ½ lengths. Last summer, he won the Grade III La Jolla Handicap, second leg of Del Mar's turf series for 3-year-olds, in similar front-running fashion by 2 ½-lengths.
That 2-for-2 record at Del Mar, and a score in the Grade II Twilight Derby at Santa Anita on October 18 in his last start, understandably have McCarthy enthused about the upcoming race.
"I've got nothing but good things to say about him," McCarthy said. "He's been a little unlucky a time or two, but he's given a top effort every time. I think something similar to the La Jolla could be a winning race.
"The competition is very tough, but I've got a lot of confidence in this horse and we're going to lead him over (for the race) with high expectations."
The field from the rail with jockeys and morning line odds in parenthesis: Kanderel (Geovanni Franco, 30-1); Smooth Like Strait (Umberto Rispoli, 7-2); Scarto (Manuel Franco, 10-1); Taishan (Jose Valdivia, Jr., 12-1); Storm the Court (Juan Hernandez, 8-1); California Kook (Ricardo Gonzalez, 20-1); Strongconstitution (Abel Cedillo, 20-1); Domestic Spending (Irad Ortiz, Jr., 5-1); Get Smokin (Mike Smith, 12-1); Decorated Invader (Joel Rosario, 3-1); Ever Dangerous (Victor Espinoza, 12-1); Lane Way (Drayden Van Dyke, 20-1), and Gufo (Flavien Prat, 4-1).
---
D'AMATO SENDS OUT A FOURSOME WITH TURF CUP IN MIND
Phil D'Amato is ready to tee it up with a foursome and take a big swing hoping to find the 'Cup.
But, rather than golf, the Thoroughbred trainer is sticking to his primary game and saddling four horses for Friday's featured $200,000, Grade II Hollywood Turf Cup. D'Amato's quartet for the 1 ½-mile grass marathon, all with different ownership going as separate betting interests, is comprised of Red King, Say the Word, Gregorian Chant and Acclimate.
"They're all running," D'Amato confirmed this morning. "They're all kind of uniquely different horses and have different running styles and they've all trained well for the race."
A capsule look alphabetically, with D'Amato's comments.
Acclimate. A son of Acclamation and an Old English Rancho homebred, the 6-year-old gelding will be making his first start in over a year but last season here won the Grade II, 1 3/8 mile Del Mar Handicap. "He had a bunch of little things to take care of and then it (comeback) got complicated by the COVID situation and the fires near Santa Anita," D'Amato said. "One setback after another; but his last few works have indicated to me that he's back close to being his old self."
Gregorian Chant. The 4-year-old English-bred hit the board in his last three starts for owners Slam Dunk and Old Bones Racing and comes in off a third-place finish in the Lure Stakes at Santa Anita that produced a career-best Beyer Speed Figure. "He was gelded (in May) and he's improved every race since," D'Amato said. "We want to stretch him out (first time beyond 1 1/8 miles) and see what he can do."
Red King. A victory this past summer in the Del Mar Handicap provided entrée to the $4 million Breeders' Cup Turf at Keeneland. But things didn't work out when he finished ninth of 10. "He needs some pace to run at and there was zero pace in the race," D'Amato said. "We were stuck wide on a slow pace and couldn't kick with those other really good horses. He's back here now, happy and healthy and hopefully we'll get the kind of effort we did last summer."
Say the Word. The 5-year-old gelded son of More Than Ready, owned in partnership and bred by Sam-Son Farm, is a newcomer to D'Amato's stable and comes in off a victory in the Grade I Northern Dancer at Woodbine. "He's worked twice here and looked very good," D'Amato said. "We're looking forward to seeing what he can do."
The field from the rail with jockeys and morning line odds in parenthesis: North County Guy (Mario Gutierrez, 15-1); Oscar Dominguez (Irad Ortiz, Jr., 15-1); Red King (Umberto Rispoli, 5-1); Say the Word (Flavien Prat, 5-1); Arklow (Joel Rosario, 5-2); Gregorian Chant (Ricardo Gonzalez, 20-1); Acclimate (Tyler Baze, 12-1); Laccario (Manuel Franco, 3-1); Ward 'n Jerry (Jose Valdivia, Jr., 20-1); Proud Pedro (Juan Hernandez, 20-1); Marckie's Water (Tiago Pereira 30-1), and Another Mystery (Mike Smith, 10-1). Listed as also eligible are Tartini (Tyler Baze 30-1) and Fivestar Lynch (Abel Cedillo, 30-1).
---
NINE ENTERED FOR SEASON-CLIMACTIC GRADE I MATRIARCH
A field of nine, one-third from the stable of mega-trainer Chad Brown, was entered today for Sunday's Grade I, Matriarch Stakes, the signature event of the final day of the Bing Crosby Season.
Brown's trio of shippers from New York is comprised of graded stakes winners Tamahere and Viadera and graded stakes-placed Blowout.
The post position draw was scheduled later today, but the entrants in alphabetical order with riders in parenthesis are: Blowout (Flavien Prat); Bodhicitta (No rider); Juliet Foxtrot (Mike Smith); Maxim Rate (Umberto Rispoli); Mucho Unusual (Abel Cedillo); Sharing (Manuel Franco); She's Our Charm (Juan Hernandez); Tamahere (Irad Ortiz, Jr.), and Viadera (Joel Rosario).
---
BROWN CHARGES FAVORED IN SATURDAY'S SUPPORTING STAKES
Imports from the stable of Chad Brown were accorded favoritism in both the Jimmy Durante and Seabiscuit Stakes on oddsmaker Jon White's morning line for Saturday's standout program that concludes with the Hollywood Derby.
Fluffy Socks, a winner twice in four career starts, is the 5-2 choice in a field of 13 for the $100,000, Grade III Jimmy Durante for 2-year-old fillies. Flavius, a 5-year-old son of War Front got the 5-2 nod among 13 older horses in the Seabiscuit.
The field for the Jimmy Durante from the rail with jockeys and morning line odds in parenthesis: Inner Beauty (Tiago Pereira, 20-1); Plum Sexy (Juan Hernandez, 6-1); Closing Remarks (Umberto Rispoli, 6-1); Nimbostratus (Ricardo Gonzalez, 12-1); Javanica (Flavien Prat, 6-1); Consternation (Drayden Van Dyke, 20-1); Pizzazz (Mike Smith, 6-1); Fluffy Socks (Irad Ortiz, Jr., 5-2); Quattroelle (Tyler Baze, 8-1); Bay Storm (Joel Rosario, 5-1); Polished Lady (Victor Espinoza, 30-1); Magical Thought (Abel Cedillo, 12-1), and Invincible Gal (Manuel Franco, 6-1).
The Jimmy Durante goes as the fifth race on a nine-race program.
The field for the Seabiscuit from the rail with jockeys and morning line odds in parenthesis: My Boy Jack (Victor Espinoza, 30-1); Camino Del Paraiso (Tiago Pereira, 15-1); Spirit Animal (Manuel Franco, 8-1); Imperador (Drayden Van Dyke, 15-1); Count Again (Juan Hernandez, 8-1); Majestic Eagle (Mario Gutierrez, 15-1); Blitzkrieg (Abel Cedillo, 10-1); Anothertwistafate (Joel Rosario, 4-1); Next Shares (Jose Valdivia, Jr., 12-1); One Bad Boy (Flavien Prat, 12-1); Tartini (Edwin Maldonado, 30-1); Flavius (Irad Ortiz, Jr., 5-2), and Bowie's Hero (Umberto Rispoli, 6-1).
The Seabiscuit goes as the seventh race on a nine-race program.
---
EASTERN INVADERS ARRIVE ON TWO PLANES
Racing Secretary David Jerkens has called Saturday's program the best at the track "in years." An assessment based, in no small part, on fields of both quality and quantity for three stakes races - the Grade III Jimmy Durante, Grade II Seabiscuit and Grade I Hollywood Derby – bolstered by a number of shippers.
The equine invaders from the east arrived in two planeloads, one on Monday and one this morning, at the behest of nine trainers.
Monday's flight had eight from the powerful and deep stable of Chad Brown, two from Christophe Clement and one apiece from Thomas Bush, Graham Motion, Victoria Oliver, Jonathan Thomas and Wesley Ward. This morning's arrivals were three from Brad Cox and one from Paulo Lobo.
---
CLOSERS – The closing day program on Sunday will be 10 races starting at noon … A looming milestone note from Rhonda Norby of Equibase: Bob Baffert, with 216, is three Grade I wins away from matching D. Wayne Lukas' all-time record 219. Baffert does not have representation in either of the Grade I stakes at Del Mar this weekend, but there are five Grade Is left on the 2020 racing calendar: The Cigar Mile at Aqueduct in New York and, in California, the Starlet at Los Alamitos and the Malibu, La Brea and American Oaks at Santa Anita ... For the seventh straight year the Del Mar Thoroughbred Club was proud to be part of the San Diego Toys for Tots program and the site last Sunday for a collection rally of items destined for distribution to needy children throughout the county. Ex-Marine Jay Anderson, liason with the DMTC and Del Mar Fairgrounds, happily reported that overall Toys for Tots donations through Sunday were at $19,830 monetarily and 1,883 toys.
---
Del Mar Statistics
Presented by Torrey Hollistics
Jockey Standings
(Current Through Sunday, November 22, 2020 Inclusive)
| | | | | | | | |
| --- | --- | --- | --- | --- | --- | --- | --- |
| Jockey | Mts | 1st | 2nd | 3rd | Win% | In-money% | Money Won |
| Abel Cedillo | 77 | 18 | 10 | 7 | 23% | 45% | $694,920 |
| Flavien Prat | 43 | 10 | 12 | 3 | 23% | 58% | $442,620 |
| Umberto Rispoli | 53 | 9 | 8 | 9 | 17% | 49% | $414,214 |
| Mike Smith | 29 | 8 | 3 | 4 | 28% | 52% | $405,860 |
| Ricardo Gonzalez | 55 | 6 | 9 | 8 | 11% | 42% | $454,644 |
| Tyler Baze | 59 | 6 | 7 | 6 | 10% | 32% | $299,880 |
| Tiago Pereira | 61 | 6 | 6 | 7 | 10% | 31% | $279,360 |
| Juan Hernandez | 61 | 5 | 13 | 17 | 8% | 57% | $417,478 |
| Edwin Maldonado | 47 | 5 | 2 | 4 | 11% | 23% | $224,800 |
| Alexis Centeno | 48 | 4 | 7 | 6 | 8% | 35% | $169,924 |
Trainer Standings
(Current Through Sunday, November 22, 2020 Inclusive)
| | | | | | | | |
| --- | --- | --- | --- | --- | --- | --- | --- |
| Trainer | Sts | 1st | 2nd | 3rd | Win% | In-money% | Money Won |
| Peter Miller | 31 | 9 | 5 | 1 | 29% | 48% | $432,820 |
| Richard Baltas | 29 | 7 | 7 | 0 | 24% | 48% | $291,480 |
| Richard E. Mandella | 15 | 7 | 2 | 4 | 47% | 87% | $350,300 |
| Doug F. O'Neill | 44 | 6 | 4 | 5 | 14% | 34% | $278,864 |
| Bob Baffert | 14 | 6 | 1 | 2 | 43% | 64% | $259,260 |
| Philip D'Amato | 27 | 5 | 5 | 3 | 19% | 48% | $228,540 |
| Robert B. Hess, Jr. | 25 | 3 | 6 | 7 | 12% | 64% | $164,840 |
| Mark Glatt | 18 | 3 | 2 | 2 | 17% | 39% | $124,260 |
| Michael W. McCarthy | 10 | 3 | 2 | 1 | 30% | 60% | $118,280 |
| Mike Puype | 13 | 3 | 0 | 1 | 23% | 31% | $114,640 |
Winning Favorites Report
(Current Through Sunday, November 22, 2020 Inclusive)
Winning favorites -- 35 out of 95 -- 36.84%
Winning favorites on dirt -- 22 out of 51 -- 43.14%
Winning favorites on turf -- 13 out of 44 -- 29.55%
Winning odds-on favorites -- 9 out of 17 -- 52.94%
In-the-Money favorites -- 70 out of 95 -- 73.68%
In-the-Money odds-on favorites -- 14 out of 17 -- 82.35%