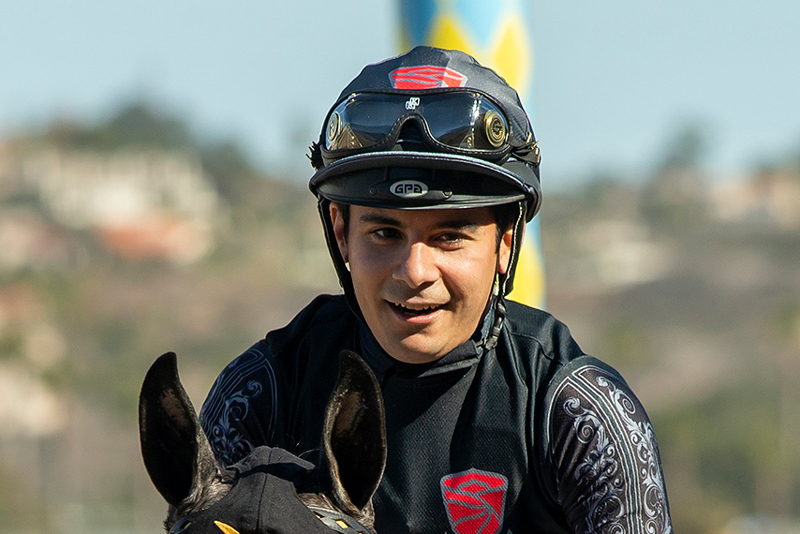 Ricardo Gonzalez © Benoit Photo
RICKY GONZALEZ NOTCHES SPECIAL VICTORY THURSDAY AT DEL MAR
Jockey Ricky Gonzalez has a lot to be thankful for this Thanksgiving. He's healthy, he has a lot of family support and he just won his 1,000th career victory.
The milestone came Thanksgiving Day in the third race at Del Mar when he booted home Spiritist to a 2 ¾ length win for trainer Kristin Mulhall. It comes nine years, nearly to the day, since he rang-up his first victory at Golden Gate Fields.
The 27-year-old rider won race #999 last Saturday at Del Mar, so he didn't have to wait long to get to one thousand. Gonzalez says he tried not to think about it.
"But people kept mentioning it to me," he says. "I'm glad that it finally happened especially here at Del Mar with my family here. I'm very thankful, very blessed. Thankful to all the trainers and owners."
Gonzalez is a native of Sinaloa, Mexico.
"It started as a dream as a 6-year-old boy," Gonzalez recalls. "My grandfather's friend is a breeder. One of his people told my dad he looks like a jockey. My dad said 'No, I'm too old but I have a son.' He introduced me to horses and I fell in love with them."
Gonzalez came to the United States in 2013, starting at Turf Paradise, but within the year he had moved his tack to Golden Gate Fields where he won his first race. Then in the summer of 2020 he decided to make the jump to Southern California.
The move paid off a few months later when he won his first graded stakes on Fair Maiden in the 2020 G1 La Brea on opening day at Santa Anita. He would go on to win the 2021 G3 San Juan Capistrano and the 2022 G3 San Luis Rey aboard Acclimate and the 2022 G2 Buena Vista with Leggs Galore.
Following his win Thursday, his fellow jockeys pounced as he approached the jockeys' room, showering him with water and wood-chip ground cover. It made quite a mess but Gonzalez was all smiles.
---
ARLINGTON MILLION WINNER BACK AT DEL MAR FOR G2 SEABISCUIT
The last time an Arlington Million winner ran at Del Mar was in 2017 when Beach Patrol came for the Breeders' Cup Turf. Before that it was in 2015 when The Pizza Man came to the seaside oval for the G2 Hollywood Turf Cup.
This year's Arlington Million winner has ventured out west for Saturday's feature, the $250,000 G2 Seabiscuit, a mile and sixteenth test for horses 3-years old and up. Santin won the re-located Arlington Million at Churchill Downs this summer.
"He's doing good," trainer Brendan Walsh says. "He got out there last Saturday."
The son of Distorted Humor ran in the G1 Hollywood Derby at Del Mar last year and missed by a neck to Beyond Brilliant. He's also won the G1 Turf Classic at Churchill Downs on the Kentucky Derby undercard earlier this year.
"There wasn't a lot of other options for him," Walsh says, using the same reasoning most out-of-town trainers use for coming out to Del Mar this time of year. "He liked it out there last year and there isn't a lot going on on the east coast without any turf racing this year. There wasn't any obvious spot for him here (Churchill Downs), so we decided to give it a shot."
Juddmonte Farm's Set Piece, from the Brad Cox barn, also is entered in the Seabiscuit. He ran in the Turf Mile at Keeneland, too, running fourth but beaten by only 1 ¾ lengths in the G1 event.
"He's doing very good," assistant trainer Blake Cox says. "He shipped in Sunday. He's galloped everyday he's been here and he's taken it in well."
The son of Dansili has run against nothing but graded stakes company this year, winning twice. He took the G2 Dinner Party on the Preakness undercard in May and the G3 Baltimore/Washington Turf Cup three months later, also at Pimlico.
"We were going to run him at Churchill but the race came off the turf," Cox says. "This was kind of the only other option. Either this or sit him home for a little winter vacation and we decided to do this."
Kentucky Ghost is another Midwest 'invader' in the Seabiscuit. He ships in from the Victoria Oliver barn. He pulled off a last-to-first win in a non-winners of four allowance at Keeneland last out. In the past, the son of Ghostzapper has had a rough go of it in graded stakes company. He has never finished better than fifth in his five graded stakes starts.
While all three invaders have the potential of getting their picture taken, the 'locals' in the G2 Seabiscuit are no pushovers.
Smooth Like Strait has been running with some of the best turf milers in the country the past two years. Since his last win, the G1 Shoemaker Mile at Santa Anita in May of 2021, the 5-year old son of Midnight Lute has finished second in six of his last eight races. It's something that can get frustrating for a trainer.
"Sure it does," trainer Michael McCarthy says. "I'd be lying if I said it doesn't. But the horse shows up every time, he seldom runs a bad race. I'd say you can draw a line through the Breeders' Cup. I expect him to run a big one on Saturday."
Smooth Like Strait faded to ninth in the Breeders' Cup Mile. In the race prior, he finished second to Santin in the Arlington Million.
"He had a little bit of an extended break between the Arlington Million and the Breeders' Cup Mile," McCarthy says, "so he's a horse with some fresh legs. He's run well at Del Mar and we thought we'd go ahead give this a shot."
Beyond Brilliant, out of the John Shirreffs barn, beat Santin in the Hollywood Derby at Del Mar last year. He's since won the G1 Charlie Whittingham at Santa Anita in April and the G2 City of Hope last month. The 4-year old son of Twirling Candy faded to eighth in the Breeders' Cup Mile three weeks ago.
"He came out of the Breeders' Cup in great condition and he's training well for this race," according to Shirreffs. "We thought he ran really well in the Breeders' Cup, he was only beaten by about four lengths against the best horses in the world."
A couple of horses who won during the summer meet at Del Mar are back for the Seasbiscuit. Irideo won the $100,000 Wickerr Stakes in July and then was runner-up to Hong Kong Harry in the G2 Del Mar Mile in September. Trained by Marcelo Polanco, the 6-year-old gelding ran fifth in the G2 City of Hope behind Beyond Brilliant last out.
Trainer Phil D'Amato brings a powerful one-two punch to the fight in Hong Kong Harry and Masteroffoxhounds. Hong Kong Harry looked brilliant in his win in the G2 Del Mar Mile after finishing second behind Master Piece in the G2 Eddie Read.
Masteroffoxhounds didn't' fare so well in his two trips around the Jimmy Durante turf course this summer, finishing fifth in both the G2 Eddie Read and the G2 Del Mar Handicap. But he went up to Santa Anita and won the G2 John Henry Turf Championship last out.
There are those in the know saying the G2 Seabiscuit is the race of the meet. It goes off as the seventh of nine races on the Saturday card. First post is at 12:30 p.m.
Here's the field from the rail with the jockeys and the morning line: Santin (Umberto Rispoli, 3-1); Masteroffoxhounds (Mike Smith, 12-1); Hong Kong Harry (Flavien Prat, 7/2); Smooth Like Strait (John Velazquez, 4-1); Beyond Brilliant (Victor Espinoza, 4-1); Lincoln Hawk (Joe Bravo, 20-1); Irideo (Hector Berrios, 10-1); Set Piece (Juan Hernandez, 5-1), and Kentucky Ghost (Ramon Vasquez, 20-1).
---
WEEKEND HANDICAPPING SEMINARS ON TAP SATURDAY, SUNDAY
Del Mar's free weekend handicapping seminars – which are presented throughout the fall meet – will be offered Saturday and Sunday in their new spot on the patio of the Hacienda Room just off the Plaza de Mexico.
Both sessions will be held starting at 11:35 a.m. and running until approximately 12:05 p.m. Guest handicappers will speak on the day's race card and share their selections and thoughts.
A pair of old pros – Frank Scatoni (Saturday) and Dan Smith (Sunday) -- will host the sessions.
Scatoni's guest will be the veteran handicapper and sports radio host Felix Taverna. Smith will team up with Daily Racing Form's West Coast correspondent Steve Andersen on Sunday.
---
COOLING OUT: Thursday's G3 Red Carpet winner, Bellstreet Bridie, came out of the race in good order and has already shipped back up to Santa Anita where in the days ahead she will begin prepping for her next race, the G1 American Oaks on December 26th…Jockey Barrington Harvey won his first race ever at Del Mar when he rode New Eagle to a rail skimming victory in the second race Thursday for trainer Sergio Morfin. While it was Harvey's first win at Del Mar, he is no rookie by any stretch. He's been riding the fair circuit in California since 1992. He has 9,175 career starts, 560 wins and lifetime earnings exceeding $8.3 million…Javier Matias, who mostly rides the smaller tracks in the West, also won his first race ever at Del Mar when he captured yesterday's 7th race on Sawasdee for trainer Debbie Winick.
---
Del Mar Statistics
Jockey Standings
(Current Through Thursday, November 24, 2022 Inclusive)
| | | | | | | | |
| --- | --- | --- | --- | --- | --- | --- | --- |
| Jockey | Mts | 1st | 2nd | 3rd | Win% | In-money% | Money Won |
| Juan Hernandez | 41 | 13 | 5 | 4 | 32% | 54% | $691,920 |
| Flavien Prat | 42 | 8 | 11 | 1 | 19% | 48% | $512,170 |
| Ramon Vazquez | 37 | 7 | 8 | 4 | 19% | 51% | $395,460 |
| Edwin Maldonado | 28 | 5 | 3 | 2 | 18% | 36% | $219,112 |
| Joe Bravo | 19 | 3 | 3 | 7 | 16% | 68% | $208,715 |
| John Velazquez | 21 | 3 | 3 | 7 | 14% | 62% | $223,880 |
| Hector Berrios | 20 | 3 | 3 | 4 | 15% | 50% | $208,600 |
| Mario Gutierrez | 16 | 2 | 4 | 0 | 13% | 38% | $109,900 |
| Abel Cedillo | 22 | 2 | 3 | 4 | 9% | 41% | $130,960 |
| Umberto Rispoli | 28 | 2 | 2 | 4 | 7% | 29% | $118,892 |
Trainer Standings
(Current Through Thursday, November 24, 2022 Inclusive)
| | | | | | | | |
| --- | --- | --- | --- | --- | --- | --- | --- |
| Trainer | Sts | 1st | 2nd | 3rd | Win% | In-money% | Money Won |
| Philip D'Amato | 23 | 9 | 7 | 3 | 39% | 83% | $475,344 |
| Doug F. O'Neill | 21 | 6 | 4 | 2 | 29% | 57% | $289,600 |
| Peter Miller | 20 | 4 | 4 | 1 | 20% | 45% | $237,900 |
| Bob Baffert | 13 | 4 | 2 | 2 | 31% | 62% | $263,800 |
| Jeff Mullins | 13 | 3 | 3 | 1 | 23% | 54% | $183,360 |
| George Papaprodromou | 21 | 3 | 2 | 4 | 14% | 43% | $131,631 |
| Carla Gaines | 8 | 3 | 1 | 1 | 38% | 63% | $162,616 |
| Vladimir Cerin | 3 | 3 | 0 | 0 | 100% | 100% | $75,840 |
| Steve R. Knapp | 14 | 2 | 4 | 2 | 14% | 57% | $106,700 |
| Mark Glatt | 18 | 2 | 2 | 5 | 11% | 50% | $176,132 |
Winning Favorites Report
(Current Through Thursday, November 24, 2022 Inclusive)
Winning favorites -- 21 out of 60 -- 35.00%
Winning favorites on dirt -- 10 out of 29 -- 34.48%
Winning favorites on turf -- 11 out of 31 -- 35.48%
Winning odds-on favorites -- 5 out of 9 -- 55.56%
In-the-Money favorites -- 43 out of 60 -- 71.67%
In-the-Money odds-on favorites -- 7 out of 9 -- 77.78%