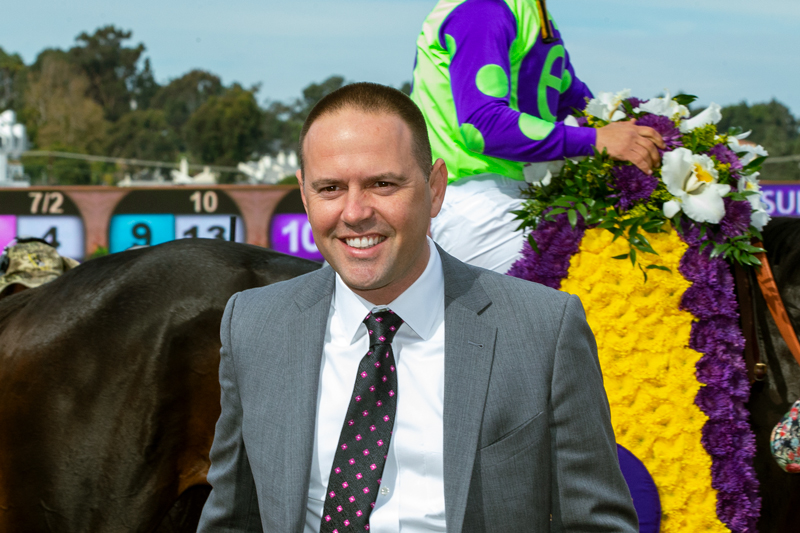 Chad Brown
OVERFLOW FIELD SET FOR SATURDAY'S GRADE I HOLLYWOOD DERBY
A capacity field of 14 and one also eligible were entered Wednesday for Saturday's Hollywood Derby, the first of two Grade I events on the weekend as the eighth Bing Crosby Season draws to a close.
Trainer Chad Brown, who has successfully dispatched 3-year-olds from his New York stable to victories in the 1 1/8 mile turf test three times in its eight runnings at Del Mar, will be represented by multiple-stakes winner Public Sector and Sifting Sands. They were part of an eight-horse contingent that arrived earlier this week as Brown seeks to add to his nine previous wins in stakes that comprise the meet-closing Turf Festival and make it back-to-back scores in the Derby.
Domestic Spending's victory by a head over Smooth Like Strait in the 2020 Hollywood Derby was the first in a streak of four straight Grade I victories that carried over to June of this year. Irad Ortiz, Jr., who rode Domestic Spending, has the call on Public Sector.
Irad's brother, Jose Ortiz, will be aboard Sifting Sands as the siblings, Nos. 2 and 4 in national purse earnings for 2021, venture from New York and put their talents on display here for the weekend. Hall of Fame veteran John Velazquez also will take up temporary residence in the jockey colony and will ride In Effect for Jack Sisterson in the Derby.
The locally-based line of defense against the eastern invaders is led by the 1-2-3 finishers in the Twilight Derby at Santa Anita on October 31 – Subconscious, Cathkin Peak and Beyond Brilliant. Subconscious, a son of Tapit trained by Hall of Famer Richard Mandella, has gone from a maiden victory here in his fourth career start to the Grade II level triumph in the Twilight Derby in a span of two months.
The field from the rail with jockeys and morning line odds: Dicey Mo Chara (Tyler Baze, 30-1); Beyond Brilliant (Kent Desormeaux, 12-1); Cathkin Peak (Flavien Prat, 6-1); Team Merchants (Mario Gutierrez, 15-1); Hudson Ridge (Mike Smith, 12-1); Public Sector (5/2); Flashiest (Abel Cedillo, 15-1); Sifting Sands (15-1); It Can Be Done (Joe Bravo, 20-1); Zoffarelli (Drayden Van Dyke, 20-1); Camp Hope (Tiago Pereira, 5-1); Subconscious (Juan Hernandez, 4-1); In Effect (20-1), and Santin (Umberto Rispoli, 10-1). Airman (Edwin Maldonado, 30-1) is the also eligible.
---
ROCKEMPEROR SOLID CHOICE IN FIELD OF EIGHT FOR TURF CUP
In the "Locals vs. Invaders" story line that is relevant for all seven graded stakes over the final four days of the meeting, Rockemperor defies categorization. The favorite in a field of eight for Friday's Grade II, $250,000 Hollywood Turf Cup is, in sports terms, a "tweener."
Trained by Chad Brown and raced mainly in New York in a 21-start career in which the 5-year-old Irish-bred son of Holy Roman Emperor shipped west to run a troubled but somewhat disappointingly eighth in the $4 million Longines Breeders' Cup Turf here on November 6. Since then, Rockemperor has been ensconced at Santa Anita preparing for the 1 ½-mile marathon.
Local or invader, a victory (worth $150,00) or runner-up ($50,000) effort would put Rockemperor over $1 million in career earnings for owner Madaket Stables of Sol Kumin and partners.
The field from the rail with jockeys and morning line odds in parentheses: Award Winner (Juan Hernandez, 12-1); Friar's Road (Umberto Rispoli, 3-1); Say the Word (Kent Desormeaux, 4-1); Astronaut (Victor Espinoza, 8-1); Cupid's Claws (Abel Cedillo, 12-1); Acclimate (Ricky Gonzalez, 4-1), and Rockemperor (Flavien Prat, 8/5).
---
BROWN AIMS TO FILL SEABISCUIT GAP WTH SACRED LIFE
In the seven previous seasons of the Bing Crosby Season Turf Festival, mega trainer Chad Brown has notched stakes wins in the Red Carpet, Jimmy Durante, Cecil B. DeMille (once each), Hollywood Derby (3 times) and Matriarch (3 times). Brown hasn't scored in the Seabiscuit, but came close in 2019 when Sacred Life was a fast-closing second to Next Shares, but missed by a neck.
Brown could fill in the Seabiscuit blank in the $250,000, Grade II, 1 1/16-mile event for 3-year-olds and up when it as run as Saturday's fifth race, the first of three graded stakes on the program. And Sacred Life, a 6-year-old French-bred, is one of two representatives that Brown will send out, the other being Flop Shot, a 5-year-old Irish-bred imported from France.
Sacred Life, to be ridden by Jose Ortiz, comes in off a victory on October 10 in the Grade III Knickerbocker Stakes at Belmont Park that was his seventh win in 21 career starts. Flop Shot raced in France through 2019 and made only one 2020 start for Brown. Owned by Peter Brant, Flop Shot has a pair of runner-up finishes at the optional claiming level in New York since returning to the races in September.
The field from the rail with jockeys and morning line odds in parentheses: Indian Peak (Juan Hernandez, 10-1); Field Pass (Umberto Rispoli, 5/2); Flop Shot (Irad Ortiz, Jr., 4-1); Bob and Jackie (John Velazquez, 6-1); Majestic Eagle (Flavien Prat, 8-1); Lambeau (Edwin Maldonado, 12-1), and Sacred Life (Jose Ortiz, 8/5).
---
O'NEILL, MILLER AND D'AMATO HAVE MULTIPLES FOR DURANTE
Perennial Del Mar training title contenders Phil D'Amato, Peter Miller and Doug O'Neill all have multiple entrants for Saturday's Grade III, $100,000 Jimmy Durante Stakes in hopes of breaking the stranglehold visiting conditioners have had on the one-mile turf run for 2-year-old fillies.
Fillies trained by Chad Brown, Michael Stidham, George Weaver, H. Graham Motion, Tom Proctor and Mark Casse have crossed under the wire first in the previous seven runnings at Del Mar. And Motion's Sparkle Blue, a daughter of Hard Spun who broke her maiden here on the opening day of the meeting, could extend that string.
But locally-headquartered conditioners have the other 10 in the field of 11 including two each from O'Neill and D'Amato and three from Miller.
The field from the rail with jockeys and morning line odds: Awake At Midnyte (Mario Gutierrez, 10-1); Miss Bellatrix (John Velazquez, 15-1); Tezzaray (Irad Ortiz, Jr., 4-1); Toeris (Abel Cedillo, 15-1); Travel Smart (Flavien Prat, 6-1); Liam's Dove (Juan Hernandez, 12-1); Reem Zabeel (Kyle Frey, 15-1); Virulent (Drayden Van Dyke, 6-1); Half Past Twelve (Tiago Pereira, 20-1); Sparkle Blue (Jose Ortiz, 4-1), and Helens Well (Umberto Rispoli, 7/2).
The Jimmy Durante Stakes goes as the seventh on the nine-race card.
---
GRANT WIN A BOFFO THING FOR FILMMAKER/TRAINER BAROCIO
There's a reason why it took Librado Barocio a couple of decades with his training license before scoring his first graded stakes victory in Sunday's Cary Grant.
"I'm a filmmaker," Barochio explained in the winner's circle afterward. "I make a film, I'm away for a year or two and then I come back. Last time I took three years off and came back in June. I've been working with Kevin Hart and Jamie Foxx on some things."
Barocio, a 1987 graduate of the UCLA film school, got his racetrack education working with/for the late trainer Julio Canani and Canani's assistant Miguel Delgado. He's trained thoroughbreds, when not fully engaged in the business of his Culver City-based New Latin Cinema Productions, off and on since 1999.
He currently has seven horses in his stable. Principe Carlo ($39.00) nosed out favored Positivity in a photo to provide Barocio with his first stakes victory anywhere. "I prayed so hard," Barocio said of the moments when the result hung in the balance. "But I felt good about it."
Principe Carlo had been claimed for $20,000 in October of 2020, went unraced for more than a year, and came back with a creditable runner-up at Santa Anita before the Cary Grant.
The owning Mi Familia Racing Stable, which translates from Spanish to "My Family," is indeed the family of Barocio, his wife two daughters and a son. Barocio has had runners at Del Mar over the years, he said, but not last summer
"I didn't come to Del Mar this (summer) because I was finishing up a film I was doing in Los Angeles," Barocio said. "The guys (racing secretaries) Chris Merz at Santa Anita and David Jerkens here have been good to me. They gave me a chance and that's all I needed. David said I could come here any time."
---
CLOSERS – Racing Secretary David Jerkens counted 18 shippers for the Turf Festival events, eight of them from trainer Chad Brown … Del Mar offered a salute to retiring trainer Art Sherman in the winner's circle after Thursday's fourth race … Entering the final four days of the season the races for jockey and trainer titles are close. Flavien Prat (12-for-55) and Juan Hernandez (12-for-53) are tied atop the jockey standings, Prat coming off a three-day suspension, with Umberto Rispoli (10-for-53) very much in contention. Bob Baffert (8-for-28) and Phil D'Amato (8-for-32) are deadlocked for the training lead with Doug O'Neil (6-for-50) next.
---
Del Mar Statistics
Jockey Standings
(Current Through Friday, November 21, 2021 Inclusive)
| | | | | | | | |
| --- | --- | --- | --- | --- | --- | --- | --- |
| Jockey | Mts | 1st | 2nd | 3rd | Win% | In-money% | Money Won |
| Flavien Prat | 55 | 12 | 13 | 6 | 22% | 56% | $1,790,750 |
| Juan Hernandez | 53 | 12 | 12 | 8 | 23% | 60% | $859,646 |
| Umberto Rispoli | 53 | 10 | 8 | 6 | 19% | 45% | $953,496 |
| Victor Espinoza | 25 | 6 | 1 | 3 | 24% | 40% | $758,660 |
| Ricardo Gonzalez | 25 | 5 | 3 | 5 | 20% | 52% | $318,360 |
| Irad Ortiz, Jr. | 17 | 5 | 2 | 0 | 29% | 41% | $2,847,190 |
| Kent Desormeaux | 31 | 4 | 4 | 5 | 13% | 42% | $520,280 |
| Abel Cedillo | 51 | 3 | 8 | 10 | 6% | 41% | $266,100 |
| Mario Gutierrez | 25 | 3 | 6 | 2 | 12% | 44% | $266,920 |
| Tyler Baze | 42 | 3 | 4 | 2 | 7% | 21% | $185,900 |
Trainer Standings
(Current Through Friday, November 21, 2021 Inclusive)
| | | | | | | | |
| --- | --- | --- | --- | --- | --- | --- | --- |
| Trainer | Sts | 1st | 2nd | 3rd | Win% | In-money% | Money Won |
| Bob Baffert | 28 | 8 | 4 | 5 | 29% | 61% | $2,768,300 |
| Philip D'Amato | 32 | 8 | 4 | 5 | 25% | 53% | $682,190 |
| Doug F. O'Neill | 50 | 6 | 14 | 3 | 12% | 46% | $946,720 |
| John W. Sadler | 23 | 4 | 3 | 2 | 17% | 39% | $539,505 |
| Vladimir Cerin | 12 | 4 | 0 | 2 | 33% | 50% | $153,700 |
| Peter Miller | 41 | 3 | 8 | 5 | 7% | 39% | $386,366 |
| Richard Baltas | 28 | 3 | 3 | 4 | 11% | 36% | $373,065 |
| Jonathan Wong | 13 | 3 | 3 | 2 | 23% | 62% | $125,250 |
| Michael W. McCarthy | 12 | 3 | 3 | 1 | 25% | 58% | $1,009,420 |
| George Papaprodromou | 9 | 3 | 1 | 0 | 33% | 44% | $83,960 |
Winning Favorites Report
(Current Through Friday, November 21, 2021 Inclusive)
Winning favorites -- 34 out of 99 -- 34.34%
Winning favorites on dirt -- 20 out of 50 -- 40.00%
Winning favorites on turf -- 14 out of 49 -- 28.57%
Winning odds-on favorites -- 13 out of 26 -- 50.00%
In-the-Money favorites -- 76 out of 99 -- 76.77%
In-the-Money odds-on favorites -- 23 out of 26 -- 88.46%