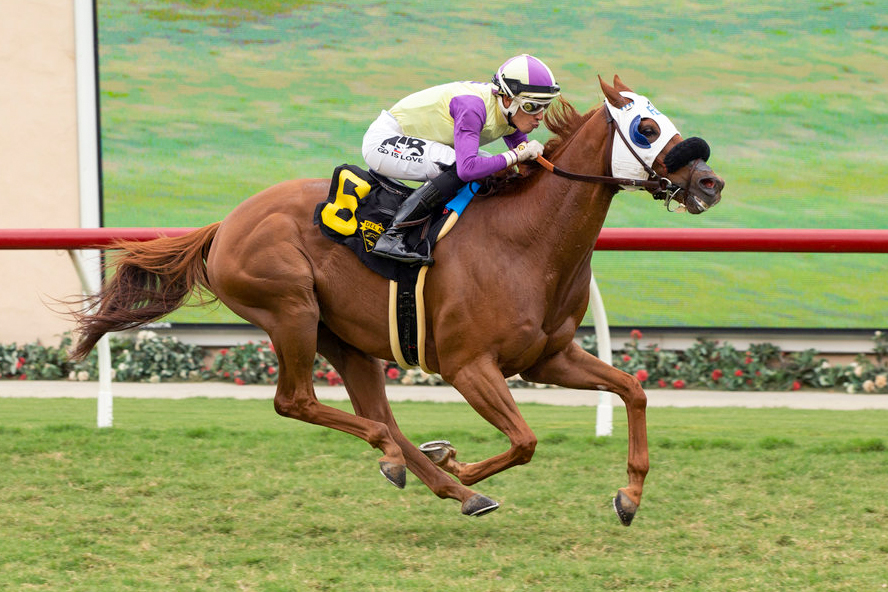 Prince Abama © Benoit Photo
41st RENEWAL OF HOLLYWOOD TURF CUP SET FOR FRIDAY AT DEL MAR
The Hollywood Turf Cup was one of the staples of the fall meet stakes schedule at Hollywood Park, dating back to 1981. John Henry won the race in 1983 and it's been won by such Hall of Fame trainers as Charlie Whittingham, Bobby Frankel and Jack Van Berg, as well as by riders Laffit Pincay, Jr., Chris McCarron, Pat Day and Bill Shoemaker.
So when Hollywood Park closed back in 2013, it was a 'no brainer' that one of the races Del Mar would adopt for its fall dates would be the Hollywood Turf Cup. They even kept the name intact, notably because it fit in nicely with the showbiz theme for the Bing Crosby season.
Since the change of address, the Hollywood Turf Cup remains a coveted trophy for some of the best marathon grass runners in horse racing. The tradition continues Friday at Del Mar as a field of seven line-up for the 41st running of the mile and a half event.
It appears to be a wide-open affair with some horses stepping up to a graded stakes for the first time, while others are trying to prove they belong at this level. Del Mar's leading trainer, Phil D'Amato, brings two of his horses to the dance. Prince Abama is coming off a runner-up finish in the $85,000 Lure Stakes at Santa Anita. Prior to that race the 4-year-old gelded son of Tamayuz finished third in the G2 City of Hope.
"He's a horse on the improve," D'Amato says. "We gave him time off as a 3-year-old to grow up and he's come back better, more mature and more competitive."
D'Amato's other horse is Cash Equity. The French-bred came to his barn earlier this year and won a second-other-than allowance at Santa Anita in May. But he ran eighth in the G2 Eddie Read at Del Mar this summer and fourth in the G2 John Henry Turf Classic at Santa Anita in October.
"We're just trying to get to know him and find out what he's best at," D'Amato says. "He's a horse that always trains very well. I think it's a question of what exact style he wants to have and at what distance."
Dicey Mo Chara, out of the Leonard Powell barn, may be sitting on a big race. He missed by a half a length in finishing third in the G2 Del Mar Handicap in September then missed by a neck to Masteroffoxhounds in the G2 John Henry last month. The 4-year-old gelded son of Adday has finished in the money in four of his five races on the Jimmy Durante Turf Course.
"The horse is doing well," Powell says. "He's had a very good year. Every time we came up a bit short against stakes level horses and hopefully Friday we'll be a bit more lucky. He's getting better with age and hopefully he continues to mature."
The Grey Wizard is shipping in from the Graham Motion barn in Maryland. He was a distant second to Nations Pride in the G3 Jockey Club Derby in September at the Belmont at Aqueduct meet and is still eligible for an entry level allowance. He fired a four furlong bullet drill in :48.00 at Del Mar Sunday.
The Hollywood Turf Cup is the seventh race on the nine-race Friday card. First post is 12:30 p.m.
Here's the field from the rail with the jockeys and morning line: The Grey Wizard (John Velazquez, 4-1); Cash Equity (Umberto Rispoli, 7/2); Go On (Mario Gutierrez, 8-1); Avenue (Juan Hernandez, 5-1); Dean Martini (Edwin Maldonado, 15-1); Prince Abama (Flavien Prat, 3-1), and Dicey Mo Chara (Ryan Curatolo, 5/2).
---
HERNANDEZ TAKES A FIRM HOLD ON RIDERS' STANDINGS AT DEL MAR
Like a horse who pops the gate at the start and opens up several lengths on the field, jockey Juan Hernandez is far out in front in the jockey standings for the Bing Crosby meet at Del Mar as he steamrolls toward another riding title.
Hernandez won five times last week to increase his total number of victories after two weeks of the fall meet to 12. His lead over Flavien Prat and Ramon Vasquez, both of whom are next in the standings, is up to six wins. Edwin Maldonado has five victories.
Hernandez also notched his fourth stakes race of the meet when he booted home Havnameltdown in the G3 Bob Hope Sunday. That helped lift his earnings for the Bing Crosby meet to $644,260, far and away the best of the fall campaign.
Quite possibly the most impressive number posted by Hernandez is his 32% win percentage from 37 starts. He finishes in the money 57% of the time. Joe Bravo leads in that category with 72% of his rides finishing in the money from 18 starts.
Hernandez is seeking back-to-back fall meet riding titles and his third consecutive title overall at Del Mar. He won the 2022 summer meet at the seaside oval by a wide margin.
Phil D'Amato maintained his lead in the trainers' standings this week. He won three times and sits atop the leaderboard with eight victories, two better than Doug O'Neill, who is serving a suspension for the remainder of the meet. Bob Baffert is next with four victories. D'Amato also leads in earnings with $451,944. And 82% of his horses have finished in the money from 22 starts.
Then there's trainer Vladimir Cerin who has started three horses at the fall meet, and all three have won. He sits fourth in the trainers' standings tied with Peter Miller, George Papaprodromou and Carla Gaines.
There have been 52 races run so far during the Bing Crosby meet and the field size is averaging 7.50 horses per race, the same number as last year at this time, excluding the Breeders' Cup races in 2021. There have been 27 turf races run this fall with an average field size of 7.90 horses per race.
---
COOLING OUT: Jockey Ricardo Gonzalez remains one win shy of 1,000 career wins as he enters the holiday weekend. He has one mount on Thursday, Spiritist in the third race; one mount on Friday, Omerta Code in the third race; and two mounts on Saturday, Lilly Babe in the first race and Tio Magico in the ninth race…As you would expect, training on the main track at Del Mar this holiday week has been light but there have been a couple of notable works: Handy Dandy (4f, :49.80) on Wednesday; Newgrange (6f, 1:12.00) on Monday.
---
Del Mar Statistics
Jockey Standings
(Current Through Sunday, November 20, 2022 Inclusive)
| | | | | | | | |
| --- | --- | --- | --- | --- | --- | --- | --- |
| Jockey | Mts | 1st | 2nd | 3rd | Win% | In-money% | Money Won |
| Juan Hernandez | 37 | 12 | 5 | 4 | 32% | 57% | $644,260 |
| Flavien Prat | 39 | 6 | 11 | 1 | 15% | 46% | $379,670 |
| Ramon Vazquez | 32 | 6 | 8 | 2 | 19% | 50% | $372,980 |
| Edwin Maldonado | 26 | 5 | 3 | 2 | 19% | 38% | $217,212 |
| Joe Bravo | 18 | 3 | 3 | 7 | 17% | 72% | $204,515 |
| John Velazquez | 21 | 3 | 3 | 7 | 14% | 62% | $223,880 |
| Hector Berrios | 17 | 3 | 2 | 3 | 18% | 47% | $169,700 |
| Mario Gutierrez | 14 | 2 | 3 | 0 | 14% | 36% | $104,400 |
| Abel Cedillo | 18 | 2 | 2 | 4 | 11% | 44% | $115,460 |
| Kyle Frey | 13 | 2 | 2 | 0 | 15% | 31% | $66,760 |
Trainer Standings
(Current Through Sunday, November 20, 2022 Inclusive)
| | | | | | | | |
| --- | --- | --- | --- | --- | --- | --- | --- |
| Trainer | Sts | 1st | 2nd | 3rd | Win% | In-money% | Money Won |
| Philip D'Amato | 22 | 8 | 7 | 3 | 36% | 82% | $451,944 |
| Doug F. O'Neill | 21 | 6 | 4 | 2 | 29% | 57% | $289,600 |
| Bob Baffert | 13 | 4 | 2 | 2 | 31% | 62% | $263,800 |
| Peter Miller | 19 | 3 | 4 | 1 | 16% | 42% | $195,900 |
| George Papaprodromou | 18 | 3 | 2 | 3 | 17% | 44% | $121,011 |
| Carla Gaines | 7 | 3 | 1 | 1 | 43% | 71% | $162,116 |
| Vladimir Cerin | 3 | 3 | 0 | 0 | 100% | 100% | $75,840 |
| Michael W. McCarthy | 10 | 2 | 2 | 3 | 20% | 70% | $109,740 |
| Steve R. Knapp | 11 | 2 | 2 | 1 | 18% | 45% | $91,540 |
| Jeff Mullins | 10 | 2 | 1 | 1 | 20% | 40% | $97,360 |
Winning Favorites Report
(Current Through Sunday, November 20, 2022 Inclusive)
Winning favorites -- 19 out of 52 -- 36.54%
Winning favorites on dirt -- 9 out of 25 -- 36.00%
Winning favorites on turf -- 10 out of 27 -- 37.04%
Winning odds-on favorites -- 4 out of 7 -- 57.14%
In-the-Money favorites -- 40 out of 52 -- 76.92%
In-the-Money odds-on favorites -- 6 out of 7 -- 85.71%