Saturday, November 21st, 2020 ( 9 months ago )
Stable Notes
November 21, 2020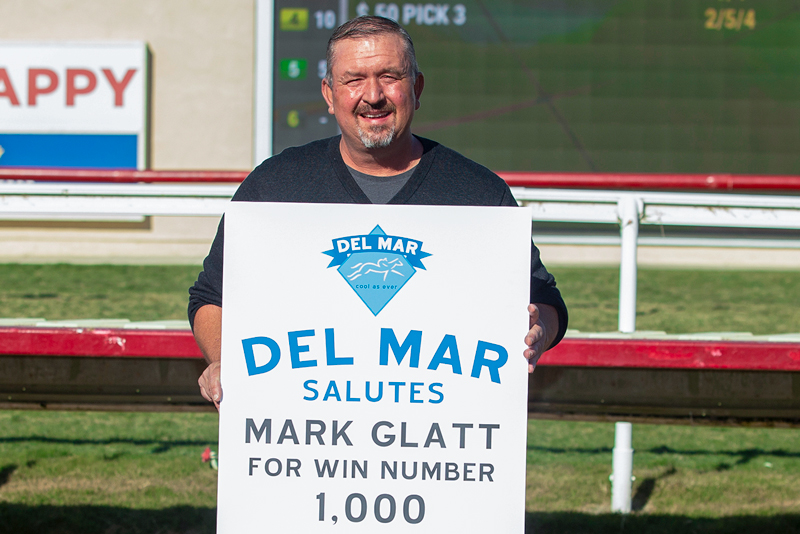 Mark Glatt © Benoit Photo
GLATT TAKES BUSINESSLIKE APPROACH TO MILESTONE 1,000th WIN
Asked if the countdown days to the milestone win – from 990 to 1,000 – were nerve-wracking or business-as-usual, trainer Mark Glatt went with the latter.
"You do think about it when you're a few wins away and when you enter (horses) you have a pretty good idea of what your chances are," Glatt said. "I knew we were getting close and I thought that maybe it would happen sooner than this because we've had a tremendous amount of seconds this year as it turns out.
"I knew it was going to happen and I was just looking forward to when it did."
Win No. 1,000 happened for Glatt in Friday's third race when Zestful ($6.40), with Edwin Maldonado in the irons, went wire-to-wire as the second choice in the betting and was 2 ½-lengths clear of favored Potantico at the wire in the 1 1/8-mile allowance/optional claimer.
"I thought this horse had a really good chance," Glatt said of his only representative on the eight-race card. "On paper it looked like he could get a pretty easy lead, which he did, and luckily the other riders left him alone. When he gets that kind of trip he can be double tough.
"Also, it was his first start off a long layoff which is oftentimes a horse's best start."
If, outwardly, Glatt took the milestone victory in stride, his responses in interviews afterward showed how he valued it inwardly.
"It is real important and a very nice accomplishment," Glatt said. "We work extremely hard to train and race these horses and there are a lot of ups and downs. This is certainly an up, and we're going to enjoy it.
"The big ones (race wins) you remember more, but they all count and they all feel the same in that moment when your horse crosses the finish line first."
Glatt, 47, grew up on a farm in Auburn, Washington, about 30 miles south of Seattle. His father, Ron, was a racehorse trainer throughout the Northwest. He served as an assistant to his father and others, took out his training license soon after graduation from Western Washington University at the age of 21, and has gone from the Pacific Northwest to Northern and then Southern California circuits, the last move coming in 2000.
"I grew up with horses and I knew at a very young age that there wasn't going to be anything else that I really wanted to do," Glatt said. "This isn't going to a factory and doing the same thing day after day. A new challenge is almost a daily occurrence. It's the love of the horses that keeps us all going and to get to work with horses and be outdoors – how can you beat it?"
Glatt was dutiful in pointing out that it was not an individual accomplishment.
"You're only as good as your help and I've been very fortunate to have very good assistants and a heck of a crew," Glatt said. "And I've been fortunate to have (owners) who have given me quality horses to train, have been loyal and have stuck with me through the good times and the bad."
The beauty of recording No. 1,000 at Del Mar was that his entire family was able to be on hand to witness it.
"There are times when I've got to be away at a sale or something and the most important thing is I was able to be here and have my family here with me," Glatt said.
But a family celebration was not in immediate plans.
"This is kind of a tough time of the year," Glatt said. "I've got a lot of workers (this) morning at Santa Anita and then I've got to get back down here because I've got six entered here in the afternoon.
"So we'll be on the road a lot. Maybe Sunday evening we'll find time to celebrate."
---
THANKSGIVING DAY FEATURE A FIRST TASTE OF TURF FESTIVAL QUALITY
The field of 10 for the Thanksgiving Day featured Red Carpet Stakes includes four horses that last raced in New York or Kentucky on assignment from nationally-renowned trainers. Three of them will have elite Eastern-based jockeys that venture west only when the stakes are most plentiful and highest – as they will be through the four final days of the Bing Crosby Season.
So the Grade III, $100,000 Red Carpet figures to be a tasty hors d'oeuvre for the feast that will follow—six graded stakes on grass in three days in what amounts to a "Turf Festival" – to the November 29 close of the meeting.
Three notable equine travelers for the 1 3/8 mile Red Carpet marathon for fillies and mares are Orglandes for one of the nation's leading trainers, Chad Brown, Woodfin for Victoria Oliver and Blame Debbie for H. Graham Motion. And Peter Miller has had California Kook, runner-up in the Grade I Del Mar Oaks last summer, in training at San Luis Rey Downs for a month since returning from a fifth-place finish in the Grade I Queen Elizabeth II Cup on October 10 at Keeneland.
Irad Ortiz, Jr., No. 1 in North America for purse earnings with nearly $20 million, will ride Orglandes, a 4-year-old import from France making her third U.S. start and coming in off a win at Belmont Park on October 9. Joel Rosario, No. 2 in winnings with nearly $17 million, has the call on California Kook. Manny Franco, No. 10 with more than $11.4 million will be aboard Blame Debbie after their initial collaboration resulted in victory in the Grade III Dowager at Keeneland last month.
The field from the rail with jockeys in parenthesis: California Kook (Rosario); Never Be Enough (Tiago Pereira); Colonial Creed (Flavien Prat); Orglandes (Ortiz, Jr.); Going to Vegas (Mario Gutierrez); Woodfin (Jose Valdivia, Jr.); Aunt Lubie (Victor Espinoza); Blame Debbie (Franco); Hollywood Girl (Mike Smith), and Quick (Umberto Rispoli).
---
OSCAR DOMINGUEZ IS BACK TO DEFEND TITLE IN HOLLYWOOD TURF CUP
Oscar Dominguez, who pulled off an upset of United at odds of 11-1 in the 2019 Hollywood Turf Cup, is entered to defend the title when the Grade II, $200,000 event is run for the 39th time overall and the seventh at Del Mar on Friday.
The now 7-year-old Irish-bred gelding, owned by Nancy Messineo and Bruce Sands and trained by Richard Baltas, rallied from last of 10 with a mile to go in the 1 ½-mile marathon to win by a neck under Hall of Fame jockey John Velazquez last year. Another top rider from the east, Irad Ortiz, Jr., will be aboard on Friday as Oscar Dominguez seeks to end an 0-for-5 record in 2020 that has followed the Turf Cup score.
The post position draw was scheduled later today. The other entrants, in alphabetical order with jockeys in parenthesis are: Another Mystery (Mike Smith), Arklow (Joel Rosario), Fivestar Lynch (Abel Cedillo), Laccario (Manuel Franco), Marckie's Water (Tiago Pereira), North County Guy (Mario Gutierrez), Proud Pedro (Juan Hernandez), Red King (Umberto Rispoli), Say the Word (Flavien Prat), Tartini (No Rider) and Ward 'N Jerry (No Rider).
---
'ONE O ONE' COULD BE FASTEST ROUTE TO CARY GRANT VICTORY
Take the One O One, the 3-1 second choice on the morning line behind Galilean for Sunday's $100,000 Cary Grant Stakes, has been nearly as solid and dependable as the California coastal highway referenced in the name of the 5-year-old son of Acclamation.
Entering Sunday's 7-furlong main track sprint for California breds, Take the One O One has six wins in 17 starts and earnings of $447,326 for the Jay Em Ess Stable of Samantha Siegel and trainer Brian Koriner.
"We bought him privately when he was in training as a 2-year-old and have had him his whole career," Siegel said. "He's just a very good, honest horse. Very kind, beautiful and Brian has done a great job with him."
Take the One O One was last seen here winning an optional claiming event on August 22 that was his third win on the local dirt surface in as many tries over the years. Boosted to the Grade I level for the Awesome Again on September 26 at Santa Anita, he set the pace before being overtaken by Improbable, Maximum Security and Midcourt.
"We've been pointing for this and he's been training very well," Siegel said of the step down from elite handicap division competition to state breds.
One concern might be that the consistent front runner figures to have plenty of competition for the early lead.
"I think he can rate a little bit, he's done it before," Siegel said. "It just depends on how the horse feels and the break, you've always got to play the break. We'll talk with the rider (Jose Valdivia, Jr.) and come up with a plan."
The field from the rail with jockeys and odds in parenthesis: Appreciated (Tiago Pereira, 20-1); Brickyard Ride (Alexis Centeno, 6-1); Take the One O One (Valdivia, 3-1); Surfing Star (Jessica Pyfer, 12-1); Oliver (Juan Hernandez, 20-1); El Tigre Terrible (Flavien Prat, 7-2); Bettor Trip Nick (Drayden Van Dyke, 15-1); Galilean (Umberto Rispoli, 5-2); Loud Mouth (Abel Cedillo, 12-1), and Rookie Mistake (Mario Gutierrez, 8-1).
---
CLOSERS – It seemed a lot like last summer on Friday as Flavien Prat and Umberto Rispoli reprised their pitched battle (then atop the jockey standings) with each winning twice. The wins moved them into a tie for second with Hall of Famer Mike Smith with seven wins apiece. Defending Bing Crosby season champion Abel Cedillo notched one win, however, and has a seven-win margin with six days remaining … Prat's win on Fly to Mars (4th race, $4.40) for Peter Miller moved the four-time Crosby title-winning trainer two ahead (8-6) of defending champion Richard Baltas and Hall of Famer Richard Mandella.
---
Del Mar Statistics
Presented by Torrey Hollistics
Jockey Standings
(Current Through Sunday, November 20, 2020 Inclusive)
| | | | | | | | |
| --- | --- | --- | --- | --- | --- | --- | --- |
| Jockey | Mts | 1st | 2nd | 3rd | Win% | In-money% | Money Won |
| Abel Cedillo | 65 | 14 | 10 | 6 | 22% | 46% | $561,200 |
| Flavien Prat | 31 | 7 | 11 | 1 | 23% | 61% | $352,000 |
| Umberto Rispoli | 42 | 7 | 4 | 8 | 17% | 45% | $297,754 |
| Mike Smith | 23 | 7 | 2 | 2 | 30% | 48% | $343,200 |
| Ricardo Gonzalez | 47 | 6 | 7 | 7 | 13% | 43% | $428,844 |
| Tiago Pereira | 49 | 6 | 5 | 5 | 12% | 33% | $256,000 |
| Tyler Baze | 49 | 6 | 3 | 5 | 12% | 29% | $258,560 |
| Juan Hernandez | 47 | 4 | 12 | 12 | 9% | 60% | $319,498 |
| Edwin Maldonado | 39 | 4 | 2 | 4 | 10% | 26% | $185,200 |
| Alexis Centeno | 40 | 3 | 7 | 6 | 8% | 40% | $151,384 |
Trainer Standings
(Current Through Sunday, November 20, 2020 Inclusive)
| | | | | | | | |
| --- | --- | --- | --- | --- | --- | --- | --- |
| Trainer | Sts | 1st | 2nd | 3rd | Win% | In-money% | Money Won |
| Peter Miller | 26 | 8 | 5 | 0 | 31% | 50% | $401,580 |
| Richard Baltas | 25 | 6 | 6 | 0 | 24% | 48% | $270,280 |
| Richard E. Mandella | 12 | 6 | 2 | 3 | 50% | 92% | $277,460 |
| Doug F. O'Neill | 30 | 4 | 2 | 4 | 13% | 33% | $196,304 |
| Bob Baffert | 12 | 4 | 1 | 2 | 33% | 58% | $190,860 |
| Robert B. Hess, Jr. | 20 | 3 | 5 | 5 | 15% | 65% | $142,820 |
| Philip D'Amato | 22 | 3 | 5 | 3 | 14% | 50% | $166,360 |
| Mark Glatt | 12 | 3 | 1 | 2 | 25% | 50% | $105,580 |
| Michael W. McCarthy | 6 | 3 | 0 | 1 | 50% | 67% | $100,120 |
| John W. Sadler | 26 | 2 | 4 | 5 | 8% | 42% | $188,954 |
Winning Favorites Report
(Current Through Sunday, November 20, 2020 Inclusive)
Winning favorites -- 27 out of 77 -- 35.06%
Winning favorites on dirt -- 17 out of 41 -- 41.46%
Winning favorites on turf -- 10 out of 36 -- 27.78%
Winning odds-on favorites -- 5 out of 12 -- 41.67%
In-the-Money favorites -- 56 out of 77 -- 72.73%
In-the-Money odds-on favorites -- 9 out of 12 -- 75.00%