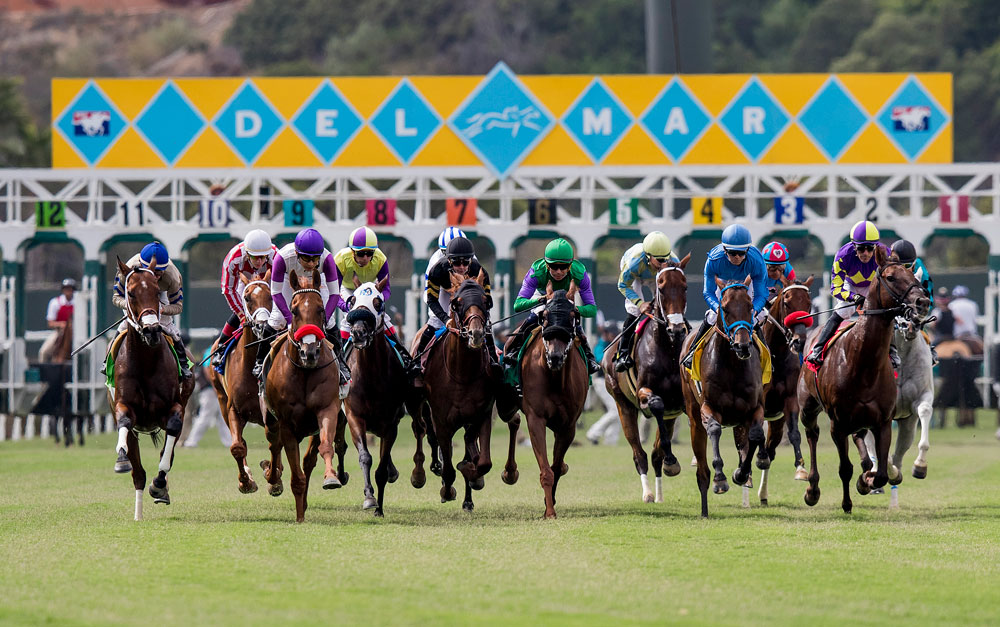 DEL MAR'S FALL TURF FESTIVAL ATTRACTS BIG NAME SHIPPERS
The eight races that make up this year's Fall Turf Festival at Del Mar are beginning to take shape and the potential group of east coast and Midwest invaders make up an impressive lineup. The first race, the G3 Red Carpet, was drawn Saturday and will be run on Thanksgiving Day.
The G2 Hollywood Turf Cup is scheduled for Friday, the 25th. It's attracted the attention of several top name trainers who have nominated horses for the 12-furlong marathon turf event.
Trainer Bill Mott has nominated Mooney Love. Christophe Clement is considering shipping Soldier Rising and Brendan Walsh may bring G3 Dowager winner Temple City Terror.
The G2 Seabiscuit, run on Saturday the 26th, rounds out the first weekend's portion of the Fall Turf Festival. The out-of-towners nominated for the race include G1 Arlington Million winner Santin from the Brendan Walsh barn; Brad Cox' Set Piece; Christophe Clement's City Man; Victoria Oliver's Kentucky Ghost, and Wootton Asset from the Graham Motion barn.
Del Mar racing secretary David Jerkens says it's nice to see the pre-Covid interest in the Fall Turf Festival from so many out-of-town trainers.
"From what we've seen in the Turf Cup and the Seabiscuit," he says, "it looks like we're on par with most years in terms of out-of-town interest."
The Fall Turf Festival offers something that's hard to come by this time of year in horse racing, graded stakes turf racing.
"Where the races are located and the time frame," Jerkens says in regards to the appeal of the Festival. "Obviously, at the end of the year turf opportunities back east are limited so it fits a certain time when there's not as much competition. Plus, Grade 1's in early December, there's not too many of them on the turf."
And Del Mar will feature two during the Turf Festival, the Hollywood Derby and the Matriarch.
"That's pretty much where this turf festival is designed on the calendar," Jerkens continues. "It's our good offerings but also a reflection of just a lack of opportunities elsewhere."
Most of the out-of-town trainers will ship in their horses days before the race.
"Brad Cox is coming to the Seabiscuit with Set Piece and they'll arrive Sunday," Jerkens says. "Shug McGaughey and Todd Pletcher are looking at the Hollywood Derby and Chad Brown for the Matriarch so we'll have some household names."
The Fall Turf Festival continues into the closing weekend at Del Mar, featuring no less than five graded stakes on the turf; three on Saturday, December 3rd and two more on Sunday, December 4th. The Saturday races consist of the G3 Jimmy Durante for 2-year old fillies, the G1 Hollywood Derby for 3-year-olds, and the inaugural $100,000 Stormy Liberal turf sprint for 3-year-olds and up.
Then on Sunday, closing day of the Bing Crosby meet, the Fall Turf Festival concludes with the G3 Cecil B. DeMille for 2-year olds and the G1 Matriarch for fillies and mares 3-year-olds and up.
Post time will be 12:30 p.m. except on Thanksgiving Day when the racing begins at 11 a.m.
---
FLAVIEN PRAT RETURNS TO OLD STOMPING GROUNDS FOR FALL MEET
It's quite possibly a southern California jockey's worst nightmare. Flavien Prat returning to ride at Del Mar. When we last saw Prat riding on the west coast he was dominating the jockey standings, running together a string of riding titles at both Del Mar and Santa Anita.
So when he picked up and left for the east coast last April, there was a collective sigh of relief in the jocks room and several riders gathered their tack and moved to Del Mar for the summer meet in hopes of filling the void left behind by Prat.
But this fall, for a number of reasons, Prat has decided to return to Del Mar and afterward, spend the winter at Santa Anita.
"First because it's home, I have my house here," Prat explains when asked why he made the move. "Del Mar has always been a very good meet. There's always good horses. Then the Santa Anita winter meet is always a strong meet."
Irad Ortiz Jr. continues to dominate Belmont Park and Saratoga, in much the same way Prat dominated when he was riding on the west coast. But Prat did very well in New York finishing second to Ortiz in number of wins at Belmont Park's spring meet and then runner-up again to Ortiz at Saratoga over the summer. Prat slipped to seventh in the jockey standings at the just concluded Belmont Park at Aqueduct meet.
"I really enjoy riding over there," Prat says. "The main key for us riders is as long as you ride good horses, it's fun, but if you don't ride good horses it's a different deal. I went back east and had the support of multiple trainers."
He says it took a bit of an adjustment to riding fulltime in New York.
"The tracks are a bit slower on the east coast," Prat says, "so they train differently, which means they run differently."
Prat currently sits second in the nation in earnings for the year with $27,822,732 behind, who else, Ortiz. He's tied with Edwin Maldonado for second in the Del Mar jockey standings with four wins.
"Trainers who have been a big part of my success here in California," Prat says, "have been supporting me since I came back and I'm really grateful for that."
Like so many of the jockeys in horse racing, Prat started at an early age.
"My dad is a harness trainer so I've always been around horses," Prat says. "I started doing pony races and then when I got to 14 I got to go to jockey school. I started riding in France when I was 16."
He credits his success on the track to his childhood.
"I think it's a huge edge to have the chance to grow around horses," Prat says, "and learn how to ride early."
Prat was not the only New York rider to relocate to southern California this fall. Hall of Fame jockey John Velazquez has also made the temporary move, making the Del Mar jockey colony as competitive as ever, joining such emerging stars as Juan Hernandez and Umberto Rispoli.
"I think the colony is very good," Prat says. "It's been a year or two now of different riders coming into the states and riding here. I think it's great."
Prat intends to keep the same timeline he used last year, riding at Santa Anita until April and then riding at Keeneland before returning to New York when Belmont Park opens for its spring meet.
---
SISTER OTOOLE BACK FOR AN ENCORE IN THE G3 RED CARPET
Sister Otoole made quite a splash when she took down the $100,000 CTT & TOC Stakes this past summer at Del Mar. It set the stage for a stakes-winning double that weekend for Maryland trainer H. Graham Motion, who also sent out Spendarella to win the G1 Del Mar Oaks the next day.
Sister Otoole returns to Del Mar Thursday in the G3 Red Carpet Handicap, a mile and three eighths test for fillies and mares 3-year olds and up. The Thanksgiving Day feature is the first of nine races that make up the 2022 Fall Turf Festival, run over the next two weekends.
The 5-year old daughter of Amira's Prince traveled to Keeneland after her win in the CTT & TOC and ran third in the G3 Dowager. She'll arrive back at Del Mar Tuesday. Motion has been keeping a stable on the Del Mar backside, unlike most out-of-town trainers who come here just for a race. Motion's assistant, Alice Clapham, has been running the show at the seaside oval.
"She's doing well and everybody's happy with her," Clapham says of Sister Otoole. "It's nice to get her back out here again."
Clapham and the connections are hoping their mare takes to the turf like she did the first time she ran at Del Mar.
"That's always the hope," she says. "They come and run a big race like that. (Umberto) Rispoli is back on her again. Hopefully we'll get lucky again."
Sister Otoole will have eight other rivals to deal with. Bellstreet Bridie ships in from England for trainer Mark Glatt; Scarabea, who ran second to Sister Otoole in the CTT & TOC in August, is hoping to turn the tables for trainer Eoin Harty; Quattroelle is stepping up from a win in a two-other-than allowance at Santa Anita for trainer Jeff Mullins.
The G3 Red Carpet is the sixth of eight races on the Thanksgiving Day card. First post time is at 11 a.m.
---
COOLING OUT: Jockey Ricardo Gonzalez notched his 999th career win Saturday when he booted home Rexford in the fifth race. He has two shots on Sunday's card to reach the 1,000 win milestone. He'll ride Mendham Mill in the seventh race and State of the Union in the ninth race…It paid to bet the #1 horse Saturday. Six of the first seven races were won by the one-horse…One of those winners was the filly Justique who once again left a favorable impression with a sparkling come-from-behind victory. Sunday morning trainer John Shirreffs said she came out of the race fine and "looks very good." Notable works on Sunday: Dirt – Awake At Midnyte (4f, :47.80); My Harbor Dreams (4f, :47.00); Giver Not a Taker (5f, 1:01.80), and Ashcroft (5f, 59.20). Turf – Bellabel (4f, :51.00); The Grey Wizard (4f, :48.80); Masteroffoxhounds (5f, 1:02.00), and Hong Kong Harry (5f, 1:00.60). A total of 71 horses put in official works Sunday, 46 on the main track, 25 on the turf of which 17 were from the Philip D'Amato barn.
---
Del Mar Statistics
Jockey Standings
(Current Through Saturday, November 19, 2022 Inclusive)
| | | | | | | | |
| --- | --- | --- | --- | --- | --- | --- | --- |
| Jockey | Mts | 1st | 2nd | 3rd | Win% | In-money% | Money Won |
| Juan Hernandez | 32 | 10 | 5 | 3 | 31% | 56% | $530,700 |
| Ramon Vazquez | 27 | 5 | 8 | 2 | 19% | 56% | $323,380 |
| Flavien Prat | 34 | 4 | 10 | 1 | 12% | 44% | $302,970 |
| Edwin Maldonado | 20 | 4 | 2 | 2 | 20% | 40% | $178,012 |
| Joe Bravo | 16 | 3 | 2 | 7 | 19% | 75% | $196,815 |
| John Velazquez | 17 | 3 | 2 | 6 | 18% | 65% | $198,280 |
| Hector Berrios | 12 | 2 | 2 | 3 | 17% | 58% | $151,040 |
| Abel Cedillo | 14 | 2 | 2 | 1 | 14% | 36% | $98,300 |
| Kyle Frey | 13 | 2 | 2 | 0 | 15% | 31% | $66,760 |
| Victor Espinoza | 7 | 2 | 0 | 2 | 29% | 57% | $119,171 |
Trainer Standings
(Current Through Saturday, November 19, 2022 Inclusive)
| | | | | | | | |
| --- | --- | --- | --- | --- | --- | --- | --- |
| Trainer | Sts | 1st | 2nd | 3rd | Win% | In-money% | Money Won |
| Philip D'Amato | 19 | 6 | 7 | 2 | 32% | 79% | $362,184 |
| Doug F. O'Neill | 17 | 5 | 3 | 1 | 29% | 53% | $243,200 |
| Bob Baffert | 9 | 3 | 1 | 2 | 33% | 67% | $180,300 |
| Carla Gaines | 6 | 3 | 1 | 1 | 50% | 83% | $161,616 |
| Vladimir Cerin | 3 | 3 | 0 | 0 | 100% | 100% | $75,840 |
| Peter Miller | 17 | 2 | 3 | 1 | 12% | 35% | $135,900 |
| Michael W. McCarthy | 9 | 2 | 2 | 3 | 22% | 78% | $109,240 |
| Steve R. Knapp | 10 | 2 | 2 | 1 | 20% | 50% | $90,040 |
| Jeff Mullins | 7 | 2 | 1 | 0 | 29% | 43% | $87,720 |
| Luis Mendez | 5 | 2 | 0 | 0 | 40% | 40% | $59,700 |
Winning Favorites Report
(Current Through Saturday, November 19, 2022 Inclusive)
Winning favorites -- 15 out of 43 -- 34.88%
Winning favorites on dirt -- 7 out of 20 -- 35.00%
Winning favorites on turf -- 8 out of 23 -- 34.78%
Winning odds-on favorites -- 3 out of 5 -- 60.00%
In-the-Money favorites -- 32 out of 43 -- 74.42%
In-the-Money odds-on favorites -- 4 out of 5 -- 80.00%