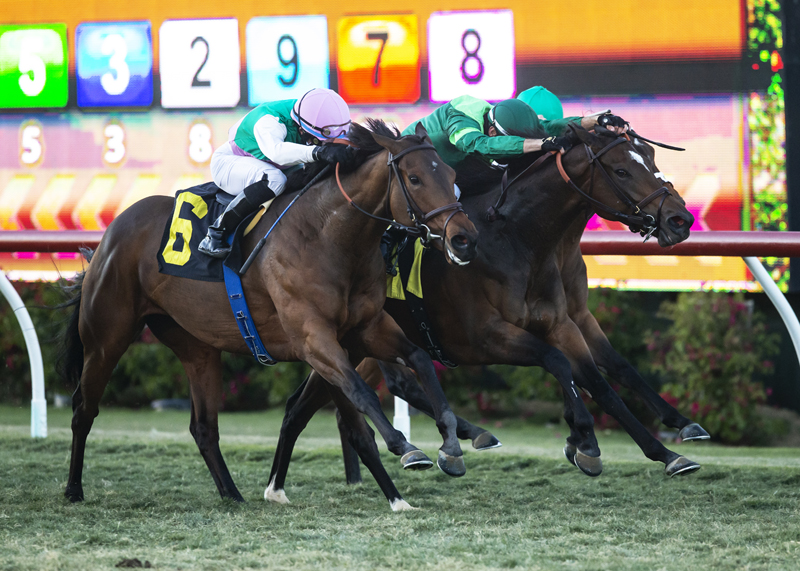 Viadera © Benoit Photo
PREPARATIONS ARE IN MOTION FOR TURF FESTIVAL CLOSING WEEK
The close of entries and post position draw for Del Mar's Thanksgiving Day card that includes the Grade III, $100,000 Red Carpet Stakes is set for this afternoon. On Sunday, similar procedures will be conducted for the Friday program with the Grade II, $250,000 Hollywood Turf Cup.
So begins the staging process for the four-day, seven-stakes Turf Festival that will wrap up the Bing Crosby Season at the track. And if the seven previous such closing stands of the fall meeting are any indication, the eager anticipation felt by horsemen and fans is more than justified.
A contingent of quality shippers from the east will arrive Monday or Tuesday in numbers that racing secretary David Jerkens expects will be similar to past years from the stables of trainers whose names top, or are highly stationed, on national lists.
Chad Brown has won nine Turf Festival races, with emphasis on the Grade I events – Saturday's $400,000 Hollywood Derby and Sunday's $400,000 Matriarch – where he's notched three in each. He's expected to put seven or eight on the westbound plane, among them defending Matriarch champ Viadera. Brown has multiple graded stakes winner Public Sector and Sifting Sands nominated for the Hollywood Derby and Turf Cup nominee Rockemperor stabled at Santa Anita and available for the relatively short trip down the freeway.
Michael Stidham's Princess Grace, who shipped in to win the Yellow Ribbon in the summer and returned for a third-place finish as favorite in the Grade II Goldikova during Breeders' Cup Week, has remained on the grounds and is nominated for the Matriarch. So has Goldikova runner-up Zofelle for trainer Brendan Walsh.
Trainer H. Graham Motion, who has notched Red Carpet, Jimmy Durante and Seabiscuit Stakes wins in past Turf Festivals, has a handful of horses on site and could bring in reinforcements considering his six stakes nominees. Ken McPeek has indicated he will be sending Camp Hope, a winner of two starts in October at Keeneland, and Greg Sacco is sending It Can Be Done off a third place finish, beaten two lengths by Public Sector in the Hill Prince on October 23 at Belmont Park.
---
ASSISTANT ALVARADO READY TO TAKE THE REINS AT MILLER'S STABLE
At the age of nine Ruben Alvarado and a brother only a few years older left their native El Salvador after being orphaned by the violence of the Civil War there. They made their way through three countries to reach the United States and, for Ruben, a life in horse racing that is about to reach a height that is the stuff of any immigrant's dreams.
With 44 years of experience as an assistant on his resume – 30 for the late trainer Don Warren and the venerable California stable Old English Rancho, and 14 for Peter Miller – Alvarado, 52, is taking over the daily duties at Miller's stable when Miller takes his announced step back from training at the end of the current meeting.
Alvarado and Miller, three years older, met when they were both working for Warren. Alvarado recalled appreciating Miller's youthful enthusiasm while teaching him a lot of the basic duties around the barn. Eventually, Miller recalled, "I was an assistant, galloping horses and a pony boy and he was a stable foreman."
Alvarado stayed in the employ of Warren, who he says was "More like a father than a boss to me," through the early 2000s. Miller went on to work for trainers Charlie Whittingham and Mike Mitchell before striking out on his own. Alvarado said he was pleased when he ran into Miller one morning at Hollywood Park in the late 1980s and Miller announced, "Hey, I've got my first horse."
Alvarado was working in the Midwest in 2008 when Miller called with a job offer at a time when Miller's operation was starting to pick up steam in terms of numbers of horses and success. Now it competes regularly at tracks in California, Kentucky and Arkansas and has had representation as far away as Dubai.
"We've been a good team," Alvarado said. "Like everybody (in the business) we've had good times and bad times. I hope (taking over) that with a little bit of luck and faith to keep things going."
"Ruben is a helluva horseman," Miller said. "He's a hard worker. I've got a lot of confidence in him and the clients, who know him well, have too."
---
FREY NOTCHES WIN NO. 1,000 FOR TRAINER WHO GOT HIM STARTED
Career victory No. 1,000 for jockey Kyle Frey, achieved in Friday's third race aboard Tizlightning, came after getting a leg up from trainer Steve Miyadi. Which was entirely fitting given their long, mutually beneficial relationship.
"They told me (about the chance for No. 1,000) in the paddock, I had no idea. If I'd have known that, he's a jinx, I'd have put someone else on the horse," Miyadi said, joking. Miyadi followed it up with:
"No, he's a good kid. He started working for me when he was a boy. His dad worked for me and didn't want him to be a jockey, and I respected that. But here we are 1,000 wins later. I know the whole family – mom, dad, sisters, brothers – it's a family affair."
Even so, don't even think about putting Miyadi in the sentimentalist category.
"I've never given him a compliment after he wins a race for me, and that rule still stands," Miyadi said.
Frey got his 999th win on November 12 but went 0-for-last weekend and a runner-up finish in Friday's first race before cracking the milestone by taking Tizlightning, a 2-year-old Lori Gallegos California homebred, wire to wire and narrowly holding off the late charge of Bright Leaf and apprentice Emily Ellingwood.
"It means a lot," Frye said. "It was a long road, but hopefully the next thousand will come a little quicker. It means a lot to win it for Steve. I talked to my dad a week or so ago and he (remarked) about how great it would be to get it for Steve. It's pretty cool."
---
DRF'S CHIEF PHOTOGRAPHER HAS BEAUTIFUL SUBJECT IN DEL MAR
Barbara Livingston, chief photographer for the Daily Racing Form and a six-time Eclipse Award winner, opted for an extended Del Mar stay for the entire Bing Crosby Season after making the trip West for Breeders' Cup Week.
She had reasons other than it's sunny Southern California rather than New York City and "Where the Turf Meets the Surf" instead of Aqueduct where … well, there's also thoroughbred racing.
"I came out here for Cigar's race (1996 Pacific Classic) where he lost to Dare And Go, so that was sad," Livingston recounted recently. "Then I came out for the Breeders' Cup (in 2017), and just the Breeders' Cup.
"So I wanted to come out and stay for a while this time. I know it's just the Bing Crosby meet, but it's still pretty spectacular. I can't get enough of this place."
Racing fans have likely been aware of Livingston's work since 1971 when she first started aiming her camera and indulging a passion for horses, the people around them, horse racing and the history and daily happenings regarding them all.
The general public got introduced to Livingston during Kentucky Derby week in 2017 when CBS sent a crew and correspondent Don Dahler for a story that wound up on the network's "Evening News" and other shows. Livingston has vision problems that she overcomes with the aid of special lenses in her cameras, enabling her to capture images that can fascinate and delight.
"Every day I wake up happy to come here (racetrack), every day I come home happy that I was here," Livingston told Dahler at the end of piece. "Every night I go to sleep and I can't wait to get back here."
The photos she takes during her Del Mar stay are destined for places on internet sites that bear her name or perhaps another book displaying her talents.
---
Del Mar Statistics
Jockey Standings
(Current Through Friday, November 19, 2021 Inclusive)
| | | | | | | | |
| --- | --- | --- | --- | --- | --- | --- | --- |
| Jockey | Mts | 1st | 2nd | 3rd | Win% | In-money% | Money Won |
| Flavien Prat | 54 | 11 | 13 | 6 | 20% | 56% | $1,730,750 |
| Juan Hernandez | 43 | 11 | 10 | 7 | 26% | 65% | $765,546 |
| Umberto Rispoli | 43 | 8 | 7 | 5 | 19% | 47% | $840,456 |
| Irad Ortiz, Jr. | 17 | 5 | 2 | 0 | 29% | 41% | $2,847,190 |
| Ricardo Gonzalez | 21 | 4 | 3 | 5 | 19% | 57% | $273,960 |
| Victor Espinoza | 18 | 4 | 1 | 1 | 22% | 33% | $674,380 |
| Abel Cedillo | 39 | 3 | 6 | 9 | 8% | 46% | $220,240 |
| Jose Ortiz | 11 | 3 | 2 | 2 | 27% | 64% | $2,398,850 |
| Joel Rosario | 22 | 3 | 1 | 2 | 14% | 27% | $4,716,020 |
| Diego Herrera | 22 | 3 | 1 | 1 | 14% | 23% | $86,300 |
Trainer Standings
(Current Through Friday, November 19, 2021 Inclusive)
| | | | | | | | |
| --- | --- | --- | --- | --- | --- | --- | --- |
| Trainer | Sts | 1st | 2nd | 3rd | Win% | In-money% | Money Won |
| Bob Baffert | 23 | 7 | 3 | 4 | 30% | 61% | $2,675,700 |
| Doug F. O'Neill | 40 | 6 | 12 | 2 | 15% | 50% | $902,700 |
| Philip D'Amato | 22 | 5 | 2 | 4 | 23% | 50% | $532,170 |
| John W. Sadler | 22 | 4 | 3 | 2 | 18% | 41% | $539,005 |
| Jonathan Wong | 10 | 3 | 1 | 1 | 30% | 50% | $106,250 |
| George Papaprodromou | 9 | 3 | 1 | 0 | 33% | 44% | $83,960 |
| Charles Appleby | 4 | 3 | 0 | 0 | 75% | 75% | $3,680,000 |
| Peter Miller | 31 | 2 | 6 | 5 | 6% | 42% | $307,526 |
| Michael W. McCarthy | 11 | 2 | 3 | 1 | 18% | 55% | $967,420 |
| Michael J. Maker | 14 | 2 | 2 | 1 | 14% | 36% | $224,180 |
Winning Favorites Report
(Current Through Friday, November 19, 2021 Inclusive)
Winning favorites -- 27 out of 81 -- 33.33%
Winning favorites on dirt -- 18 out of 40 -- 45.00%
Winning favorites on turf -- 9 out of 41 -- 21.95%
Winning odds-on favorites -- 11 out of 20 -- 55.00%
In-the-Money favorites -- 60 out of 81 -- 74.07%
In-the-Money odds-on favorites -- 18 out of 20 -- 90.00%