Friday, November 20th, 2020 ( 9 months ago )
Stable Notes
November 20, 2020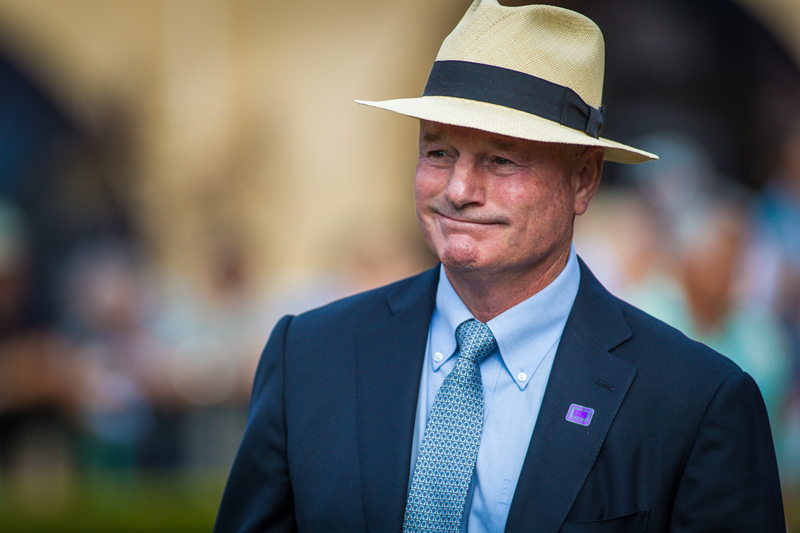 Richard Mandella
MANDELLA DOUBLES DOWN IN SATURDAY'S NATIVE DIVER STAKES
Richard Mandella won the Native Diver Handicap seven times from 1983-2003. But he hasn't saddled the winner of the event since. Not in its seven editions at Del Mar following the demise of Hollywood Park, and not since it became the Native Diver Stakes three years ago.
The Hall of Fame trainer has, however, a solid chance to end the drought and put his name on the Del Mar record for the race with representatives Extra Hope and Royal Ship in a compact field for Saturday's 42nd running of the $100,000, Grade III, 1 1/8-mile main track test.
Four older males and the 3-year-old filly Stellar Sound were entered Sunday. The Native Diver, named for the 1978 Hall of Fame inductee, whose accomplishments included winning the San Diego Handicap from 1963-65, will go as the second of nine races on the program.
Mandella has saddled U.S.-bred horses to Native Diver victories – Menswear (1983), Hopeful Word (1986), Best Pal (1994) and Olmodavor (2003). He also has sent out South American imports to win – Argentine-breds Gentlemen (1996), Refinado Tom (1997) and Chilean-bred Puerto Madero (1998).
Saturday's duo is a combination of both. Kentucky-bred Extra Hope, a 4-year-old son of Shanghai Bobby owned by the Jay Em Ess Stable of Samantha Siegel, finished second in last year's Native Diver and will be making his third start of 2020. Brazilian-bred Royal Ship, from the Don Alberto Stable of Unique Bella success among others, arrived from South America for his U.S. debut with a third-place finish in the Grade II Del Mar Mile Handicap on August 23. The 4-year-old son of 2008 Del Mar Futurity winner Midshipman was no factor when seventh in the Grade II City of Hope on September 26 at Santa Anita. Both were one-mile turf stakes won by the very sharp Mo Forza.
Royal Ship made his racing debut in July of last year in Brazil on dirt but was switched to turf for the next eight.
"Royal Ship did really well his first time out here and we were happy, but the second time he got tangled up and didn't run so good," Mandella said. "He's always trained well on dirt so we're going to see how he handles it in the afternoon.
The Native Diver was the fifth start of a 2019 campaign that began in January for Extra Hope. He then was away from racing until an August optional claimer here followed by a victory, with a much improved Beyer Speed Figure, at the same level at Santa Anita in September.
"He'd had a good (2019) run and needed a rest. Nothing critical to be taken care of," Mandella said of the layoff. "We were really disappointed with his first start back, but then he was perfect in the second one."
Extra Hope has a more forwardly placed running style, while Royal Ship comes from off the pace.
"I don't think they'll bother each other," Mandella said.
The field from the rail with jockeys and odds in parenthesis: Combatant (Umberto Rispoli, 8-1); Stellar Sound (Tyler Baze, 6-1); Royal Ship (Mike Smith, 4-1); Midcourt (Victor Espinoza, 4-5), and Extra Hope (Juan Hernandez, 3-1).
---
10 ENLISTED FOR SUNDAY'S $100,000 CARY GRANT STAKES
El Tigre Terrible and Galilean, stakes winners during the summer season at Del Mar, will be sent out seeking a complement in the Bing Crosby meet in Sunday's $100,000 Cary Grant Stakes.
A field of 10 was entered Thursday for the seven-furlong extended sprint for California-bred older horses.
El Tigre Terrible took the Real Good Deal Stakes over the same course as the favorite on July 31. The Smiling Tiger gelding, owned by Slam Dunk Racing and partners and trained by Peter Miller, bested Rookie Mistake by 4 ¾ lengths in the event and has the Doug O'Neill-trained son of Square Eddie to deal with again.
Galilean, trained by John Sadler for West Point Thoroughbreds and partners, won the California Dreamin' at 1 1/16 miles over the Jimmy Durante Turf Course on July 26. The 4-year-old son of Uncle Mo finished a string of three straight assignments on grass winning the California Flag sprint at Santa Anita on October 11 and goes back to dirt, where he has won four of nine starts.
"He's won three stakes so far this year and the distance should be good," Sadler said via text from Santa Anita.
The field from the rail with jockeys and odds in parenthesis: Appreciated (Tiago Pereira, 20-1); Brickyard Ride (Alexis Centeno, 6-1); Take the One O One (Jose Valdivia, Jr., 3-1); Surfing Star (Jessica Pyfer, 12-1); Oliver (Juan Hernandez, 20-1); El Tigre Terrible (Flavien Prat, 7-2); Bettor Trip Nick (Drayden Van Dyke, 15-1); Galilean (Umberto Rispoli, 5-2); Loud Mouth (Abel Cedillo, 12-1), and Rookie Mistake (Mario Gutierrez, 8-1).
---
CEDILLO CRUISING TOWARD RIDING TITLE; TRAINING RACE A HOT ONE
Abel Cedillo guided Magical Thought ($20.60) home in Sunday's final race to match the 13-win total that was good enough by one to edge Drayden Van Dyke for the 2019 Bing Crosby meet riding title.
It also gave the 31-year-old native of Guatemala, the busiest man in the jockeys' room with 58 mounts, a six-win advantage over Hall of Fame rider Mike Smith atop the Torrey Holistics leaderboard with seven days remaining in the season.
Smith (7-for-21) also had one win on Sunday to break a tie with Tiago Pereira (6-for-45) and Tyler Baze (6-for-43) and move into solo second.
Pereira's win on Magical Thought provided Peter Miller with the 7-6 margin by which he leads two Richards – Baltas and Mandella – who also saddled one winner each on Sunday.
Miller has a numerical advantage for the weekend with entries in nine of 26 races to four for Baltas and two for Mandella.
---
NUMBERS TO PONDER WITH 60 PERCENT OF THE MEETING COMPLETED
Some statistics, courtesy of David Jerkens and the racing office, with three of the five weekends of the Bing Crosby Season completed. (Comparisons are to the same point a year ago, adjusted for a week earlier start in 2020):
Fields for dirt races have averaged 7.46 this year, 6.47 in 2019 … 2020, (8 days) 69 races, 533 starters and average field size 7.72; 2019 (7 days) 59 races, 414 starters and a 7.02 average field size …For Week 3 alone: 2020 (3 days) 27 races, 216 starters, 8.0; 2019 (Nov. 14-17, 4 days) 33 races, 221 starters, 6.70 … Turf racing 2020: 32 races, 257 starters, average field size 8.03. Forty-six percent of all races have been run on the Jimmy Durante Turf Course.
Additional statistics: 26 horses have qualified for the "Ship and Win" program with four recording wins… Overall, 523 horses have started with 10 making multiple starts … A total of 113 trainers have started at least one horse through the first three weeks.
---
TOYS FOR TOTS DRIVE THROUGH SUNDAY
The Del Mar Thoroughbred Club is once again, even under the COVID-19 circumstances, hoping to be a major contributor to the Marine Corps' annual San Diego Toys For Tots campaign. Last year, 3,962 toys from Del Mar were donated to support the program.
DMTC employees and horsemen can help put a smile on a child's face by bringing a new unwrapped toy to the Executive Office building lobby Friday or Saturday from 8 am to 4 pm and Sunday from 8 am to 2 pm.
The general public drop-off will be open on Sunday from 10 AM to 3 PM off the Main Gate located on Jimmy Durante Blvd.
---
CLOSERS – Trainer Mark Glatt, one win shy of career No. 1,000, has Zestful – 3-1 on the morning line with Edwin Maldonado in the irons – entered in today's third race in quest of the milestone victory … Fields will be finalized for three of the final four days of the meeting (Nov. 26-28) this weekend. Next Thursday's Thanksgiving Day card is scheduled to be drawn today, with the November 27 and November 28 programs to follow on a daily basis. The Sunday, November 29 card to close the meeting will be drawn on Thanksgiving Day … A note from oddsmaker and all-around racing expert Jon White: "In Saturday's sixth race for 2-year-old maiden fillies, Exotic West debuts following a number of sharp workouts at Santa Anita for trainer Bob Baffert. Exotic West is a daughter of debut winners Hard Spun and Miss Personality. Also debuting in the same race is Mamie Van D, a half-sister to four debut winners (Moon Over a Beauty, Noble Beauty, Lunar Beauty and Tap Into Beauty). Mamie Van D's sire is two-time horse of the year Curlin, who was a sensational 12 ¾-length debut winner in 2007 at Gulfstream Park.
---
Del Mar Statistics
Presented by Torrey Hollistics
Jockey Standings
(Current Through Sunday, November 15, 2020 Inclusive)
| | | | | | | | |
| --- | --- | --- | --- | --- | --- | --- | --- |
| Jockey | Mts | 1st | 2nd | 3rd | Win% | In-money% | Money Won |
| Abel Cedillo | 58 | 13 | 8 | 5 | 22% | 45% | $522,380 |
| Mike Smith | 21 | 7 | 2 | 2 | 33% | 52% | $335,640 |
| Tiago Pereira | 45 | 6 | 3 | 4 | 13% | 29% | $239,340 |
| Tyler Baze | 43 | 6 | 3 | 3 | 14% | 28% | $247,560 |
| Flavien Prat | 26 | 5 | 10 | 1 | 19% | 62% | $284,080 |
| Ricardo Gonzalez | 43 | 5 | 7 | 6 | 12% | 42% | $380,464 |
| Umberto Rispoli | 39 | 5 | 4 | 8 | 13% | 44% | $239,654 |
| Juan Hernandez | 44 | 4 | 11 | 12 | 9% | 61% | $312,298 |
| Drayden Van Dyke | 31 | 3 | 6 | 7 | 10% | 52% | $259,108 |
| Alexis Centeno | 37 | 3 | 6 | 5 | 8% | 38% | $136,284 |
Trainer Standings
(Current Through Sunday, November 15, 2020 Inclusive)
| | | | | | | | |
| --- | --- | --- | --- | --- | --- | --- | --- |
| Trainer | Sts | 1st | 2nd | 3rd | Win% | In-money% | Money Won |
| Peter Miller | 22 | 7 | 4 | 0 | 32% | 50% | $349,260 |
| Richard Baltas | 25 | 6 | 6 | 0 | 24% | 48% | $270,280 |
| Richard E. Mandella | 12 | 6 | 2 | 3 | 50% | 92% | $277,460 |
| Doug F. O'Neill | 29 | 4 | 2 | 4 | 14% | 34% | $195,804 |
| Bob Baffert | 12 | 4 | 1 | 2 | 33% | 58% | $190,860 |
| Robert B. Hess, Jr. | 18 | 3 | 4 | 4 | 17% | 61% | $132,900 |
| Philip D'Amato | 18 | 3 | 4 | 3 | 17% | 56% | $149,660 |
| Michael W. McCarthy | 5 | 3 | 0 | 0 | 60% | 60% | $92,800 |
| Jeff Bonde | 17 | 2 | 1 | 3 | 12% | 35% | $103,400 |
| Mark Glatt | 11 | 2 | 1 | 2 | 18% | 45% | $68,980 |
Winning Favorites Report
(Current Through Sunday, November 15, 2020 Inclusive)
Winning favorites -- 25 out of 69 -- 36.23%
Winning favorites on dirt -- 17 out of 37 -- 45.95%
Winning favorites on turf -- 8 out of 32 -- 25.00%
Winning odds-on favorites -- 5 out of 11 -- 45.45%
In-the-Money favorites -- 50 out of 69 -- 72.46%
In-the-Money odds-on favorites -- 8 out of 11 -- 72.73%