By Jim Charvat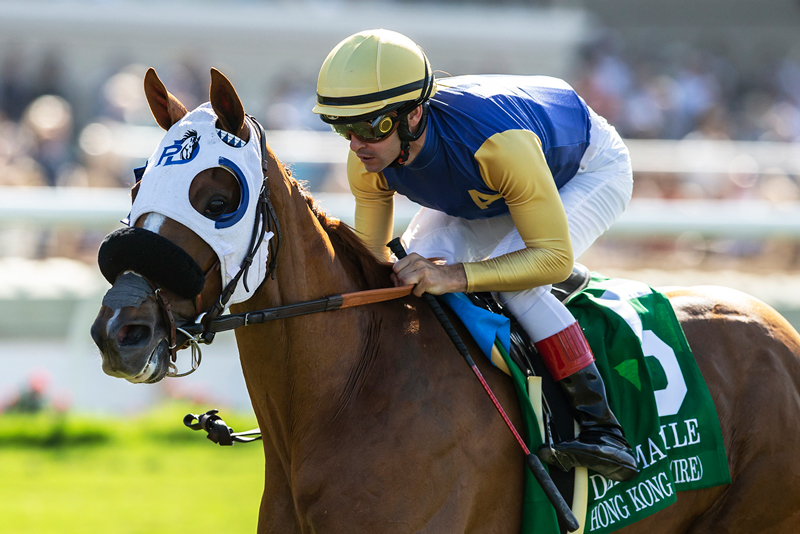 Hong Kong Harry © Benoit Photo
GRASS RACING TAKES CENTERSTAGE NEXT TWO WEEKS AT DEL MAR
The Turf Festival at Del Mar kicks off next week and many of the races are starting to take shape. Eight grass races make up the event with purses totaling $1.4 million. Horses from the out-of-town barns of Chad Brown, Graham Motion and Michael Maker have been nominated for the races which annually draw horses from around the U.S.
Grass racing back east is at a premium this time of year, even more so now that Churchill Downs has all but canceled much of its turf racing this fall. That leaves Del Mar the only show in town.
The Turf Festival begins with the 11-panel, G3 Red Carpet on Thanksgiving Day.
It continues Friday with the 42nd running of the G2 Hollywood Turf Cup, another marathon race, this one for 3-year-olds and up. 14 horses have been nominated for the one and a half mile grass test including Stone Age from the Chad Brown barn. There's also Astronaut, who won the 2021 Del Mar Handicap; Order and Law, winner of the G3 Cougar II this past summer; Balladeer, winner of the G2 John Henry Turf Classic at Santa Anita and Salesman, winner of the G2 Thoroughbred Aftercare Alliance on the Breeders' Cup undercard.
The quality racing continues Saturday with the 47th running of the G2 Seabiscuit, which used to be called the Citation when it was run at Hollywood Park. The handicap will be run a mile and a sixteenth on the Jimmy Durante Turf Course.
Last year's Seabiscuit winner, Hong Kong Harry, has been nominated to come back to defend his crown as well as a few other former Del Mar winners including Balnikhov, winner of the 2022 Oceanside Stakes; Cabo Spirit, winner of the 2022 G3 La Jolla, and G1 Hollywood Derby winner Speaking Scout.
15 horses were nominated for the Seabiscuit. Entries will be drawn Wednesday.
The Turf Festival takes a pause on Sunday but the graded stakes continue at Del Mar. The G3 Native Diver is run a mile and an eighth on the main track. It's arguably the most intriguing race of the long holiday weekend based on the nominations.
Bob Baffert has nominated both horses who dead-heated in the $125,000 Shared Belief this past summer at Del Mar, Mr. Fisk and Tahoe Sunrise. There's Skinner, trainer John Shirreffs Kentucky Derby horse who scratched the day before the big race because of a fever. There's also Reincarnate, who finished 13th in the Derby and Newgrange, an early Derby contender in 2022 who ran third in the Native Diver last year.
16 horses were nominated for the G3 Native Diver. Entries will be drawn Thursday.
The Turf Festival extends in to the final weekend of racing at Del Mar with five more stakes races. The G3 Jimmy Durante for 2-year-old fillies; the G1 Hollywood Derby for 3-year-olds, and the $100,000 Stormy Liberal turf sprint will all be run on Saturday, December 2. The next day, closing day of the Bing Crosby Season, the G3 Cecil B. DeMille for 2-year-olds and the G1 Matriarch for fillies and mares will be run.
---
DEL MAR ROLLS OUT THE RED CARPET TO TIP OFF 2023 TURF FESTIVAL
Del Mar's Turf Festival kicks off with one of the most contentious races of the two week series. The G3 Red Carpet is a mile and three eighth's marathon on the Jimmy Durante Turf Course. Eight fillies and mares have been entered in the Thanksgiving Day feature.
Trainer Phil D'Amato has his usual compliment of runners with three entered to run. Musical Rhapsody and With Love are both Irish-breds who joined the D'Amato barn earlier this year. Both are untested in stakes company but their conditioner is confident they'll put in a good showing.
"Musical Rhapsody is a filly we bought with this race in mind," D'Amato says. "She's a marathon grass filly we just haven't been able to get many marathons in her but she's training very well. We got Mike Smith up and we're hoping she shows that marathon quality that she had in Europe when we bought her."
Musical Rhapsody ran two entry-level allowance races at Del Mar this past summer and ran sixth in both of them. One race was the distance of the Red Carpet but the other was just a mile and a sixteenth.
With Love has run in the states five times with runner-up finishes in entry-level allowance races her last two times out.
"She's a filly we always thought wanted to go longer," D'Amato continues. "She exceled when we ran her at Del Mar. She came closing late to a nice filly. She ran second that day and the filly that beat her came back and ran second in the Kathryn Crosby (Yerwanthere) last week. We'll try the added ground and hope that helps her to improve."
Oakhurst is D'Amato's third filly in the race. The 4-year old daughter of Mr. Speaker won a second-level allowance race at Del Mar in July, but subsequently got beat in her next two outings. She's never run this far in her 13-race career but D'Amato feels she'll relish the extra ground.
Trainer Leonard Powell is sending out a former winner at Del Mar. Neige Blanche won 2021 edition of the Red Carpet. She's 6-years-old now and Powell is hoping that getting her in one of her favorite surroundings will get her back in the winner's circle.
"She's back in a Grade III at a distance she appreciates at a track she appreciates," Powell says. "She's doing very well. I'm very happy with her and hopefully all the stars will align."
Neige Blanche ran into a couple of buzz saws in her last two races. She hooked Closing Remarks in the G2 John Mabee at Del Mar in September and then Didia and stablemate Anisette in the G2 Rodeo Drive at Santa Anita a month later.
Sister Otoole returns to Del Mar to take another shot at the Red Carpet. The Florida-bred has built up quite a bit of travel miles over her 22-race career, running at tracks on the east coast, the midwest and the west coast from Keeneland to Saratoga to Delaware to Woodbine to Gulfstream Park. She's won the last two editions of the $100,000 CTT & TOC Stakes at Del Mar, a race run at the same distance as the Red Carpet. She finished fourth to Bellstreet Birdie in last year's race.
One other horse to consider is Linda's Gift from the Richard Mandella barn. She ran opening weekend of the Bing Crosby Season, finishing a closing fourth in the $75,000 Kathryn Crosby.
"I'm running her right back because it's worked well for me in the past," Mandella says. "Running a horse at a medium distance and then running them right back. Kind of like a warm-up."
The G3 Red Carpet goes as Race 6 on the eight-race Thanksgiving Day card. Approximate post time for the stakes is 1:30 p.m. First post on Thursday is 11 a.m.
Here's the field from the rail with the jockeys: Oakhurst (Hector Berrios); Linda's Gift (Tiago Pereira); Musical Rhapsody; Sister Otoole (Antonio Fresu); With Love (Ricky Gonzalez); Neige Blanche (Diego Herrera); Loved Reiko (Umberto Rispoli), and Symphony Perfect (Juan Hernandez).
---
KEEPING THE BACKSTRETCH WORKERS WARM THIS HOLIDAY SEASON
Del Mar makes a point to take care of its people. There's the free meals provided every race day to the backstretch workers. Now there's a chance for you to help out, too.
All meet long, during the Bing Crosby Season, Del Mar is holding a Winter Clothing Drive, a chance for you to clean out your closets and donate gently used coats, jackets, sweaters or sweatshirts for the folks working the backstretch and their families. The grooms, the hot walkers and assistants who are the backbone of horse racing.
It can get cold on these November mornings. Many workers are in the barns by 4 o'clock when it's not uncommon for temperatures to drop into the forties. Add the wet weather we've had lately and a nice warm jacket would certainly come in handy.
Donation boxes are located inside the admission gate and all sizes, adults or children, are needed. And as if donating to a good cause isn't enough, Del Mar is offering free admission with any donation.
The Bing Crosby Season runs through December 3.
---
COOLING OUT: After starting the meet 9-for-9, odds on favorites went 1-for-4 Saturday. The first three on the card failed to win and one was eased out of the race. The Chosen Vron snapped the streak with his win in the Cary Grant…To The Chosen Vron, who came back in two weeks to win, Book Smart says "hold my beer." The 4-year-old gelded son of Stanford returned from a six-day layoff to wire a field of Cal-bred entry level allowance horses in Race 6…For the second day in a row, training on the main track was limited to jogging and galloping. No official works were recorded due to the rain and the sealing of the track overnight Friday. The turf course was open for training Sunday, however. Notable works: Closing Remarks (4f, :49.00); Hong Kong Harry (4f, 48.60); Tony Ann (4f, :51.20); Turn on the Jets (4f, :49.20), and Planetario, (5f, 1:02.40). In all, 24 horses put in official works on the grass.
---
Del Mar Statistics
Jockey Standings
(Current through November 18, 2023 Inclusive)
| | | | | | | | |
| --- | --- | --- | --- | --- | --- | --- | --- |
| Jockey | Mts | 1st | 2nd | 3rd | Win% | In-money% | Money Won |
| Flavien Prat | 29 | 9 | 3 | 4 | 31% | 55% | $374,988 |
| Juan Hernandez | 26 | 7 | 4 | 3 | 27% | 54% | $334,820 |
| Antonio Fresu | 27 | 5 | 5 | 8 | 19% | 67% | $318,600 |
| Umberto Rispoli | 27 | 4 | 7 | 2 | 15% | 48% | $264,540 |
| Kyle Frey | 27 | 4 | 6 | 3 | 15% | 48% | $179,208 |
| Edwin Maldonado | 20 | 3 | 2 | 2 | 15% | 35% | $155,680 |
| Tyler Baze | 7 | 2 | 2 | 0 | 29% | 57% | $46,620 |
| Geovanni Franco | 13 | 2 | 1 | 1 | 15% | 31% | $76,820 |
| Hector Berrios | 7 | 1 | 2 | 2 | 14% | 71% | $94,852 |
| Diego Herrera | 10 | 1 | 1 | 2 | 10% | 40% | $37,920 |
Trainer Standings
(Current through November 18, 2023 Inclusive)
| | | | | | | | |
| --- | --- | --- | --- | --- | --- | --- | --- |
| Trainer | Sts | 1st | 2nd | 3rd | Win% | In-money% | Money Won |
| Bob Baffert | 15 | 5 | 2 | 1 | 33% | 53% | $254,468 |
| Philip D'Amato | 19 | 4 | 3 | 2 | 21% | 47% | $198,080 |
| Steve R. Knapp | 14 | 3 | 3 | 1 | 21% | 50% | $116,620 |
| Peter Miller | 16 | 3 | 2 | 0 | 19% | 31% | $118,000 |
| Robert B. Hess, Jr. | 7 | 3 | 0 | 1 | 43% | 57% | $112,320 |
| Jeff Mullins | 7 | 2 | 3 | 1 | 29% | 86% | $122,920 |
| Doug F. O'Neill | 21 | 2 | 2 | 7 | 10% | 52% | $151,708 |
| George Papaprodromou | 13 | 2 | 2 | 1 | 15% | 38% | $76,444 |
| John W. Sadler | 7 | 1 | 2 | 2 | 14% | 71% | $72,140 |
| Simon Callaghan | 4 | 1 | 2 | 1 | 25% | 100% | $36,920 |
Winning Favorites Report
(Current through November 18, 2023 Inclusive)
Winning favorites -- 23 out of 43 -- 53.49%
Winning favorites on dirt -- 11 out of 21 -- 52.38%
Winning favorites on turf -- 12 out of 22 -- 54.55%
Winning odds-on favorites -- 10 out of 13 -- 76.92%
In-the-Money favorites -- 34 out of 43 -- 79.07%
In-the-Money odds-on favorites -- 11 out of 13 -- 84.62%