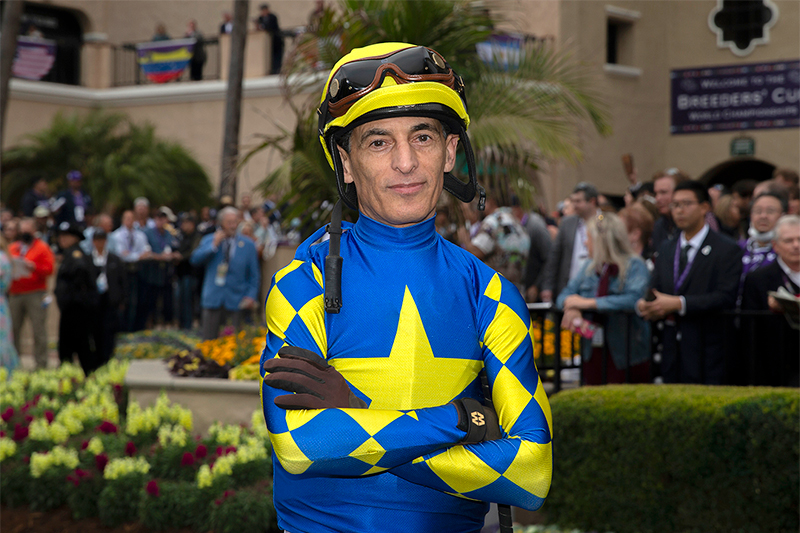 John Velazquez © Benoit Photo
JOHN VELAZQUEZ MAKES HIMSELF AT HOME AT DEL MAR
The jockey colony at Del Mar is constantly evolving. New riders come in every year, while some leave for other circuits. But it's not every year a Hall of Fame jockey joins the ranks. This fall the number of inductees in the jockeys' room at Del Mar increased by one with the addition of John Velazquez, longtime riding star in New York.
The 50-year-old Velazquez joins fellow inductees Mike Smith, Victor Espinoza and Kent Desormeaux, though he is not exactly a stranger to Del Mar. Velazquez, who's been riding since 1990, came out west and rode in his first race at Del Mar in the 2015 Matriarch. He's since ridden in 72 races at the seaside oval, winning 17. His biggest wins at Del Mar came in the 2017 Breeders' Cup when he won the Distaff aboard Forever Unbridled and the Mile with World Approval.
This winter, Velazquez plans to ride fulltime at Santa Anita and he's hoping to use the fall meet at Del Mar as a sort of springboard.
"I wanted to get it started here so the trainers and owners know I'm going to be here for the winter," Velazquez says. "Hopefully I'll get the opportunities to ride some real nice horses here and keep me going for the winter."
Velazquez has been on some of the best. He's ridden three Kentucky Derby winners; Authentic (2020), Always Dreaming (2017) and Animal Kingdom (2011). Four if you include Medina Spirit, who was disqualified a year after winning the 2021 Run for the Roses.
He added his 19th Breeders' Cup win this year when he got Malathaat up at the wire to win the Distaff. He's second to Mike Smith's 27 Breeders' Cup victories. In all, Velazquez has won over 6,400 races, nearly 700 of them stakes and more than 200 Grade 1's.
So it comes as no surprise that the two-time Eclipse Award champion would start the Bing Crosby meet with back-to-back winners on opening day but Velazquez insists there is a learning curve at every track.
"It's like everything, you have to adjust to wherever you go," Velazquez says. "Every racetrack has different turns and where the poles are. You have to get used to it and do your homework and hopefully you get some nice horses and they respond to what you like to do. I got lucky (on opening day); the horses ran really well."
Velazquez' experience with horses dates back to his days as a kid growing up in Puerto Rico.
"I grew up around horses," Velazquez says, "and I met Julio Garcia when I was 14-years-old. He was the leading rider in Puerto Rico. That got me interested in racing."
Velazquez arrived in New York in 1990 where another Hall of Fame rider, Angel Cordero Jr., took him under his wing. It wasn't long before "Johnny V" was winning graded stakes races and making a name for himself. But don't ask him who his favorite horse is. There's been too many.
"I've been so blessed to ride so many good horses," Velazquez says. "That's what keeps me here and gives me the career that I have so far."
---
G3 BOB HOPE KICKS OFF GRADED STAKES ACTION SUNDAY AT DEL MAR
The first of the fall meet's graded stakes races is set for Sunday when a six-pack of 2-year-olds go to the post in the G3 Bob Hope. The seven furlong test is the first of nine graded stakes on tap for the remainder of the Bing Crosby meet.
Three of the colts expected in the Bob Hope hail from the Bob Baffert barn, including Havnameltdown, winner of the G3 Best Pal during the summer meet at Del Mar. The hard-knocking son of Uncaptured broke his maiden earlier in the summer meet, came back three weeks later in the Best Pal and then, nearly a month later, suffered his first career defeat at the hands of stablemate Cave Rock in the G1 Del Mar Futurity.
"He likes that track (Del Mar)," Baffert says. "He's doing well, he's been working well and I think that's his distance."
The same could be said for Newgate, another Baffert trainee. The son of Into Mischief was soundly beaten in his last two races but not without an excuse. He was running against the top two juveniles in the country. Newgate ran-up against Cave Rock in the Del Mar Futurity and ran fourth. He then faced Breeders' Cup Juvenile winner Forte in the G1 Breeders Futurity at Keeneland and finished a distant fifth.
"He always looks like he's going to run a big race and gets beat," Baffert says, "but I think seven-eighths is his distance, he might want the one turn, too."
Baffert has also entered Hard to Figure, a son of Hard Spun who won the six furlong Capote at Los Alamitos last out. It was the first win of his three race career.
"I don't like his post, the one," Baffert notes, "but he's working well, too."
Lloyds Logic ships in from Washington to take on the Baffert trio. The son of The Factor broke his maiden by 5 ¼ lengths in August at Emerald Downs and followed with a 7 ¼ length victory in the $70,000 Gottstein Futurity. He's conditioned by Hall of Fame trainer Jerry Hollendorfer.
The G3 Bob Hope, named after the legendary actor and comedian, is the eighth of nine races on the Sunday card. First post is at 12:30 p.m.
Here's the field from the rail with the jockeys and morning line odds: Hard to Figure (Flavien Prat, 3-1); Havnameltdown (Juan Hernandez, 6/5); Lloyds Logic (Edwin Maldonado, 12-1); Mixto (Umberto Rispoli, 12-1); Practical Move (Drayden Van Dyke, 5-1), and Newgate (John Velazquez, 5/2).
---
"TOYS FOR TOTS" DRIVE RETURNS TO DEL MAR THIS SUNDAY
Del Mar again will host the U.S. Marine Corps-backed charity "Toys for Tots" this weekend with anyone who brings a new, unwrapped toy to the track receiving free admission Sunday.
The nationally famous program, which distributes toys to underprivileged children at Christmas time, has found a San Diego home at Del Mar. Previously, it was conducted by the San Diego Chargers football team, but when they left town in 2017 Del Mar – its fans, personnel and horsemen – stepped in and stepped up to make the event even bigger and better. In 2021 at Del Mar, the Marines collected a record 3,683 toys and $42,929 in cash and checks for "Tots."
The hometown Marines – many of whom will be onsite in their sharp dress blue uniforms – along with Navy sailors will be manning collection barrels at track gates and be ready to accept unwrapped toys or cash/check donations.
Del Mar's "Tots" receives a special boost when hundreds of bikers and muscle car drivers – many of them ex-Marines -- will come roaring into the Del Mar Fairgrounds Sunday as part of the program. Leading the "ride" will be members of the El Cajon Harley Owners (HOG), which is sponsored by El Cajon-Harley-Davidson. They'll set up shop at the track's Hacienda Lounge, Corona Beach House and 17 Hands.
The biker/car groups will conduct special gift drawings throughout the afternoon with 100% of the proceeds earmarked for the Marines and their local "Tots" program.
The 1st Marine Division band also will come on board Sunday for renditions of the National Anthem and "God Bless America." A "Toys for Tots" check presentation ceremony will take place in the winner's circle following the 5th Race.
The Marine Corps is justly proud of "Toys for Tots," which it calls its premier community action program and America's most popular children's Christmas charity. Their records indicate that currently they collect an average of 18 million toys for seven million children-in-need annually throughout 800 communities in the United States and U.S. Territories. Since its inception in 1947, they estimate they have assisted more than 265 million children by providing toys and hope at a special time of the year.
---
COOLING OUT: Hall of Fame rider Kent Desormeaux returned to racing Friday with two mounts on the Del Mar card. He rode Her Perfect Vision to seventh place in the third race and in the sixth race Desormeaux finished fifth aboard Perfecto Amor. It was his first time racing since January at Santa Anita…Race four Sunday is one of those graded stakes disguised as an allowance race. The three-other-than allowance features the return of Ginobili, runner-up to Life Is Good in the 2021 Breeders' Cup Dirt Mile at Del Mar; Howbeit, winner of the G2 Santa Anita Sprint Championship in October; Get Her Number, runner-up in the G1 Bing Crosby this past summer at Del Mar, and Forbidden Kingdom, a top Kentucky Derby candidate earlier this year…Jockey Umberto Rispoli notched his first win of the Bing Crosby meet when he kicked home My Man Bags in the sixth race Friday, ending an oh-for-12 run to start the meet…Jersey Joe Bravo had a riding double on Friday.
---
Del Mar Statistics
Jockey Standings
(Current Through Friday, November 18, 2022 Inclusive)
| | | | | | | | |
| --- | --- | --- | --- | --- | --- | --- | --- |
| Jockey | Mts | 1st | 2nd | 3rd | Win% | In-money% | Money Won |
| Juan Hernandez | 25 | 8 | 4 | 3 | 32% | 60% | $436,600 |
| Flavien Prat | 27 | 4 | 7 | 1 | 15% | 44% | $248,450 |
| Edwin Maldonado | 17 | 4 | 2 | 2 | 24% | 47% | $176,512 |
| Ramon Vazquez | 23 | 3 | 8 | 1 | 13% | 52% | $228,800 |
| John Velazquez | 13 | 3 | 2 | 3 | 23% | 62% | $168,980 |
| Joe Bravo | 14 | 3 | 0 | 7 | 21% | 71% | $168,415 |
| Kyle Frey | 13 | 2 | 2 | 0 | 15% | 31% | $66,760 |
| Umberto Rispoli | 15 | 1 | 2 | 1 | 7% | 27% | $48,872 |
| Mike Smith | 5 | 1 | 1 | 1 | 20% | 60% | $47,020 |
| Abel Cedillo | 11 | 1 | 1 | 1 | 9% | 27% | $63,000 |
Trainer Standings
(Current Through Friday, November 18, 2022 Inclusive)
| | | | | | | | |
| --- | --- | --- | --- | --- | --- | --- | --- |
| Trainer | Sts | 1st | 2nd | 3rd | Win% | In-money% | Money Won |
| Philip D'Amato | 15 | 5 | 6 | 1 | 33% | 80% | $296,404 |
| Doug F. O'Neill | 13 | 5 | 2 | 1 | 38% | 62% | $234,160 |
| Bob Baffert | 7 | 3 | 1 | 2 | 43% | 86% | $172,300 |
| Vladimir Cerin | 3 | 3 | 0 | 0 | 100% | 100% | $75,840 |
| Michael W. McCarthy | 7 | 2 | 2 | 1 | 29% | 71% | $92,200 |
| Peter Miller | 14 | 2 | 2 | 1 | 14% | 36% | $114,600 |
| Carla Gaines | 2 | 2 | 0 | 0 | 100% | 100% | $86,400 |
| Luis Mendez | 5 | 2 | 0 | 0 | 40% | 40% | $59,700 |
| H. Graham Motion | 3 | 1 | 2 | 0 | 33% | 100% | $79,940 |
| Mark Glatt | 9 | 1 | 1 | 4 | 11% | 67% | $59,352 |
Winning Favorites Report
(Current Through Friday, November 18, 2022 Inclusive)
Winning favorites -- 11 out of 34 -- 32.35%
Winning favorites on dirt -- 5 out of 16 -- 31.25%
Winning favorites on turf -- 6 out of 18 -- 33.33%
Winning odds-on favorites -- 3 out of 4 -- 75.00%
In-the-Money favorites -- 24 out of 34 -- 70.59%
In-the-Money odds-on favorites -- 4 out of 4 -- 100.00%