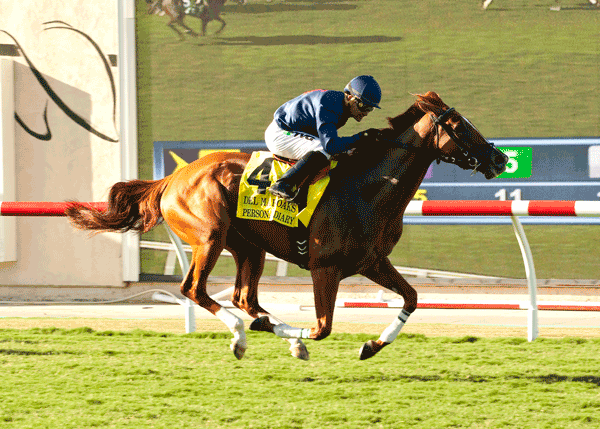 Personal Diary © Benoit Photo
PERSONAL DIARY RETURNS FOR RED CARPET TOUR OF FAVORED TRACK
Personal Diary is back at the scene of her biggest triumph and will be sent out in search of another stakes win here in Saturday's Grade III $100,000 Red Carpet Stakes.
The 4-year-old daughter of City Zip, trained by Victoria Oliver, winner of the Grade I Del Mar Oaks in 2014, made the journey here from Kentucky for the third time in the past 16 months earlier this week and will break from the No. 10 post in a field of 11 for the 1 3/8 mile marathon. Corey Nakatani has the mount.
The Del Mar Oaks is the only victory in nine starts over the past 15 months for Personal Diary, all but her most recent, a close third in an October allowance at Keeneland, against graded stakes competition.
"She's been unlucky every time this year (0-for-6)," Brian Duggan, an assistant to Oliver, said Thursday morning. Duggan accompanied Personal Ensign on a summer trip here where an unusual rain prompted a scratch from one target race before she finished fifth, beaten only three-quarters of a length, to Elektrum in the Grade II John C. Mabee.
"If she could have gotten out (into the clear) sooner she could have won the John C. Mabee," Duggan said.
The 1 3/8-mile distance will be a first, but might be a benefit for Personal Diary, whose best results have come in late-closing fashion -- fourth in the stretch to win the Del Mar Oaks by 2 ¾ lengths the prime example.
The field from the rail: Energia Fribby (Gary Stevens, 12-1), Three Hearts (Joe Talamo, 10-1), Tiz Kissable (Tyler Baze, 30-1), Beat of The Drum (Brice Blanc, 12-1), Trophee (James Graham, 7-2), Star Act (Rafael Bejarano, 8-1), Havanna Belle (David C. Lopez, 20-1), Customer Base (Mike Smith, 15-1), Elektrum (Victor Espinoza, 3-1), Personal Diary (Corey Nakatani, 9-2) and Rusty Slipper (Silvestre de Sousa, 5-1). Also eligible: Soresca (Santiago Gonzalez, 30-1).
---
MILESTONE WATCH: A GRAND SLAM SUNDAY FOR O'NEILL
Trainer Doug O'Neill spent Sunday at home with his family, the afternoon dedicated to a double header for his son Daniel's Cheviot Hills Little League team.
The team lost two. Daniel went 1-for-3 in the first game and walked twice in the second. Doug monitored, on his California Racing app, as assistant Leandro Mora, and Team O'Neill aides Jack Sisterson and Steve Rothblum saddled four consecutive winners at Del Mar.
Victories by Sorryaboutnothing ($41.20) by disqualification in the fourth race and outright by Anthonysgotgame ($4.20), Pary the Fine ($7.80) and Sweet Halory ($15.40) in the fifth through seventh were numbers 1,991-1,995 in O'Neill's career.
Over Par finished sixth in Sunday's nightcap to prevent O'Neill from matching his Del Mar record-setting five-win day last summer. But the outburst propelled O'Neill past five others to within one (8-7) of leader Phil D'Amato in the trainer standings.
O'Neill has eight horses entered on today's card. He's unrepresented in two races but has double entries in two others. And he's here to saddle them himself.
"I might be the 'cooler,'" O'Neill said Thursday morning of the hot streak. "If we win one or two, I'll be happy."
O'Neill's Thursday lineup: Kellianne Can Can (1st, 5-1), Exactamente (1st, 4-1), Derby Glass (4th, 9-5), Alltheleavesrbrown (5th, 12-1), Albeit (6th, 12-1), Hye I'm Jack (7th, 8-1) Pretty Enuff (8th, 20-1) and Octofy (8th, 3-1).
Hall of Fame trainer Jerry Hollendorfer is at 6,997 career wins. He has one starter at Del Mar and one at Golden Gate Fields on Thursday. His Del Mar representative is Dreamarcher (6th, 5-1). At Golden Gate Fields it's Implicated (7th, 3-1).
---
SHIPPERS GALORE FOR MEET-CLOSING STAKES FESTIVAL
Stakes coordinator Chris Merz has received a possibly unprecedented response, in terms of numbers, from East Coast-based trainers for the seven graded stakes over the last four days of the meeting, from Thanksgiving Day, Thursday November 26, to Closing Day on Sunday, November 29.
"If everybody who (has indicated) they're coming does, we will have 19 shippers for the closing weekend," Merz said Thursday morning. "We could have a field of 14 for the Jimmy Durante (Saturday, November 26), which would be the first time we've run 14 on the turf course."
The races, in chronological order, and the shippers, with trainers in parenthesis.
$250,000 Grade II Hollywood Turf Cup, Thursday, November 26: The Pizza Man (Roger Brueggemann), Up With The Birds (H. Graham Motion).
$250,000 Grade II Seabiscuit Handicap, Friday, November 27: Seek Again (Bill Mott), Are You Kidding Me (Roger Attfield).
$150,000 Grade III Native Diver Handicap, Saturday, November 28: Are You Kidding Me (Roger Attfield).
$100,000 Grade III Jimmy Durante Stakes, Saturday, November 28: Enjoy Yourself (John Terranova).
Grade I $300,000 Hollywood Derby, Saturday, November 28: Closing Bell (Bill Mott), Mister Bright Side (Jeremy Noseda), One Go All Go (Pavel Matejka), Fundamental, March, Money Multiplier, Offering Plan (Chad Brown).
Grade III $100,000 Cecil B. De Mille Stakes, Sunday, November 29: Manhattan Dan (Gary Contessa).
Grade I $300,000 Matriarch Stakes, Sunday, November 29: Filimbi (Bill Mott), Hard Not To Like, Stellar Pass (Christophe Clement), Recepta (John Terranova) and Olorda (Chad Brown).
The East Coast contingent is scheduled to journey on the same airplane on Monday.
---
BIG MACHER LOOMS LARGE IN SUNDAY'S CARY GRANT
Big Macher drew post position No. 5 in a field of 11 for his title defense in Sunday's $100,000 Cary Grant Stakes.
The 5-year-old gelding, trained by Richard Baltas, prevailed by a neck over Rousing Sermon in the first running at Del Mar of the event formerly known as the On Trust Stakes in the inaugural Bing Crosby meeting.
The field from the rail out: Avanti Bello (Tyler Baze), Solid Wager (Victor Espinoza), Got Even (Martin Pedroza), Soi Phet (Alonso Quinonez), Big Macher (Rafael Bejarano), Bold Fantasy (David C. Lopez), Red Outlaw (Edwin Maldonado), Forest Chatter (Mike Smith), Old Man Lake (Tiago Pereira), Raised a Secret (Fernando Perez) and Richard's Boy (Joe Talamo).
---
MALONE, DAVIS HEADLINE WEEKEND SEMINARS
Head clocker John Malone and Equibase chart maker Ellis Davis will be the featured experts in the weekend seminars.
Malone will provide information and selections on Saturday while Davis will be the guest of Tom Ferrall for the Sunday program.
The seminars start at 11:30 a.m. and are held at the Seaside Terrace near the top of the stretch.
---
IT'S ALL ABOUT THE BING
For the second Bing Crosby Season at Del Mar, we offer a daily note, quote or anecdote about the track's founding father for whom the fall meeting is named.
Accepting his Oscar for Best Actor in a Leading Role for "Going My Way" in 1945, Crosby said: "This is the only country in the world where an old broken-down crooner can win an Oscar for acting. It shows that everybody in this country has a chance to succeed. I was just lucky enough to have Leo McCarey take me by the hand and lead me through the picture." -- IMDb
---
CLOSERS
-- The race for Sports Illustrated's Sportsman of the Year appears to be coming down to the Kansas City Royals and American Pharoah in the popular vote portion of the contest. Horse racing fans who wish to vote for the only Triple Crown winner in the contest can do so at:
http://www.si.com/sportsmanofyear/2015/11/10/vote-si-sportsman-poll
... Del Mar's dates for the 2016 Summer Meeting have been set. Opening Day will be Friday, July 15
th
and Closing Day will be Monday (Labor Day), September 5, for a total of 39 racing days. The Bing Crosby Season dates for 2016 are November 10-December 4 … Tommy Massis of Ontario, Canada, took the lead in Sunday's fifth race and proceeded to victory in the 2015 Del Mar November Handicapping Challenge. Massis turned a starting bankroll of $3,000 into $18,064 keyed by a $9,000 win bet on Anthonysgotgame, the even-money favorite in the fifth race … Thursday's card is one for milers and mile-race adept handicappers. The first six races are all at the one-mile distance alternating from the turf to dirt courses.
---
Contact: Dan Smith 858-792-4226/Hank Wesch 858-755-1141 ext. 3793