By Jim Charvat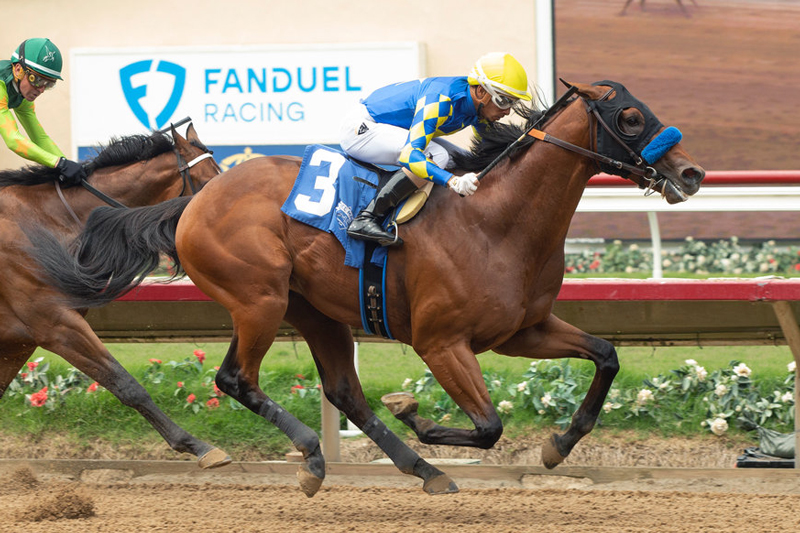 Mission Beach © Benoit Photo
BAFFERT PLAYS STRONG HAND IN SUNDAY'S G3 BOB HOPE AT DEL MAR
The 2-year old division is always in a state of flux. A horse that dominated in the summer, could be an afterthought by Thanksgiving and visa versa. A horse deemed an also-ran three months ago, could be the top dog heading into the new year.
But there's one thing about the 2-year-old division in Southern California that never seems to change. That's the influence of trainer Bob Baffert. His lineup of talented 2-year-olds is impressive and a few will be on display Sunday in the 43rd running of the G3 Bob Hope at Del Mar.
Three of the five entries are out of the Baffert barn. One they thought so highly of they sent him back to run in a Grade I in New York. Another just ran in the Breeders' Cup Juvenile. The third they supplemented for $1,000 to get him into this race.
Mission Beach may prove to be a San Diego favorite since he's named after the popular San Diego community. The son of Curlin broke his maiden at first asking at Del Mar this past summer then shipped back to Saratoga where he set a contested pace before fading to fifth in the G1 Hopeful.
"A lot of good horses got beat in that race," Baffert says. "There was a pace meltdown and he just got caught up in it. The horse who ran second, Timberlake, came back and ran third in the (Breeders' Cup) Juvenile so it was a strong race."
Wine Me Up was one of three horses Baffert started in the Breeders' Cup Juvenile and he was the last of the three to cross the finish line.
"For some reason his race in the Breeders' Cup was a toss," Baffert notes. "I don't know why he ran so poorly. I thought he'd be right there but he didn't. (Sunday's race) was coming up a little light so that's why he's in there."
Wine Me Up, a son of Vino Rosso, has three lifetime starts. He broke his maiden at first asking at Del Mar on Pacific Classic Day, then ran second to stablemate Muth in the G1 American Pharoah, encouraging Baffert to take a shot in the Juvenile.
Nysos is an impressive son of Nyquist who scored in his debut, breaking his maiden by more than 10 lengths.
"It'll be interesting to see how he handles the step up," Baffert notes. "The second out is always the most difficult. If they win (first out) then they're running against better horses, tougher competition."
Baffert may have the numbers but the other two horses in the race have legitimate shots at making it to the winners circle. Stronghold is a son of Ghostzapper who ships in from Kentucky to the Philip D'Amato barn. He broke his maiden at second asking, going a mile at Churchill Downs.
Tejon Pass also broke his maiden in his second race. The son of Justify won on a wet fast track at Santa Anita in September. He comes from the Peter Miller barn.
The G3 Bob Hope goes off as the eighth race on the nine-race Sunday card. It's named after the popular actor and comedian.
Here's the field from the rail with the jockeys and morning line odds: Tejon Pass (Mike Smith, 5-1); Mission Beach (Juan Hernandez, 6-1); Wine Me Up (Ramon Vasquez, 5-1); Stronghold (Antonio Fresu, 3-1), and Nysos (Flavien Prat, 4/5).
---
FLAVIEN PRAT BACK ON TOP OF DEL MAR JOCKEY STANDINGS
Flavien Prat has a way of making himself right at home when he comes out to Del Mar to ride, much to the chagrin of the other riders in the jockeys room.
He's at it again this fall where the youthful veteran jockey is riding fulltime for the next couple of weeks. Four days into the fall meet at Del Mar, Prat has built a four-win lead in the Del Mar jockey standings with eight victories. Umberto Rispoli, Antonio Fresu and the Del Mar summer meet's leading rider, Juan Hernandez, are next with four. Prat also leads in purse earnings with $316,588 followed by Fresu and Rispoli.
After capturing five of six summer riding titles at Del Mar, Prat packed up in the spring of 2022 and left to ride in New York. He has yet to crack the Ortiz grip on riding titles in the Big Apple but he's established himself as one of the top riders in a very talented jockey colony.
Prat's move back to Del Mar this fall has become a regular routine for the French-born rider and for good reason. He has a home in Monrovia, not far from Santa Anita. Prat did the same thing last year and promptly grabbed the Bing Crosby Season jockeys title, winning five races on closing day.
Bob Baffert sits on top of the Del Mar trainers standings, breaking out of a tie with last year's fall meet winner, Philip D'Amato, when his colt, Fort Bragg, grabbed the feature race Friday. Baffert has notched four victories to D'Amato's three. Four trainers are next with two wins.
It been a chalky first four days at Del Mar with the favorites winning 20 of the 34 races for a 58% clip. And it's evenly distributed: 10 were on the dirt, 10 were on the turf. Odds on favorites, that's even money or less, are the closest thing to a 'sure thing' these days. They are nine-for-nine
---
KYLE FREY MAKING SOME NOISE AFTER SELF-IMPOSED FRESHENING
Jockey Kyle Frey is back riding at Del Mar this fall. After four days of racing, he has three wins, five seconds and two thirds from 20 mounts. Picking up where he left off when he went on a self-imposed hiatus from racing during the summer meet.
For a man who has a history of substance abuse his departure mid-meet was met with speculation but Frey will tell you it was a planned vacation and by the time he returned in September he was refreshed and ready to ride.
"I took a break," Frey says. "Just a refresher from work. Spent some time with family and took a deep dive into mental health. I took up an array of different forms of meditation. It was a really good experience."
Frey returned to racing on the last weekend of the Los Alamitos summer Thoroughbred meet and managed four wins.
"We crushed it that first weekend in," Frey recalls. "Luckily, a lot of guys take off so that opens up business which helped me get back into it."
The 31-year old jockey followed with five wins at Santa Anita's autumn meet.
He's been riding professionally since 2010 and in 2011 he won the Eclipse Award for the nation's top apprentice. But alcohol has derailed his career at times over the years. He's always managed to get back on track but he's searching for answers to help him understand his addiction.
"You can combat the drug and alcohol portion of it," Frey says, "but you also have to include the mental health aspect as well. I never knew there was a deeper, underlining issue aside from alcoholism. Due to the mental health aspect of it you tend to self-medicate."
Frey realizes people might jump to assumptions about his absence from racing last summer, but to be clear he was not in rehab somewhere.
"People can assume and that's very common," Frey notes. "But no, that wasn't the issue this time around. I've turned over the keys to the management office. If I ever try to take over the business again, we'll go bankrupt. It's an empowering feeling."
Frey lives with his wife and two children in Azuza, just up the road from Santa Anita. He approached the Bing Crosby Season with a renewed vitality toward his racing career and the fall meet is the perfect atmosphere.
"It's less chaotic," Frey says. "You can go get a bite to eat without dealing with the chaos of having to wait 30-minutes for a table or if you didn't make a reservation you're screwed."
---
COOLING OUT: John Velazquez makes his 2023 fall debut at Del Mar today. The Hall of Fame rider has mounts in the second and third races In the former, he rides the morning line favorite, Royal Slipper, in the $100,000 Desi Arnaz…There was no training today on the main track after crews sealed the track at the close of racing Friday in anticipation of the overnight rain.
---
Del Mar Statistics
Jockey Standings
(Current through November 17, 2023 Inclusive)
| | | | | | | | |
| --- | --- | --- | --- | --- | --- | --- | --- |
| Jockey | Mts | 1st | 2nd | 3rd | Win% | In-money% | Money Won |
| Flavien Prat | 23 | 8 | 2 | 4 | 35% | 61% | $316,588 |
| Umberto Rispoli | 23 | 4 | 7 | 2 | 17% | 57% | $253,120 |
| Antonio Fresu | 21 | 4 | 3 | 7 | 19% | 67% | $259,660 |
| Juan Hernandez | 19 | 4 | 3 | 2 | 21% | 47% | $204,220 |
| Kyle Frey | 20 | 3 | 5 | 2 | 15% | 50% | $125,948 |
| Edwin Maldonado | 18 | 2 | 1 | 2 | 11% | 28% | $110,880 |
| Geovanni Franco | 10 | 2 | 1 | 1 | 20% | 40% | $72,160 |
| Tyler Baze | 5 | 2 | 1 | 0 | 40% | 60% | $38,200 |
| Mike Smith | 8 | 1 | 1 | 1 | 13% | 38% | $65,940 |
| J.G. Torrealba | 7 | 1 | 1 | 0 | 14% | 29% | $58,380 |
Trainer Standings
(Current through November 17, 2023 Inclusive)
| | | | | | | | |
| --- | --- | --- | --- | --- | --- | --- | --- |
| Trainer | Sts | 1st | 2nd | 3rd | Win% | In-money% | Money Won |
| Bob Baffert | 13 | 4 | 2 | 1 | 31% | 54% | $192,468 |
| Philip D'Amato | 17 | 3 | 3 | 2 | 18% | 47% | $176,580 |
| Jeff Mullins | 7 | 2 | 3 | 1 | 29% | 86% | $122,920 |
| Peter Miller | 11 | 2 | 2 | 0 | 18% | 36% | $89,060 |
| Doug F. O'Neill | 16 | 2 | 1 | 5 | 13% | 50% | $124,368 |
| Robert B. Hess, Jr. | 6 | 2 | 0 | 1 | 33% | 50% | $74,520 |
| Steve R. Knapp | 11 | 1 | 3 | 1 | 9% | 45% | $49,720 |
| John W. Sadler | 6 | 1 | 2 | 2 | 17% | 83% | $71,420 |
| Peter Eurton | 6 | 1 | 1 | 1 | 17% | 50% | $62,000 |
| Jamey R. Thomas | 2 | 1 | 1 | 0 | 50% | 100% | $73,900 |
Winning Favorites Report
(Current through November 12, 2023 Inclusive)
Winning favorites -- 20 out of 34 -- 58.82%
Winning favorites on dirt -- 10 out of 17 -- 58.82%
Winning favorites on turf -- 10 out of 17 -- 58.82%
Winning odds-on favorites -- 9 out of 9 -- 100.00%
In-the-Money favorites -- 28 out of 34 -- 82.35%
In-the-Money odds-on favorites -- 9 out of 9 -- 100.00%