By Jim Charvat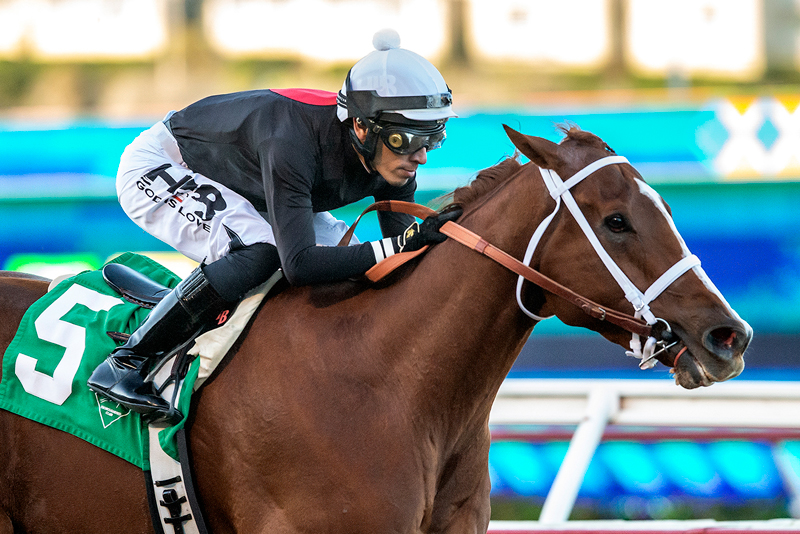 The Chosen Vron © Benoit Photo
THE CHOSEN VRON WHEELED BACK IN CARY GRANT SATURDAY
Of the 150 horses that ran in the Breeders' Cup at Santa Anita two weeks ago, many have been retired. Others have been turned out, freshening up for a 2024 campaign. Then there's a small number who remain in training. One is running Saturday at Del Mar.
The Chosen Vron, winner of the G1 Bing Crosby at Del Mar this past summer and fifth of eight runners in the Breeders' Cup Sprint, is back in the $100,000 Cary Grant, one of two stakes races on the Saturday card at Del Mar.
The son of Vronsky made the giant leap into elite company this summer with his win in the Bing Crosby, a "Win and You're In" for the Breeders' Cup Sprint. Trainer Eric Kruljac had limited the 5-year old to mostly Cal-bred races throughout his 18-race career and for the most part, The Chosen Vron had won those races. Eight in a row heading into the Breeders' Cup.
So why is Kruljac wheeling his prized pupil back so quickly?
"Just the way he came back from the Breeders' Cup," Kruljac says. "I thought he was going to fire real big in the Breeders' Cup. I don't know if it was the competition. I gotta give credit to the East Coast horses, they were dominant.
"But after five or six days he swelled up and was on fire," Kruljac continues. "He seems extra sharp now."
The next Cal-bred race for The Chosen Vron isn't until January 7 and Kruljac doesn't want to wait that long.
"I don't think I've ever run a horse back in two weeks," Kruljac says. "But he was just screaming for a race. Dr. Araujo (his veterinarian) took blood on him the other day and said it was fabulous. The horse is really on his toes."
While The Chosen Vron will be a heavy favorite in the Cary Grant, there are a couple of others in the nine-horse field who are worth keeping an eye on.
Big City Lights has done little wrong during his six-race career. The 4-year-old son of Mr. Big has won three races and placed in the other three. He captured last year's Real Good Deal at Del Mar, beating Slow Down Andy and came back and ran second to The Chosen Vron in the 2022 edition of the Cary Grant. He ran in the Cal Cup Sprint at Santa Anita in January, missing by a neck to, who else, The Chosen Vron, before being put out for a freshening for much of 2023.
"He's been training great," assistant trainer to Richard Mandella, Taylor Cambra, says. "He's coming right along. Everything we've asked of him he's done real easy."
So how does Cambra hope to turn the tables on The Chosen Vron.
"He just got beat in the Breeders' Cup," Cambra notes. "That can hurt a horse's confidence. We're coming in with a fresh horse. He's coming in with a horse that's been running all year."
Cambra's also counting on Big City Light's past form.
"The last time he got turned out he came back and won first time out," he says. "He's a horse that kind of stays a little tighter anyway so we're not too worried about it though it's always a concern."
Other contenders in the Cary Grant worth noting are Moose Mitchell, winner of four of his last six races including a second level allowance race at Del Mar this past summer. Lovesick Blues has been knocking on the door, finishing second to Kings River Knight in the $100,000 Bertrando at Los Alamitos in June. And the hard-knocking None Above the Law, winner of the 2021 G2 Del Mar Derby.
The 40th renewal of the Cary Grant Stakes is the eighth race on the nine race Saturday card. Approximate post time for the stakes is 4 p.m. It's named after the popular actor of the 1940's, 50's and 60's and was formerly known as the On Trust Stakes when run at Hollywood Park.
Here's the field from the rail with the jockeys and the morning line odds: Principe Carlo (Kyle Frey, 15-1); Trip to Spain (Geovanni Franco, 20-1); None Above the Law (Flavien Prat, 6-1); Lovesick Blues (Umberto Rispoli, 12-1); Fast Draw Munnings – Scratched; Big City Lights (Juan Hernandez, 5-2); The Chosen Vron (Hector Berrios, 4/5); Moose Mitchell (Mario Gutierrez, (12-1), and Desmond Doss (Tyler Baze, 12-1).
---
WESLEY WARD SENDS OUT FAVORITE IN DESI ARNAZ SATURDAY
Wesley Ward is a Kentucky-based trainer who has been known to run a horse or two at Del Mar. He saddled the 2014 Debutante winner Sunset Glow. He's known for his turf runners such as two-time Breeders' Cup Turf Sprint winner Golden Pal; Breeders' Cup Filly and Mare Turf winner Judy the Beauty, and Breeders' Cup Juvenile Turf Sprint winner Twilight Gleaming.
Ward currently has four horses stabled on the backside here including one that ran in the Breeders' Cup two weeks ago. Unfortunately, Nakatomi is not slated to run at Del Mar this fall but is scheduled to be shipped back to Kentucky this weekend.
Ward does have a 2-year-old filly who turned heads in her debut. So much so that she has been made the morning line favorite in the 36th running of the $100,000 Desi Arnaz, part of a stakes doubleheader Saturday at Del Mar.
Royal Slipper won her debut at Keeneland last month wiring the field and winning by four lengths, bounding clear early and coasting home much the best in the field of 12.
"She's got a big long stride," assistant trainer Blake Heap says. "She's a nice filly that's for sure."
Heap says the daughter of Uncle Mo wasn't the easiest to deal with at first. That's how she ended up in Ward's care.
"She was a little bit tough to break," Heap notes. "That's why they gave her to us because she was hard to handle. He (Ward) spent a little bit of time with her and then he passed her on to the regular exercise riders and she's moved forward from there."
As is often the case with 2-year old races in Southern California, trainer Bob Baffert comes to the Desi Arnaz with a live one.
Nothing Like You broke her maiden last out at Santa Anita by six lengths, wiring the field in a one-mile affair. Prior to that she had run three sprint races, coming close in her debut at Del Mar last summer but then running eighth on closing day and fourth in a race at Santa Anita.
Instead of dropping her in class, Baffert stretched her out and the daughter of Malibu Moon shined.
"I think going the two turns probably was the main factor," Baffert says. "I like her going a mile or more. I don't think she's a one turn horse but there was nothing between now and the Los Alamitos Futurity so we thought this would be a good spot for her."
Don't be surprised if she isn't back up on the lead again in the Desi Arnaz and, if so, she'll have plenty of company.
"Going long it's easier to make the lead than it is going short," Baffert notes. "That horse coming in from Kentucky looks fast so you just don't know."
Another runner who likes to be up or near the lead is Tambo, a smart-looking filly who ran a close second in the $85,000 Anoakia Stakes at Santa Anita last out. She broke her maiden three starts back at Del Mar. Trainer Peter Eurton then tried her on the turf in the $100,000 Juvenile Fillies Turf at Del Mar and she ran fourth, but bounced back with a nice effort in Anoakia.
"She seemed like she was making up ground," Eurton says of her run in the Anoakia. "The seven-eighths seems to be something she can do. There's always the level. You have a Baffert in there in the one hole that can run. I never look past the competition. I just worry about my own and hopefully she's good enough."
Don't Bring Crazy, out of the Doug O'Neill barn, and another Baffert runner, Halone, round out the field in the Desi Arnaz, formerly known as the Moccasin Stakes when run at Hollywood Park.
The Desi Arnaz is named after the popular actor, bandleader and husband of comedienne Lucille Ball. It's the second of nine races on the Saturday card. Approximate post time for the stakes is 1 p.m.
Here's the field from the rail with jockeys and morning line odds: Nothing Like You (Juan Hernandez, 5-2); Tambo (Antonio Fresu, 7-2); Don't Bring Crazy (Umberto Rispoli, 12-1); Royal Slipper (John Velezquez, 4-5), and Halone (Flavien Prat, 6-1).
---
"TOYS FOR TOTS" PROGRAM RETURNS TO DEL MAR THIS SUNDAY
When the San Diego Chargers football team pulled up stakes and left San Diego in 2017, part of the collateral damage from that move was the apparent loss of one of the prime locations for the Marine Corps' "Toys for Tots" program, which was conducted at a Chargers' home game each season.
But "Tots" soon had a new backer and, as it turned out, the new guy was even better for the community action program that the Marines say is the most popular children's Christmas charity in America.
That fresh home for the event was Del Mar with its fans, staff and horsemen proving a strong tonic for the program, so much so that it quickly surpassed the regular "Tots" haul that used to happen with the football team.
Del Mar again will be front and center for the charity this Sunday and racing fans who bring an unwrapped toy to the track will receive free admission and sincere 'thank yous' from the uniformed Marines and Navy sailors who will be on hand manning the "Tots" collection barrels. Additionally, cash or check donations also are welcome during the afternoon.
Joining in on the event once again will be local motorcycle and car groups (an estimated total of 600 riders) who will conduct group "rides" to the Fairgrounds and arrive between 11 and noon ahead of the 12:30 first post. They, in turn, will be holding raffles for special donated prizes throughout the day in the Hacienda Room just off the Plaza de Mexico with all monies realized going to "Tots."
Additionally, the 1st Marine Band will be on hand and perform for the crowd during the day.
The Marine Corps first started "Tots" in 1947 and now has seen it grow to annual collection of 18 million toys for seven million children-in-need throughout 800 communities across America and U.S. Territories. The current estimate is that the event has provided toys and hope at a special time of year to more than 300 million children.
---
FREE HANDICAPPING SEMINARS CONTINUE ON SATURDAY, SUNDAY
Del Mar will continue its free handicapping seminars on Saturdays and Sundays this coming weekend.
The sessions are held in the Hacienda Room patio, just off the Plaza de Mexico, and begin at 11:35 a.m. in advance of the 12:30 first post. They usually run for about 30 minutes.
Professional handicapper Frank Scatoni leads the Saturday gatherings and his guest this week will be owner and horse player Shane O'Neill. Media veteran Dan Smith is in charge of the Sunday offerings and this week he'll host association clocker Toby Turrell.
---
COOLING OUT: Friday's feature race is listed as a second level allowance optional claimer but it could easily be mistaken for a stakes race. The 6 ½ furlong sprint on the main track attracted C Z Rocket with career earnings of over $2M, and Fort Bragg, a graded stakes winner back east earlier this year. It goes as race #7; approximate post time is 3:30 p.m…Trainer Richard Mandella is in Kentucky today where he's being honored by the Thoroughbred Club of America at its 92nd Testimonial Dinner...The mid-week rains that rolled through Del Mar made a muddy soup of the backside but by Thursday morning, riders were coming off of the main track saying it was in great shape. More rain is possible overnight tonight.
---
Del Mar Statistics
Jockey Standings
(Current through November 12, 2023 Inclusive)
| | | | | | | | |
| --- | --- | --- | --- | --- | --- | --- | --- |
| Jockey | Mts | 1st | 2nd | 3rd | Win% | In-money% | Money Won |
| Flavien Prat | 18 | 6 | 1 | 4 | 33% | 61% | $261,828 |
| Umberto Rispoli | 20 | 4 | 6 | 2 | 20% | 60% | $241,520 |
| Juan Hernandez | 14 | 3 | 2 | 0 | 21% | 36% | $137,880 |
| Antonio Fresu | 15 | 2 | 2 | 4 | 13% | 53% | $155,240 |
| Kyle Frey | 16 | 2 | 2 | 2 | 13% | 38% | $66,748 |
| Geovanni Franco | 7 | 2 | 1 | 0 | 29% | 43% | $62,060 |
| Edwin Maldonado | 13 | 1 | 1 | 2 | 8% | 31% | $64,440 |
| Tyler Baze | 4 | 1 | 1 | 0 | 25% | 50% | $25,000 |
| J.G. Torrealba | 6 | 1 | 1 | 0 | 17% | 33% | $56,220 |
| Mike Smith | 6 | 1 | 0 | 1 | 17% | 33% | $51,720 |
Trainer Standings
(Current through November 12, 2023 Inclusive)
| | | | | | | | |
| --- | --- | --- | --- | --- | --- | --- | --- |
| Trainer | Sts | 1st | 2nd | 3rd | Win% | In-money% | Money Won |
| Philip D'Amato | 15 | 3 | 2 | 2 | 20% | 47% | $163,880 |
| Bob Baffert | 12 | 3 | 2 | 1 | 25% | 50% | $153,468 |
| Robert B. Hess, Jr. | 4 | 2 | 0 | 1 | 50% | 75% | $70,140 |
| Jeff Mullins | 6 | 1 | 3 | 1 | 17% | 83% | $86,320 |
| Steve R. Knapp | 10 | 1 | 3 | 0 | 10% | 40% | $47,080 |
| John W. Sadler | 5 | 1 | 2 | 2 | 20% | 100% | $67,760 |
| Peter Miller | 8 | 1 | 2 | 0 | 13% | 38% | $71,200 |
| Jamey R. Thomas | 2 | 1 | 1 | 0 | 50% | 100% | $73,900 |
| Michael W. McCarthy | 3 | 1 | 1 | 0 | 33% | 67% | $45,300 |
| Peter Eurton | 4 | 1 | 1 | 0 | 25% | 50% | $56,000 |
Winning Favorites Report
(Current through November 12, 2023 Inclusive)
Winning favorites -- 15 out of 26 -- 57.69%
Winning favorites on dirt -- 7 out of 13 -- 53.85%
Winning favorites on turf -- 8 out of 13 -- 61.54%
Winning odds-on favorites -- 6 out of 6 -- 100.00%
In-the-Money favorites -- 21 out of 26 -- 80.77%
In-the-Money odds-on favorites -- 6 out of 6 -- 100.00%