Sunday, November 15th, 2020 ( 10 months ago )
Stable Notes
November 15, 2020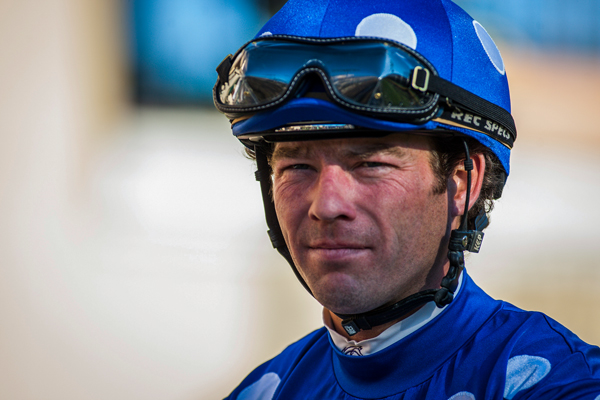 Tyler Baze
BAZE MAKING WAVES FOLLOWING RETURN TO SO CAL CIRCUIT HOME
Halfway through Saturday's fourth race, a mile $25,000 claimer on the main track, jockey Tyler Baze and his mount Pubilius Syrus, the 5-2 betting favorite, were 10 lengths behind and appeared destined for a distancing loss.
Three-quarters of the way through, they were still 71/2 lengths behind and were in front, by just a head, of only one rival in the field of seven.
However, in a turn of events that makes racing exciting, they sprinted past everyone in front of them in the last quarter and won by a neck.
"He (Pubilius Syrus) didn't want to run until he was ready, that's all I can say," Baze said afterward. "I was ridin' and ridin' and he wasn't giving me nothing. Then all of a sudden he just turned on the afterburners and went. I thought, 'Finally, gosh he was making me work way too hard.'"
Carrying on the family tradition of his cousin Russell, who retired as North America's all-time leading jockey with 12,842 wins, Tyler was horsebacking at age 3 and riding professionally at 17. Baze, now 38, won an Eclipse Award as North America's top apprentice in 2000 and was a Southern California circuit regular until the storms, literal and figurative, at Santa Anita in 2019 prompted a move to the Midwest for the good of his business and family.
The venture was successful enough, even through the COVID-19 complications of 2020. But there was the desire to get back to Southern California and be with his family at their home near Santa Anita. And, at the end of summer came opportunity to have respected horseman Jack Carava – who ended a 33-year training career – as his agent.
So, in September, Baze was back riding in Southern California with intentions of staying but more aware than ever of the uncertainties of life.
"You never know what's going to happen," Baze said. "But California racing is good, my family's here and I'm happy to be home. Jack (Carava) is great. I'd ridden for him for 20 years and when he said he wanted to make a career change I jumped at the opportunity to work with him."
Baze, of course, was delighted to get back to his wife and three children.
"Ages 3, 4 and 6 and they're only going to be kids once," Baze said. "They're happy that I get to see them every day. They were missing daddy a lot."
Like everyone else, 2020 has been a year of dealing with COVID for Baze. Initially on the Midwest circuit in Arkansas and Kentucky, lately in California.
"Everywhere you go the rules are different," Baze said. "I just try to keep pretty isolated. There ain't no going shopping at the mall. My kids have pretty much stayed at home since it all started. It's crazy times and we're fortunate to be running (horse races).
"Everybody needs to do what they can to stay safe. Everybody needs to do their part."
The win on Pubilius Syrus was No. 6 from 37 mounts at the meeting. He also has two seconds and three third-place finishes. "It's going well, can't complain," Baze said.
It also was win No. 999 in the career of trainer Mark Glatt, who figures to notch milestone No. 1,000 during the Bing Crosby Season. The first opportunity comes in today's second race when Baze rides Win Like Coach P, 5-1 on the morning line.
---
MIDCOURT TO DEFEND TITLE IN SATURDAY'S GRADE III NATIVE DIVER
C R K Stable's Midcourt, trained by John Shirreffs, is expected to make a title defense in the Grade III, $100,000 Native Diver next Saturday.
A field of four or five is anticipated for the 42nd running – the seventh during here since the inception of the Bing Crosby Season – of the test for older horses at 1 1/8 miles on the main track.
Midcourt, ridden by Victor Espinoza, produced a wire-to-wire 5 ¾-length victory over Extra Hope, who was second all the way, in the 2019 edition. Extra Hope, trained by Richard Mandella for Jay Em Ess Stable, is also among the four whose names were placed in entry ahead of this morning's deadline. Additionally, Mandella entered Royal Ship for Fox Hill Farms/Siena Farms and John Sadler named Combatant for Hronis Racing.
A 5-year-old gelded son of Midnight Lute, Midcourt battled champion Maximum Security twice during last summer's meeting, finishing second by a nose in the San Diego Handicap and third, beaten 5 ¾ lengths in the $1 million TVG Pacific Classic.
---
TEXAS WEDGE RETURNS FROM BREEDERS' CUP IN FRIDAY ALLOWANCE
Texas Wedge, last seen undergoing a rough trip in the $1 million Breeders' Cup Turf Sprint at Keeneland eight days ago, is part of a field of six in a 5-furlong allowance race on grass to highlight the card when racing resumes Friday.
A 5-year-old gelded son of Colonel John trained by Peter Miller, Texas Wedge has six wins from 19 career starts and earnings of $446,115 for an ownership group that includes the S T D Racing Stable of Dave and Steve Kenly that came to prominence racing Lava Man in the early 2000s.
Texas Wedge's 2020 campaign started with a win in the Grade II Joe Hernandez Stakes at Santa Anita on New Year's Day and another three weeks later in a $150,000 event at Gulfstream Park. He's gone 0-4 since with trouble on each occasion.
He was third in the early going while enduring some bumping in the Breeders' Cup race but finished 11th of 14, beaten 6 ¾ lengths by Glass Slippers.
"He only got to run about three-eighths of a mile," Miller said. "Came out of it well, his energy level is good and there are very few opportunities for turf sprinters in California at this time of year. So you need to run when the chance is there."
It's the second race on an eight-race card with the usual first post of 12:30 p.m.
---
BO DEREK UP FOR THE 'BEACH BOSS' CHALLENGE ON FRIDAY
Movie star, former California Horse Racing Board commissioner and current member of the Del Mar Thoroughbred Club Board of Directors Bo Derek will be the celebrity challenger to Ray Paulick in the Beach Boss of Bing Season handicapping showdown on Friday.
Each week a new challenger confronts Paulick, the founder of The Paulick Report, with $100 to bet in any win, place or show combination. The selections show, hosted by Michelle Yu, is available at noon on Facebook, Twitter and YouTube outlets.
---
DEL MAR TO OFFER ONLINE FALL BETTING CHALLENGE NOVEMBER 28
Del Mar will offer the "Del Mar Fall Challenge" on Saturday, November 28, presenting a stellar 9-race card including three graded stakes.
The "live money" Challenge is offered online through TVG.com only.
Those interested in competing can sign up now at the Handicapping Contest link at DMTC.com.
Here are the rules and facts around the Challenge:
$4,000 to enter with $3,000 to bankroll and $1,000 to prizes. 100% payout of prizes.
Del Mar live races only with three graded stakes, including the Grade I Hollywood Derby.
$100,000 in prizes include three Breeders' Cup Betting Challenge and four National Horseplayer Championship entries.
Win, place, show, exacta, trifecta and double wagering.
Wager at least $500 on three races and at least $3,000 for the Challenge.
Up to two entries per player. Limited to 100 total entries.
Qualifiers are offered on HorseTourneys.com.
---
CLOSERS – Abel Cedillo recorded two wins Saturday while the other seven races went to seven different riders. It enabled the defending Bing Crosby Season riding champion to expand his lead to six (12-6) over Mike Smith, Tiago Pereira and Tyler Baze. With nine days remaining, Cedillo is one shy of the 12-win total of the 2019 Crosby in which he edged Drayden Van Dyke by one…With the closing week "Turf Festival" approaching November 26-29, turf works were a priority this morning. Select ones from the 29 officially timed: Red Lark (4f, :37.40), Neptune's Storm (5f, :49.20), Acclimate (5f, 1:00.40), Big Fish (5f, 1:03.60), Bowies Hero (5f, 1:01.20) and Gypsy King (5f, :59.40).
---
Del Mar Statistics
Presented by Torrey Hollistics
Jockey Standings
(Current Through Sunday, November 14, 2020 Inclusive)
| | | | | | | | |
| --- | --- | --- | --- | --- | --- | --- | --- |
| Jockey | Mts | 1st | 2nd | 3rd | Win% | In-money% | Money Won |
| Abel Cedillo | 53 | 12 | 7 | 4 | 23% | 43% | $470,080 |
| Tiago Pereira | 40 | 6 | 3 | 4 | 15% | 33% | $235,480 |
| Tyler Baze | 37 | 6 | 2 | 3 | 16% | 30% | $232,900 |
| Mike Smith | 19 | 6 | 2 | 2 | 32% | 53% | $289,120 |
| Ricardo Gonzalez | 39 | 5 | 7 | 6 | 13% | 46% | $372,504 |
| Flavien Prat | 19 | 4 | 6 | 0 | 21% | 53% | $194,700 |
| Juan Hernandez | 37 | 3 | 10 | 10 | 8% | 62% | $278,238 |
| Drayden Van Dyke | 28 | 3 | 5 | 6 | 11% | 50% | $246,028 |
| Umberto Rispoli | 34 | 3 | 4 | 8 | 9% | 44% | $190,714 |
| Edwin Maldonado | 35 | 3 | 2 | 4 | 9% | 26% | $146,400 |
Trainer Standings
(Current Through Sunday, November 14, 2020 Inclusive)
| | | | | | | | |
| --- | --- | --- | --- | --- | --- | --- | --- |
| Trainer | Sts | 1st | 2nd | 3rd | Win% | In-money% | Money Won |
| Peter Miller | 18 | 6 | 3 | 0 | 33% | 50% | $309,060 |
| Richard Baltas | 20 | 5 | 5 | 0 | 25% | 50% | $218,540 |
| Richard E. Mandella | 10 | 5 | 1 | 3 | 50% | 90% | $231,860 |
| Doug F. O'Neill | 27 | 4 | 2 | 3 | 15% | 33% | $183,304 |
| Bob Baffert | 10 | 4 | 1 | 2 | 40% | 70% | $181,440 |
| Robert B. Hess, Jr. | 17 | 3 | 4 | 3 | 18% | 59% | $126,060 |
| Michael W. McCarthy | 5 | 3 | 0 | 0 | 60% | 60% | $92,800 |
| Jeff Bonde | 17 | 2 | 1 | 3 | 12% | 35% | $103,400 |
| Mark Glatt | 10 | 2 | 1 | 2 | 20% | 50% | $68,480 |
| William Spawr | 5 | 2 | 1 | 0 | 40% | 60% | $43,800 |
Winning Favorites Report
(Current Through Sunday, November 14, 2020 Inclusive)
Winning favorites -- 21 out of 60 -- 35.00%
Winning favorites on dirt -- 15 out of 33 -- 45.45%
Winning favorites on turf -- 6 out of 27 -- 22.22%
Winning odds-on favorites -- 3 out of 8 -- 37.50%
In-the-Money favorites -- 44 out of 60 -- 73.33%
In-the-Money odds-on favorites -- 6 out of 8 -- 75.00%