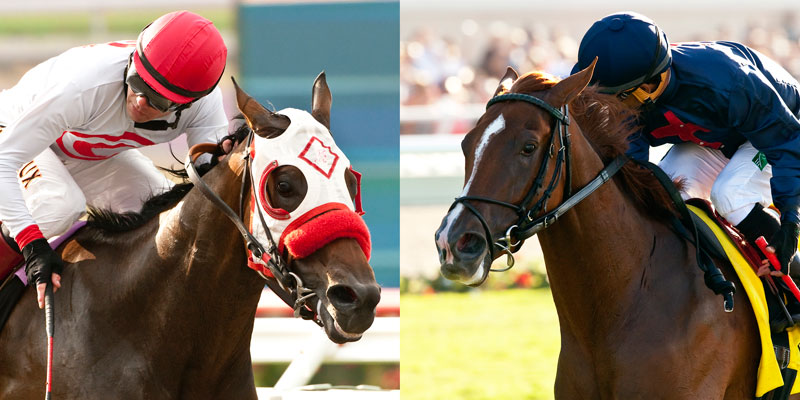 Big Macher (left) and Personal Diary (right) © Benoit Photo
PERSONAL DIARY, BIG MACHER TOP UPCOMING STAKES NOMINATIONS
Personal Diary, winner of the Grade I Del Mar Oaks in 2014 and Big Macher, a winner of three stakes races at Del Mar in the past 16 months, top the list of nominees to next weekend's $100,000 Grade III Red Carpet and $100,000 Cary Grant Stakes, respectively.
The Red Carpet, a 1 3/8 mile turf marathon for older fillies and mares, will be run Saturday, November 21. The Cary Grant, a seven-furlong sprint for 3-year-olds and up, is the Sunday feature.
Considered probables for Saturday's Red Carpet by Stakes Coordinator Chris Merz are: Customer Base, Energia Fribby, Halljoy, Personal Diary, Soresca, Star Act and three hearts. Thirteen others are nominated and therefore eligible to be entered before the post position draw on Wednesday.
Personal Diary was a 2 ¾ length winner under Corey Nakatani at odds of 9-1 in the 2014 Del Mar Oaks in August of last year. That remains the last victory for the now 4-year-old daughter of City Zip who has made all but two of her 16 career starts and the bulk of $266,393 in career earnings on turf.
Trained by Victoria Oliver and based at Keeneland, Personal Diary shipped to Del Mar for the John C. Mabee Stakes last August but largely lacked running room in the 1 1/8-mile event and finished fifth to Elektrum.
Considered probables for the Cary Grant are: Acceptance, Avanti Bello, Big Macher, Bold Fantasy, Forest Chatter, Soi Phet and Solid Wager. There are eight additional nominees.
Big Macher is the defending champion in the Cary Grant, prevailing by a neck over Rousing Sermon in a rebound race after an undistinguished (9th) 2014 Breeders' Cup Sprint effort. As was the case a year ago the 5-year-old Beau Genius gelding, trained by Richard Baltas, will make a comeback start in the Grant after finishing 10th in the BC Sprint at Keeneland.
---
BAFFERT VS. HOLLENDORFER ROUND TWO IN DESI ARNAZ
Bob Baffert's Toews On Ice won Saturday's Grade III $100,000 Bob Hope Stakes with Jerry Hollendorfer's I'malreadythere third as the two Hall of Fame trainers had two representatives each in the field of seven.
A similar scenario could play out in today's $100,000 Desi Arnaz as Baffert will be represented by 2-1 morning line favorite Pretty N Cool plus Treasuring (4-1) while Hollendorfer sends out Surfside Tiara (4-1). Hollendorfer's second entrant, Imflatoutsweet (15-1), was scratched.
The Hollendorfer camp, of course, is looking to turn the tables.
"Surfside Tiara has run well every time," said Dan Ward, top assistant to Hollendorfer. "Her only bad loss is to Songbird and you can't hold that against her."
---
WHAT'S IN A NAME – DESI ARNAZ STAKES
Formerly the Moccasin Stakes on the Hollywood Park schedule, the race for 2-year-old fillies was renamed to honor the singer/bandleader/actor who was a pioneer in television while co-starring with his wife, Lucille Ball, on the beyond-popular "I Love Lucy" comedy series. Arnaz, a serious racing fan who was also a horse owner and breeder, had a home on the beach in Del Mar where he lived for 25 years.
---
ALUM BAFFERT COMES UP BIG AT ARIZONA FOOTBALL HOMECOMING
An account of Bob Baffert's honoring at Saturday night's University of Arizona football game in Tucson from the website Tucson.com.
Bob Baffert stood in the Lowell-Stevens Football Facility lobby 30 minutes before kickoff sporting an Arizona Wildcats jacket and cowboy boots.
His trademark sunglasses were nowhere to be seen. Still, Baffert looked — and felt — at home.
The Nogales-born, UA-educated, Triple Crown-winning horse trainer took in Saturday's game at Arizona Stadium. He was honored on the field at the first media timeout.
"I grew up loving the University of Arizona when I was 8, 9, 10 years old," he said. "It was great entertainment to come and watch them and root for somebody. There's nothing like having a favorite team. There's nothing like having a rooting interest; (it's) like having a rooting interest in a horse that you own, or you love."
Baffert's love of the UA is reflected in the names of his horses: Midnight Lute, Da Stoops and Candrea were all nods to UA coaches, while Lady Regina was named for the wife of athletic director Greg Byrne.
A Baffert-centric, racing-style account of the game which ran too late for the newspapers:
Given left and right handed, full body and full throated urging from Bob Baffert to and past the wire, the University of Arizona upset No. 10 Utah, 37-30 in double overtime.
---
HOLLENDORFER, O'NEILL MILESTONE WATCH
Jerry Hollendorfer and Doug O'Neill didn't add to career win totals on Saturday and enter Sunday's racing with 6,997 and 1,991 victories respectively.
Hollendorfer has three horses entered here today and two in one race at Golden Gate Fields. O'Neill is scheduled to send out six at Del Mar.
Hollendorfer's lineup at Del Mar: Gangnam Guy (6th, 4-1), Ceeme Run Wild (7th, 7-2) and Surfside Tiara (8th, 4-1). At Golden Gate, Hollendorfer's represntatives are Global Harbor (10-1) and Lamu (15-1) in the eighth race.
O'Neill's Del Mar lineup: Smooth Talker (1st, 7-2), Sorryaboutnothing (4th, 6-1), Anthonysgotgame (5th, 3-1), Pay the Fine (6th, 7-2), Sweet Halory (7th, 4-1) and Over Par (9th, 9-2).
---
IT'S ALL ABOUT THE BING
For the second Bing Crosby Season at Del Mar, we offer a daily note, quote or anecdote about the track's founding father for whom the fall meeting is named.
In the 1960s, Bing generated publicity for a fly-in resort near La Paz, Mexico, when he bought a home at the development along the Sea of Cortez. A nearby neighbor was Desi Arnaz, for whom today's featured stakes is named. An interesting feature of Arnaz's Mexican bungalow was a pool in the shape of a flamenco guitar.
---
CLOSERS – Craig Stephen, agent for meet-leading rider Santiago Gonzalez, said an appeal would be filed regarding a three-day suspension stewards levied Thursday, to be served Nov. 22, 26 and 27, for interference aboard Exactamente in the third race on Sunday, November 8 … Trainer Kathy Ritvo said Bob Hope runner-up Mac Daddy Mac came out of the race well and she was pleased with the effort but had no plans for a next start … Bailoutbobby, one-third owned by the San Diego-based Great Friends Stable, has been sold to Saudi Arabian interests. The 5-year-old gelding, second in the Cougar II Handicap and eighth in the Pacific Classic here last summer, won the $200,000, Grade II Marathon on the first day of the Breeders' Cup, October 30, at Keeneland, in his last start … Jacquelyn King, retiring after more than three decades as the Director of Group Sales, will be honored by the Del Mar Thoroughbred Club after today's seventh race.
---
Contact: Dan Smith 858-792-4226/Hank Wesch 858-755-1141 ext. 3793