Saturday, November 14th, 2020 ( 3 months ago )
Stable Notes
November 14, 2020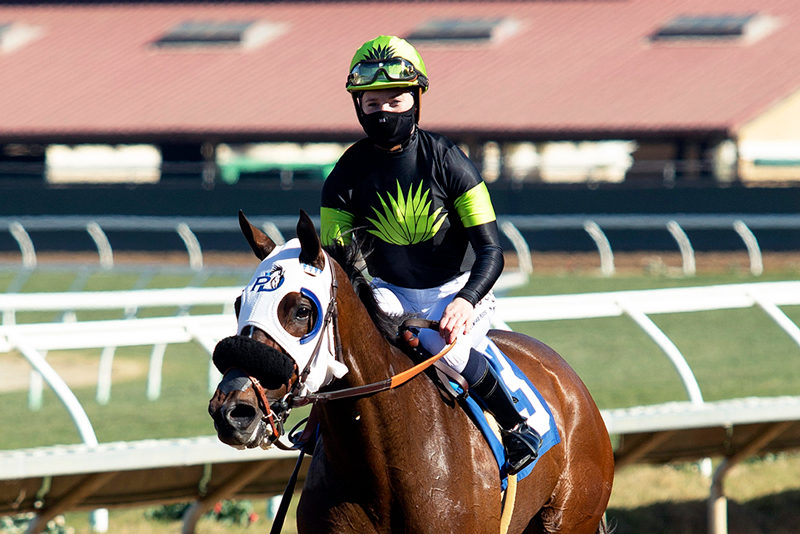 Jessica Pyfer © Benoit Photo
APPRENTICE JESSICA PYFER'S FIRST DEL MAR WIN IS A FAMILY AFFAIR
Jessica Pyfer's win aboard Summer Love in Friday's second race was a multi-layered joy for the 22-year-old apprentice rider.
It was her first victory at Del Mar. The fifth of her burgeoning career, which triggers the step from a 10 to seven-pound weight allowance, the initial sign of accomplishment for apprentice riders. And it came after getting a leg up from her stepfather, trainer Phil D'Amato. To that point, D'Amato starters had been 0-for-12 at the Bing Crosby meeting.
"It's very special to win here," Pyfer said. "I've been coming here since I was a little girl, six or seven years old, and it's like my second home. Every summer I used to come here and idolize the jockeys in the room and now I'm one of them.
"To win for my dad is even more special. He's the man who helped me through the years and has helped me get my riding career started. To him I'm very thankful."
Summer Love, a Kentucky-bred 3-year-old daughter of Summer Front, had one victory in five career starts and was 0-for-3 in Southern California since coming under the care of D'Amato in early summer following two races in Florida for trainer Michael Stidham.
A pair of optional claiming level tries here last summer with first Abel Cedillo and then Ricky Gonzalez in the saddle proved fruitless. Pyfer got the call for a $25,000 claiming event at Santa Anita on October 3 at Santa Anita and the result was a fourth-place finish, the best of the filly's career other than her maiden win.
Summer Love was the 7-2 second choice on the morning line Friday behind 5-2 Invincibella, but they were virtual co-favorites $2.70-1 going into the gate.
Summer Love sped to a clear lead at the start, was in front by four lengths at the midpoint of the mile run on dirt, padded the lead to five turning for home and won by 4 ¾ lengths to the cheers of Pyfer's racetrack family and owners from the Agave Racing Stable and Little Red Feather partnership.
Pyfer, born in Denver, CO, stands 5' 2" and weighs in at 110 pounds. She is a college (Azusa Pacific) graduate who has spent her whole life on or near horses.
Pyfer's mother, Sherri Alexander, has been a horsewoman and exercise rider since her youth. She was seven months pregnant with Jessica and galloping horses in California before going to Denver to give birth. She had her daughter on the backs of ponies and horses very soon afterward and Jessica competed in her first riding event as a 4-year-old.
Sherri returned to California when Jessica was five for an opportunity to gallop horses for trainer Mark Glatt in Southern California. That led to a further galloping opportunity with the late trainer Mike Mitchell where she and his then assistant, D'Amato, met and became friendly. In due course, D'Amato took over training many of Mitchell's horses after he passed, while his friendship with Sherri evolved to the point where it led to marriage.
Growing up, Jessica became a regular at the D'Amato barn and, when she wasn't in school, also was riding horses in events whenever and wherever she could. When she turned 16, she got a racetrack license and began galloping horses for D'Amato as well as other trainers, something she delighted in around her book work for the next six years. Her parents encouraged her to go on with her schooling and she even took the law school entrance test (LSAT) and did well enough on it that that door was open to her. But still her passion for the horses was strong and growing stronger and then -- it led to a "moment" for her.
"I was at home with my family at dinner one night," she recalled. "I'd finished college and I'd been galloping lots of horses. I even got asked by (Hall of Fame trainer) Richard Mandella to gallop some of his horses. That really got me to thinking about what I wanted to do. And then out of the blue my dad says: 'Go ahead and do it. If you're going to be a rider, this is the time for you to try. Go ahead.'"
Asked if there were personal or family rituals established for celebrating big victories, Pyfer replied in the negative. Then her eyes lit up above the mask covering the lower half of her face.
"I'll start a tradition now," she said. "We'll pick a restaurant and go out to dinner."
---
LONG-WINDED EASTERN STAKES TYPES EYE 12-PANEL H'WOOD TURF CUP
Racing secretary David Jerkens reports that he's gotten some serious interest from several eastern trainers with likely runners for Del Mar's Grade II Hollywood Turf Cup scheduled for Friday, November 27. The $200,000 race will be contested at a mile and one-half on the Jimmy Durante Turf Course.
Trainer Brad Cox has indicated his multiple-stakes winner Arklow, most recently seen running 6th in the Breeders' Cup Turf at Keeneland, might be on board for the marathon. Trainer Mike Maker is considering two of his route runners in Big Agenda and Aquaphobia. The latter was a Grade I winner on the grass this year.
Also possible for the seventh local edition of the stakes is the German stakes winner Laccario for trainer Andreas Wohler, as well as trainer Graham Motion's Ziyad, a European import who ran third in the Grade III Sycamore Stakes at Keeneland on October 15 in his initial U.S. start.
The Hollywood Turf Cup will be part of a seven-stakes-all-on-the-grass bonanza that starts on Thanksgiving Day (November 26) and runs through the track's closing afternoon on Sunday, November 29.
---
CEDILLO'S AGENT: A WIN A DAY COULD KEEP PRAT, OTHERS AT BAY
Defending Bing Crosby Season riding champion Abel Cedillo won Friday's sixth race aboard Just Grace ($5.60) for trainer Bob Hess, Jr., and has a four-win margin (10-6) over closest pursuer Tiago Pereira with nine days remaining in the meeting.
And one win (or more) per day is what Tom Knust, Cedillo's agent, would like to see to keep his comfort level up through the November 29 conclusion of the meet.
"If we can win one a day, we'll be OK," Knust said Saturday morning. "We were fortunate to get off to a good start while (Flavien) Prat and (Juan) Hernandez were away. But they're back and we know how tough they can be. It's not going to be easy."
Prat, leading rider or close contender here for the past four years, guided a pair of price horses home Friday after getting a leg up by his counterpart in the training category, Peter Miller. Seaside Dancer paid $21.80 to win in the fifth and Ruthies Racer $14.40 in the eighth.
Prat and Hernandez are among a group tied for sixth in the Torrey Holistics standings with three wins. Prat is 3-for-12, Hernandez 3-for-28.
Miller's two wins gave him six for the meet and broke a three-way tie atop the trainer standings. Bob Baffert, who had no starters Friday, remains 4-for-7 while Doug O'Neill blanked with five runners and is 4-for-24.
---
GLATT BACK IN ACTION WITH 1,000-WIN MILESTONE IN SIGHT
Trainer Mark Glatt, two wins away from career No. 1,000, scratched three entrants on Friday's card but anticipated three scheduled starters today.
"We had an illness hit our barn," Glatt said. "We decided to err on the side of caution and scratch our Friday entries. We should be good (today)."
The 47-year-old native of Spokane, Washington, is scheduled to send out Pharoah's Heart (1st, Tyler Baze, 6-1), Pubilius Syrus (4th, Baze, 2-1) and Big Story (9th, Juan Hernandez, 6-1).
---
CLOSERS -- Bob Baffert's Varda, one of his three entrants, and Doug O'Neill's Plum Sexy were scratched from today's $100,000 Desi Arnaz Stakes, reducing the field to six. Baffert's Private Mission remains the 9-5 favorite.
---
Del Mar Statistics
Presented by Torrey Hollistics
Jockey Standings
(Current Through Sunday, November 13, 2020 Inclusive)
| | | | | | | | |
| --- | --- | --- | --- | --- | --- | --- | --- |
| Jockey | Mts | 1st | 2nd | 3rd | Win% | In-money% | Money Won |
| Abel Cedillo | 46 | 10 | 7 | 4 | 22% | 46% | $393,100 |
| Tiago Pereira | 35 | 6 | 1 | 4 | 17% | 31% | $216,940 |
| Ricardo Gonzalez | 34 | 5 | 6 | 5 | 15% | 47% | $348,920 |
| Tyler Baze | 32 | 5 | 2 | 3 | 16% | 31% | $211,100 |
| Mike Smith | 14 | 5 | 2 | 1 | 36% | 57% | $220,780 |
| Juan Hernandez | 28 | 3 | 7 | 7 | 11% | 61% | $217,718 |
| Flavien Prat | 12 | 3 | 4 | 0 | 25% | 58% | $132,380 |
| Umberto Rispoli | 27 | 3 | 3 | 8 | 11% | 52% | $167,940 |
| Drayden Van Dyke | 22 | 2 | 5 | 5 | 9% | 55% | $196,848 |
| Alexis Centeno | 29 | 2 | 5 | 5 | 7% | 41% | $103,284 |
Trainer Standings
(Current Through Sunday, November 13, 2020 Inclusive)
| | | | | | | | |
| --- | --- | --- | --- | --- | --- | --- | --- |
| Trainer | Sts | 1st | 2nd | 3rd | Win% | In-money% | Money Won |
| Peter Miller | 17 | 6 | 3 | 0 | 35% | 53% | $308,560 |
| Richard Baltas | 15 | 4 | 4 | 0 | 27% | 53% | $168,520 |
| Doug F. O'Neill | 24 | 4 | 2 | 3 | 17% | 38% | $178,764 |
| Bob Baffert | 7 | 4 | 1 | 1 | 57% | 86% | $159,900 |
| Richard E. Mandella | 7 | 3 | 1 | 3 | 43% | 100% | $137,160 |
| Michael W. McCarthy | 5 | 3 | 0 | 0 | 60% | 60% | $92,800 |
| Robert B. Hess, Jr. | 12 | 2 | 3 | 1 | 17% | 50% | $75,160 |
| William Spawr | 4 | 2 | 1 | 0 | 50% | 75% | $43,300 |
| Manuel Ortiz, Sr. | 5 | 2 | 0 | 2 | 40% | 80% | $34,460 |
| Carla Gaines | 6 | 2 | 0 | 2 | 33% | 67% | $80,520 |
Winning Favorites Report
(Current Through Sunday, November 13, 2020 Inclusive)
Winning favorites -- 18 out of 51 -- 35.29%
Winning favorites on dirt -- 13 out of 29 -- 44.83%
Winning favorites on turf -- 5 out of 22 -- 22.73%
Winning odds-on favorites -- 3 out of 7 -- 42.86%
In-the-Money favorites -- 39 out of 51 -- 76.47%
In-the-Money odds-on favorites -- 6 out of 7 -- 85.71%