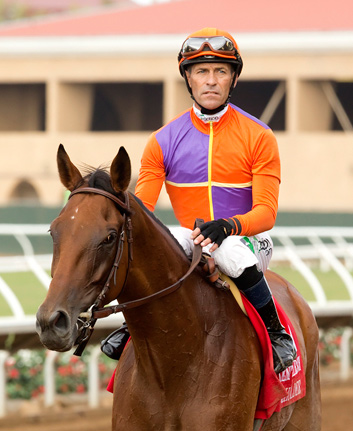 Gary Stevens on Beholder, © Benoit Photo
STILL STINGING STEVENS WELL SITUATED IN WEEKEND STAKES
Hall of Fame jockey Gary Stevens admits that he's still "feeling the sting" of disappointment over Pacific Classic winning super mare Beholder not making the Breeders' Cup Classic and facing American Pharoah.
Beholder bled in a routine gallop and had to be scratched two days short of the matchup that was the dream of all of racing.
"But the good thing is that she's going to be brought back next year," Stevens said here Saturday morning. "So we regroup and go on."
On the immediate agenda for Stevens are assignments aboard Mac Daddy Mac in today's Grade III $100,000 Bob Hope Stakes and Lucky Folie in Sunday's $100,000 Desi Arnaz.
He's bullish on both.
Mac Daddy Mac (8-1) was a first-out winner on October 24 at Santa Anita and was subsequently privately purchased by Dean Reeves and is trained by Kathy Ritvo, the connections, along with Stevens, of 2013 Breeders' Cup Classic winner Mucho Macho Man.
"We had dinner last night and we're all excited," Stevens said. "He won impressively his first out. I worked him here (a week ago) and he did everything right."
Lucky Folie, Stevens' mount for Hall of Fame trainer Richard Mandella in the Desi Arnaz Stakes, was a 2 ½-length winner at 5 ½ furlongs on the main track in her racing debut on August 15 here under Flavien Prat. The 2-year-old daughter of Distorted Humor crossed under the wire second but was disqualified to third in a mile turf race 16 days ago at Santa Anita with Stevens replacing the injured Prat.
The Arnaz is seven furlongs on the main track.
"Richard considered running her in the (Breeders' Cup) Juvenile Fillies Turf at Keeneland but decided to keep her here," Stevens said. "She's a really nice filly with a big future."
---
WHAT'S IN A NAME – BOB HOPE STAKES
Today's Bob Hope Stakes, formerly the Hollywood Prevue Stakes, was renamed in honor of the renowned comedian and all-around entertainer who co-starred with Bing Crosby in the classic series of "Road To …" films in the mid-20th Century. The movie partnership was an expansion of impromptu collaborations at Del Mar parties in the track's early days.
---
D'AMATO STABLE ENJOYING LIFE AT THE TOP 'DAY TO DAY'
Single wins for Jerry Hollendorfer and Peter Miller on Friday trimmed the lead by Phil D'Amato atop the standings to one (6 to 5) over the two perennial training title contenders/champions at the halfway mark of the 20-day meeting.
Staying in front and winning a first Del Mar title figures to be a matter of fortune and number of starters for D'Amato. And only time will tell if the 39-year-old trainer, who took over the stable of the late Mike Mitchell – Del Mar's all-time wins leader – will have enough of both.
"We go day-to-day," D'Amato assistant Rudy Cruz said Saturday. "We know how it works. They may be running more horses but we have pretty good ones and we're going to be there, like always."
D'Amato will send out Street Fancy, a debut winner at 5 ½ furlongs on October 18 at Santa Anita, in Sunday's seven-furlong $100,000 Desi Arnaz Stakes.
"She is bred for distance and we thought she would need longer races, but she won and broke her maiden. Now we think this (distance) is going to be better for her," Cruz said.
The Arnaz field from the rail: Surfside Tiara (Rafael Bejarano, 4-1), Street Fancy (Mike Smith, 12-1), Lucky Folie (Gary Stevens, 5-2), Patriotic Diamond (Santiago Gonzalez, 8-1), I'mflatoutsweet (James Graham, 15-1), Treasuring (Victor Espinoza, 4-1) and Pretty N Cool (Martin Garcia, 2-1).
---
HOLLENDORFER, O'NEILL MILESTONE WATCH
Hall of Fame trainer Jerry Hollendorfer won Friday's fourth race with Anythingscookin and enters today with 6,997 career victories and with three horses entered at Del Mar and two more at Golden Gate Fields.
Hollendorfer's Del Mar representatives are The Gomper (7th, 5-1), Jury (8th, 5-2) and I'malreadythere (8th, 8-1). His Golden Gate entries, both in the eighth race, are Heart of Paradise (5-1) and Tall and Sweet (2-1). Hollendorfer is expected to be here for today's races.
Trainer Doug O'Neill, with 1,991 career wins, has two horses entered here today. The are: Royal Banker (1st, 6-1) and Basinca (9th, 5-2).
---
IT'S ALL ABOUT THE BING
For the second Bing Crosby Season at Del Mar, we offer a daily note, quote or anecdote about the track's founding father for whom the fall meeting is named.
At the behest of Bing Crosby, camera engineer Lorenzo Del Riccio of Paramount Pictures invented the photo-finish camera and it was installed at Del Mar during the opening season in 1937. Within several years, virtually every major racetrack in the country had a photo-finish camera and today all recognized racetracks around the world have one.
---
CLOSERS – It took Seattle Serenade, a $1 million purchase at the Keeneland September sale in 2013, awhile to get to the races. But the 3-year-old son of Smart Strike was an impressive winner in his debut in Wednesday's first race. "He was so big it took time for him to mature and grow into himself," said Dan Ward, assistant to Hall of Fame trainer Jerry Hollendorfer. "We took our time with him and it looks like it's going to pay off."
---
Contact: Dan Smith 858-792-4226/Hank Wesch 858-755-1141 ext. 3793