Friday, November 13th, 2020 ( 3 months ago )
Stable Notes
November 13, 2020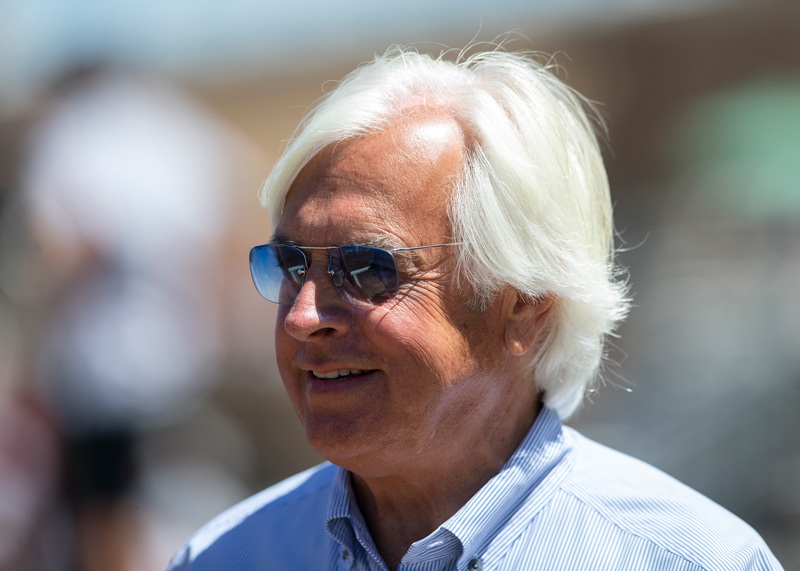 Bob Baffert © Benoit Photo
BAFFERT BABIES RATE MOST OF ATTENTION IN WEEKEND STAKES
Hall of Fame trainer Bob Baffert is scheduled to send out 9-5 morning line favorite Private Mission and two other 2-year-old fillies in a field of eight for Saturday's $100,000 Desi Arnaz Stakes and 6-5 favorite Spielberg to face five 2-year-old male rivals in Sunday's Grade III, $100,000 Bob Hope this weekend.
Baffert increased his Breeders' Cup victory total to 17 last Saturday with the wins by Gamine in the $1 million Filly & Mare Sprint and the 1-2 finish of Authentic and Improbable in the $6 million Classic at Keeneland. He then spent a day or two saying good bye to Authentic, Improbable and Pacific Classic winner Maximum Security – fifth in the Breeders' Cup Classic – as they went off to Lexington, KY., area farms where they'll stand stud.
Authentic went to Spendthrift, Improbable to Winstar and Maximum Security to Ashford Stud.
Three's a crowd, even for Baffert, but seeing horses of great accomplishment off to second careers is a part of racing's annual cycle.
"You don't want to see them go, but we have more good horses around. I have great clients (who provide)," Baffert said this morning from Santa Anita. "You can't think about the past too much, you look ahead."
Baffert has older horses like Mucho Gusto and Roadster to look forward to campaigning in 2021 and it will be no surprise to anyone who has followed racing to any degree recently if a heretofore unknown soon-to-be 3-year-old emerges from the shedrow as a major Kentucky Derby contender. (Especially if the Derby is held on the first Saturday in May again).
Of immediate concern to Baffert, however, are the upcoming stakes here. Having returned from Kentucky and undergone 72 hours of isolation before returning to work at Santa Anita, he'll be making his first Crosby season appearance here on Saturday.
In addition to Private Mission, an Into Mischief filly, Baffert has Varda (6-1) and Heels Up (8-1) to look after in the Desi Arnaz. Private Mission and Varda were both $750,000 auction purchases. Heels Up sold for $350,000.
"They're all winners, and it's not easy to win races out here," Baffert said. "They're all training well, but it could be a tough race. Looks like Richard Mandella (Astute, 3-1) and John Sadler (Queengol, 4-1) have some good ones in there."
Speilberg, a $1 million purchase a year ago, will be coming back two weeks after breaking his maiden in his fourth career start – two of them against Grade I competition. Baffert has saddled the winner four times in six runnings of the Hope, the initial graded stakes of the Crosby meeting. Spielberg, a son of Union Rags, will be shortened to seven furlongs and put on the same course where he finished second, 1 ¾ lengths behind Dr. Schivel, in the Del Mar Futurity on September 7.
"He came out of the last one very well and the seven-eighths should be OK for him," Baffert said. "And he runs well at Del Mar." Spielberg has the maiden win and two runner-up finishes last summer on his record here.
The field from the rail for Saturday's Desi Arnaz: Plum Sexy (Heriberto Figueroa, 12-1); Private Mission (Drayden Van Dyke); Canoodling (Umberto Rispoli, 12-1); Varda (Abel Cedillo); Queengol (Juan Hernandez); Miss Costa Rica (Flavien Prat, 10-1); Astute (Mike Smith), and Heels Up (Victor Espinoza).
The field from the rail for Sunday's Bob Hope: Ambivalent (Mario Gutierrez, 7-2); Spielberg (Cedillo, 6-5); Weston (Van Dyke, 3-1); Coastal Kid (Tyler Baze, 15-1); Red Flag (Espinoza, 6-1), and Uncle Boogie (Prat, 5-1).
---
CHAMP CEDILLO LEADS RIDER STANDINGS; THREE TRAINERS TIED
Defending Bing Crosby Season jockey champion Abel Cedillo enters the third of five weekends of the 2020 meeting with a four-win lead over Hall of Famer Mike Smith and Tiago Pereira as racing resumes today.
The trio kept status quo on the Torrey Holistics leaderboard on Sunday by registering one win apiece.
Cedillo has nine wins from 38 mounts. Smith and Pereira have tallied five each from 13 and 30 opportunities, respectively. Ricardo "Ricky" Gonzalez and Tyler Baze are tied for fourth with four wins.
Peter Miller's sweep of three stakes last weekend, accomplished remotely via assistant Ruben Alvarado while Miller was in Kentucky for the Breeders' Cup, boosted the four-time Crosby training title winner into a tie with Bob Baffert and Doug O'Neill.
They all have four wins to show for the first five of the 15-day meeting.
Baffert and O'Neill were also in Kentucky last weekend and much credit for the two wins recorded by their stables go to assistants Randy Bradshaw and Leandro Mora. O'Neill had two Breeders' Cup entries: Hot Rod Charlie finished second, at odds of 94-1, in the $2 million Juvenile; Wildman Jack was among the pacesetters and led at the the top of the stretch before finishing seventh at odds of 19-1 in the Turf Sprint.
"On a scale of one-to-10, the Kentucky experience was a 10," the ever-enthusiastic O'Neill said Friday morning. "The horses all looked great, ran well and came out of it great."
O'Neill runners Tonahutu and Lazy Daisy sold at Keeneland auctions following the Cup: "Good for those owners," O'Neill said.
Team O'Neill has runners entered in 11 of 27 races this weekend as he seeks to add a second Bing Crosby season title (2015) and increase his Del Mar total to seven.
"You're only as good as your team and Leandro and the others are just the best. I'm very blessed," O'Neill said.
---
COLLMUS RETURNS TO BOOTH; TAKES BEACH BOSS CHALLENGE
Track announcer Larry Collmus is back from last week's assignment calling the Breeders' Cup races for NBC and set to man the booth atop the grandstand for the 10 remaining days of the meeting.
His return includes a spot as the celebrity challenger today to Paulick Report founder Ray Paulick in the Beach Boss of Bing Season handicapping showdown.
Each week a new challenger confronts Paulick. One designated race is played with $100 to be bet in any win place or show combination. Michelle Yu hosts the event on Facebook, Twitter and YouTube outlets.
---
CLOSERS – Nominations closed Thursday for a trio of upcoming stakes. The November 21 Native Diver closed with 10, among them Shared Belief winner Thousand Words; the Cary Grant, on November 22, has 12, which includes Real Good Deal Stakes winner El Tigre Terrible, and the Thanksgiving Day Red Carpet has 16, including as many as four shippers from the stables of trainers H. Graham Motion, Todd Pletcher and Victoria Oliver.
---
Del Mar Statistics
Presented by Torrey Hollistics
Jockey Standings
(Current Through Sunday, November 12, 2020 Inclusive)
| | | | | | | | |
| --- | --- | --- | --- | --- | --- | --- | --- |
| Jockey | Mts | 1st | 2nd | 3rd | Win% | In-money% | Money Won |
| Abel Cedillo | 38 | 9 | 6 | 4 | 24% | 50% | $368,580 |
| Mike Smith | 13 | 5 | 2 | 1 | 38% | 62% | $220,280 |
| Tiago Pereira | 30 | 5 | 1 | 3 | 17% | 30% | $201,040 |
| Ricardo Gonzalez | 29 | 4 | 5 | 5 | 14% | 48% | $305,460 |
| Tyler Baze | 28 | 4 | 2 | 2 | 14% | 29% | $172,440 |
| Juan Hernandez | 20 | 3 | 4 | 4 | 15% | 55% | $173,778 |
| Drayden Van Dyke | 20 | 2 | 5 | 5 | 10% | 60% | $195,128 |
| Umberto Rispoli | 21 | 2 | 3 | 6 | 10% | 52% | $136,560 |
| Alexis Centeno | 22 | 2 | 3 | 4 | 9% | 41% | $80,444 |
| Edwin Maldonado | 23 | 2 | 1 | 3 | 9% | 26% | $85,880 |
Trainer Standings
(Current Through Sunday, November 12, 2020 Inclusive)
| | | | | | | | |
| --- | --- | --- | --- | --- | --- | --- | --- |
| Trainer | Sts | 1st | 2nd | 3rd | Win% | In-money% | Money Won |
| Doug F. O'Neill | 19 | 4 | 1 | 3 | 21% | 42% | $158,644 |
| Bob Baffert | 7 | 4 | 1 | 1 | 57% | 86% | $159,900 |
| Peter Miller | 12 | 4 | 1 | 0 | 33% | 42% | $263,260 |
| Richard Baltas | 11 | 3 | 4 | 0 | 27% | 64% | $132,820 |
| Richard E. Mandella | 7 | 3 | 1 | 3 | 43% | 100% | $137,160 |
| Manuel Ortiz, Sr. | 4 | 2 | 0 | 1 | 50% | 75% | $32,060 |
| Carla Gaines | 4 | 2 | 0 | 0 | 50% | 50% | $71,280 |
| Michael W. McCarthy | 4 | 2 | 0 | 0 | 50% | 50% | $74,200 |
| Patrick Gallagher | 4 | 1 | 3 | 0 | 25% | 100% | $81,100 |
| Mark Glatt | 8 | 1 | 1 | 2 | 13% | 50% | $47,540 |
Winning Favorites Report
(Current Through Sunday, November 12, 2020 Inclusive)
Winning favorites -- 16 out of 42 -- 38.10%
Winning favorites on dirt -- 11 out of 25 -- 44.00%
Winning favorites on turf -- 5 out of 17 -- 29.41%
Winning odds-on favorites -- 3 out of 6 -- 50.00%
In-the-Money favorites -- 31 out of 42 -- 73.81%
In-the-Money odds-on favorites -- 5 out of 6 -- 83.33%