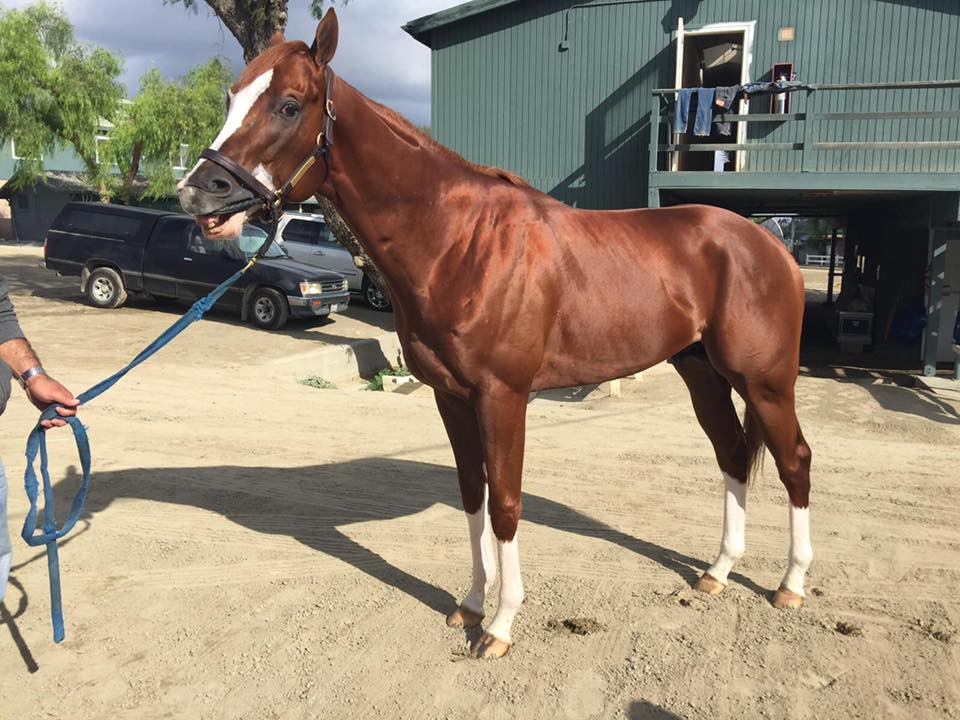 HOPE'S THE THING FOR TRAINER KATHY RITVO
Kathy Ritvo, a symbol of hope when she became – five years after receiving a heart transplant – the first female trainer to saddle a Breeders' Cup Classic winner, gets her first Del Mar experience on Saturday. In a race that, coincidentally, has the word hope, with a capital H, in the title.
Two years after sending Mucho Macho Man out to win the $5 million Breeders' Cup Classic at Santa Anita, Ritvo will saddle newly-acquired 2-year-old Mac Daddy Mac in Saturday's $100,000 Grade III Bob Hope Stakes.
Ritvo, 46, has been in charge of Mac Daddy Mac, a Florida-bred son of Put It Back for around 18 days, which roughly coincides with the time the Florida-based trainer has been here. On October 24, Mac Daddy Mac, then trained by Jack Carava, was a 4 ½-length winner at 5 ½ furlongs making his racing debut in a maiden special at Santa Anita.
Two days later, the colt was privately purchased by Dean Reeves and placed in the care of Ritvo. Mac Daddy Mac worked four furlongs here last Saturday in :47.80 for the 7-furlong Hope.
"A bloodstock agent brought him to the attention of Mr. Reeves and me," Ritvo said here Friday morning. "We watched the tapes, liked him a lot, loved the way he finished his first race, and the deal was made."
Ritvo spoke from the center of a walking ring in the stable area as Mac Daddy Mac, a robust chestnut with four white "stockings" and a white blaze on his face, was cooled down after routine morning exercise.
"Since we got him and I came out to train him he's done all the right things," Ritvo said. "He's really smart, well put together, has a very strong body and he looks to be a very happy horse who loves what he's doing."
Ritvo's previous Southern California racing experience consisted of back-to-back trips to Breeders' Cup Classics with Mucho Macho Man in 2012, a narrow defeat, and the 2013 victory over Will Take Charge. Life after Mucho Macho Man has been "a little quiet, but very nice," said Ritvo, who has a stable of 15 horses in Florida.
Like most first-time visitors, she's been impressed with Del Mar.
"It's a beautiful, beautiful place, what's not to like?" Ritvo said. "The people are very nice and it's a great place to be."
Hall of Fame jockey Gary Stevens rode Mucho Macho Man to the Classic victory and has the mount on Mac Daddy Mac.
"I'll let Gary take care of (race strategy)," Ritvo said. "We had him come out to work the colt and make sure we were doing the right thing putting him in this race. All the answers were yes."
The Hope Field from the rail: Dr. Dorr (Mike Smith, 3-1), Jury (Rafael Bejarano, 5-2), Street Vision (Santiago Gonzalez, 8-1), Toews On Ice (Martin Garcia, 2-1), Mac Daddy Mac (Gary Stevens, 8-1), On Fire (Victor Espinoza, 15-1) and I'malreadythere (Tyler Baze, 8-1).
---
PRETTY N COOL FAVORED IN SUNDAY'S DESI ARNAZ
Pretty N Cool, a winner of two Grade II races in only four career starts, is the 2-1 favorite on oddsmaker Russ Hudak's morning line in a field of seven for Sunday's featured $100,000 Desi Arnaz Stakes, a seven-furlong event for 2-year-old fillies.
Trained by Hall of Famer Bob Baffert for the partnership of Mike Pegram, Karl Watson and Paul Weitman, Pretty N Cool followed up a debut win at Del Mar on July 19 with a victory in the Grade II Sorrento in August and tacked on the Grade II Matron last month at Belmont Park in New York.
The only defeat for the daughter of Scat Daddy, a $160,000 Keeneland September Yearling Sale purchase, was a runner-up to Songbird in the Del Mar Debutante. Songbird went on to win the $2 million Breeders' Cup Juvenile Fillies and clinch an Eclipse Award in the division.
The Arnaz field from the rail: Surfside Tiara (Rafael Bejarano, 4-1), Street Fancy (Mike Smith, 12-1), Lucky Folie (Gary Stevens, 5-2), Patriotic Diamond (Santiago Gonzalez, 8-1), I'mflatoutsweet (James Graham, 15-1), Treasuring (Victor Espinoza, 4-1) and Pretty N Cool (Martin Garcia, 2-1).
---
HOLLENDORFER AND O'NEILL MILESTONE WATCH
Hall of Fame trainer Jerry Hollendorfer, who won Thursday's first race with Seattle Serenade, his only starter here, starts the day with 6,996 wins and the mathematical possibility of reaching 7,000 today.
Hollendorfer has four entered at Del Mar and two at Golden Gate Fields. The Hollendorfer representatives here are: Anythingscookin (4th, 9-2), Of Course It Is (5th, 4-1), Sarahline (7th, 6-1) and Runaway Cherie (7th, 5-1).
The victory by Courageous Dave in Thursday's fourth race was No. 1,991 in the career of trainer Doug O'Neill, who has five entered today at Del Mar. The O'Neill group is: The Custodian (2nd, 4-1), Cass In Stone (3rd, 5-2), Sarno's B F F (5th, 9-2), Caradini (6th, 5-2) and Seaward Cottage (8th, 7-2).
---
JOCKEY NEWS: PRAT STARTS DOWN ROAD TO RETURN
Flavien Prat, who finished second to Rafael Bejarano in the summer meeting rider standings, started physical therapy today toward recovery from injuries in a spill at Los Alamitos on September 17.
Pratt, a 23-year-old native of Melun, France, had 30 wins from 194 mounts and purse earnings of $2,222,694 and four stakes scores in his first meeting as a Del Mar regular last summer. Bejarano claimed his fourth straight summer meeting title, and fifth overall, with 40 wins.
Ten days after the end of the summer meeting, Prat was involved in the accident at Los Alamitos which resulted in five fractured vertebrae and a punctured lung.
Prat was fitted for a body brace and has been walking an hour a day in it since the accident his agent, Derek Lawson, said. The body brace came off on Wednesday and Prat began physical therapy Friday morning.
The best case scenario, Lawson said, would be a return to riding on the opening day of the Santa Anita meeting, December 26, but being back sometime in January is a more realistic goal.
"He's disappointed he couldn't be at the fall Del Mar meeting, because he had such a good experience there in the summer," Lawson said. "He appreciates the well-wishes and support he's received from Del Mar and horsemen in general and looks to being there again next summer."
---
IT'S ALL ABOUT THE BING
For the second Bing Crosby Season at Del Mar, we offer a daily note, quote or anecdote about the track's founding father for whom the fall meeting is named.
Bing on Frank Sinatra: "Frank is a singer who comes along once in a lifetime, but why did he have to come along in mine?"
---
POWELL, DAVIS TO GUEST ON WEEKEND SEMINARS
Trainer Leonard Powell and Equibase chart man Ken Davis will be the guest experts providing opinions and selections on the Weekend Handicapping Seminars for the third week of the Bing Crosby meeting.
Powell, who claimed Soi Phet for $16,000 and turned him into a stakes winner, will headline the Saturday program. Davis will be the guest of host Tom Ferrall on Sunday.
The seminars start at 11:30 a.m. each day and are held at the Seaside Terrace near the top of the stretch.
---
CLOSERS – Santiago Gonzalez and Rafael Bejarano both notched one win Thursday as Gonzalez maintained a two-win margin over Bejarano (9-7) atop the jockey standings…Gonzalez has been handed a three-day suspension (November 22 and 26-27) for causing interference aboard Exactamente in the third race last Sunday … Gonzalez's win aboard Tough It Out for Phil D'Amato in the fifth race on Thursay kept D'Amato two clear of Peter Miller (6-4) in the trainer race. Miller won the seventh with Richard's Boy ($9.00) under Victor Espinoza.
---
Contact: Dan Smith 858-792-4226/Hank Wesch 858-755-1141 ext. 3793