Sunday, November 1st, 2020 ( 3 months ago )
Stable Notes
November 1, 2020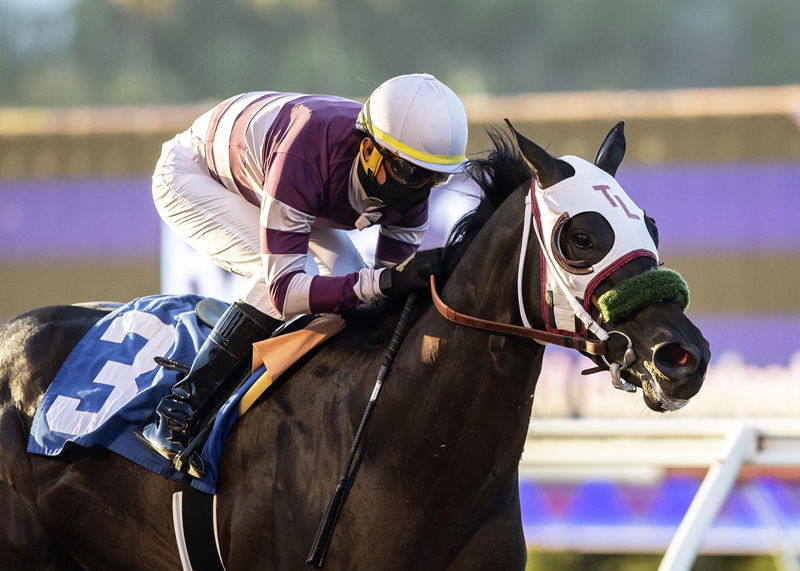 Governor Goteven © Benoit Photo
GOVERNOR GOTEVEN RETURNS FRIDAY AIMING TO STAY PERFECT
Walther Solis is back and so is the unbeaten 2-year-old filly Governor Goteven.
And they'll be center stage when the Bing Crosby meeting resumes on Friday with the featured $150,000 Golden State Juvenile Fillies Stakes, a 7-furlong sprint for Cal-breds which will be the longest race in the brief careers for all but one of the 10 entered Saturday.
Governor Goteven extended her career-starting win streak to three with stakes victories in the CTBA and Generous Portion during the Del Mar summer season while being trained by Solis protégé Lisa Bernard.
It was widely reported that Solis had "retired" and turned his business over to Bernard, but Solis said Saturday that it was less a retirement than a hiatus from one aspect of racing to concentrate on another. Solis spent most of the last year as farm manager for Lovacres Ranch, a position he held with Golden Eagle Farm through its glory years in the 1990s, while Bernard took charge of training runners.
Solis, 58, has returned to training. He said Bernard, 37, is taking some time off to be with her family but plans to return as his assistant in December. And Governor Goteven, a Templeton Horses homebred daughter of Governor Charlie, is rested and ready to return, Solis said.
"We gave her about a month away to just be a horse, then took her to Santa Anita and she's doing great," Solis said by telephone Saturday. "I love the post position (far outside) and I think she will benefit from the extra distance."
The field from the rail, with jockeys in parenthesis: Starlight Stroll (Edwin Maldonado); Eddie's New Dream (Mario Gutierrez); Dylans Wild Cat (Mike Smith); September Secret (Ricky Gonzalez); Love Wins (Abel Cedillo); Will Take a Kiss (Tyler Baze); Wishtheyallcouldbe (Jose Valdivia, Jr.); Super Game (Drayden Van Dyke); Okoye (Eswan Flores), and Governor Goteven (Tiago Pereira).
---
SMITH, HERNANDEZ AND CENTENO OPEN WITH A PAIR (OF WINS)
Age, youth and somewhere in between were all served as jockeys Mike Smith, apprentice Alexis Centeno and Juan Hernandez notched two wins each as the seventh Bing Crosby Season of racing commenced Saturday.
Hall of Famer Smith, 55, won the eighth race with Mister Bold ($8.80) for trainer Jeff Bonde and the nightcap on Petruchio ($4.20) to produce a $24.20 late daily double. The scores validated intentions Smith expressed earlier to get off to a good start at Del Mar and diminish the disappointment over missing next week's Breeders' Cup at Keeneland – only the fourth absence from the fall championships for the event's leading rider in three decades.
Centeno, 27, from Puerto Rico, guided Time to Testify ($3.40) home in the second race for trainer Doug O'Neill and From the Get Go ($5.40) to victory in the sixth for Luis Mendez. Centeno thus signaled potential to improve on a Santa Anita fall campaign in which he was the top apprentice with seven wins from 59 mounts and purse earnings of $324,400.
Hernandez, 28, came down from Northern California for the Del Mar summer season and established credentials to be a Southern California circuit mainstay. The native of Mexico picked up Saturday where he left off when the summer meeting ended with wins on Carmelita's Man ($5.60) in the first race for Dean Pederson and Annangel ($9.20) in the fifth for Richard Baltas.
The six different trainers for whom Smith, Centeno and Hernandez produced victories were joined by Paddy Gallagher (Trevor T, 3rd race, $5.20), Peter Miller (Captain Scotty, 4th, $6.20) and Manuel Badilla (Never Be Enough, 7th, $14.80) as nine different conditioners saddled opening-day winners.
---
STAKES STARS NOMINATED TO COME OUT IN SECOND WEEKEND EVENTS
Undefeated (2-for-2) Positivity, winner of the Graduation Stakes here last summer in his second career start, headlines 14 California-bred 2-year-olds nominated to Saturday's $150,000 Golden State Juvenile. And Just Grazed Me is nominated for a chance to improve on a runner-up finish two years ago when the Betty Grable Stakes is run next Sunday to climax the second weekend of the Bing Crosby meeting.
Both events are 7 furlong assignments on the main track.
The Golden State Juvenile, last run here in 2017, would represent an added approximately 330 yards of distance from the 5 ½ furlongs Positivity covered under Drayden Van Dyke in a half-length victory over fellow Golden State Juvenile nominee Good With People in the Graduation on August 2. A son of Paynter owned by former California Horse Racing Board chairman Chuck Winner, Positivity is unraced since then but has four works at Santa Anitas since the beginning of October.
Big Fish, winner of the Del Mar Juvenile Turf Stakes on closing day of the summer meeting, is also nominated for what would be a return to dirt after three races on grass. The most recent was a fifth place finish as the favorite in the Zuma Beach Stakes at Santa Anita on October 4.
Just Grazed Me, a 5-year-old daughter of Grazen bred and owned by Nick Alexander and trained by Phil D'Amato, has raced nine times since being second, beaten 2 ¼ lengths by Spiced Perfection, in the 2018 Betty Grable. She's won three stakes in that time, most recently the California Distaff at Santa Anita on October 10. Just Grazed Me, one of 10 Betty Grable nominees, has a record of two wins, two seconds and a third in five Del Mar starts, but would be returning to the dirt surface after eight straight on turf.
---
CLOSERS _ Five Del Mar-based jockeys are likely to be riding in the Breeders' Cup next weekend: Flavien Prat, Umberto Rispoli, Juan Hernandez, Victor Espinoza and Jose Valdivia, Jr. The last two named have calls on Friday only and potentially could return to ride at Del Mar on Saturday. The first three could potentially ride at Del Mar Sunday. All riders who go to Kentucky will have to test for COVID at Scripps La Jolla either Saturday or Sunday morning and have a negative test. If they do, they're OK to return to the local jockeys' room…Licensed owners are allowed to come watch workouts any day during the season starting at 6 a.m. They normally have to be off the grounds, though, by no later than 10 a.m. But this coming Friday and Saturday – because of the televised Breeders' Cup cards – they will be allowed to stay on for the rest of the day if they so choose. Racing Friday from Keeneland can be seen on site starting at 8:30 a.m. Pacific. The first actual BC race that day will go off at 11:30 a.m. Pacific. On Saturday, the first Kentucky race will go off at 7:15 a.m. Pacific and the first actual BC race has a starting time of 9:04 a.m. Pacific. Del Mar will be presenting eight of its own races around the BC offerings on both days …Saturday's opening day handle of $9,603,952 was a 12% increase from the $8,559,757 handle of opening day of the 2019 Bing Crosby Season.