Sunday, November 5th, 2017 ( 1 year ago )
Stable Notes
Nov 5, 2017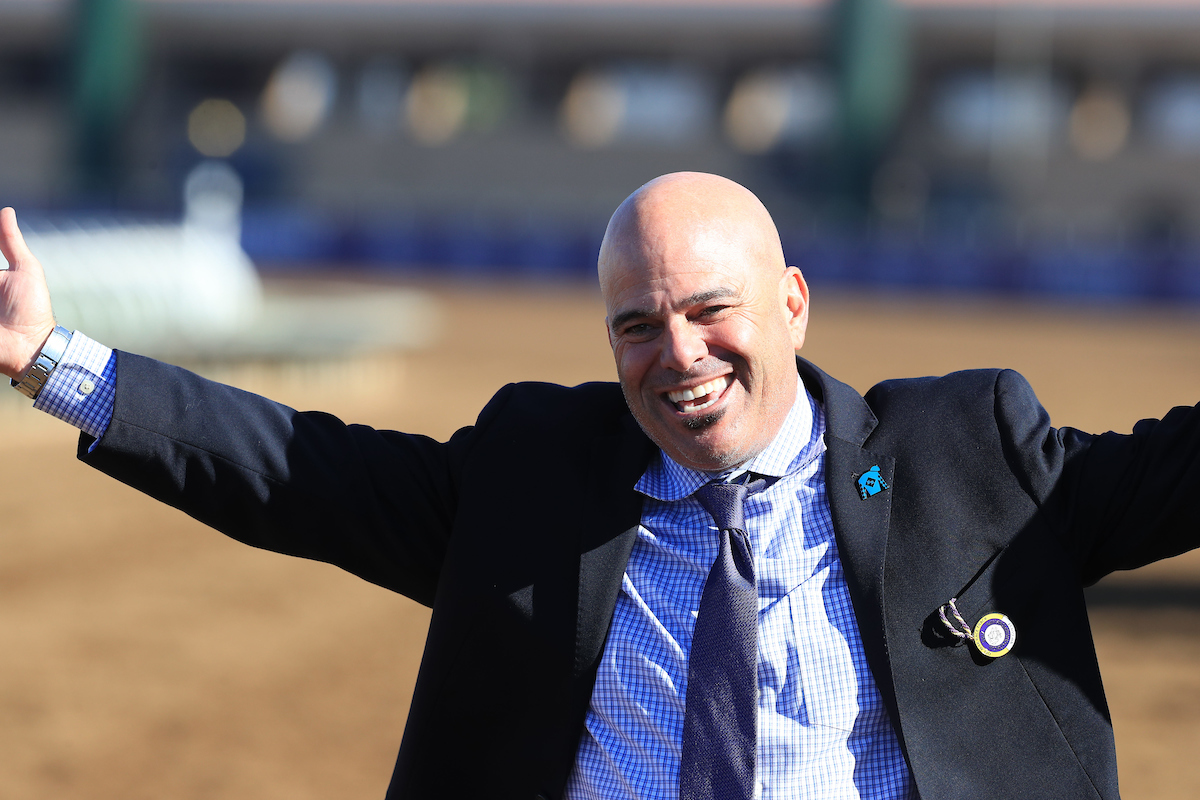 Peter Miller © Eclipse Sportwire
LOCAL BASE, KNOWLEDGE PAYS OFF FOR MILLER WITH SPRINT DOUBLE
San Diego County has been a longtime home for trainer Peter Miller, Del Mar his home track and the nearby San Luis Rey Downs training center the headquarters for an operation that has grown steadily in size and success in recent years.
As the reigning training champion of Del Mar's Bing Crosby Fall Meeting, where his 16 wins doubled that of the runners-up in 2016, he might have been expected to be a factor in the Breeders' Cup World Championships when they were staged here for the first time. Despite the fact he hadn't won a Breeders' Cup race coming in to the event.
Miller won two. In the $1 million Turf Sprint, the fifth on Saturday's 12-race program, he finished 1-2 with Stormy Liberal, Joel Rosario up, and Richard's Boy with Flavien Prat in the irons. Stormy Liberal paid $62.40 to win, Richard's Boy $13 to place. The Miller exacta returned $277.50 for a $1 bet.
"I had a lot of faith in both horses, they show up every time," Miller said. "But to run against Lady Aurelia and some super good sprinters, I felt we needed the home-court advantage which I think we had. I had two jockeys that know the course and two horses that know the course, and it turned out to work in our favor."
Three races later, Miller was back in the winner's circle for the $1.5 million Sprint after Kent Desormeaux guided Roy H ($11.80) to a one-length victory.
"(Roy H) had to man up the first 200 yards, we were getting moved around and bouncing off of horses," Desormeaux said Sunday morning. "His talent established position and after that, he just cruised. I might be a little prejudiced, but I thought he was the most impressive winner of the weekend. He just exploded turning for home."
Miller used the term "surreal experience" to describe the close-together victories.
"You never think you're going to win a Breeders' Cup race. There are just too many good horses and too many things can happen. But anyone that asked me about my horses, I said they're all 'live'. And I meant it. I felt they were all coming into the races great and it's rare that they all show up like that.
"We got great rides and great luck."
Miller said Sunday morning that Roy H will not run again this year and Richard's Boy will also be given a break. Stormy Liberal is a candidate for a $2 million race in Hong Kong and he would look for a race for Calculator (7th, Sprint) possibly at the end of the Crosby meeting, "If the right one comes up."
"I really like this meeting," Miller said. "I think it's very much needed on the (Southern California racing) calendar. I have some horses to run here and hopefully I can defend my championship."
---
RUIS KEEPS THE FAITH IN NO LONGER UNDEFEATED BOLT D'ORO
Mick Ruis showed his usual enthusiasm and Bolt d'Oro showed no ill effects of his first career defeat as the owner/trainer watched the Del Mar Futurity and Frontrunner Stakes winner being walked around his stable are Sunday morning.
"Tough trip," Ruis said of the third-place finish, beaten 5 ¼ lengths by Good Magic in the $2 million Sentient Jet Breeders' Cup Juvenile. It was the first loss in four career starts under jockey Corey Nakatani for Bolt d'Oro. The three previous wins had been accomplished by a combined 10 4/4 lengths.
"The thing is, Corey was on a monster in the Frontrunner," Ruis said of the 7 3/4 –length romp at Santa Anita in September. "I think he thought that he could just go from the gate and make it (good position) even in that short run to the first turn. But the outside was brutal. They had moved dirt from the inside to the outside in the morning. The rail had been dead, but it was good yesterday. Gun Runner ran well there and there was another winner or two from there.
"He was closing at the end when none of the others were.
"At the end of the day yesterday, I looked like I was one bummed guy. But I'd been up since 3:30 in the morning waiting for the 10th race. His race kind of took the air out of me, but I woke up this morning ready to conquer the world and thinking a lot of people would like to be in my shoes right now."
The future still looks bright even if Bolt d'Oro may have lost the status of being the early favorite for the 2018 Kentucky Derby.
"I still think we have the best horse," Ruis said. "We'll see. He came back sound and happy, ate all his food. He was feeling so good he bit me this morning. I like it.
"We'll give him 60 days to chill out, keep him at the barn and let him graze on some grass. We're looking forward to the San Felipe and the Santa Anita Derby. We're not going to run away from anybody if we're going to win the big one, we've got to run against the Bob Bafferts and all the other ones."
---
BREEDERS' CUP BEHIND, LOCALLY-BASED JOCKEYS FOCUS ON BING
"Back to reality," said Tony Matos, jockey agent for star apprentice Evin Roman as the morning routine in the Del Mar stable area returned to normalcy, without the standouts from around the world exercising for the Breeders' Cup.
Roman was scheduled for six mounts on the Sunday card. Flavien Prat, Tyler Baze, Joe Talamo five each.
Prat and Talamo are coming off commendable results in Saturday's nine-race Breeders' Cup program. Prat, who won four races, one of them a Breeders' Cup event, on Friday, finished second aboard Richard's Boy in the Turf Sprint and Solomini in the Juvenile.
"It was a good weekend. I wish Moonshine Memories (sixth as favorite in the Juvenile Fillies) had done better, that was my best shot (Saturday). I went to the inside and it didn't work out."
Talamo finished second in the Juvenile Fillies aboard Alluring Star. Off at 8-1, Alluring Star was overtaken in the stretch by 17-1 Caledonia Road and Mike Smith, in the end a 3 1/4-length winner.
"(Alluring Star) ran great," said Scott McClellan, agent for Talamo. "We only had two (BC mounts) and one was a 70-80 to one shot, so we really had just one chance. She ran great, did everything right in the third start of her life. She's made over $400,000 in three starts, so that's a pretty nice filly. I hope we get to stay with her,"
Post-Breeders' Cup there aren't as many major stakes races around the nation as there are in the summer, so the West Coast-based jockeys will focus their business here.
---
CLOSERS – While somewhat disappointed in the fourth-place finish by Skye Diamonds in the Filly & Mare Sprint, trainer Bill Spawr said: "To her credit, she finished ahead of three Grade I winners, the ones that, on paper, she needed to beat. They finished behind us, such is horse racing. The good thing is, she came out in good shape." Spawr said there are no plans to retire or sell the 4-year-old former $40,000 claimer and she will be back in his care in the future … Hall of Fame trainer Richard Mandella said Avenge (12th in the Filly& Mare Turf) suffered cuts that required 12 staples but will be fine soon and ready for a second career as a brood mare … Selected works from 54 on dirt and 10 on turf officially timed Sunday morning: Dirt – Angela's Rose (3f, :35.80), Guns Loaded (4f, :47.00), Burnside (5f, :1:01.20), Keystone Field (5f, 1:00.40), Run Away (5f, 1:01.60), Armour Plate (6f, 1:12.40; Turf – Love My Bud (4f, :49.80, Tribalist (4f, :51.20), Chicago Style (5f, 1:02.00), Earring (5f, 1:02.00), Radio Silence (1:02.00).
---
DEL MAR STATISTICS
Jockey Standings
(Current Through Saturday, November 4, 2017 Inclusive)
| | | | | | | | |
| --- | --- | --- | --- | --- | --- | --- | --- |
| Jockey | Mts | 1st | 2nd | 3rd | Win% | In-money% | Money Won |
| Flavien Prat | 27 | 6 | 2 | 2 | 22% | 37% | $1,591,950 |
| John Velazquez | 14 | 5 | 0 | 1 | 36% | 43% | $2,612,535 |
| Kent Desormeaux | 18 | 3 | 3 | 1 | 17% | 39% | $1,231,555 |
| Joel Rosario | 14 | 2 | 4 | 2 | 14% | 57% | $1,679,525 |
| Evin Roman | 15 | 2 | 2 | 1 | 13% | 33% | $122,490 |
| Tyler Baze | 18 | 2 | 1 | 3 | 11% | 33% | $163,960 |
| Ryan Moore | 9 | 2 | 1 | 1 | 22% | 44% | $1,440,000 |
| Mike Smith | 12 | 2 | 1 | 0 | 17% | 25% | $1,656,410 |
| Florent Geroux | 4 | 2 | 0 | 0 | 50% | 50% | $3,331,545 |
| Joseph Talamo | 16 | 1 | 4 | 2 | 6% | 44% | $427,307 |
Trainer Standings
(Current Through Saturday, November 4, 2017 Inclusive)
| | | | | | | | |
| --- | --- | --- | --- | --- | --- | --- | --- |
| Trainer | Sts | 1st | 2nd | 3rd | Win% | In-money% | Money Won |
| Peter Miller | 13 | 4 | 3 | 1 | 31% | 62% | $1,724,805 |
| Jerry Hollendorfer | 15 | 4 | 0 | 3 | 27% | 47% | $706,820 |
| Philip D'Amato | 13 | 3 | 1 | 0 | 23% | 31% | $137,110 |
| Aidan P. O'Brien | 14 | 2 | 2 | 2 | 14% | 43% | $2,030,000 |
| Chad C. Brown | 13 | 2 | 1 | 2 | 15% | 38% | $2,840,000 |
| Dan Blacker | 3 | 2 | 0 | 0 | 67% | 67% | $59,745 |
| Bob Baffert | 15 | 1 | 4 | 1 | 7% | 40% | $2,831,035 |
| Brian J. Koriner | 5 | 1 | 2 | 1 | 20% | 80% | $69,840 |
| Charles Appleby | 3 | 1 | 1 | 0 | 33% | 67% | $1,150,000 |
| Vladimir Cerin | 6 | 1 | 1 | 0 | 17% | 33% | $30,554 |
Winning Favorites Report
(Current Through Saturday, November 4, 2017 Inclusive)
Winning favorites -- 12 out of 39 -- 30.77%
Winning favorites on dirt -- 4 out of 21 -- 19.05%
Winning favorites on turf -- 8 out of 18 -- 44.44%
Winning odds-on favorites -- 0 out of 2 -- 0.00%
In-the-Money favorites -- 22 out of 39 -- 56.41%
In-the-Money odds-on favorites -- 1 out of 2 -- 50.00%