Saturday, November 4th, 2017 ( 1 year ago )
Stable Notes
Nov 4, 2017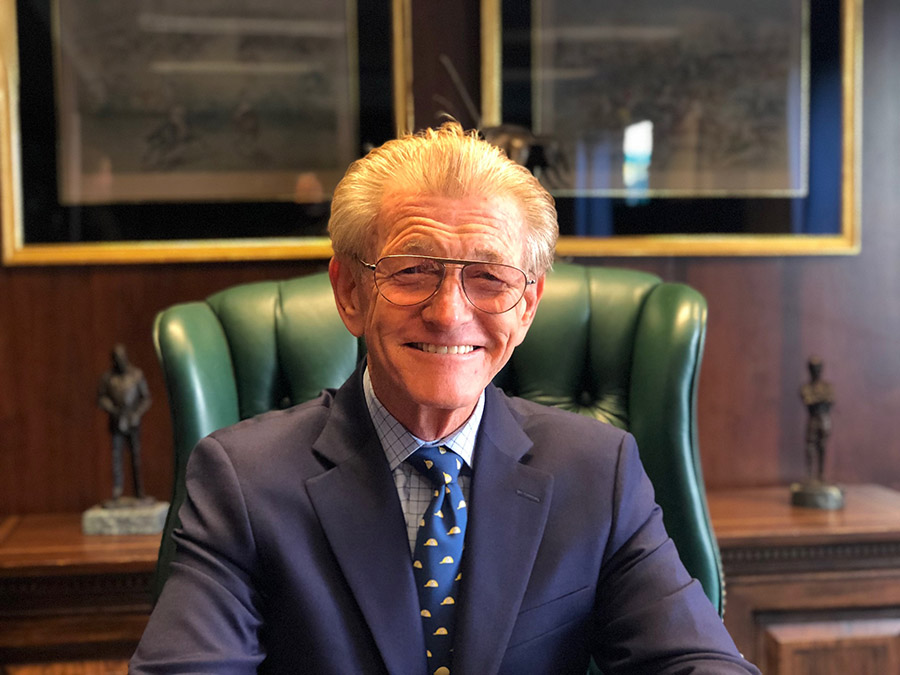 Joe Harper, President and CEO
HARPER 'COULDN'T BE HAPPIER' AFTER FIRST DAY OF BREEDERS' CUP
On an extremely quiet Saturday morning in the stable area, Del Mar Thoroughbred Club President Joe Harper and his friend Steve Doros had the table area outside Debbie's Restaurant – the eatery behind the stellite wagering facility run by trainer Richard Baltas' wife – to themselves.
Harper, enjoying the company, coffee and tranquility hours before Day 2 of the Breeders' Cup World Championships – potentially the biggest day in Del Mar history – was asked to assess Friday's Day 1.
"I couldn't be happier," Harper said. "It was a rare opportunity to show off what Del Mar really is to a lot of horse people from all over the world. As I walked around, everybody I talked to seemed to be delighted with what they saw and how things were going."
Harper had an opportunity to chat with Bill Thomason, his counterpart at Keeneland, which was a first-time host for the Breeders' Cup in 2015. That facility, similar in size to Del Mar, drew generous praise for its staging of a highly successful event.
"I asked Bill if he had any regrets," Harper said. "He said his only regret was that he forgot to get tickets for his kids."
In the months leading up to the Breeders' Cup, Harper had said that he only purchased one ticket for himself. Saturday morning, however, he confessed that some family members "finagled their way in."
They were part of an announced crowd of 32,278 on track that wagered $9,350,746 and contributed to an overall handle of $52,669,915 that was higher than several in recent years hosted by much larger facilities.
"The stereotype that the place is too small, there's not enough parking, traffic will be horrible isn't true," Harper said. "You have to think quality, not quantity."
The announced crowd on Friday was below the 37,500 at which attendance had been capped for the sold-out event.
"They'll all be here today," Harper said. "We're very careful (regarding attendance) that the numbers we put out are right."
---
FOUR-WIN DAY GETS PRAT OFF TO BC START HE EXPECTED
At the start of the week Derek Lawson, agent for jockey Flavien Prat, spoke about how excited his client was to have the Breeders' Cup coming to Del Mar.
"This is his favorite track. It's where his career really took off (in 2016) and he knows every twist and turn and where he needs to be in any race, dirt or turf, sprint or distance," Lawson said. "He's excited to be going up against the best riders in the world and have the possible advantage of this track that he does. Some of them will be riding here for the first time."
Prat, who notched his first Breeders' Cup victory aboard Obviously in the Turf Sprint a year ago at Santa Anita, added another aboard Battle of Midway ($30.40) in Friday's $1 million Dirt Mile. It was one of four victories on the day for Prat. The others came in the second and third-race optional claimers aboard Ritzy A.P. ($7.80) for trainer Dan Blacker and Dabster ($11.40) for Bob Baffert. He capped the day off by winning the $150,000 finale Senator Ken Maddy stakes aboard Belvoir Bay ($8.80) for Peter Miller.
Miller, standing in the passageway that leads to the paddock, jumped, shouted and urged Prat and Belvoir Bay on through the final yards of a 1 ¼-length victory.
"It's always great to win one on Breeders' Cup Day," Miller said. "The horse ran great and he got a great ride. Flavien did everything picture perfect."
Back to agent Lawson earlier in the week: "Belvoir Bay was the first stakes winner (Blue Norther, December 27, 2015 at Santa Anita) in his comeback after he was injured two years ago. So, that horse is a little special to us."
Prat's Day 1 exploits, in addition to the win he had a third in the Distaff aboard Paradise Woods, have him tied with John Velazquez in the race for the Bill Shoemaker Award given to the most outstanding jockey of the Breeders' Cup.
The award is based on a 10-5-3-1 scoring system on first-through-fourth-place finishes in each of the 13 Breeders' Cup races. Prat and Velazquez have 13 points each going into today's nine race, Jose Ortiz (11) is third, Javier Castellano and Ryan Moore are tied for third with 10 each.
The four-bagger gave Prat six wins for the Bing Crosby Fall Meeting and a three-victory margin over Velazquez, who will head back to New York following the Breeders' Cup at Del Mar. Tyler Baze and apprentice Evin Roman are tied for third with two wins each.