Saturday, November 25th, 2017 ( 1 year ago )
Stable Notes
Nov 25, 2017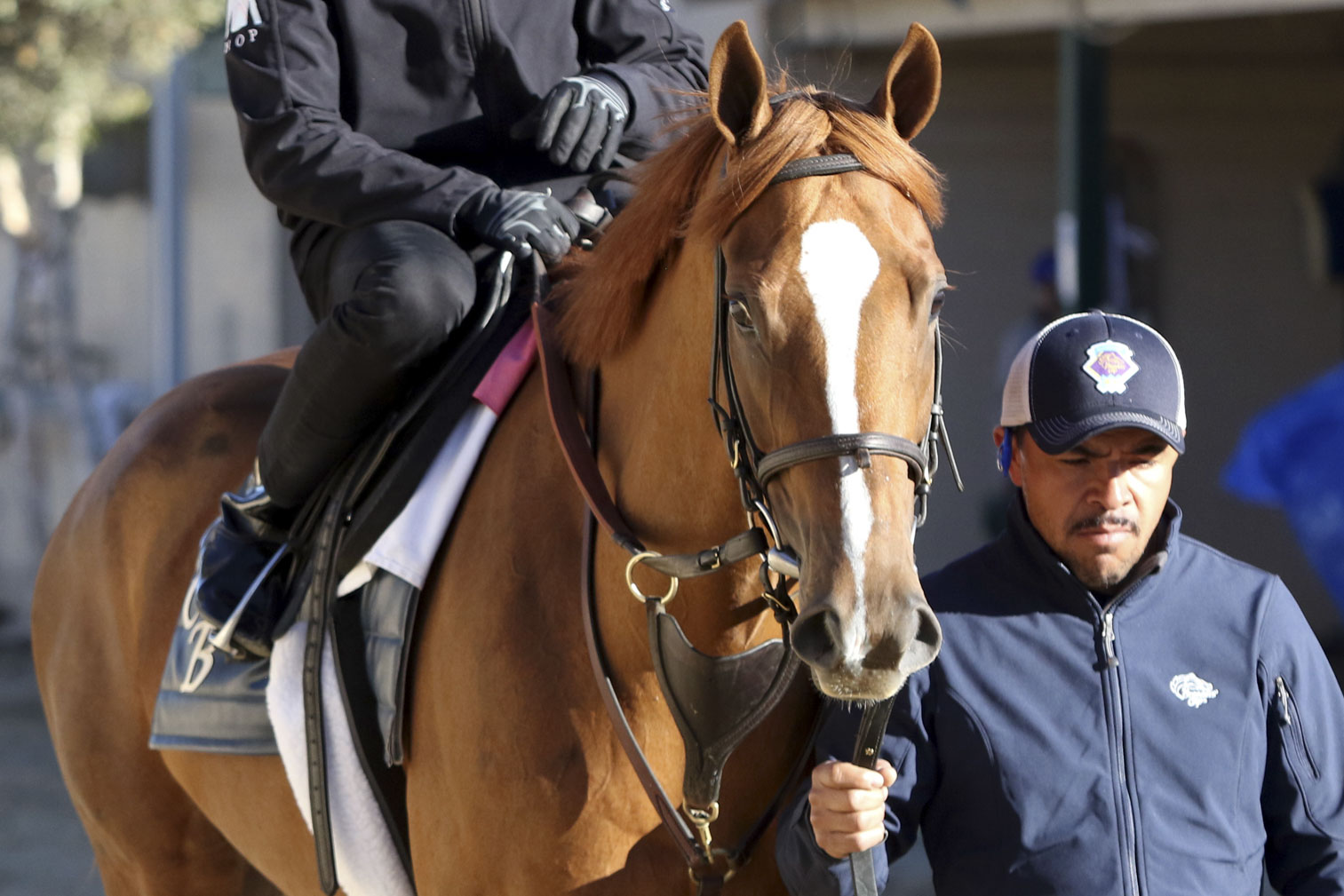 Off Limits
BROWN DOUBLES DOWN IN SEARCH OF MATRIARCH VICTORY
Chad Brown sent six horses and as many handlers here for the Grade I stakes on the closing weekend of the Bing Crosby Fall meeting in 2016. Three for the Hollywood Derby and three for the Matriarch.
The result for the nation's leading trainer was a 1-2-7 finish with Annals of Time, Beach Patrol and Camelot Kitten in the Hollywood Derby and a 2-4-5 placing with Roca Rojo, Mexican Gold and Zindaya in the Matriarch.
Brown doesn't have a representative in today's $300,000 Hollywood Derby. But he'll have two to contend, Off Limits and Rubilinda, in Sunday's Matriarch, a mile turf event for fillies and mares that was won last year by Miss Temple City.
The 2016 Hollywood Derby was the first Del Mar Stakes win for Brown, 38, a protégé of the late Hall of Fame trainer Bobby Frankel. Brown added two more during the Breeders' Cup here on November 3-4, saddling Rushing Fall to win the $1 million Juvenile Fillies Turf and Good Magic to an upset of Del Mar Futurity winner Bolt d'Oro in the $2 million Juvenile.
Brown, who made his first visit to Del Mar for the Breeders' Cup, will remain at the stable headquarters in New York this weekend and has sent assistant Jose Hernandez to handle the saddling duties for his charges.
"We came in on Monday and they've had good gallops every day since we've been here," Hernandez said. "I think (Brown) has had these races planned for them for a while and they're ready."
Off Limits comes in on a three-race winning streak with the last two being accomplished in the Grade III Nobel Damsel and Grade III Athena at Belmont Park in September and October. The 5-year-old Irish-bred mare, owned by Martin Schwartz, has been in good form all year long, notching four of her six career wins in five 2017 starts and earning $363,800 to boost her career total to $454,680.
Rubilinda, a 3-year-old daughter of the English standout Frankel, has three wins in four starts in a career that commenced in May.
Joel Rosario and Jose Ortiz, are in from New York to ride Off Limits and Rubilinda respectively. Rosario has been in the irons for Off Limits' last two starts, Ortiz for all four for Rubilinda.
The field from the rail: Mrs McDougal (Javier Castellano, 15-1), Lull (Flavien Prat, 5-1), Pretty Girl (Brice Blanc, 20-1), Belvoir Bay (Kent Desormeaux, 20-1), Insta Erma (Corey Nakatani, 12-1), Thundering Sky (Rajiv Maragh, 20-1), Cambodia (Drayden Van Dyke, 3-1), Off Limits (Joel Rosario, 5-1), Rubilinda (Jose Ortiz, 10-1) Hawksmoor (Julien Leparoux, 8-1), Miss Julia Star (Antoine Hamelin, 20-1) and Kitten's Roar (John Velazquez, 7-2).
The Matriarch goes as the seventh on a nine-race program.
Brown also has morning line favorite Analyze It for the Grade III $100,000 Cecil B. DeMille Stakes, a mile turf run for 2-year-olds which goes as the ninth race on Sunday, the last race of the meeting.
A Kentucky-bred son of Point of Entry owned by William H. Lawrence, Analyze It made his racing debut at a mile on turf at Belmont Park on October 28 and romped home by 6 ¼ lengths under Ortiz, who retains the mount.
"That was really impressive, and he's made the trip well and looks really good," said Hernandez, a traveling assistant for Brown for the last nine years.
---
OM HONED IN ON SUNDAY'S SEABISCUIT
Om, one of only two horses to win a race that included American Pharoah, will be sent out for his 21st career start with the possibility of topping the $1 million mark in career earnings in Sunday's Grade II $200,000 Seabiscuit Handicap.
The first of three graded stakes on the closing day program, the Seabiscuit, 1 1/16 miles on the Jimmy Durante Turf Course for older horses, goes as the third on a nine-race program.
Om won a maiden race at Del Mar in 2015 in which American Pharoah finished fifth. The colts went their separate ways after that, with Om soon being switched to grass racing and American Pharoah winning the 2015 Triple Crown and losing only once more before being retired following a victory in the 2015 Breeders' Cup Classic.
Om, a 5-year-old Kentucky-bred son of Munnings owned by the Sareen Family Trust, last won in December of 2015, but has finished in the money in eight of 10 starts the past two years, all of them in graded stakes. He lost the Breeders' Cup Turf Sprint at Santa Anita in 2016 by the narrowest of noses to Obviously and, most recently, was eighth in the Breeders' Cup Mile.
With career earnings of $924,845 going into the Seabiscuit, in which he is the 5-2 favorite, Om would top the $1 million mark with the $120,000 winner's share of the purse.
"He's been a really good, consistent horse for a long time," trainer Dan Hendricks said Saturday. "He's been a little unlucky in a couple of races or he would have won more than he has.
"He's been lightly raced the last couple of years, he's sound and healthy and he'll be back racing again next year. There's no reason not to bring him back."
The field from the rail: Mr. Roary (Javier Castellano, 10-1), Om (Drayden Van Dyke, 5-2), He Will (Mike Smith, 8-1), Tequila Joe (Joel Rosario, 8-1), Hunt (Flavien Prat, 4-1), Pee Wee Reese (Joe Talamo, 3-1), Win the Space (Rafael Bejarano, 12-1) and Flamboyant (Brice Blanc, 8-1).
---
WHICH CHAMPION WILL WIN MORE, RIDER OR TRAINER?
With two days remaining, the jockey and trainer titles would appear to be a fait accompli. Flavien Prat has a five-win margin over apprentice Evin Roman atop the rider standings and Peter Miller has a nine-win pad over Jerry Hollendorfer in the training race.
The win totals for both Prat and Miller are 17, making the most intriguing question to be answered during the last 18 races of the meeting: Who'll wind up with the higher count, Prat or Miller?
Miller has three scheduled starters today and four on Sunday. Prat, starting a two-day (reduced from four on appeal) suspension, is limited to the three stakes – "designated races" and exempt from suspension – each day.
---
ANATOMY OF A SCANDAL-OUS WIN
What was Scandal, a 5-year-old mare with a 0-for-15 record doing in an allowance-level race against winners of as many as four races to open the Thanksgiving Day card?
The answer: Getting ready to produce her first win and provide further evidence of the savvy horsemanship that have put both trainer Richard Mandella and jockey Mike Smith in the Hall of Fame.
Stretched out beyond 1 1/8 miles for the first time in the 1 3/8-mile turf race, Scandal ($8.60) went wire-to-wire from the No. 1 post to nose out favored Bombilate and Hall of Famer Gary Stevens.
"I always wanted to run her a mile and three eighths or a mile and a half," Mandella said of Scandal, a daughter of Blame out of the Quiet American mare Quiet Summernight. "She's got a big, easy stride and I just thought she'd be comfortable going the distance."
Prior to Thursday's victory, Scandal had been second nine times in her 15 career starts for Claiborne Farm and Ramona Bass while compiling earnings of $127,850.
"Maiden races never came up that way, so finally this race came up and I decided I wanted to try it," Mandella said. "I'd screwed it up this far, so I might as well try something different. You never know until you try."
"It becomes frustrating when you keep running second. And when the other filly passed her 50 yards out, I thought she was going to be second again. When she came back to win, I couldn't believe it."
Smith had Scandal three lengths in front after the first quarter mile, nursed the diminishing lead to deep in the stretch and then got a winning surge after Bombilate appeared to take a slight advantage.
"I told him to ride her like he owned her and he gave her a terrific ride," Mandella said. "He does that time after time."
---
CLOSERS – More than 600 runners turned out to break through the starting gate and make a one-mile lap of the track in the annual Thanksgiving Day Family Fun Run … Selected works from Santa Anita and Del Mar on Saturday morning: Santa Anita – Bolo (5f, 1:01.20), Unique Bella (5f, :58.40), Instilled Regard (6f, 1:11.60); Del Mar – Piedi Bianchi (6f, 1:13.60).
---
DEL MAR STATISTICS
Jockey Standings
(Current Through Friday, November 24, 2017 Inclusive)
| | | | | | | | |
| --- | --- | --- | --- | --- | --- | --- | --- |
| Jockey | Mts | 1st | 2nd | 3rd | Win% | In-money% | Money Won |
| Flavien Prat | 79 | 17 | 10 | 12 | 22% | 49% | $2,069,205 |
| Evin Roman | 77 | 12 | 5 | 12 | 16% | 38% | $413,263 |
| Tyler Baze | 74 | 10 | 8 | 6 | 14% | 32% | $480,770 |
| Kent Desormeaux | 46 | 10 | 5 | 4 | 22% | 41% | $1,483,400 |
| Drayden Van Dyke | 64 | 8 | 8 | 4 | 13% | 31% | $687,359 |
| Rafael Bejarano | 52 | 7 | 9 | 8 | 13% | 46% | $418,495 |
| Mike Smith | 26 | 6 | 3 | 3 | 23% | 46% | $1,918,310 |
| John Velazquez | 14 | 5 | 0 | 1 | 36% | 43% | $2,612,535 |
| Corey Nakatani | 41 | 4 | 7 | 5 | 10% | 39% | $625,032 |
| Tiago Pereira | 43 | 4 | 5 | 6 | 9% | 35% | $265,959 |
Trainer Standings
(Current Through Friday, November 24, 2017 Inclusive)
| | | | | | | | |
| --- | --- | --- | --- | --- | --- | --- | --- |
| Trainer | Sts | 1st | 2nd | 3rd | Win% | In-money% | Money Won |
| Peter Miller | 56 | 17 | 7 | 8 | 30% | 57% | $2,136,593 |
| Jerry Hollendorfer | 36 | 8 | 3 | 7 | 22% | 50% | $894,800 |
| Doug F. O'Neill | 51 | 7 | 1 | 7 | 14% | 29% | $361,509 |
| Philip D'Amato | 45 | 6 | 6 | 6 | 13% | 40% | $294,820 |
| Vladimir Cerin | 23 | 5 | 6 | 2 | 22% | 57% | $163,259 |
| Richard Baltas | 33 | 4 | 5 | 5 | 12% | 42% | $182,119 |
| Steven Miyadi | 15 | 4 | 1 | 0 | 27% | 33% | $175,200 |
| James M. Cassidy | 20 | 3 | 4 | 5 | 15% | 60% | $175,888 |
| Patrick Gallagher | 15 | 3 | 1 | 1 | 20% | 33% | $137,355 |
| Eddie Truman | 7 | 3 | 0 | 1 | 43% | 57% | $71,190 |
Winning Favorites Report
(Current Through Friday, November 24, 2017 Inclusive)
Winning favorites -- 48 out of 124 -- 38.71%
Winning favorites on dirt -- 24 out of 68 -- 35.29%
Winning favorites on turf -- 24 out of 56 -- 42.86%
Winning odds-on favorites -- 2 out of 8 -- 25.00%
In-the-Money favorites -- 86 out of 124 -- 69.35%
In-the-Money odds-on favorites -- 6 out of 8 -- 75.00%