Friday, November 24th, 2017 ( 1 year ago )
Stable Notes
Nov 24, 2017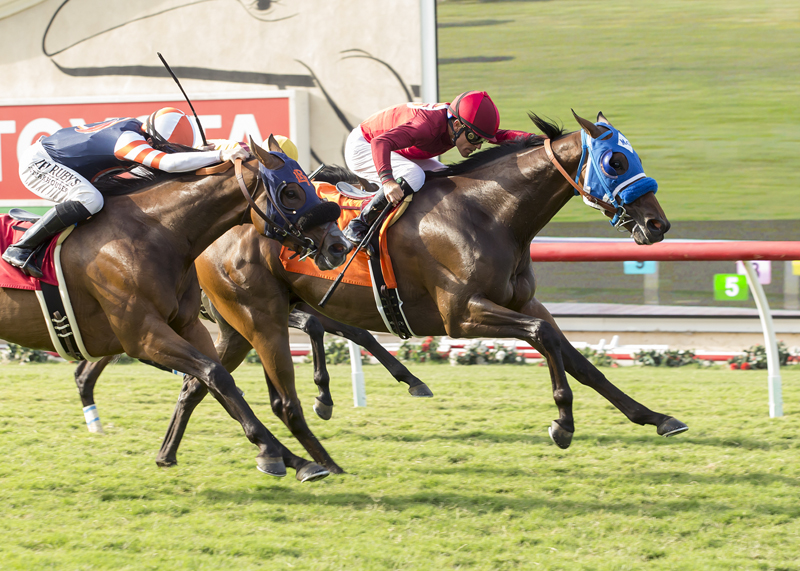 Sharp Samurai © Benoit Photo
SHARP SAMURAI APPEARS A GOOD FIT FOR GRADE I KIND OF DERBY
Following victories in the Del Mar Derby in September and the Twilight Derby at Santa Anita in October, Sharp Samurai will try on another one as the morning line favorite in Saturday's $300,000 Hollywood Derby.
The two recent Derbies were both Grade II events. Saturday, the Kentucky-bred, 3-year-old son of First Samurai, trained by Mark Glatt for Red Baron LLC stables, will seek to achieve Grade I status in the 1 1/8-mile turf event that is being run for the 77th time overall and the fourth during Del Mar's Bing Crosby Fall meeting.
In its Del Mar debut in 2014, the connections of California Chrome chose to make the Hollywood Derby the first grass race for the Kentucky Derby and Preakness winner. His success was considered the deciding factor in being voted Horse of the Year.
Sharp Samurai has actually won three straight stakes, the Grade III La Jolla here in August preceding the two Derbies, while showing improved Beyer Speed Figures each time. He's had two workouts at Santa Anita since the Twilight Derby.
"He's doing remarkably well," Glatt said here Friday morning. "His races have been getting a little bit better each time and there's no reason to think that he won't run equally as well tomorrow. Hopefully he will."
The streak has boosted Sharp Samurai's record to six wins in nine career starts with earnings of $465,870. He's won five of six since being switched from dirt to grass racing in April at distances from a mile to 1 1/8-miles, from both being forwardly placed and coming from off the pace.
A 2-for-2 record at Del Mar, a first-time host for the Breeders' Cup on November 3-4, didn't generate much temptation to try a race with a purse of $1 million or more, Glatt said.
"We had a nice schedule mapped out for him with all these Derbies and when you start facing older horses it becomes a totally different league," Glatt said. "Maybe after his last race, which was pretty impressive, the thought could have crossed my mind. But until that performance it didn't seem like he was up to that level of competition. Maybe next year."
Of the eight rivals Sharp Samurai will face in the Hollywood Derby, six have a loss to him on their record.
"It's pretty much the same group he's been running against," Glatt said. "But the Mo Town horse looks pretty interesting, he's new to the mix, and there are a couple of others. But I wouldn't trade places with anybody. We'll take our chances."
The field from the rail: Ann Arbor Eddie (Mario Gutierrez, 20-1), Bowies Hero (Kent Desormeaux, 6-1), Channel Maker (Javier Castellano, 5-1), Sharp Samurai (Gary Stevens, 5-2), Ritzy A.P. (Drayden Van Dyke, 20-1), Souper Tapit (Jose Lezcano, 12-1), Mo Town (John Velazquez, 3-1), Just Howard (Fergal Lynch, 12-1) and Big Score (Flavien Prat, 4-1)
---
DURANTE COULD BE A COMING OUT PARTY FOR DADDY IS A LEGEND
Daddy Is a Legend, trained by George Weaver for owners Jim and Susan Hill, figures to attract a lot of attention as part of a field of 13 for Saturday's Grade III $100,000 Jimmy Durante Stakes for 2-year-old fillies.
The daughter of Scat Daddy, 5-2 second choice behind 4-1 Fatale Bere on Russ Hudak's morning line, enters off a maiden race victory at Keeneland in her third career start. Look one race back on her past performance chart, to September 16 at Belmont Park, and she was second, beaten 1 ¼-lengths by Rushing Fall, who went on to win the $1 million Breeders' Cup Juvenile Fillies Turf here on November 3.
Durante morning line favorite Fatale Bere (4-1) was fifth in the Juvenile Fillies Turf, beaten 2 ½ lengths.
"She's scary good right now, " Weaver assistant Austin Trites said Friday morning of Daddy Is a Legend. "The closer she gets to a race, she starts bringing out the little ninja moves which indicate she's very sharp. She's high energy and she couldn't be doing any better. We love her and we think that she's the real deal."
The field from the rail: Casino Red (Rafael Bejarano, 12-1), Daddy Is a Legend (Joe Bravo, 9-2), One Fast Broad (Corey Nakatani, 12-1), Lexington Grace (Gary Stevens, 15-1), Raucous (Flavien Prat, 5-1), Multiplayer (Tyler Baze, 20-1), Ever So True (John Velazquez, 12-1), Deep Breath (Tiago Pereira, 20-1), Sappho (Kent Desormeaux, 15-1), Just A Smidge (Drayden Van Dyke, 15-1), Data Dependent (Javier Castellano, 6-1), Thewayiam (Fergal Lynch, 6-1) and Fatale Bere (Mike Smith, 4-1).
---
CAMBODIA FAVORED FOR GRADE I MATRIARCH IN MEET FINALE SUNDAY
Winter Quarter Farm's Cambodia, whose affinity for the Jmmy Durante Turf Course has been shown three times in the past four months, was established as the 3-1 morning line favorite for Sunday's Grade I $300,000 Matriarch, the highlight of three stakes races on the closing day of the Bing Crosby Fall meeting.
Trained by Tom Proctor and ridden by Drayden Van Dyke, Cambodia won the Grade II Yellow Ribbon and Grade II John C. Mabee Stakes in August and September during the summer meeting and came back to finish third in the Grade I $2 million Breeders' Cup Filly & Mare Turf on November 4.
The 5-year-old War Front mare has three wins and five third-place finishes in eight starts for 2017, accounting for $554,500 of her $623,746 in career earnings.
The Matriarch field from the rail: Mrs McDougal (Javier Castellano, 15-1), Lull (Flavien Prat, 5-1), Pretty Girl (Brice Blanc, 20-1), Belvoir Bay (Kent Desormeaux, 20-1), Insta Erma (Corey Nakatani, 12-1), Thundering Sky (Rajiv Maragh, 20-1), Cambodia (Drayden Van Dyke, 3-1), Off Limits (Joel Rosario, 5-1), Rubilinda (Javier Ortiz, 10-1) Hawksmoor (Julien Leparoux, 8-1), Miss Julia Star (Antoine Hamelin, 20-1) and Kitten's Roar (John Velazquez, 7-2).
The Matriarch goes as the seventh on a nine-race program. Other stakes on the card are the $200,000 Grade II Seabiscuit Handicap, which goes as the third, and the Grade III $100,000 Cecil B. DeMille, which goes as the nightcap.
The Seabiscuit from the rail: Mr. Roary (Javier Castellano, 10-1), Om (Drayden Van Dyke, 5-2), Irish Surf (Gary Stevens, 20-1), He Will (Mike Smith, 8-1), Tequila Joe (Joel Rosario, 8-1), Hunt (Flavien Prat, 4-1), Pee Wee Reese (Joe Talamo, 3-1), Win the Space (Rafael Bejarano, 12-1) and Flamboyant (Brice Blanc, 8-1).
The Cecil B. DeMille from the rail: Golden Dragon (Evin Roman, 12-1), Analyze It (Jose Ortiz, 5-2), King Eddie (Mario Gutierrez, 8-1), East Rand (Drayden Van Dyke, 15-1), Armour Plate (Rafael Bejarano, 8-1), Pubilius Syrus (Kent Desormeaux, 5-1), Magic Musketier (Javier Castellano, 20-1), Choo Choo (Joel Rosario, 12-1), Inscom (Flavien Prat, 7-2), Big Buzz (Corey Nakatani, 10-1) and Extraordinary Jerry (Kyle Frey, 20-1).
---
EAST COAST JOCKEY INVASION HITS FULL FORCE ON WEEKEND
Most were at Del Mar for the two-day Breeders' Cup extravaganza. Don't look now, but the marquee jockeys from the Midwest and East will be back in numbers for the Saturday and Sunday programs, each with three stakes races on the card, to close the Bing Crosby fall meeting.
Del Mar patrons will have the opportunity to see seven of the top nine riders in the country, ranked by purse earnings, ply their trade over the two-day period. The rundown:
No. 1 Jose Ortiz will ride two stakes horses for No. 1 trainer Chad Brown on Sunday. No. 2 Javier Castellano is booked to ride five mounts on Saturday and four more on Sunday. No. 4 Mike Smith has two on Saturday and two on Sunday. No. 5 John Velazquez has three scheduled Saturday. No. 6 Joel Rosario checks in with five on Sunday. No. 8 Julien Leparoux has two on Sunday. No. 9 Flavien Prat, while otherwise serving a suspension, has mounts in the three stakes each day. Stakes are "designated races" and not subject to suspension.
In addition to the top-nine earnings group, out-of-town riders with calls are: Fergal Lynch (three Saturday), Joe Bravo (three Saturday) and Rajiv Maragh (one Sunday).
---
CLOSERS – Prime Attraction and Infobedad were both scratched from Friday morning from the day's featured Hollywood Turf Cup. Prime Attraction is entered in Satuday's Grade III $100,000 Native Diver Stakes. Flamboyant, entered in both the Hollywood Turf Cup and Sunday's $200,000 Seabiscuit, opted for the Turf Cup… Selected works Friday at Santa Anita and Del Mar, Santa Anita – Bendable (4f, :48.40), Power Cat (4f, :47.40), Well Measured (5f, :59.60). Del Mar – Armour Plate (3f, :38.80).
---
DEL MAR STATISTICS
Jockey Standings
(Current Through Thursday, November 23, 2017 Inclusive)
| | | | | | | | |
| --- | --- | --- | --- | --- | --- | --- | --- |
| Jockey | Mts | 1st | 2nd | 3rd | Win% | In-money% | Money Won |
| Flavien Prat | 72 | 16 | 9 | 10 | 22% | 49% | $2,004,500 |
| Evin Roman | 73 | 12 | 4 | 12 | 16% | 38% | $401,628 |
| Kent Desormeaux | 42 | 10 | 3 | 4 | 24% | 40% | $1,465,380 |
| Tyler Baze | 69 | 9 | 8 | 6 | 13% | 33% | $468,095 |
| Rafael Bejarano | 48 | 7 | 9 | 7 | 15% | 48% | $404,670 |
| Drayden Van Dyke | 57 | 7 | 7 | 3 | 12% | 30% | $612,739 |
| Mike Smith | 23 | 5 | 3 | 1 | 22% | 39% | $1,785,830 |
| John Velazquez | 14 | 5 | 0 | 1 | 36% | 43% | $2,612,535 |
| Corey Nakatani | 38 | 4 | 6 | 5 | 11% | 39% | $613,742 |
| Mario Gutierrez | 40 | 4 | 5 | 4 | 10% | 33% | $276,989 |
Trainer Standings
(Current Through Thursday, November 23, 2017 Inclusive)
| | | | | | | | |
| --- | --- | --- | --- | --- | --- | --- | --- |
| Trainer | Sts | 1st | 2nd | 3rd | Win% | In-money% | Money Won |
| Peter Miller | 51 | 16 | 7 | 7 | 31% | 59% | $2,100,203 |
| Jerry Hollendorfer | 32 | 8 | 3 | 4 | 25% | 47% | $879,935 |
| Doug F. O'Neill | 47 | 6 | 1 | 7 | 13% | 30% | $329,274 |
| Philip D'Amato | 41 | 5 | 6 | 6 | 12% | 41% | $275,855 |
| Richard Baltas | 33 | 4 | 5 | 5 | 12% | 42% | $182,119 |
| Vladimir Cerin | 21 | 4 | 5 | 2 | 19% | 52% | $121,459 |
| Steven Miyadi | 15 | 4 | 1 | 0 | 27% | 33% | $175,200 |
| James M. Cassidy | 18 | 3 | 4 | 5 | 17% | 67% | $175,198 |
| Eddie Truman | 5 | 3 | 0 | 1 | 60% | 80% | $69,405 |
| Bob Baffert | 23 | 2 | 6 | 2 | 9% | 43% | $2,927,430 |
Winning Favorites Report
(Current Through Thursday, November 23, 2017 Inclusive)
Winning favorites -- 47 out of 116 -- 40.52%
Winning favorites on dirt -- 23 out of 64 -- 35.94%
Winning favorites on turf -- 24 out of 52 -- 46.15%
Winning odds-on favorites -- 2 out of 8 -- 25.00%
In-the-Money favorites -- 80 out of 116 -- 68.97%
In-the-Money odds-on favorites -- 6 out of 8 -- 75.00%