Thursday, November 23rd, 2017 ( 1 year ago )
Stable Notes
Nov 23, 2017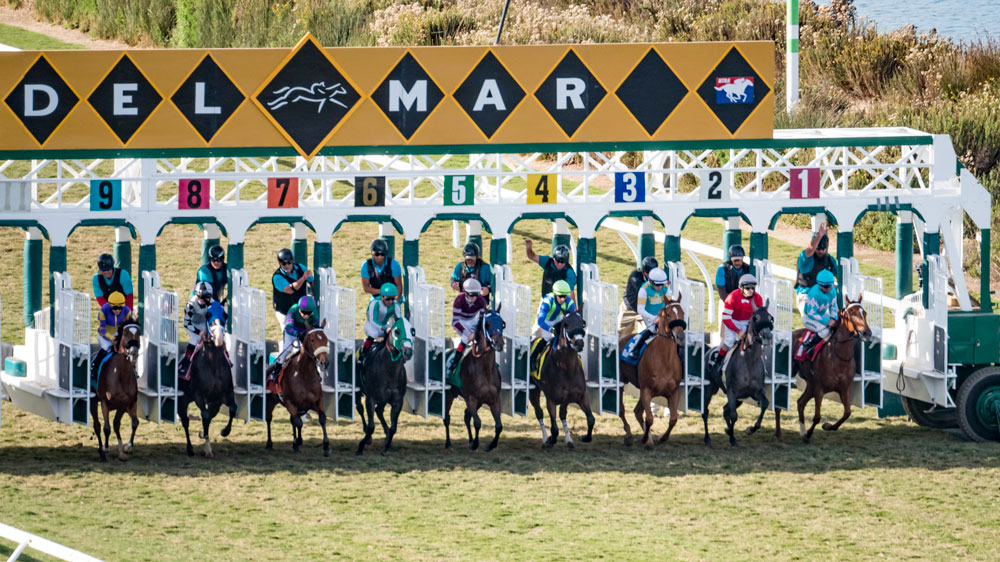 AT THE END OF RED CARPET ARE SEVEN MORE SOLID STAKES
Today's Grade III $100,000 Red Carpet Stakes is the first of eight graded events in the final week of the Bing Crosby Fall season.
The field for the 1 3/8-mile turf marathon Red Carpet for fillies and mares, formerly the Beverly Hills Handicap, was reduced to 12 with the scratches of Galileo's Song and Lottie.
The Red Carpet goes as the sixth on an eight-race program with an early (11 a.m.) first post to facilitate fans' participation in Thanksgiving Day events elsewhere.
A look at the septet of stakes over the final three days of the meeting follows.
---
FRIDAY: CROSS-ENTERED FLAMBOYANT IS TURF CUP FAVORITE
Flamboyant, co-owned by California Horse Racing Board Chairman Charles Winner, has been established as the 3-1 favorite in a field of nine on oddsmaker Russ Hudak's morning line for the 1 ½-mile grass test. The six-year-old French-bred gelding, trained by Paddy Gallagher, is also entered in Sunday's 1 1/16-mile Seabiscuit Handicap and a decision will be made Friday morning.
Flamboyant was third, beaten 11 ¼-lengths by Bullard's Alley, in his last start, the Grade I Canadian International at Woodbine on October 15.
"He ran well in Canada and has come back down and worked twice on the grass here," Gallagher said Thursday morning. "He seems to be his old self."
Flamboyant has five wins in 30 career starts and earnings of $897,571. He is winless in 11 starts since a victory in the Grade II San Marcos Handicap in February of last year.
Lottie, a four-year-old filly trained by H. Graham Motion, scratched from the Red Carpet for a better post position despite the Turf Cup being an eighth of a mile longer and against males.
Trainer Jim Cassidy entered Prince of Arabia and Prime Attraction, but said Thursday he will withhold Prime Attraction until Saturday's Native Diver.
Of Prince of Arabia, Cassidy said: "We know he'll get the trip and we hope he wakes up from his last two (ninth place efforts). Tiago (Pereira) is on him and he'll get him going."
The field from the rail: Chicago Style (Drayden Van Dyke, 7-2), Lottie (Rafael Bejarano, 6-1), Flamboyant (Brice Blanc, 3-1), Tequila Joe (Flavien Prat, 6-1), Infobedad (Joe Talamo, 8-1), Prince of Arabia (Tiago Pereira, 20-1), Prime Attraction (Victor Espinoza, 6-1), Manitoulin (Mike Smith, 6-1) and Inordinate (Corey Nakatani, 12-1).
The Hollywood Turf Cup goes as the eighth of nine races on a program with a first post at 12:30 p.m.
---
SATURDAY: NATIVE DIVER, HOLLYWOOD DERBY, JIMMY DURANTE
The Grade III, $100,000 Native Diver, a 1 1/8-mile main track event goes as the fifth on a nine-race card with a first post of 12:30 p.m.
Mubtaahij, a 5-year-old Irish-bred trained by Bob Baffert for Sheikh Mohammed bin Khalifa al Maktoum, drew the No. 1 post and was tabbed for 2-1 morning line favoritism.
Mubtaahij won the Grade I Awesome Again Stakes at Santa Anita in September in his first start for Baffert but was never a factor in the Grade I $6 million Breeders' Cup Classic here on November 4.
Among the six challengers to Mubtaahij are Vladimir Cerin-trained Top of the Game and Jim Cassidy-trained Prime Attraction.
Top of the Game, a Kentucky-bred son of Street Party, has notched three straight wins at lower levels in starts since December of last year.
"He's trained well coming into this race and we expect a good effort," Cerin said. "This race is tougher than his last ones and it's going to take a better effort."
Cassidy opted for the shorter distance, and change of surface with Prime Attraction for the Native Diver over Friday's Hollywood Turf Cup.
"There's a question about the mile and a half (Turf Cup) and while he's been on turf lately, he's bred for the dirt," Cassidy said.
The Native Diver field from the rail: Mubtaahij (Drayden Van Dyke, 2-1), Top of the Game (Kent Desormeaux, 5-2), Curlin Rules (Flavien Prat, 10-1), Prime Attraction (Victor Espinoza, 5-1), Irish Freedom (Rafael Bejarano, 3-1), Wild About Deb (Tiago Pereira, 15-1) and Irish Surf (Gary Stevens, 15-1).
The Grade I $300,000 Hollywood Derby goes as the seventh race. Sharp Samurai, the top 3-year-old of the Del Mar summer meeting via wins in the La Jolla Handicap and Del Mar Derby, takes a four-race – the last three of them graded stakes – winning streak into the 1 1/8 turf event for 3-year-olds.
The field from the rail: Ann Arbor Eddie (Mario Gutierrez, 20-1), Bowies Hero (Kent Desormeaux, 6-1), Channel Maker (Javier Castellano, 5-1), Sharp Samurai (Gary Stevens, 5-2), Ritzy A.P. (Drayden Van Dyke, 20-1), Souper Tapit (Jose Lezcano, 12-1), Mo Town (John Velazquez, 3-1), Just Howard (Fergal Lynch, 12-1) and Big Score (Flavien Prat, 4-1).
The Jimmy Durante Stakes, a mile turf go for two-year-old fillies is the nightcap to the Saturday card.
Fatale Bere, an import from France who won the Surfer Girl in October at Santa Anita and was fifth to Rushing Fall in the $1 million Juvenile Fillies Turf here on November 3, drew the outside post in a field of 13 and was established as the narrow 4-1 morning line favorite in a deeply contentious race.
The field from the rail: Casino Red (Rafael Bejarano, 12-1), Daddy Is A Legend (Joe Bravo, 9-2), One Fast Broad (Corey Nakatani, 12-1), Lexington Grace (Gary Stevens, 15-1), Raucous (Flavien Prat, 5-1), Multiplayer (Tyler Baze, 20-1), Ever So True (John Velazquez, 12-1), Deep Breath (Tiago Pereira, 20-1), Sappho (Kent Desormeaux, 15-1), Just A Smidge (Drayden Van Dyke, 15-1), Data Dependent (Javier Castellano, 6-1), Thewayiam (Fergal Lynch, 6-1) and Fatale Bere (Mike Smith, 4-1).
---
SUNDAY: CECIL B. DEMILLE, SEABISCUIT, MATRIARCH
The close of entries and draw for post positions for the closing-day stakes were scheduled for late morning or early afternoon on Thursday.
Racing officials had expectations for a field of 11 for the Grade III $100,000 Cecil B. DeMille, a turf mile for two-year-olds. Of special interest is Analyze It, a Kentucky-bred son of Point of Entry conditioned by North American-leading trainer Chad Brown. Analyze It was a first-out winner by 6 ¼-lengths at Belmont Park on October 28.
Eight were anticipated to enter the Grade II $200,000 Seabiscuit Handicap at 1 1/16 miles on the turf. Hunt, the top Turf Horse of the summer meeting off wins in the Eddie Read Stakes and Del Mar Handicap, was expected to be given the chance to bounce back from a disappointing effort in the $4 million Breeders' Cup Turf on November 4.
The $300,00 Matriarch, climactic stakes event of the meeting, was expected to attract 13 entrants, many of them stakes winners looking to achieve Grade I status in the mile turf event.
Cambodia, who took the Grade II Yellow Ribbon and Grade II John C. Mabee here during the summer, comes in off a creditable third, beaten 1 ¾ lengths by Wuheida, in the $2 million Breeders' Cup Filly & Mare Turf on November 4.
---
"TOYS FOR TOTS" PROVES A BIG WINNER AT DEL MAR ON SUNDAY
"Toys for Tots," an idea to help secure Christmas toys for underprivileged kids that was begun 70 years ago by a Marine reservist, has found new local life at Del Mar led by hometown Marines aided by San Diego bikers headed by the El Cajon Harley Owners Group (HOG), which is sponsored by El Cajon Harley-Davidson.
Previously, the biggest "Toys for Tots" event in the San Diego area annually was run by the San Diego Chargers. But with the team's departure from the city earlier this year, it appeared that "Tots" would be left wanting. However, Del Mar stepped in and took on the role of host for the special event, which got off to a running start this past Sunday with more than 2,500 toys collected and a check for $8,600 thrown into the pot as well.
"We're delighted with our first attempt at this," said Del Mar's customer service supervisor Sheryl Kerstiens, who was the point person for the track with the various groups involved. "We worked with wonderful people for this most-worthy cause and the plan is that it will grow with us in the years ahead."
Kerstiens offered a special salute to two HOG members who were key organizers for the event, Mike Harris and Jay Anderson, both ex-Marines.
Del Mar staff worked with a collection of area Marines and bikers that included the 4th Tank Battalion Marine Corps Reserves, the 4th Medical Battalion Marine Corps Reserves and the Marine Corps Recruiting Station San Diego. Further, the track's real horses were joined by hundreds of "iron horses" from multiple biker clubs and chapters headed by HOG, all of whom rode in for a day at the races and conducted a fund-raising raffle and silent auction that proved highly successful in raising additional monies. Del Mar's horsemen, jockeys, staff personnel and fans also added to the mix with toys and donations, culminating in the totals that organizers called "exceptional," with more funds likely to be added.
Providing a special touch to the afternoon was an appearance by the 3rd Marine Aircraft Wing Band, which earned a rousing cheer from the Del Mar crowd with a stirring rendition of "God Bless America."
---
CLOSERS -- Selected recent works from Santa Anita and Del Mar. Santa Anita: Monday – Union Strike (3f, :38.20, dirt training track), Giant Expectations (4f, :48.40), Insubordination (4f, :47.80), Isotherm (5f, 1:01.20); Tuesday – Mubtaahij (4f, :49.80), Om (4f, :47.40), Alluring Star (5f, 1:00.60), Solomini (5f, 1:00.80); Thursday – Bookies Luck (5f, 1:00.40). Del Mar: Tuesday – Peace (3f, :37.00), Cool Munnings (4f, :46.60); Wednesday – Mrs McDougal (3f, :35.40).
---
DEL MAR STATISTICS
Jockey Standings
(Current Through Sunday, November 19, 2017 Inclusive)
| | | | | | | | |
| --- | --- | --- | --- | --- | --- | --- | --- |
| Jockey | Mts | 1st | 2nd | 3rd | Win% | In-money% | Money Won |
| Flavien Prat | 68 | 16 | 7 | 9 | 24% | 47% | $1,979,395 |
| Evin Roman | 66 | 11 | 4 | 11 | 17% | 39% | $370,593 |
| Kent Desormeaux | 38 | 10 | 3 | 4 | 26% | 45% | $1,454,235 |
| Tyler Baze | 62 | 8 | 8 | 5 | 13% | 34% | $426,450 |
| Rafael Bejarano | 43 | 6 | 9 | 5 | 14% | 47% | $370,813 |
| Drayden Van Dyke | 50 | 6 | 6 | 3 | 12% | 30% | $572,199 |
| John Velazquez | 14 | 5 | 0 | 1 | 36% | 43% | $2,612,535 |
| Mario Gutierrez | 40 | 4 | 5 | 4 | 10% | 33% | $276,989 |
| Corey Nakatani | 33 | 3 | 6 | 4 | 9% | 39% | $540,214 |
| Martin Pedroza | 20 | 3 | 6 | 1 | 15% | 50% | $108,840 |
Trainer Standings
(Current Through Sunday, November 19, 2017 Inclusive)
| | | | | | | | |
| --- | --- | --- | --- | --- | --- | --- | --- |
| Trainer | Sts | 1st | 2nd | 3rd | Win% | In-money% | Money Won |
| Peter Miller | 49 | 16 | 7 | 7 | 33% | 61% | $2,095,403 |
| Jerry Hollendorfer | 31 | 7 | 3 | 4 | 23% | 45% | $848,735 |
| Doug F. O'Neill | 45 | 6 | 1 | 6 | 13% | 29% | $325,569 |
| Philip D'Amato | 38 | 5 | 6 | 5 | 13% | 42% | $268,230 |
| Vladimir Cerin | 20 | 4 | 5 | 1 | 20% | 50% | $118,099 |
| Richard Baltas | 29 | 3 | 4 | 5 | 10% | 41% | $155,499 |
| James M. Cassidy | 16 | 3 | 3 | 4 | 19% | 63% | $152,598 |
| Eddie Truman | 4 | 3 | 0 | 0 | 75% | 75% | $66,045 |
| Bob Baffert | 22 | 2 | 6 | 2 | 9% | 45% | $2,927,085 |
| John W. Sadler | 24 | 2 | 3 | 2 | 8% | 29% | $170,525 |
Winning Favorites Report
(Current Through Sunday, November 19, 2017 Inclusive)
Winning favorites -- 46 out of 108 -- 42.59%
Winning favorites on dirt -- 22 out of 60 -- 36.67%
Winning favorites on turf -- 24 out of 48 -- 50.00%
Winning odds-on favorites -- 1 out of 7 -- 14.29%
In-the-Money favorites -- 75 out of 108 -- 69.44%
In-the-Money odds-on favorites -- 5 out of 7 -- 71.43%