Thursday, November 2nd, 2017 ( 1 year ago )
Stable Notes
Nov 2, 2017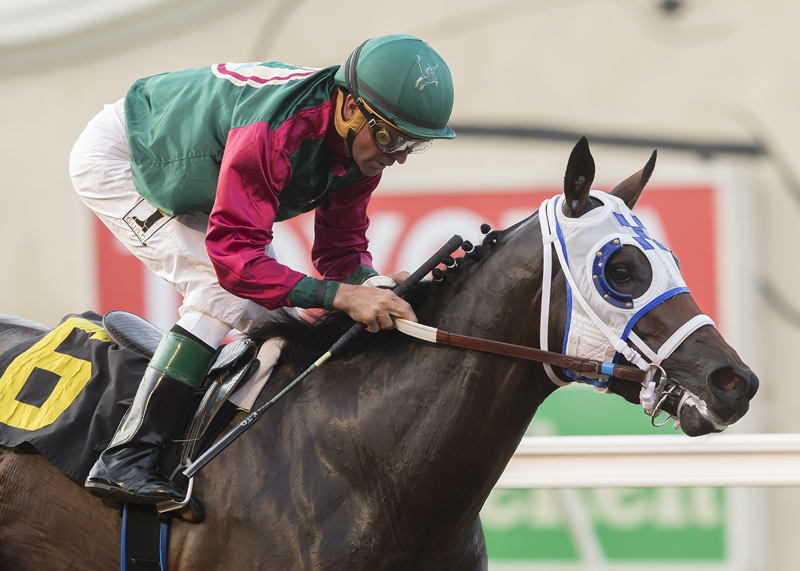 Bookies Luck © Benoit Photo
SPOTLIGHT HITS CAL-BRED BABIES ON BREEDERS' CUP UNDERCARDS
Among the rich undercard races on the Breeders' Cup days of racing Friday and Saturday are two for California-bred juveniles.
The fourth race on the Friday program that starts at 11:25 a.m., is the $200,000 Golden State Juvenile Fillies. The second race on the Saturday program, which starts at 10:10 a.m, is the $200,000 Golden State Juvenile.
Jeff Bonde and Gary Sherlock, mainstays of Golden State racing for a combined 81 years in the training business, have representatives in both races and the favorites in the Juvenile Fillies and Juvenile respectively.
Bonde has the 5-2 morning line favorite, Ismelucky, in a field of nine for the Golden State Juvenile Fillies on Friday. He'll saddle 7-2 second choice Bookie's Luck in the Juvenile.
Ismelucky, a daughter of Lucky Pulpit, was away for nearly four months after breaking her maiden in her second start on May 18 at Santa Anita. She returned in winning fashion in the Barretts Debutante in September at Los Alamitos to go over the $100,000 mark in earnings from three career starts.
Bookie's Luck, a son of Lucky Pulpit, has been freshened since a front-running victory, at odds of 14-1, in the I'm Smokin and has trained at Santa Anita.
"They both have had very good spacing between races and trained very well for these races, which we've targeted for a very long time," Bonde, who turned 63 on Monday, said Thursday morning in the Del Mar stable area. "I'm looking for big races from both of them."
A Juvenile Fillies race on Breeders' Cup day can stir bittersweet memories for Bonde. His She's A Tiger won the 2013 Del Mar Debutante and crossed under the finish line first in the Breeders' Cup Juvenile Fillies only to be disqualified for interference.
"I'm one of two guys that got the DQ (in Breeders' Cup history), so that makes you think about it," Bonde said. "Fortunately, she got the Eclipse Award and that helped a little.
"I was pretty disappointed for about a week. Then I started thinking, 'You're a grown person, you need to get over it and move on.' "
The Golden State Juvenile Fillies field from the rail: One Fast Broad (Corey Nakatani, 7-2), Mama's Kid (Juan Ochoa, 20-1), Ismelucky (Kent Desormeaux, 5-2), Show It N Moe It (Evin Roman, 5-1), Sharona Sunset (Martin Garcia, 20-1), Pulpit Rider (Stewart Elliott, 6-1), Smiling Tigress (Tyler Baze, 6-1), Spiced Perfection (Joe Talamo, 5-1) and Family Girl (Flavien Prat, 10-1).
Sherlock has Show It N Moe it (5-1) in the Juvenile Fillies and Smokem, the 5-2 morning line choice, in the Juvenile.
Show It N Moe It won the CTBA Stakes at 5 ½ furlongs here on August 2 for her second straight win but couldn't extend the streak to three when a well-beaten third behind Spiced Perfection and Family Girl in the six-furlong Generous Portion Stakes four weeks later.
Spiced Perfection has been freshened since the Generous Portion and will be seeking her third straight win for trainer Brian Koriner and jockey Joe Talamo.
Smokem, a son of Union Rags, won at first asking on the third day of the summer meeting and was second in both the Graduation Stakes in August and the I'm Smokin on September 1.
Another second, in the Barretts Juvenile at Los Alamitos, set Smokem up to prepare for Saturday's race via workouts at Santa Anita.
Apprentice Roman, aboard for the last four starts by Show It N Moe It and all four career runs for Smokem, retains both mounts. The five-pound apprentice allowance does not apply to stakes races, but Roman has experience and stakes victories, most notably in the Grade III Longacres Mile.
"They're both very nice horses and we're very fortunate to be riding them," Tony Matos, agent for Roman, said Thursday. "It's exciting that Evin is getting to ride in most of the undercard races and also the Breeders' Cup Juvenile." Roman has the call on Golden Dragon (30-1) in the Juvenile.
The Golden State Juvenile field from the rail: Smokem (Evin Roman, 5-2), Night At the Opera (Drayden Van Dyke, 3-1), Campaigner (Tiago Pereira, 8-1), Lucky Pegasus (Juan Ochoa, 20-1), Lucky Romano (Tyler Baze, 10-1), Bookie's Luck (Kent Desormeaux, 7-2), Ministersdontparty (Giovanni Franco, 20-1) and Schuylace (Rafael Bejarano, 4-1).
---
BING CROSBY OPENING DAY IS A 'GREAT' ONE FOR WARD AND HEAP
Trainer Blake Heap saddled Brandothebartender to win the first race of the 2017 Bing Crosby Fall Season on Wednesday. Six races later, Wesley Ward saddled Master Merion to win the featured $75,000 Let It Ride Stakes.
As is the case with most horses that Ward ships to run in California, Master Merion's pre-race care and conditioning had been supervised by Heap, his West Coast assistant.
"Blake wins the first race and we win this one," Ward said in the winner's
circle following the Let It Ride. "It's a great day. Couldn't ask for anything better."
Master Merion notched his fourth straight victory since July, his second at Del Mar, covering the turf mile in 1:35 flat under John Velazquez.
It was the eighth Del Mar stakes victory for Ward. The first at Del Mar for New York-based Hall of Famer Velazquez.
Master Merion, a 3-year-old son of Quality Road, won for the fourth time in nine career starts and topped the $300,000 mark in career earnings.
"This guy is really improving," Ward said. "We'll give him some time off now, hopefully bring him back in the spring at Keeneland and get him ready for Ascot in the early summer."
---
OPENING DAY RESULTS HAVE A SUMMERTIME FEEL
Flavien Prat and apprentice Evin Roman, 1-2 atop the jockey standings in Del Mar's 78th Summer Season when it ended on Labor Day, assumed the positions to start the Bing Crosby season with two wins each on the opening day card Wednesday.
Roman won the second (Beaumarchais, $12.80) and eighth (Meet and Greet, $8.00). Prat prevailed in the fifth (Dominating Woman, $10,60) and ninth (Choo Choo, $31.20).
Prat's win in the nightcap triggered a Pick Six carryover of $34,118 to Thursday's card. Prat had ridden Choo Choo to a third-place finish in the 2-year-old son of English Channel's second career start on September 30.
Prat's agent, Derek Lawson, said his client could have opted for race runner-up Big Buzz, but they heeded the words of Choo Choo's Hall of Fame trainer Jerry Hollendorfer.
"Hollendorfer said 'Stick with me on this one,' and the horse ran a big race," Lawson said Thursday morning. "That horse can go longer. We thought the race (one mile on turf) would actually be too short for him."
Trainer Mark Glatt, who had an excellent summer meeting, won twice to top the trainer standings after the first day of the 16-day meeting.
---
CLOSERS – Selected workouts from Thursday morning: Born on the Bayou (3f, :37.80), Uno Trouble Maker (4f, :48.60), Air On Fire (5f, 1:00.80) and Orageuse (6f, 1:12.60).