Saturday, November 18th, 2017 ( 1 year ago )
Stable Notes
Nov 18, 2017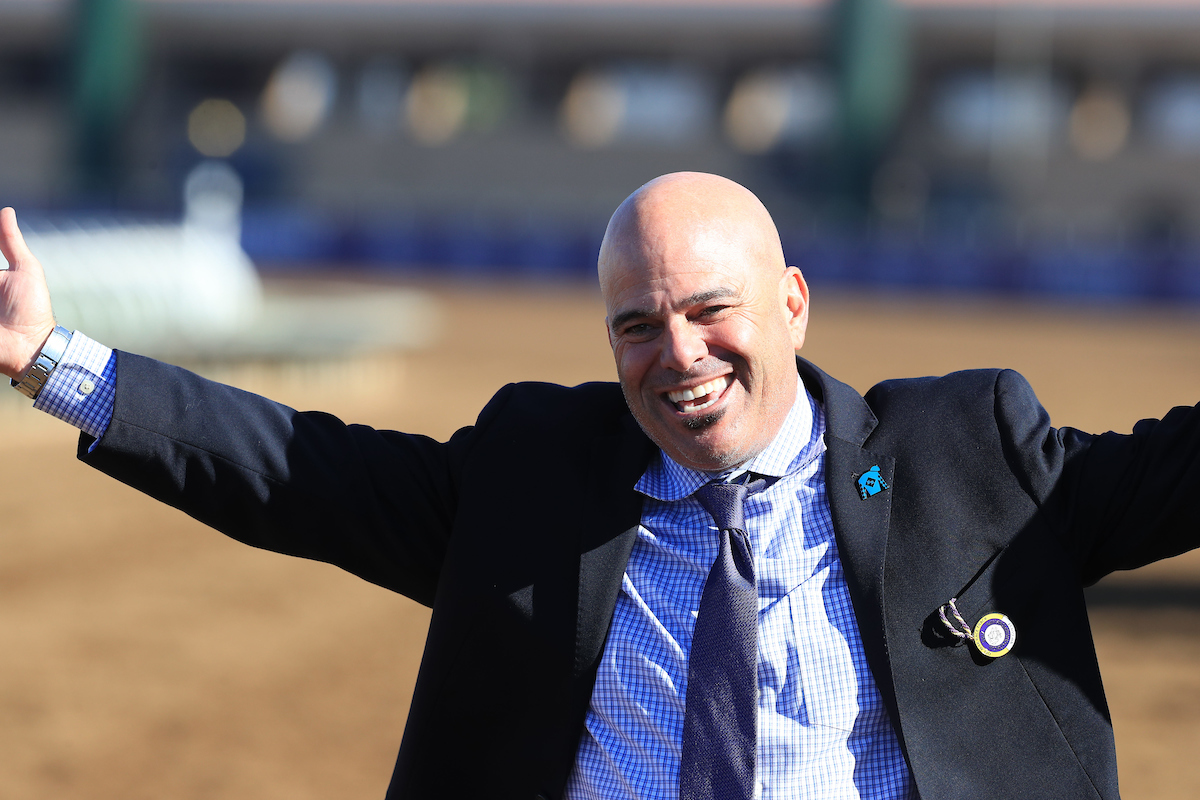 Peter Miller © Eclipse Sportswire
MILLER SEEKS GRANT THREE-PEAT WITH SOLID WAGER PLUS TWO
Trainer Peter Miller is quite sure that he has never before won the same stakes race with the same horse three years in a row.
"I don't think I've ever won three games of tic-tac-toe in a row before, so that would be something," Miller said.
Miller, the defending meet champion and current training standings leader, will be plotting the strategic X's and O's not only for Solid Wager, the Cary Grant Stakes winner the past two seasons, but also for two others Sunday when the $100,000 seven-furlong sprint for California-breds, formerly the On Trust Stakes, is run for the 34th time overall and the fourth at Del Mar.
The wins by Solid Wager, a six-year-old gelded son of Birdonthewire owned by Cecil and Gary Barber and Stanford Stable, were both accomplished coming from behind and by a half-length at the wire. Joe Talamo was in the saddle in 2015, Victor Espinoza in 2016 and Espinoza retains the mount.
Miller readily conceded that, twice being nice, the Grant was a major target when mapping out a 2017 campaign for Solid Wager which has yet to produce a win in seven starts.
"Absolutely, we know he likes this track and he likes seven-eighths of a mile, so this was definitely one we've pointed to," Miller said. "He's a horse with a late kick and sometimes it's hard for him to get there in time at a shorter distance. But seven-eighths seems to work out very well for him."
If there's safety in numbers, Miller has it for the Grant since, in addition to Solid Wager, he has also entered Prime Issue and California Diamond. Prime Issue, a seven-year-old son of Tannersmyman, has four wins in 10 career starts at Del Mar and recorded one of his two 2017 victories here during the summer meeting. California Diamond, a three-year-old son of Harbor The Gold, has five wins in 13 career starts but none since November of last year. He was second in the 2016 Bob Hope but did not race here in the summer.
"Prime Issue has a lot of speed and California Diamond, who we've tried on turf the last two times, is probably better on the dirt," Miller said. "They've all three been training here and training well, so hopefully one can get the job done."
The field from the rail: Love My Bud (Santiago Gonzalez, 20-1), Solid Wager (Victor Espinoza, 7-2), Prime Issue (Flavien Prat, 10-1), Green With Eddie (Drayden Van Dyke, 15-1), Gold Rush Dancer (Corey Nakatani, 9-2), Jimmy Bouncer (Martin Pedroza, 6-1), Edwards Going Left (Tyler Baze, 3-1), California Diamond (Kent Desormeaux, 15-1), Smokey Image (Gary Stevens, 8-1) and Tribal Storm (Rafael Bejarano, 6-1).
---
CHAD BROWN SENDING OUT FOUR FOR CLOSING WEEK TURF FESTIVAL
Chad Brown, the No. 1 trainer in North America for 2017 earnings, is sending four horses from his East Coast base in search of treasure from Del Mar's lucrative stakes program during the final week of the meeting.
Equibase statistics through Friday show Brown with 199 wins from 740 starters and purse earnings of $24,849,914. Todd Pletcher, in second place, has 229 wins from 942 starters and earnings of $21,511,107.
Brown has dispatched Off Limits and Rubilinda for the $300,000 Grade I Matriarch Stakes, climactic event of the meeting on Sunday, November 26; Analyze It for the Grade III $100,000 Cecil B. DeMille Stakes on the Matriarch undercard, and Data Dependent for the Grade III $100,000 Jimmy Durante Stakes on Saturday, November 25.
The four were scheduled to board a plane Saturday and be on the grounds here Sunday morning.
Off Limits, a five-year-old Irish-bred mare, has recorded three straight wins with the last two coming in Grade III stakes at Belmont Park in September and October. Rubilinda, a three-year-old daughter of English standout Frankel, has three wins in four career starts, the last two coming in ungraded events at Belmont Park.
Analyze It and Data Dependent are recent maiden winners at Belmont Park, Analyze It in his debut and Data Dependent in his third start.
---
FULL FIELD OF 14 FOR RED CARPET TO LAUNCH TURF FESTIVAL
A maximum field of 14 was entered Saturday for Thanksgiving Thursday's Grade III $100,000 Red Carpet Handicap, which kicks off the closing week Turf Festival of eight graded stakes in four days. First post is 11 a.m. for the holiday program.
The Red Carpet, known as the Beverly Hills Handicap for its 49 runnings, has been contested at Del Mar for the past three years. In 2016, Japanese mare Nuovo Record shipped from Santa Anita to Del Mar after the Breeders' Cup and trained for a last-jump victory by a nose under jockey Yasunari Iwata.
The entrants include three that will be running at Del Mar for the first time – Tom Proctor-trained Earring for Glen Hill Farm, George Arnold-trained La Manta Gris for Blackstone River Stable and Victress for owner/trainer Robert Gilker.
The field from the rail: Laseen (Tiago Pereira), Dynamic Mizzes (Gary Stevens), Evo Campo (Rafael Bejarano), Victress (Stewart Elliott), La Manta Gris (Kent Desormeaux), Kiss Me Now (Brice Blanc), Responsibleforlove (Joe Talamo), Do the Dance (Tyler Baze), Galileo's Song (Mike Smith), Earring (Drayden Van Dyke), Birdie Gold (Mario Gutierrez), Domestic Vintage (Kyle Frey), How Unusual (Corey Nakatani) and Lottie (Flavien Prat).
---
TOUGH SUNDAY'S UNLIKELY STORY ADVANCED VIA THURSDAY WIN
Tough Sunday, a 5-year-old horse with an incredible back story, added to his present-day achievements with a half-length, wire-to-wire victory in Thursday's fourth race under Tyler Baze for trainer Steve Miyadi.
The story has been chronicled of how Tough Sunday, a 5-year-old son of Grazen was bred, owned and essentially saved by Nick Alexander.
Born with symptoms of what is known as dummy foal syndrome, the colt could not see or hear and had no nursing instinct. Both the foal and his mare were rushed to a veterinary hospital. A week or so passed without significant improvement and, facing a tough decision, Alexander walked past his stall one last time and noticed that the colt was tracking his movement and, therefore, could see.
Recognizing the fact, Alexander decided to proceed with raising the baby much like any other and, five years later, Tough Sunday has four wins and eight other in-the-money finishes from 15 career starts and over $200,000 in earnings.
"I knew all about his story from the first time I rode him," Baze, aboard for 10 of the 15 starts, said Saturday morning. "He's a real cool horse. I know he's going to give me his best every time I ride him and that's what he did again (Thursday)."
The win on Tough Sunday initiated what has been, to this point, a productive week for Baze. He notched two wins on Thursday and two more on Friday to move into a tie for third with Rafael Bejarano at six wins each in the meet standings.
"This job is like a roller coaster and you've got to ride it through the ups and the downs," Baze, 35, said. "I've had a good couple days and I hope to have another one today."
---
CLOSERS – Selected works from Santa Anita and Del Mar Saturday morning. Santa Anita – Bendable (3f, :37.20), Itsinthepost (4f, :51.40), BigScore (5f, 1:02.40). Del Mar – Clear the Mine (4f, :46.40), Piedi Bianchi (4f, :51.80),
---
DEL MAR STATISTICS
Jockey Standings
(Current Through Friday, November 17, 2017 Inclusive)
| | | | | | | | |
| --- | --- | --- | --- | --- | --- | --- | --- |
| Jockey | Mts | 1st | 2nd | 3rd | Win% | In-money% | Money Won |
| Flavien Prat | 55 | 13 | 5 | 8 | 24% | 47% | $1,881,830 |
| Evin Roman | 52 | 9 | 2 | 8 | 17% | 37% | $287,820 |
| Kent Desormeaux | 30 | 7 | 3 | 4 | 23% | 47% | $1,359,855 |
| Tyler Baze | 54 | 6 | 8 | 5 | 11% | 35% | $350,940 |
| Rafael Bejarano | 31 | 6 | 5 | 3 | 19% | 45% | $317,348 |
| Drayden Van Dyke | 42 | 5 | 6 | 2 | 12% | 31% | $500,929 |
| John Velazquez | 14 | 5 | 0 | 1 | 36% | 43% | $2,612,535 |
| Mario Gutierrez | 34 | 4 | 3 | 3 | 12% | 29% | $253,064 |
| Martin Pedroza | 14 | 3 | 5 | 1 | 21% | 64% | $96,715 |
| Joel Rosario | 16 | 3 | 4 | 3 | 19% | 63% | $1,717,565 |
Trainer Standings
(Current Through Friday, November 17, 2017 Inclusive)
| | | | | | | | |
| --- | --- | --- | --- | --- | --- | --- | --- |
| Trainer | Sts | 1st | 2nd | 3rd | Win% | In-money% | Money Won |
| Peter Miller | 33 | 11 | 5 | 6 | 33% | 67% | $1,934,250 |
| Jerry Hollendorfer | 27 | 7 | 1 | 4 | 26% | 44% | $827,095 |
| Philip D'Amato | 33 | 5 | 6 | 3 | 15% | 42% | $257,595 |
| Doug F. O'Neill | 33 | 5 | 0 | 3 | 15% | 24% | $278,749 |
| Vladimir Cerin | 17 | 4 | 5 | 1 | 24% | 59% | $117,064 |
| Richard Baltas | 21 | 3 | 2 | 3 | 14% | 38% | $111,719 |
| Eddie Truman | 4 | 3 | 0 | 0 | 75% | 75% | $66,045 |
| Aidan P. O'Brien | 14 | 2 | 2 | 2 | 14% | 43% | $2,030,000 |
| Simon Callaghan | 14 | 2 | 2 | 1 | 14% | 36% | $198,075 |
| Chad C. Brown | 13 | 2 | 1 | 2 | 15% | 38% | $2,840,000 |
Winning Favorites Report
(Current Through Friday, November 17, 2017 Inclusive)
Winning favorites -- 36 out of 90 -- 40.00%
Winning favorites on dirt -- 16 out of 50 -- 32.00%
Winning favorites on turf -- 20 out of 40 -- 50.00%
Winning odds-on favorites -- 0 out of 5 -- 0.00%
In-the-Money favorites -- 61 out of 90 -- 67.78%
In-the-Money odds-on favorites -- 3 out of 5 -- 60.00%