Thursday, November 16th, 2017 ( 1 year ago )
Stable Notes
Nov 16, 2017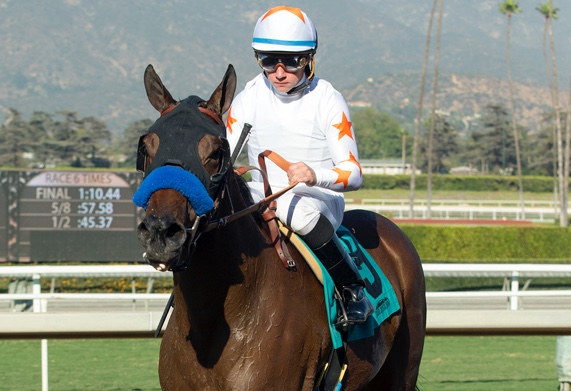 Dream Tree © Benoit Photo
BAFFERT'S DREAM TREE FAVORED IN SATURDAY'S DESI ARNAZ
Bob Baffert-trained Dream Tree, a daughter of Uncle Mo who won her debut at Santa Anita on October 27, was tabbed for morning line favoritism by oddsmaker Russ Hudak on Thursday for Saturday's $100,000 Desi Arnaz Stakes.
The Arnaz, named for the 1950s band leader and television co-star with wife Lucille Ball, is a seven-furlong sprint for 2-year-old fillies.
Dream Tree, a 4-5 favorite winning at six furlongs at Santa Anita, was established as the 2-1 morning line choice for her second start and will break from the outside No. 6 post under Drayden Van Dyke, who retains the mount for the Hall of Fame trainer.
David Bernstein will send out Smiling Tigress, a daughter of Smiling Tiger who broke her maiden at Santa Anita on October 5 and was seventh in the $200,000 Golden State Juvenile Fillies on Friday, November 3, in the undercard to the first day of the Breeders' Cup.
"She has been running well," Bernstein said trackside Thursday morning. "She came out of the second in a race here (August 31) to win at Santa Anita. We kind of rushed her into the Cal Bred race (Golden State Juvenile Fillies) and that didn't work out. But we figured we'd give it another shot.
"We've relaxed (the training) since then and we think the distance will suit her. We think she'll actually run a mile."
Bernstein, 77, has four stakes wins at Del Mar. He took the opening day Oceanside Stakes back-to-back in 1985-86 with Grey Gauntlet and Prince Bobby B, respectively, and added the Bing Crosby Handicap (The Wicked North) and Sandy Blue Handicap (Stalcreek) in 1993.
The field from the rail: Steph Being Steph (Stewart Elliott, 6-1), Ms Bad Behavior (Tiago Pereira, 5-2), Midnight Bisou (Rafael Bejarano, 3-1), Smiling Tigress (Tyler Baze, 10-1), Secret Spice (Corey Nakatani, 6-1) and Dream Tree (Drayden Van Dyke, 2-1).
---
TEN TO GO IN SUNDAY'S $100,000 CARY GRANT
Gold Rush Dancer, who trained at Del Mar for a victory in the Grade III Longacres Mile in August at Emerald Downs in Seattle, Washington, is one of a field of 10 entered Thursday for Sunday's $100,000 Cary Grant Stakes.
The seven-furlong sprint for California-breds, known as the On Trust Stakes for its first 30 editions, will be run for the fourth time at Del Mar. It was won by Richard Baltas' Big Macher in 2014. Peter Miller saddled Solid Wager for back-to-back scores in 2015 and 2016 and will be looking for a three-peat on Sunday.
Trainer Vann Belvoir returned to the track of his roots with Gold Rush Dancer on August 13 to take the premier race in the Pacific Northwest. Gold Rush Dancer, a 4-year-old son of Private Gold, has raced twice since, finishing sixth in the E.B. Johnston Stakes at Los Alamitos in September and fifth in the California Flag Handicap down the hillside turf course at Santa Anita on October 21.
The field from the rail: Love My Bud (Santiago Gonzalez), Solid Wager (Victor Espinoza), Prime Issue (Flavien Prat), Green With Eddie (Drayden Van Dyke), Gold Rush Dancer (Corey Nakatani), Jimmy Bouncer (Martin Pedroza), Edwards Going Left (Tyler Baze), California Diamond (Kent Desormeaux), Smokey Image (Gary Stevens) and Tribal Storm (Rafael Bejarano).
---
PRAT CHOSEN FOR INTERNATIONAL JOCKEY CHAMPIONSHIPS
Flavien Prat, the meet's leading rider, has accepted an invitation to represent the United States in the Longines International Jockey Championship on Wednesday, December 6, at the Happy Valley Race Course in Hong Kong.
The annual event pits four Hong Kong-based riders against eight selected from around the world in four races on one program. Points are awarded on a 12-6-4 basis for first-to-third-place finishes and the champion receives a $200,000 (Hong Kong) award, the runner-up $100,000 (Hong Kong).
"It's a real honor and Flavien is looking forward to going over and representing the country," Prat's agent, Derek Lawson, said Thursday morning.
Prat, 25, will be among a group of rising young saddle stars on display. Leandro Enrique, 18, is a sensation in his native country of Brazil, and Pierre-Charles Boudot, 24, is the top rider in France.
England's Hugh Bowman is the defending champion in the event.
Prat had two wins at Del Mar on Sunday, the last one on Majestic Heat in the $100,000 Betty Grable Stakes for Hall of Fame trainer Richard Mandella, and enters the penultimate four-day week of the meeting with a four-win margin, 11-7, over apprentice Evin Roman.
Defending meet champion Peter Miller and 2016 co-runner-up Doug O'Neill both saddled three winners on Sunday. Miller holds a 10-6 edge over Jerry Hollendorfer while O'Neill's big day moved him into a tie for third with Phil D'Amato at four wins apiece.
---
KOCH, DOCHE ARE WEEKEND SEMINAR GUESTS
Owner and Little Red Feather Racing Syndicate head Billy Koch and handicapper Marc Doche will provide insights and selections at the upcoming Weekend Handicapping Seminars.
Koch, scion of a family of Hollywood producers and directors, formed the Little Red Feather Racing Club in 2002 and among its stakes successes over the years have been a Breeders' Cup Mile win with Singletary in 2004 at Lone Star Park in Texas and, most recently, Midnight Storm, a winner of five Del Mar stakes from 2014-2016. Koch will guest on Saturday.
Doche will be host Scott Shapiro's guest on Sunday.
The seminars are held from 11:30 a.m. to noon at the Seaside Terrace near the head of the stretch.
---
CLOSERS – Hall of Fame trainer Richard Mandella reports that Majestic Heat came out of Sunday's Betty Grable Stakes in good order and will likely next be seen making a second straight start on dirt (after 14 on turf) in the 1 1/16-mile Bayakoa Stakes at Los Alamitos on December 3 … Matt Dinerman, who honed his skills calling races into a tape recorder in unoccupied booths while serving as a Del Mar press box steward, has accepted the position at Golden Gate Fields. Dinerman has been the popular race caller at Emerald Downs near Seattle in recent years … Selected workouts officially timed at Santa Anita and Del Mar: Santa Anita (Thursday) – Bookies Luck (4f, :50 flat), It Tiz Well (4f, :48.80), Gone to Town (5f, :59.40), Mubtaahij (5f, 1:00.20), Royal Albert Hall (5f, 1:01.00); Del Mar (Wednesday) – Solid Wager (4f, :49 flat), Peace (6f, 1:11.60).
---
DEL MAR STATISTICS
Jockey Standings
(Current Through Sunday, November 12, 2017 Inclusive)
| | | | | | | | |
| --- | --- | --- | --- | --- | --- | --- | --- |
| Jockey | Mts | 1st | 2nd | 3rd | Win% | In-money% | Money Won |
| Flavien Prat | 45 | 11 | 3 | 4 | 24% | 40% | $1,807,765 |
| Evin Roman | 40 | 7 | 2 | 5 | 18% | 35% | $249,565 |
| Kent Desormeaux | 27 | 6 | 3 | 4 | 22% | 48% | $1,343,410 |
| John Velazquez | 14 | 5 | 0 | 1 | 36% | 43% | $2,612,535 |
| Rafael Bejarano | 24 | 4 | 2 | 3 | 17% | 38% | $241,023 |
| Joel Rosario | 16 | 3 | 4 | 3 | 19% | 63% | $1,717,565 |
| Tiago Pereira | 20 | 3 | 2 | 4 | 15% | 45% | $181,900 |
| Mario Gutierrez | 29 | 3 | 2 | 2 | 10% | 24% | $211,719 |
| Tyler Baze | 40 | 2 | 7 | 5 | 5% | 35% | $235,170 |
| Joseph Talamo | 32 | 2 | 6 | 2 | 6% | 31% | $463,192 |
Trainer Standings
(Current Through Sunday, November 12, 2017 Inclusive)
| | | | | | | | |
| --- | --- | --- | --- | --- | --- | --- | --- |
| Trainer | Sts | 1st | 2nd | 3rd | Win% | In-money% | Money Won |
| Peter Miller | 25 | 10 | 3 | 2 | 40% | 60% | $1,881,350 |
| Jerry Hollendorfer | 23 | 6 | 1 | 3 | 26% | 43% | $789,290 |
| Philip D'Amato | 23 | 4 | 4 | 2 | 17% | 43% | $223,560 |
| Doug F. O'Neill | 29 | 4 | 0 | 3 | 14% | 24% | $241,969 |
| Vladimir Cerin | 11 | 3 | 3 | 0 | 27% | 55% | $76,419 |
| Richard Baltas | 18 | 2 | 2 | 3 | 11% | 39% | $94,779 |
| Aidan P. O'Brien | 14 | 2 | 2 | 2 | 14% | 43% | $2,030,000 |
| Simon Callaghan | 14 | 2 | 2 | 1 | 14% | 36% | $198,075 |
| Chad C. Brown | 13 | 2 | 1 | 2 | 15% | 38% | $2,840,000 |
| Dan Blacker | 6 | 2 | 1 | 0 | 33% | 50% | $64,035 |
Winning Favorites Report
(Current Through Sunday, November 12, 2017 Inclusive)
Winning favorites -- 29 out of 74 -- 39.19%
Winning favorites on dirt -- 14 out of 42 -- 33.33%
Winning favorites on turf -- 15 out of 32 -- 46.88%
Winning odds-on favorites -- 0 out of 3 -- 0.00%
In-the-Money favorites -- 51 out of 74 -- 68.92%
In-the-Money odds-on favorites -- 2 out of 3 -- 66.67%