Friday, November 10th, 2017 ( 1 year ago )
Stable Notes
Nov 10, 2017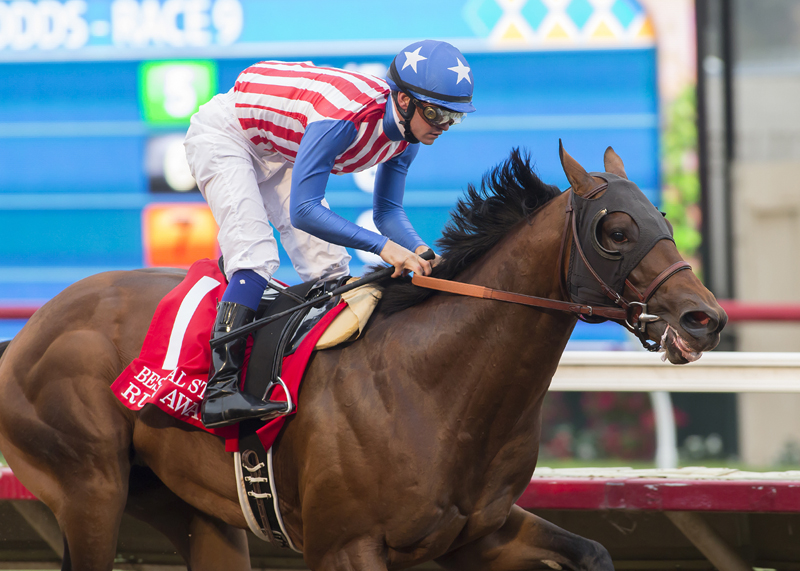 Run Away © Benoit Photo
RUN AWAY COULD END '17 WITH DISTINCTION VIA HOPE VICTORY
Simon Callaghan-trained Run Away returns to the track and distance of his lone defeat as the 8-5 morning line favorite in a field of six for Saturday's $100,000 Bob Hope Stakes.
The seven-furlong test for Juveniles, known for 33 years as the Hollywood Prevue, is the first of 12 stakes that have been regularly run during the three previous editions of the Bing Crosby Fall meeting. The 12 were pushed back to accommodate other added-money events during Breeders' Cup week.
A victory for Run Away in his final assignment of the year would be the fifth in six starts for the Kentucky-bred son of Run Away and Hide. It would be a nice addition to a win total that is already, according to Equibase statistics, the most for a 2-year-old this year, on a major circuit if not anywhere in the country.
"It shows that he's definitely a tough, talented horse and that he likes to win," said Callaghan said.
Three victories have come in stakes, the $100,000 Santa Anita Juvenile in July, Grade II $200,000 Best Pal here in August and the $100,000 Barretts' Juvenile in September at Los Alamitos. The only loss came when Run Away was third to Bolt d'Oro, beaten 5 ½ lengths, in the seven-furlong Del Mar Futurity on Labor Day, closing day of the summer meeting.
A bounce-back win against California-breds in the Barretts' Juvenile had owner Kaleem Shah and Callaghan giving thought to the $2 million Sentient Jet Juvenile on the Breeders' Cup card last Saturday.
"We considered it pretty hard, but felt it was best to keep him around one turn for now," Callaghan said. "We'll know a lot more (about Kentucky Derby possibilities) when we stretch him out early next year as a 3-year-old."
Hall of Fame trainer Bob Baffert, who will be represented by Mourinho, has won the last two runnings of the Bob Hope with Toes On Ice in 2015 and Mastery a year ago.
The field from the rail: Greyvitos (Victor Espinoza, 20-1), Mourinho (Drayden Van Dyke, 9-5), Run Away (Flavien Prat, 8-5), Here Is Happy (Joe Talamo, 8-1), Beautiful Shot (Kent Desormeaux, 5-2) and Italiano (Mike Smith, 10-1).
The Bob Hope goes as the fifth on a nine-race program.
---
HOW ABOUT ZERO FAVORED IN SUNDAY'S BETTY GRABLE STAKES
Reddam Racing's How About Zero, a 3-year-old daughter of Square Eddie, was tabbed the favorite in a field of eight for Sunday's $100,000 Betty Grable Stakes at seven furlongs for older fillies and mares.
The event was known as the Cat's Cradle for 19 years before being renamed prior to the initial Big Crosby Fall season.
How About Zero (3-1) has been freshened since a 5 ½-length allowance victory down the hillside course at Santa Anita on October 19 at Santa Anita. The win, coming off a seven-month layoff, was the second in nine career starts for the Doug O'Neill trainee.
"When she ran big last time, we found that she runs well fresh," O'Neill assistant Leandro Mora said Friday. "So the point was not to put any pressure on her. She's a dual runner, she's good on dirt or turf and this race the timing was perfect for her.
"She pretty much likes to be forwardly placed in her races, but that (strategy) will be up to Doug and Mario (Gutierrez) when they get together in the paddock."
The field from the rail: Run For Retts (Rafael Bejarano, 12-1), Late N Left (Stewart Elliott, 8-1), Bad Ju Ju (Drayden Van Dyke, 4-1), How About Zero (Mario Gutierrez, 3-1, Cuddle Alert (Edwin Maldonado, 5-1), Time For Ebby (Joe Talamo, 20-1), Majestic Heat (Flavien Prat, 7-2) and Barbara Beatrice (Tiago Pereira, 4-1).
---
JOCKEY, TRAINER STANDINGS: SOME ARE GONE, BUT NOT FORGOTTEN
What do John Velazquez, Joel Rosario, Florent Geroux and Ryan Moore have in common?
They're all jockeys who made their marks here during the five Breeders' Cup/Opening Week programs from November 1-5 and put themselves in Top-Five spots on the Bing Crosby fall jockey standings.
And while they've all gone back to their regular haunts – Velazquez, Rosario, and Geroux to the East Coast, Moore to Europe, it's likely that their names, especially Velazaquez's, will remain prominent on the list.
Velazquez won five races during Breeders' Cup Week, all of them stakes. He went from zero to five on the list of Del Mar stakes victories and to second behind Flavien Prat (8) atop the meet standings.
Five wins would have placed a rider just outside the Top-10 in any of the three previous Bing Crosby meetings.
Since two of Velazquez's victories came in $2 million events – the Breeders' Cup Distaff and Mile – his place as the No. 1 for the meeting in terms of money won ($2,612,535) seems secure. Rosario (No. 2, $1,717,565) will possibly be passed by Prat ($1,656,435) but Moore ($1,440,000) looks solid at the No. 5 spot.
In the trainer standings, Peter Miller and Jerry Hollendorfer are tied for the wins lead with five and appear set to battle for the final 11 days of the meeting. New York-based Chad Brown ($2,840,000), Irish training star Aidan O'Brien ($2,030,000) and England's Charlie Appleby ($1,150,000) will linger in the top five for money earnings, although Brown's No. 1 status could be overtaken by Bob Baffert.
Baffert went 0-for-11 in Breeders' Cup races, but had enough high finishes to accumulate $2,831,035 in purse earnings, well within striking distance of Brown over the rest of the meeting.
---
CLOSERS – Happy Birthday No. 49 to jockey Frank Alvarado … Maria Falgione, who won with her first career mount on August 26, and has gone 0-for-4 since, a chance in the first race today with Where's the D (5-1) breaking from the No. 1 post … Trainer Peter Miller, listed in most biographies as a Carlsbad resident, has moved even closer to the track, having bought a house in Encinitas. "Just one exit on the freeway, but we've gone from South Carlsbad to Encinitas," Miller said Friday. "Ten minutes from the track." … Selected workouts from Friday: Jager Time (3f, :35.80), Kathy's Song (4f, :47.40), Acker (5f, :59.80) and Orangeuse (6f, 1:13.80) …Stable Superintendent Dennis Sparks reports that there are 446 horses on the grounds.
---
DEL MAR STATISTICS
Jockey Standings
(Current Through Sunday, November 5, 2017 Inclusive)
| | | | | | | | |
| --- | --- | --- | --- | --- | --- | --- | --- |
| Jockey | Mts | 1st | 2nd | 3rd | Win% | In-money% | Money Won |
| Flavien Prat | 31 | 8 | 2 | 2 | 26% | 39% | $1,656,435 |
| John Velazquez | 14 | 5 | 0 | 1 | 36% | 43% | $2,612,535 |
| Kent Desormeaux | 20 | 4 | 3 | 2 | 20% | 45% | $1,280,815 |
| Joel Rosario | 16 | 3 | 4 | 3 | 19% | 63% | $1,717,565 |
| Tyler Baze | 23 | 2 | 4 | 3 | 9% | 39% | $187,950 |
| Evin Roman | 21 | 2 | 2 | 4 | 10% | 38% | $136,605 |
| Mike Smith | 13 | 2 | 2 | 0 | 15% | 31% | $1,666,810 |
| Ryan Moore | 9 | 2 | 1 | 1 | 22% | 44% | $1,440,000 |
| Martin Garcia | 5 | 2 | 1 | 0 | 40% | 60% | $1,051,945 |
| Tiago Pereira | 11 | 2 | 0 | 2 | 18% | 36% | $106,325 |
Trainer Standings
(Current Through Sunday, November 5, 2017 Inclusive)
| | | | | | | | |
| --- | --- | --- | --- | --- | --- | --- | --- |
| Trainer | Sts | 1st | 2nd | 3rd | Win% | In-money% | Money Won |
| Peter Miller | 14 | 5 | 3 | 1 | 36% | 64% | $1,741,605 |
| Jerry Hollendorfer | 17 | 5 | 0 | 3 | 29% | 47% | $738,365 |
| Philip D'Amato | 15 | 4 | 1 | 1 | 27% | 40% | $174,550 |
| Aidan P. O'Brien | 14 | 2 | 2 | 2 | 14% | 43% | $2,030,000 |
| Chad C. Brown | 13 | 2 | 1 | 2 | 15% | 38% | $2,840,000 |
| Simon Callaghan | 11 | 2 | 1 | 0 | 18% | 27% | $184,235 |
| Dan Blacker | 4 | 2 | 0 | 0 | 50% | 50% | $60,090 |
| Bob Baffert | 15 | 1 | 4 | 1 | 7% | 40% | $2,831,035 |
| Brian J. Koriner | 6 | 1 | 2 | 1 | 17% | 67% | $70,420 |
| Charles Appleby | 3 | 1 | 1 | 0 | 33% | 67% | $1,150,000 |
Winning Favorites Report
(Current Through Sunday, November 5, 2017 Inclusive)
Winning favorites -- 19 out of 48 -- 39.58%
Winning favorites on dirt -- 8 out of 27 -- 29.63%
Winning favorites on turf -- 11 out of 21 -- 52.38%
Winning odds-on favorites -- 0 out of 2 -- 0.00%
In-the-Money favorites -- 30 out of 48 -- 62.50%
In-the-Money odds-on favorites -- 1 out of 2 -- 50.00%