Wednesday, November 1st, 2017 ( 1 year ago )
Stable Notes
Nov 1, 2017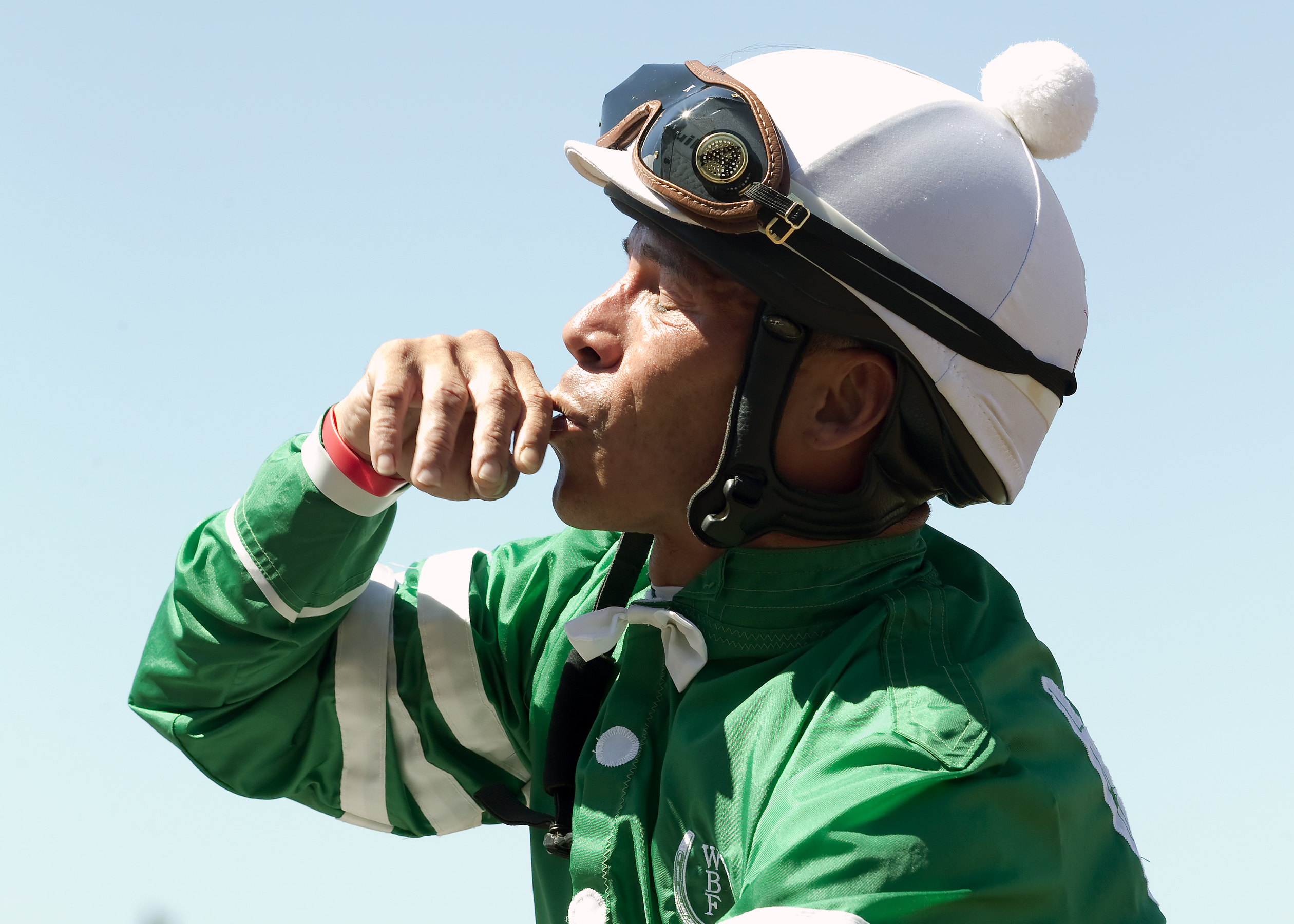 Norberto Arroyo, Jr. © Benoit Photo
'REBUILDING' MEET FOR DEFENDING CROSBY RIDING CHAMPION ARROYO
A victory aboard California Silver in the third race on closing day of the 2016 Bing Crosby meeting, his 12th of the fall session, was the difference as Norberto Arroyo, Jr., claimed the jockey title by one over Flavien Prat and Drayden Van Dyke.
The title capped an excellent first six months in California for the 41-year-old native of Puerto Rico after his relocation from New York. He finished the 2016 Del Mar summer season sixth in the standings with 19 wins and then took the Crosby title when Van Dyke's late charge came up short and Prat missed the last week of racing due to injury.
It's been a "roller coaster" ride, in Arroyo's words, since the happy ending to the last Bing Crosby meeting and today's start of season No. 4.
Juggling the responsibilities of being a single parent to 5, 6 and 10-year-old children and the demands of competing against Hall of Fame veterans, solid journeymen and hot newcomers during the past year has been difficult. So much so that the relationship with his brother/agent Nelson, was strained to the breaking point. It was Nelson who had orchestrated the move from New York to California, with Team Arroyo gearing up five days before the start of the 2016 Del Mar summer meeting.
The partnership of brothers, so successful through two Del Mar meetings, dissolved here in August but was rejoined about three weeks ago. And both say that the process of recovering business which was lost and repairing associations that were damaged, begins with this meeting.
"We're back together, we're starting over and we're going to build back to where we were," Nelson said. "The reason I'm bringing him back is that he's 100 percent committed again, and when he's 100 percent he's one of the best there is. And I'm not saying that because he's my brother."
During the Del Mar seasons of 2016, Norberto said, the children were in Kentucky with their mother. After custody battles, they're with him now.
"It has been rough, but I have no regrets and I'm happy now," Norberto said. "I'm proud about being a good father."
Equibase statistics for 2017 have Arroyo rated No. 114 among North American riders with 42 wins from 267 mounts and earnings of $2,125,026. He has 1,333 career wins from 9,368 starts and purse earnings of more than $48 million.
Arroyo has two mounts on the opening day card, Duke of Fallbrook (12-1) in the third race for trainer Antonio Garcia and Sandbed (12-1) for Clifford Sise, Jr., in the nightcap ninth.
With the Breeders' Cup only two days away, many of the celebrated New York riders, notably John Velazquez and Javier Castellano, that Arroyo bested when he won 188 races on the circuit in 2000 are in town. "Absolutely there'll be some reunions, they're my home boys," Arroyo said.
When the Breeders' Cup is over and the regular meeting continues, the rebuilding will begin in earnest, Norberto said.
"We're back together, we're communicating well and I know that my brother and I have the tools to build the business back and win more races."
---
ROAD TO QATAR WENT THROUGH ASCOT FOR WARD TRIO
Trainer Wesley Ward has three horses entered in the $200,000 Qatar Juvenile Turf Sprint on Saturday, a five-furlong event that goes as the third on a 12-race program starting at 10:10 a.m. The Qatar is the final undercard stake before nine Breeders' Cup races climaxed by the $6 million Classic.
The Qatar has been a targeted race for fillies Fairyland and Elizabeth Darcy and the gelding McErin for several months, Ward said Wednesday morning in the Del Mar stable area.
"From early on in the spring," Ward said. "I've won this race before, all three ran (turf sprints) at Ascot and this is one of the few five-furlong turf races for 2-year-olds that they run over here. They have them every week in England, but they only have a couple of them here in the states."
Fairyland, Kentucky-bred daughter of Scat Daddy, had the lead in the stretch of the Group III Albany Stakes at Ascot on June 23 before being overtaken by a wave of horses and finishing 12th of 20. Returned stateside, she was second, beaten a half-length by Qatar favorite March X Press, in a $100,000 grass sprint at Saratoga on August 16.
McErin, a gelded Kentucky-bred son of Trappe Shot, hasn't run since finishing seventh of 17, beaten four lengths, in the Group II Norfolk Stakes at Ascot on June 22. Elizabeth Darcy, an Irish-bred, spent the summer in Europe competing in sprint stakes at Ascot in June, France in July and back to England in August. The best result was a second in the Group III Prix du Bois at Deauville, France.
Asked about the running style of the three, Ward said simply, "They're all fast. Everyone in the race is fast. I'm happy with all of their post positions and we'll see what happens."
All three of Ward's charges worked four furlongs over the Jimmy Durante Turf Course on Sunday under the supervision of his West Coast assistant Blake Heap. Fairyland went :46.80, McErin :46.40 and Elizabeth Darcy :47.40.
The field from the rail: Fairyland (Irad Ortiz, Jr., 5-1), McErin (Victor Espinoza, 12-1), Count Alexander (Corey Nakatani, 6-1), El Dulce (John Velazquez, 9-2), Sound And Silence (William Buick, 8-1), Treasuring (Oisin Murphy, 15-1), Corinthia Knight (Luke Morris, 12-1), Out of The Flames, 10-1), Declarationofpeace (Ryan Moore, 12-1), March X Press (Javier Castellano, 7-2), Elizabeth Darcy (Javier Ortiz, 20-1), Majestic Dunhill (Manuel Franco, 20-1). Also eligible: Mourinho (Drayden Van Dyke, 6-1), Burnside (Jose Valdivia, Jr., 20-1), Factorofwon (Tyler Baze, 15-1) and Good Guy Bad Guy (Tyler Baze, 20-1).
---
McGAUGHEY FILLY ON LEAVE HAS INSIDE TRACK IN GOLDIKOVA
Shug McGaughey-trained On Leave has the inside post and the morning line designation as the 9-2 favorite in a full field of 14 for Saturday's $200,000 Goldikova Stakes, the opening event on the climactic day of the first Breeders' Cup World Championships to be hosted by Del Mar.
The one-mile turf run for older fillies and mares is named for Goldikova, the great Irish-bred mare who won the Breeders' Cup Mile in consecutive years from 2008-2010 for jockey Olivier Peslier and trainer Freddy Head and finished third when seeking a four-peat in 2011.
On Leave, a 4-year-old daughter of War Front, comes in off a victory in the All Along Stakes at Laurel in September and has a career record of six wins in 12 starts and earnings of $718,300 for owner Stuart S. Janney III.
"She's been training very well since she got here a week ago," exercise rider Lena Lorieul said Wednesday morning. "She likes the firm turf, and that's why we brought her out here."
McGaughey was enroute to Del Mar from New York on Wednesday.
The field from the rail: On Leave (Irad Ortiz, Jr., 9-2), Laur Net (Kendrick Carmouche, 20-1), Malibu Stacy (Manuel Franco, 30-1), Thundering Sky (Rajiv Maragh, 8-1), Laseen (Victor Espinoza, 30-1), Hillhouse High (Kent Desormeaux, 12-1), Kitten's Roar (John Velazquez, 5-1), Goldy Espony (Mike Smith, 8-1), Majestic Heat (Flavien Prat, 12-1), Madame Stripes (Joe Talamo, 8-1), Aljazzi (Andrea Atzeni, 6-1), Mrs. McDougal (Javier Castellano, 8-1), Corps de Ballet, 12-1) and Sassy Little Lila (Luis Saez, 12-1).
---
CLOSERS -- Selected works from Wednesday morning: Dirt – Loose On the Town (3f, :36.40), Skye Diamonds (3f, :38.0); Turf – James Garfield (4f, :52.20), Sound And Silence (4f, :49.80) … For those looking for hunch bets based around tonight's World Series Game 7 between the Los Angeles Dodgers and Houston Astros, it could be a West Coast Bias (5th) but L.A. is a Dodgertown (6th). There's also Duke of Fallbrook (3rd), whose name honors the late Dodger great Duke Snider, who spent his retirement years in the North San Diego County city of Fallbrook.