Thursday, July 9th, 2020 ( 4 weeks ago )
Stable Notes
July 9, 2020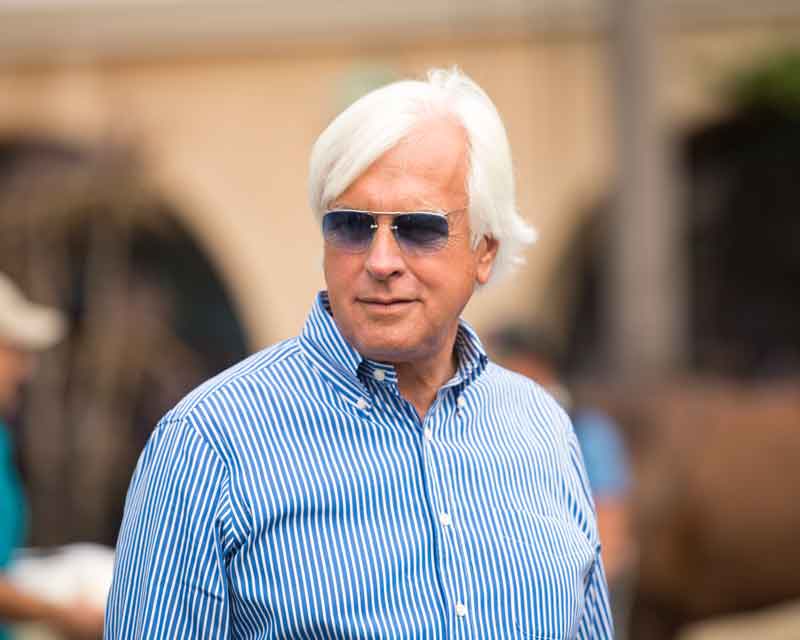 BAFFERT HAPPY WITH CHANGE OF SCENERY
The Del Mar racing season, which starts Friday, represents "a breath of fresh air," for Southern California Thoroughbred racing in 2020 in the opinion of Hall of Fame trainer Bob Baffert,
"We needed a change of scenery – drastically," Baffert, 67, said by phone Wednesday, anticipating his 32nd season here. Baffert and his fellow horsemen venture south following a Santa Anita winter/spring season interrupted and a Triple Crown Series turned inside out by the COVID-19 pandemic.
Baffert's batch of 3-year-olds with supreme Kentucky Derby potential – judged even deeper than usual this year – had their numbers trimmed by injury and other circumstances during a spring of discontent. But with the arrival of summer, and the postponement of the Kentucky Derby from the first Saturday in May to the first Saturday in September, Baffert remains a strong candidate to win a sixth Run For The Roses.
Over the years here Baffert has gone from winning training titles (seven straight from 1997-2003) to focusing on stakes and especially showcasing stars in the 2-year-old (14 Futurity, 8 Debutante winners) and Handicap divisions (5 Pacific Classics).
More of the same would appear in store this summer. But Baffert said the cooler and fresher air here would feel even better if it were breathed – albeit through a mask – with the owners who provide him the stars of his stable. Like most tracks around the country, Del Mar's season will operate, to begin at least, without spectators in the stands in accordance with protocols agreed upon with the San Diego County Board of Health and other governmental authorities.
A bevy of Baffert's stars are already stabled at Del Mar with potential to run this summer.
Scheduled first is Maximum Security in the $150,000 Grade II San Diego Handicap on July 18. Maximum Security, transferred to Baffert's care in March, was first under the wire in the 2019 Kentucky Derby before being disqualified. The New Year's Day colt rebounded with victories in the Grade I Haskell Invitational and Cigar Mile in a three-win streak from July to December and was voted an Eclipse Award as the top 3-year-old of the year.
"He looks great, he shipped down from Santa Anita well and he'll work this weekend," Baffert said.
The San Diego Handicap is a traditional stepping stone to the TVG Pacific Classic, a race Baffert mentioned as a potential start for McKinzie, who shipped here from New York following a disappointing effort in the recent Met Mile at Belmont Park. The loss of two shoes during the race provides a major Met Mile explanation, Baffert said.
The rescheduling of the Kentucky Derby means that Del Mar will have a Derby prep race for the first time in history. That's the $100,000 Shared Belief Stakes on August 1. Baffert has Cezanne and Uncle Chuck, impressive recent winners at Santa Anita and Los Alamitos, here. "I'll definitely run one," Baffert said.
Never short on talented 2-year-olds, Baffert declined to single any out as Debutante or Futurity prospects at this time. "It's too early. I'm a little bit behind with them right now," Baffert said.
---
NINE ENTERED FOR SATURDAY'S FEATURED WICKERR STAKES
A field of nine mostly veteran campaigners was entered Wednesday for Saturday's featured $65,000 Wickerr Stakes, a turf mile for 3-year-olds and up.
Jasikan, winner of the Oceanside Stakes over the same course last year, is among a trio of 4-year-olds. Bolo, a graded stakes mainstay who pulled off a surprise winning the Grade I Shoemaker Mile at Santa Anita last year at age 7, is among five in the 6-or-older age bracket.
The Oceanside victory was achieved in the third U.S. start for the Irish-bred Jasikan. He followed that with a third in the La Jolla Handicap one month later, but has been unraced since then while recovering from an injury.
"We had to deal with a minor issue and then gave him some time," trainer Juan Leyva said. "He's had a lot of works at Santa Anita and he's been training the same way he did last year before the Oceanside.
"Like most European horses he doesn't have a lot of early speed and his biggest attribute is his closing kick. We'll let him break and settle and hopefully he'll be clear to run them down in the stretch."
The field from the rail: Kiwi's Dream (Juan Hernandez, 3-1), New Year (Giovanni Franco, 20-1), Jasikan (Umberto Rispoli, 8-1), Voodoo Song (Drayden Van Dyke, 4-1), Bob And Jackie (Heriberto Figueroa, 8-1), Bolo (Jose Valdivia, Jr., 5-1), Souter (Evin Roman, 12-1), Murad Khan (Victor Espinoza, 12-1) and Big Score (Abel Cedillo, 7-2).
---
O'NEILL, MILLER 'USUAL SUSPECTS' FOR TRAINING HONORS
Doug O'Neill and Peter Miller finished 1-2 in the 2019 summer season training race. No surprise to anyone who had been paying attention over the past decade when the two combined to finish atop the standings five times.
O'Neill's 24 wins in 2019 topped Miller by three and gave him five summer titles to three for Miller.
At the recently concluded Los Alamitos meeting 43 different trainers saddled winners in 57 races during the seven-day session. Anywhere near that kind of parity, given Del Mar's recent history, would be astounding.
"So many owners and trainers want to win at Del Mar because of its prestige, and so much depends on how aggressive the owners and trainers choose to be," O'Neill said. "The game can be very cyclical and if you win a few photos and get some good breaks with racing luck and trips it can make the difference."
Before last year, O'Neill's summer titles came in 2004, 2006-07 and 2010 with the highest win total, 31, coming in 2010. He ranks fifth on the track's list with 378 wins in 22 seasons.
Miller set a personal record at Del Mar with 31 wins in capturing the 2018 title. He wasn't optimistic about a repeat on the eve of 2019 and, despite coming off a victory in the COVID-19 interrupted Santa Anita winter/spring meeting – 35 wins to 33 for Bob Baffert – he's not overly confident about adding another Del Mar title.
"I feel about the same as I did last year," Miller said. "I've got half as many horses as (Richard) Baltas, Baffert or Doug and for me to win everything has to go close to perfect. No slumps or mistakes.
"That (Santa Anita win) was kind of surprising. We got hot after the re-opening and things went our way."
Miller's summer titles at Del Mar prior to 2018 came with 21 victories in 2012 and a co-championship with Jerry Hollendorfer in 2014 when both notched 20 wins. Miller ranks ninth on the track's win list with 305 in 17 seasons.
---
BOB HESS, JR. HAS HOME TRACK FOR BIRTHDAY CELEBRATION
Birthday No. 55 for trainer Bob Hess, Jr., came on the eve of opening day of the summer season at a racetrack that has been the venue for some special moments over the years. Understandably, he was upbeat.
"I'm at beautiful Del Mar with the horses, the sun's out, what could be better?" Hess said this morning in response to a birthday greeting.
While his scope has expanded from a longtime West Coast base, with strings in Kentucky and Florida, Del Mar remains an anchor for the second-generation horseman. His father, Bob Sr., trained at Caliente in Tijuana before the track burned down in 1970 and he moved the operation to Northern California. The 85-year-old is still training there today.
Del Mar was the site of the younger Hess' first win (Parlapiano, July 31, 1987), first training title (1991) and first graded stakes victory (River Special, 1992 Del Mar Futurity). The Chula Vista native has no objection to Del Mar being called his "home" track.
He's one away, according to Equibase statistics, from 1,300 career victories. And it would be appropriate if that win came in the first race of the opening-day card when he sends out Fire When Ready, a 5-year-old gelding lost earlier this year and reclaimed in May. Fire When Ready is the 9-2 second choice on the morning line.
"He's an oldie but goodie," Hess said. "I haven't missed an opening day at Del Mar since 1983. I've said the only thing more exciting than the roar of the crowd and Trevor Denman announcing the start of the first race was the start of the Kentucky Derby.
"It's going to be different this year, for sure."
---
CLOSERS – A reminder: Del Mar's races can be seen live on the TVG Network or TVG app, DirecTV 602, Dish Network 399, AT&T U-Verse 672 (SD) and 1671 (HD) plus Verizon FiOS 315 (SD) and 815 (HD)…Notable work Thursday from clocker Toby Turrell: Merneith worked a bullet five furlongs in :58.80 for trainer Bob Baffert. "The American Pharoah filly, who broke her maiden in the slop at Oaklawn then failed against stakes horses at Santa Anita appears to be finding her feet again at Del Mar," Turrell said.