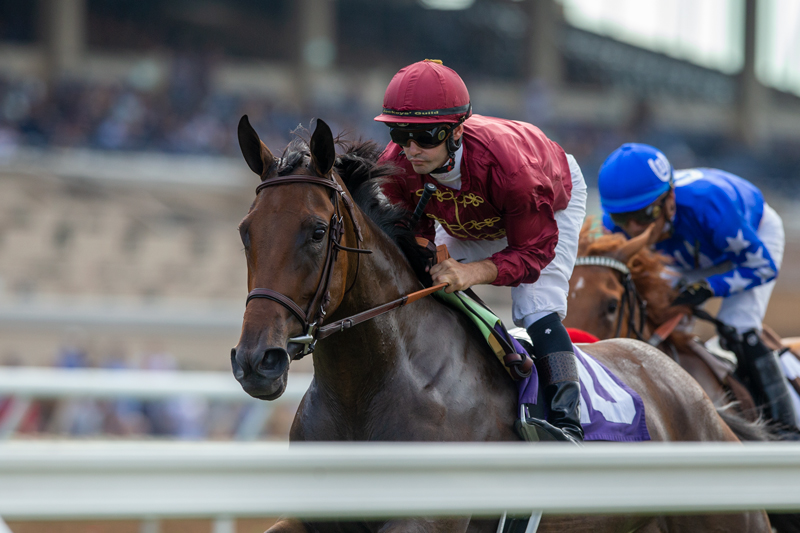 Shedaresthedevil © Benoit Photo
SPECTRE OF SHEDARESTHEDEVIL LOOMS OVER SUNDAY'S HIRSCH
Shedaresthedevil departed Del Mar in September of 2019 after competing in two stakes races for 2-year-old fillies.
The daughter of Daredevil had finished third in the Grade II, $200,000 Sorrento before being switched from dirt to grass for a fourth-place result after setting the pace in the $100,000 Juvenile Fillies Turf on the closing day of the meeting.
Shedaresthedevil stepped off a van in the stable area of the track Wednesday evening following a journey from Kentucky. And trust Eric Gary, the assistant to trainer Brad Cox who arrived a while earlier, the two years had made a big difference.
"She is one big, mature filly," said Gary.
Gary, a Louisiana-born, second-generation trainer has only been working for nationally-prominent Cox for a couple months. But with Cox and his son Blake occupied at Saratoga with Essential Quality in Saturday's $600,000 Jim Dandy, among others, Gary got the call to travel with and saddle Shedaresthedevil for Sunday's Grade I, $300,000 Clement L. Hirsch Stakes at Del Mar.
Shedaresthedevil, whose five graded stakes victories in 2020-21 include the Grade I 2020 Kentucky Oaks and Grade I 2021 La Troienne, both at Churchill Downs, is the 7-5 morning line favorite for the Hirsh, a "Win and You're In" qualifier for the $2 million Breeders' Cup Distaff.
Gary estimated that Shedaresthedevil might "be pushing toward 18" hands in height – nearly 6-feet measured at the withers, or top of the shoulder. He invited a visitor into the stall to stand next to her for verification and it produced no argument.
"She's very easy going around the barn, but very aggressive when it's time for training or racing," Gary said.
Shedaresthedevil won four times and was never out of the money in seven starts in 2020 for earnings of $1,193,070. This year she's 2-for-3 with wins in the Grade II Azeri at Oaklawn Park in March, the La Troienne in April and a third to Letruska, the current No. 1 rated older filly or mare on dirt, in the Grade I Ogden Phipps on June 5 at Belmont Park.
All three races were at 1 1/16 miles, the same distance as the Hirsch. Because of the huge layout of Belmont Park, the Phipps was contested around one turn. Connections for Shedaresthedevil are hoping that a return to two turns creates a return to the winner's circle.
Del Mar will be her fourth track in as many starts this year.
"She travels really well," Gary said. "We've had her out a couple times and she has handled the track really well. I think this race has probably been a part of the plan for her all along. The ultimate goal is the Breeders' Cup here, so that would figure."
Shedaresthedevil did her serious training at Ellis Park in Kentucky and got high praise from Cox's assistant there according to Gary. Race instructions and strategy will be up to Cox and jockey Florent Geroux.
"They're very close, I know they're very happy with the way she has trained and they have a plan they've already talked about," Gary said.
The Clement L. Hirsch field from the rail with jockeys and morning line odds in parenthesis: Warren's Showtime (Juan Hernandez, 8-1); Clockstrikestwelve (Kyle Frey, 30-1); As Time Goes By (Mike Smith, 8-5); Paige Anne (Flavien Prat, 15-1); Cover Version (Abel Cedillo, 30-1); Venetian Harbor (Mario Gutierrez, 2-1) and Shedaresthedevil (Florent Geroux, 7-5).
---
INTEREST RAISES WITH RETURN OF $1 MILLION TVG PACIFIC CLASSIC
Building on the success of the current season, the Del Mar Thoroughbred Club announced on Friday purse increases for two significant, upcoming stakes race.
The Grade I, TVG Pacific Classic, the signature event of the summer season, will offer a $1 million purse for its 31st running on August 21. It marks a return to the level established with the inaugural in 1991 after a COVID-triggered reduction to $500,000 in 2020 and an initially determined $750,000 purse this year.
Additionally, the track's conclusion to its 3-year-old grass series – the Grade II Del Mar Derby on September 4 – has had its purse increased by $50,000, to $250,000, for its 77th running.
"We made people aware before the announcement," Racing Secretary David Jerkens confirmed. "There's significant interest from trainers and owners back east and people are weighing their options all over the country.
"How significant the interest is, I don't really know yet."
Nominations to the race, which cost $300, close on Thursday, August 12. Supplemental nominations, which cost $7,500, close at the time of entries on Tuesday, August 17.
"It (response) has got to be positive," said Del Mar Thoroughbred Club CEO Joe Harper. "There are only so many $1 million races."
The Pacific Classic being a "Win and You're In" qualifier for the $6 million Breeders' Cup Classic over the same course on November 6, figures to be a factor in the decision-making process for some.
---
STEPPING STONES FOR YOUNG, YELLOW RIBBON ON STAKES HORIZON
Four stakes that spotlight promising 2-year-olds, the second leg of the series for 3-year-olds and the 69th running of the Yellow Ribbon for older fillies and mares on turf comprise a six-pack of added-money events for the fourth week of the meeting starting Thursday.
The $100,000 California Thoroughbred Breeders' Association Stakes, at 5 ½ furlongs for California-bred 2-year-old fillies initiates things on Thursday. From a list of 12 nominations, a field of nine was entered Saturday with Jorge Periban-trained At the Spa significantly coming in off a victory in a $100,000 stakes at Santa Anita in June.
The post position draw was to be held later in the day. The field in alphabetical order with jockeys in parenthesis: At the Spa (Tyler Baze); Carmen Miranda (Giovanni Franco); Drizella (Juan Hernandez); Gianna's Wild Cat (Jessica Pyfer); Irish Wahine (Abel Cedillo); It's Simple (Mario Gutierrez); Ko Olina (Edwin Maldonado); Lion's Lair (Tiago Pereira) and Madiha (Umberto Rispoli).
Friday's feature is the Grade II, $200,000 Sorrento Stakes for 2-year-old fillies, often a stepping stone to the Grade I, $300,000 Del Mar Debutante near the end of the meeting. Bob Baffert, a seven-time Sorrento-winning trainer, has three of the 22 nominees.
Saturday card features the $200,000, Grade II Yellow Ribbon and the $200,000 Best Pal. The Yellow Ribbon, at 1 1/16 miles on the Jimmy Durante Turf Course, drew a dozen nominees topped by Simon Callaghan-trained Maxim Rate, winner of the Grade I Gamely at Santa Anita in May.
The Best Pal, often an identifier of potential for the Grade I, $300,000 Runhappy Del Mar Futurity on closing day of the meeting, has 16 nominations, six of whom have been training outside California.
The week concludes Sunday with the $150,000, Grade III La Jolla, second leg of the series for 3-year-olds, and the $100,000 Graduation Stakes for California-bred 2-year-olds.
John Sadler-trained Santa Anita Derby winner Rock Your World is among 15 nominations for the La Jolla, a return to turf racing for the son of Candy Ride after unsuccessful Triple Crown trail runs in the Kentucky Derby and Belmont Stakes.
Fourteen were nominated to the Graduation, among them Luis Mendez-trained Big City Lights, a winner of two starts by a combined 19 ¾ lengths.
---
CLOSERS – Selected works, courtesy of clocker/handicapper Toby Turrell, from 199 officially timed on Saturday morning: Ce Ce (4f, :48.80); Hudson Ridge (5f, 1:00.80); Magic On Tap (5f, :59.80); Maxim Rate (5f, 1:01.20) and The Great One (5f, 1:01.40).
---
Del Mar Statistics
Jockey Standings
(Current Through Sunday, July 30, 2021 Inclusive)
| | | | | | | | |
| --- | --- | --- | --- | --- | --- | --- | --- |
| Jockey | Mts | 1st | 2nd | 3rd | Win% | In-money% | Money Won |
| Flavien Prat | 53 | 16 | 12 | 6 | 30% | 64% | $1,100,878 |
| Abel Cedillo | 58 | 8 | 11 | 6 | 14% | 43% | $436,990 |
| Umberto Rispoli | 46 | 7 | 10 | 3 | 15% | 43% | $532,982 |
| Juan Hernandez | 59 | 6 | 4 | 9 | 10% | 32% | $572,374 |
| Kyle Frey | 25 | 6 | 0 | 3 | 24% | 36% | $339,170 |
| Jessica Pyfer | 35 | 5 | 2 | 1 | 14% | 23% | $178,612 |
| Joe Bravo | 31 | 5 | 1 | 11 | 16% | 55% | $340,072 |
| Kent Desormeaux | 28 | 4 | 6 | 2 | 14% | 43% | $267,040 |
| Trevor McCarthy | 45 | 3 | 4 | 7 | 7% | 31% | $213,220 |
| Ricardo Gonzalez | 25 | 3 | 2 | 2 | 12% | 28% | $122,500 |
Trainer Standings
(Current Through Sunday, July 30, 2021 Inclusive)
| | | | | | | | |
| --- | --- | --- | --- | --- | --- | --- | --- |
| Trainer | Sts | 1st | 2nd | 3rd | Win% | In-money% | Money Won |
| Peter Miller | 40 | 8 | 7 | 4 | 20% | 48% | $492,486 |
| Michael W. McCarthy | 20 | 3 | 6 | 1 | 15% | 50% | $266,560 |
| Richard Baltas | 32 | 3 | 4 | 5 | 9% | 38% | $291,420 |
| Mark Glatt | 17 | 3 | 4 | 2 | 18% | 53% | $208,650 |
| Richard E. Mandella | 13 | 3 | 1 | 3 | 23% | 54% | $333,020 |
| Peter Eurton | 12 | 3 | 0 | 1 | 25% | 33% | $121,120 |
| Victor L. Garcia | 4 | 3 | 0 | 0 | 75% | 75% | $73,540 |
| Doug F. O'Neill | 39 | 2 | 8 | 6 | 5% | 41% | $189,692 |
| Bob Baffert | 15 | 2 | 4 | 3 | 13% | 60% | $170,120 |
| John W. Sadler | 25 | 2 | 3 | 2 | 8% | 28% | $167,652 |
Winning Favorites Report
(Current Through Sunday, July 30, 2021 Inclusive)
Winning favorites -- 22 out of 77 -- 28.57%
Winning favorites on dirt -- 12 out of 45 -- 26.67%
Winning favorites on turf -- 10 out of 32 -- 31.25%
Winning odds-on favorites -- 6 out of 12 -- 50.00%
In-the-Money favorites -- 48 out of 77 -- 62.34%
In-the-Money odds-on favorites -- 10 out of 12 -- 83.33%