Friday, July 31st, 2020 ( 11 months ago )
Stable Notes
July 31, 2020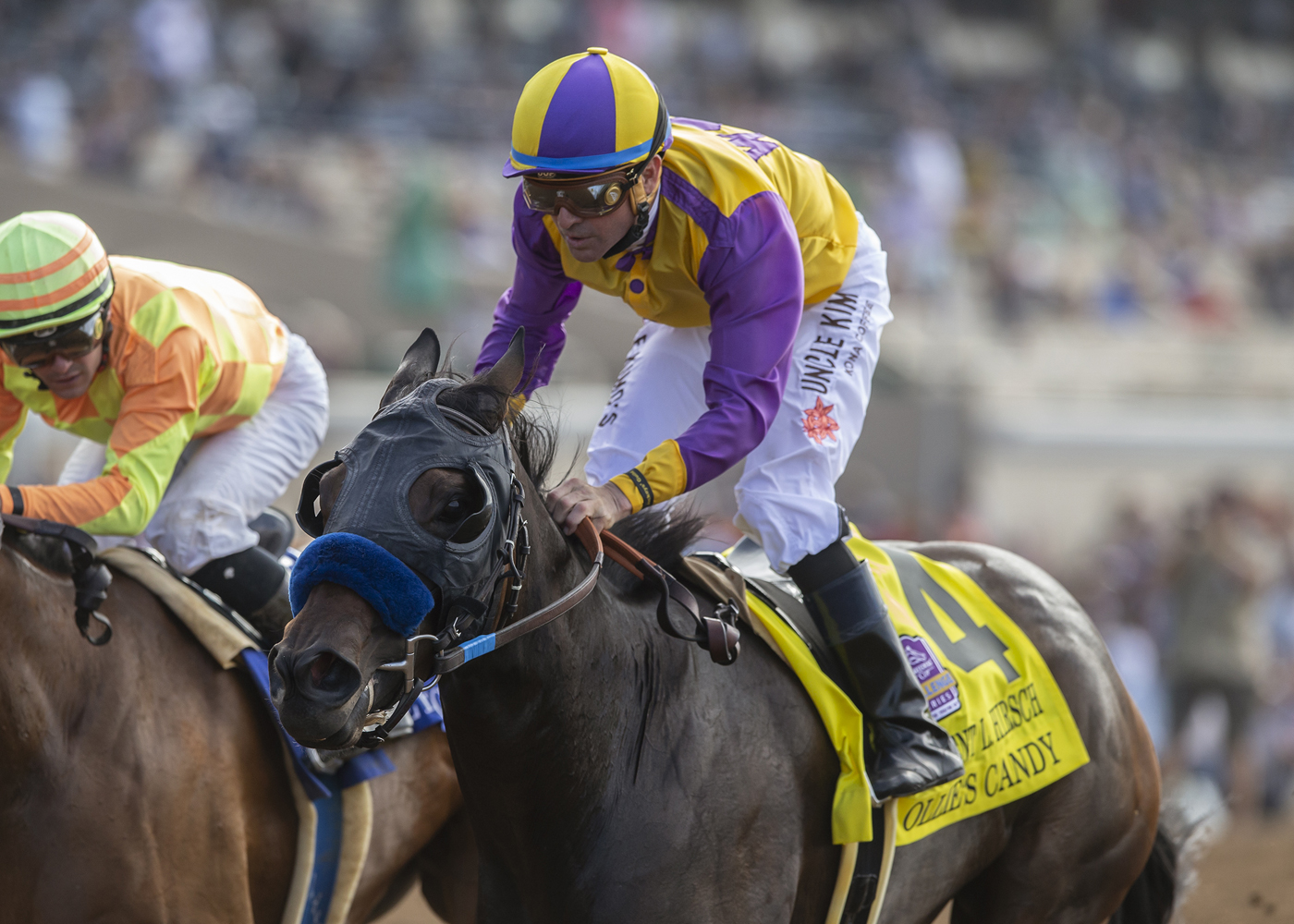 Ollie's Candy Winning the 2019 Clement L. Hirsch © Benoit Photo
OLLIE'S CANDY DEFENDS TITLE IN SALTY CLEMENT HIRSCH SUNDAY
Trainer John Sadler will send out Ollie's Candy in pursuit of a title defense in Sunday's Grade I, $250,000 Clement L. Hirsch Stakes.
Five well-credentialed rivals will attempt to quash the attempt and claim the spot in the $2 million Longines Breeders' Cup Distaff that the Hirsch carries as a "Win and You're In" event for racing's championship days at Keeneland in November.
Front-running Ollie's Candy fought back after being headed turning into the stretch to prevail by a head in last year's edition and went on to finish a creditable fourth in the BC Distaff.
The 5-year-old daughter of Candy Ride has a second and a pair of third-place finishes in three Grade I starts in 2020. Two of the defeats came to Hirsch rival Ce Ce. Trained by Michael McCarthy, Ce Ce prevailed in both the Beholder Mile at Santa Anita and the Apple Blossom at Oaklawn Park.
The field from the rail: Hang a Star (Drayden Van Dyke, 15-1); Ce Ce (Victor Espinoza, 3-1); Hard Not to Love (Mike Smith, 2-1); Dogtag (Umberto Rispoli, 6-1); Ollie's Candy (Flavien Prat, 5-2), and Fighting Mad (Abel Cedillo, 4-1).
The Clement L. Hirsch goes as the 10th on an 11-race program.
---
SEVEN SET TO ROLL IN SUNDAY'S GRADUATION STAKES
Seven California-bred 2-year-olds looking to make a stakes mark early on their resumes were entered Thursday for Sunday's $100,000 Graduation at 5 ½ furlongs on the main track.
Five of the group are coming in off debut victories with the most impressive being an 11-length romp by Edward Freeman-trained Jazz Hands, a son of Square Eddie bred and owned by J. Paul Reddam, at Los Alamitos on June 28.
The field from the rail: Good With People (Abel Cedillo, 3-1); Jazz Hands (Mario Gutierrez, 5-1); Touchdown Brown (Evin Roman, 2-1); None Above the Law (Aaron Gryder, 15-1); Positivity (Drayden Van Dyke, 4-1); Scooby (Flavien Prat, 5-1), and Rantanen (Umberto Rispoli, 12-1).
---
CALLS BY HALL OF FAME TRAINERS FIGURE TO ALTER STAKES LANDSCAPE
Decisions by Hall of Fame trainers Bob Baffert and Richard Mandella during the week are expected to change the look of major stakes this weekend and in the upcoming month of August.
Baffert, who entered a trio of 3-year-olds in Saturday's $100,000 Shared Belief Stakes, has indicated he will scratch the most highly regarded of them, Uncle Chuck, and ship the undefeated (2-for-2) son of Uncle Mo to Saratoga for the $1 million Travers Stakes on August 8.
In addition, Baffert said he will scratch McKinzie, a surprise entry in Saturday's Grade I, $250,000 Bing Crosby Stakes, and reserve the career earner of more than $3.4 million for a possible next start in either the Grade II, 7-furlong, $150,000 Pat O'Brien Stakes here on August 29 or the Grade I, 1 1/8-mile, $600,000 Woodward Handicap at Saratoga a week later.
Mandella, who said on Sunday he was strongly considering taking Eddie Read Stakes winner United off the turf for the meeting's signature race, the TVG Pacific Classic on August 22, changed his mind.
"I didn't realize that the Pacific Classic (purse) had been cut back from $1 million to $500,000," Mandella said. "I realize that $500,000 is still a lot of money, but I think it's best to keep him on the path we'd planned to get him back to the ($4 million) Breeders' Cup Turf.
"He'll go in the Del Mar Handicap (Grade II, $200,000, 1 3/8-miles turf, August 22)."
United was second in the 2019 Breeders' Cup Turf at Santa Anita, edged out at the wire by eventual Horse of the Year Bricks and Mortar.
The field from the rail, as entered, for the Shared Belief, which goes as the second on an 11-race card: Uncle Chuck (Drayden Van Dyke, 9-5); Thousand Words (Abel Cedillo, 8-1); Anneau d'Or (Victor Espinoza, 8-1); Kiss Today Goodbye (Umberto Rispoli, 15-1), Honor A.P. (Mike Smith, 8-5), and Cezanne (Flavien Prat, 7-2).
The field from the rail, as entered, for the Bing Crosby, a "Win and You're In" qualifier for the $2 million Breeders' Cup Sprint: Lexitonian (Drayden Van Dyke, 6-1); Anyportinastorm (Juan Hernandez, 6-1); Desert Law (Victor Espinoza, 5-1); McKinzie (Mike Smith, 2-1); P R Radio Star (Mario Gutierrez, 8-1); Fashionably Fast (Tiago Pereira, 7-2); Law Abidin Citizen (Abel Cedillo, 8-1); Wildman Jack (Umberto Rispoli, 6-1); Collusion Illusion (Flavien Prat, 9-2), and Heartwood (Edwin Maldonado, 20-1).
The Bing Crosby is the 10th race on the program.
---
RISPOLI RESPONDS TO PRAT CHALLENGE, TOPS LEADERBOARD
When defending riding champion Flavien Prat won the first race on the program last Monday aboard Harvest Moon ($5.00) for trainer Simon Callaghan, he broke a tie with Umberto Rispoli and Abel Cedillo and took the lead in the 2020 standings.
It didn't last too long.
Rispoli, solo or tied for first after every day of his first Del Mar meeting, answered with a second race victory on Quick ($8.40) for John Sadler and tacked on three more wins to one for Prat on the 10-race card. As a result the 31-year-old Italian takes a 13-11 lead over the 27-year-old Frenchman as racing resumes for a third weekend today.
Rispoli's other wins Monday came on Approved for Flyby ($10.40) for Eddie Truman, Hootie ($7.80) for Mike McCarthy and Empress of Fire ($26.60) for Peter Eurton. Prat scored with Li'l Grazen ($6.40) for Peter Miller.
Miller doubled his win total over the July 24-27 extended schedule and has double the number of his closest pursuers for training honors. Miller has 8 victories from 30 starters. Richard Baltas (4-for-23) and McCarthy (4-for14) are next.
---
OWNERS RELISH OPPORTUNITY TO WATCH RACING ON SITE AGAIN
Starting today, owners of horses racing at Del Mar will be able to attend in person as the result of arrangements with health authorities, the Thoroughbred Owners of California announced Tuesday.
Two licensed owners per entry will be allowed to attend. No guests are allowed. Owners must make reservations with Mary Forney, Executive Director of the TOC. Previously, owners had been allowed on site to view morning workouts, but not afternoon racing.
"We appreciate that owners have been practicing social distancing, wearing masks, and creating a safe environment for all horsemen in the morning," TOC Chairman Nick Alexander said in a press release. "Because that has been successful, we are now able to watch our horses in the afternoon. We recognize owners have been attending races in Northern California, Kentucky and New York, and for some it has been frustrating having limited access to watch our Thoroughbreds race in Southern California."
Samantha Siegel, carrying on a family tradition as head of Jay Em Ess Stables, watched workouts Thursday morning and said she was eagerly anticipating the chance to be present when Go Daddy Go is sent out in today's sixth race and Sweet Sunny competes in the sixth on Saturday.
"It feels like a year since I've seen my horses run in person," Siegel said. "I'm very happy. You get the sense that it's a quasi-return to normalcy even though nothing is really normal this year."
Owners will be limited to the clubhouse area and are still not permitted in the paddock or winner's circle.
---
CHRISTINA BLACKER IS SATURDAY CELEBRITY RIVAL FOR PAULICK
Christina Blacker, TVG racing analyst and wife of trainer Dan Blacker, will be the challenger for Paulick Report founder Ray Paulick in Saturday's special celebrity edition of the "Beach Boss" handicapping contest. The show starts at 11 a.m. and is available on Facebook, Twitter and YouTube. For further information the access link is: https://www.dmtc.com/contest.
The Beach Boss contest is free to everyone and works like this: Sign up to undertake the task of betting mythical money on one designated race each day. Participants get $100 of the imaginary cash for win, place or show wagering. The grand prize at the conclusion of the meeting is two VIP Breeders' Cup tickets when the annual championship event returns to Del Mar in 2021.
---
CLOSERS – Trainer Carla Gaines announced on Twitter the retirement of Grade I winner Bolo, whose last race was in the Wickerr Stakes here on July 11, the second day of the meeting. "He is happy, healthy and sound," Gaines wrote, "he just doesn't seem interested in racing anymore." Bolo, an 8-year-old, was 33-1 upset winner of the Grade I Shoemaker Mile in 2019. He compiled a career record of 22 – 6 -1 -4 and earnings of $978,072 as a fixture on the Southern California circuit since 2014. Second career plans are being considered but have not been finalized… Baseball followers might have noted a young Mets' lefty named David Peterson beating the Red Sox in Fenway Park on Tuesday in his career debut. He's the son of the late California trainer Doug Peterson, who for a short time trained the mighty Seattle Slew … Works to note this morning, courtesy of handicapper Toby Turrell: Stakes winners Donna Veloce (4f, :49.00) and Tribalist (5f, 1:01.20); Flash Magic, a royally-bed 2-year-old sister to Good Magic, winner of the Breeders' Cup Juvenile here in 2017 and runner-up to Justify in the 2018 Kentucky Derby, went 5 furlongs in 1:00.20; Princess Noor, an unraced 2-year-old who was a $1.3 million auction purchase, worked six furlongs in 1:12.20, also for Baffert.
---
Del Mar Statistics
Presented by Torrey Hollistics
Jockey Standings
(Current Through July 27, 2020 Inclusive)
| | | | | | | | |
| --- | --- | --- | --- | --- | --- | --- | --- |
| Jockey | Mts | 1st | 2nd | 3rd | Win% | In-money% | Money Won |
| Umberto Rispoli | 46 | 13 | 6 | 5 | 28% | 52% | $503,478 |
| Flavien Prat | 41 | 11 | 9 | 4 | 27% | 59% | $613,760 |
| Abel Cedillo | 64 | 9 | 6 | 16 | 14% | 48% | $530,233 |
| Juan Hernandez | 54 | 6 | 10 | 8 | 11% | 44% | $374,924 |
| Tiago Pereira | 40 | 5 | 1 | 2 | 13% | 20% | $169,654 |
| Ricardo Gonzalez | 19 | 4 | 3 | 3 | 21% | 53% | $162,480 |
| Drayden Van Dyke | 42 | 3 | 8 | 3 | 7% | 33% | $225,730 |
| Heriberto Figueroa | 21 | 3 | 3 | 1 | 14% | 33% | $134,790 |
| Kent Desormeaux | 14 | 3 | 2 | 1 | 21% | 43% | $77,860 |
| Edwin Maldonado | 25 | 2 | 3 | 1 | 8% | 24% | $66,540 |
Trainer Standings
(Current Through July 27, 2020 Inclusive)
| | | | | | | | |
| --- | --- | --- | --- | --- | --- | --- | --- |
| Trainer | Sts | 1st | 2nd | 3rd | Win% | In-money% | Money Won |
| Peter Miller | 30 | 8 | 4 | 3 | 27% | 50% | $362,800 |
| Richard Baltas | 23 | 4 | 4 | 3 | 17% | 48% | $238,430 |
| Michael W. McCarthy | 14 | 4 | 2 | 2 | 29% | 57% | $120,860 |
| Doug F. O'Neill | 34 | 3 | 6 | 4 | 9% | 38% | $166,995 |
| Mark Glatt | 20 | 3 | 2 | 8 | 15% | 65% | $201,458 |
| Peter Eurton | 10 | 3 | 2 | 1 | 30% | 60% | $98,620 |
| J. Eric Kruljac | 9 | 3 | 0 | 1 | 33% | 44% | $101,980 |
| Philip D'Amato | 23 | 2 | 4 | 4 | 9% | 43% | $141,400 |
| Bob Baffert | 11 | 2 | 4 | 1 | 18% | 64% | $181,470 |
| John W. Sadler | 13 | 2 | 1 | 2 | 15% | 38% | $138,230 |
Winning Favorites Report
(Current Through Sunday, July 27, 2020 Inclusive)

Winning favorites -- 22 out of 73 -- 30.14%
Winning favorites on dirt -- 11 out of 39 -- 28.21%
Winning favorites on turf -- 11 out of 34 -- 32.35%
Winning odds-on favorites -- 3 out of 6 -- 50.00%
In-the-Money favorites -- 47 out of 73 -- 64.38%
In-the-Money odds-on favorites -- 6 out of 6 -- 100.00%