Sunday, July 30th, 2017 ( 1 year ago )
Stable Notes
July 30, 2017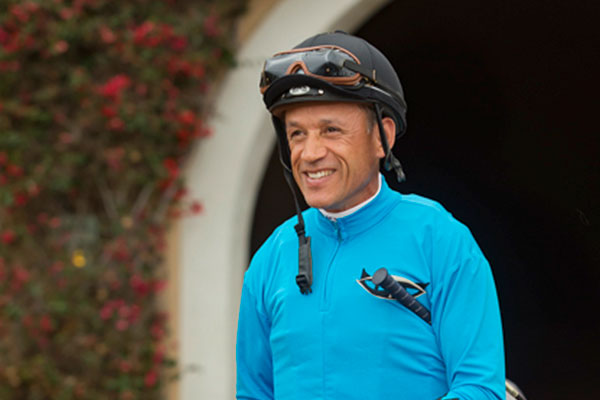 Flores, David © Benoit Photo
CROSBY PRINCIPALS SHOW CLASS AND STUDIOUSLY MOVE ON
Thirty yards out of the gate, Saturday's $300,000 Grade I Bing Crosby Stakes went from high expectations to high anxiety.
When 2016 Eclipse Award sprinter Drefong suddenly shot to the left at the gap where the chute meets the main track, sending Hall of Fame jockey Mike Smith flying, the race was changed and so were the thoughts of fans and the connections of the horses speeding down the backstretch.
"There's a million reasons to get beat and that was one of them," Bob Baffert, trainer of Drefong, said Sunday morning. "He (Drefong) could just as easily have hit the rail and broken his shoulder. But everybody came out of it fine, and that's all you can hope for."
Drefong put himself back into the race and completed it without a rider. The 4-year-old colt's position among the front-runners caused concern among the other riders and it affected the outcome when Drefong forced eventual runner-up Roy H. six paths wide turning into the stretch and created an inside route that Ransom the Moon and Flavien Prat took to victory.
Drefong came out of the race unharmed. Smith was checked at the track first aid station after the race and released, saying he was fine with no reports to the contrary coming from Baffert or Smith's agent Brad Pegram on Sunday.
"I would have liked to have seen (Drefong) relax and rate himself behind horses," Baffert said. "But he's pretty light on his feet and he recovered and bulled his way through on the rail. He's a competitor and he was still trying to win."
Phil D'Amato, trainer of Ransom the Moon, was there with Baffert, observing Sunday morning workouts. D'Amato had celebrated exuberantly, just outside the winner's circle, with his crew and owners Mark Martinez of San Antonio, Texas and Jeffrey Wilke of Omaha, Nebraska, when Ransom the Moon crossed under the wire.
But in his post-race comments he was careful to praise Prat's skill in assessing the situation on the fly, follow behind Drefong, and be in the right spot to move inside when others were being carried out. "Hat's off to Peter Miller's horse (Roy H) who ran a really good race."
Ransom the Moon came out of the race "in good order," D'Amato said. Miller, contacted by phone at the San Luis Rey Downs training center in Bonsall, said Roy H "got clipped" in a close encounter with Drefong but the injury didn't appear to be serious.
"I felt like we were much the best, we just got unlucky," Miller said. "With a smooth trip, he wins by two lengths. But that's racing."
Miller will wait to make a decision on the next start for Roy H. D'Amato indicated that Ransom the Moon would have a race in the fall at Santa Anita and then return here for the $1.5 million TwinSpires Breeders' Cup Sprint on November 4.
The Bing Crosby was a "Win and You're In" challenge series qualifier for the Breeders' Cup Sprint.
Baffert said the Grade I, seven-furlong Forego Handicap on August 26 at Saratoga was a possibility for Drefong. The Grade II $200,000 Pat O'Brien Stakes, also at seven furlongs, is here the same day. The Pat O'Brien is a "Win and You're In" qualifier for the $1 million Las Vegas Breeders' Cup Dirt Mile here on November 3.
The major stakes races of the first two Saturdays of the meeting have been upsetting, in more than one sense of the word, for Baffert. In the TVG San Diego Handicap on July 22, world leader Arrogate finished fourth and Saturday brought the Crosby misfortune.
But exasperation doesn't seem to be an option for the 64-year-old Hall of Famer.
"I don't have any control of those things," Baffert said. "As long as everybody is OK you just shake it off, laugh it off and go on to the next one."
---
FLORES TAKES FOND MEMORIES OF DEL MAR INTO RETIREMENT
When David Flores hops aboard Red Livy for Phil D'Amato in today's second race it will be for the final ride of a 33-year-career. Flores said he doesn't know how he's going to feel, but he knows he'll be feeling a lot.
"I try not to think about it. But it is emotional," Flores said Friday afternoon. "There's so many good memories for me here. From both the old (facility) and the new."
Flores, 49, has announced that after his ride today he'll be retiring to Ocala, Fla., to work with young horses at a training center there.
David Ramon Flores was born in Tijuana. His father, also David, was a jockey at the Caliente racetrack there and, for many years, an exercise rider in Southern California. Young David followed the path to Caliente where he was a regular for five years, setting an apprentice record of 61 wins there in 1984. But Southern California beckoned.
"I remember getting my passport to come here as an apprentice and it was a dream come true," Flores said. "I remember watching races here from Caliente. Watching (Bill) Shoemaker, Laffit (Pincay), (Eddie) Delahoussaye, (Chris) McCarron and all the great riders that were here at the time. My dream was to ride a race at Del Mar."
It was realized via some Caliente connections.
"Juan Garcia was the leading trainer at Tijuana for a long time and he was the one who suggested I go to his son, Victor Garcia, to help me out," Flores said. "Alex Procel was my agent. They put me on a horse and I finished second and was very thrilled.
"That was in 1989. I had no idea I would be able to stay and ride with all those Hall of Fame riders for so many years."
Flores rode in California for 25 years, went to Singapore for two, took a break to work in Ocala, came back to ride in Kentucky and Louisiana then returned home for the spring-summer meeting at Santa Anita and a farewell shot at Del Mar.
Equibase statistics show Flores with 3,608 career wins from 25,577 mounts and purse earnings of $153,950,747.
Forty-nine of more than 100 career stakes wins for Flores were accomplished here. He won nine stakes, among them all four Grade I events, and the riding title in 1999, capping it off with a victory in the Del Mar Futurity aboard Forest Camp for trainer Bob Baffert.
" I rode a lot of good horses that year," Flores said. "I rode for Bob Baffert for at least 10 years and he put me on a lot of his best that year. He was starting to make the transition from quarter horses when I first came over from Caliente. Bob and (major owner) Mike Pegram were both big helps to my career."
Flores' first Del Mar stakes victory came for future Hall of Fame trainer Robert Frankel in the 1990 Cabrillo Handicap.
"I remember beating Laffit in that race, wire to wire with Laffit at my side the whole way," Flores said. "That was one race that proved I could ride with those guys."
When he returned from Singapore, Flores took a break from race riding and moved to Ocala, Fla., to learn about other aspects of the game, especially working with young horses that arrive at the training center from the breeding farms.
"In Ocala, there's no tracks. It's just horses, and I feel I'll be comfortable there. It's hard for me to watch races and not be in them," Flores said.
"I love the babies. It's so much fun to see them transition and really become runners. You can see, by the way they move when they gallop around, the good horse from the average horse. I like that. And there's a good chance I can get on those horses to get the feeling of that power and ability of a good horse, I don't have to be in the winner's circle."
The decision to retire he expects to be irreversible.
"I remember seeing guys about to turn 50 or in their 50s who were about to retire and they looked old to me," Flores said. "I don't feel old. But it's time for me to move on."
---
SAME BIRTHDAY PRESENT AS LAST YEAR FOR SADLER? HE'D TAKE IT
On Saturday, July 30, 2016, John Sadler sent out Stellar Wind for a victory, at 9-2 odds, over 1-10 favorite Beholder. "You usually don't get what you want on your birthday, but this year I did," Sadler, who turned 60 that day.
A year later. Sadler's a year older. And on his birthday, Sadler will send out Stellar Wind, the 6-5 morning line favorite, against 7-5 Vale Dori and three other rivals in the Grade I $300,000 Clement L. Hirsch Stakes, the featured eighth on a nine-race program.
The Clement L. Hirsch is a "Win and You're In" qualifier for the $2 million Longines Distaff here on November 3.
---
NINE ENTERED FOR WEDNESDAY'S CTBA STAKES
A trio breaking from the outside posts in a field of nine figure to be the focus of Wednesday's $100,000 California Thoroughbred Breeders' Association Stakes for 2-year-old state-bred fillies at 5 ½ furlongs.
Starting in stall No. 7 is Meet My Kitty, a daughter of Coil trained by Brian Koriner who was an 8 ¼-length winner in her racing debut on July 8 at Los Alamitos. Breaking from the No. 8 spot is Kimberlea K, a daughter of Indian Evening trained by Jerry Hollendorfer who is 2-for-2 by a combined seven lengths with the latest coming in the $100,000 Everett Nevin at Oak Tree at Pleasanton. The outside post was drawn by Family Girl, a daughter of Tribal Rule trained by Peter Miller who broke her maiden by 7 ½ lengths at Los Alamitos on July 9.
The field from the rail: Mama's Kid (Juan Ochoa), Empress of Law (Tyler Baze), Gorgeous Ginny (Jamie Theriot), Estherfourfourteen (Mario Gutierrez), Show It N Moe It (Evin Roman), Spiced Perfection (Joe Talamo), Meet My Kitty (Vinnie Bednar), Kimberlea K (Flavien Prat) and Family Girl (Rafael Bejarano).
---
CLOSERS – Selected works from 187 officially timed on dirt and 20 on the grass Sunday morning. Dirt – Champagne Room (3f, :35.60), Big Score (4f, :49.80), Cistron (4f, :48.80), Mor Spirit (4f, :48.80), Gormley (5f, 1:02.40), Bal a Bali (6f, 1:12.00); Grass – Bowies Hero (4f, :49.60), A Red Tie Day (5f, 1:02.60) … Belated Happy Birthday to trainer Tim Yakteen, 53 on Saturday. Happy Birthday No. 55 to former Del Mar press elevator operator Jay Posner, who has ascended to the heights as sports editor at the San Diego Union-Tribune … The victory aboard Ransom the Moon in the Bing Crosby constituted a "Three-Peat" for jockey Flavien Prat, who won aboard Lord Nelson in 2016 and Wild Dude in 2015.
---
DEL MAR STATISTICS
Jockey Standings
(Current Through Saturday, July 29, 2017 Inclusive)
| | | | | | | | |
| --- | --- | --- | --- | --- | --- | --- | --- |
| Jockey | Mts | 1st | 2nd | 3rd | Win% | In-money% | Money Won |
| Evin Roman | 61 | 11 | 12 | 6 | 18% | 48% | $419,702 |
| Flavien Prat | 53 | 10 | 8 | 8 | 19% | 49% | $818,231 |
| Rafael Bejarano | 45 | 9 | 6 | 5 | 20% | 44% | $404,440 |
| Tyler Baze | 52 | 6 | 9 | 5 | 12% | 38% | $343,965 |
| Kent Desormeaux | 30 | 5 | 6 | 4 | 17% | 50% | $297,030 |
| Santiago Gonzalez | 23 | 5 | 2 | 4 | 22% | 48% | $197,073 |
| Joseph Talamo | 33 | 4 | 4 | 4 | 12% | 36% | $195,220 |
| Corey Nakatani | 15 | 3 | 4 | 0 | 20% | 47% | $204,300 |
| Gary Stevens | 18 | 3 | 3 | 3 | 17% | 50% | $226,383 |
| Mario Gutierrez | 24 | 3 | 3 | 2 | 13% | 33% | $213,040 |
Trainer Standings
(Current Through Saturday, July 29, 2017 Inclusive)
| | | | | | | | |
| --- | --- | --- | --- | --- | --- | --- | --- |
| Trainer | Sts | 1st | 2nd | 3rd | Win% | In-money% | Money Won |
| Doug F. O'Neill | 31 | 6 | 4 | 3 | 19% | 42% | $352,370 |
| Richard Baltas | 28 | 5 | 7 | 2 | 18% | 50% | $415,358 |
| Philip D'Amato | 30 | 5 | 6 | 2 | 17% | 43% | $559,622 |
| Peter Miller | 42 | 4 | 6 | 6 | 10% | 38% | $287,370 |
| Peter Eurton | 15 | 4 | 4 | 0 | 27% | 53% | $214,645 |
| Vladimir Cerin | 10 | 4 | 0 | 0 | 40% | 40% | $78,325 |
| William E. Morey | 8 | 3 | 2 | 1 | 38% | 75% | $63,970 |
| Jerry Hollendorfer | 29 | 2 | 5 | 6 | 7% | 45% | $177,364 |
| J. Keith Desormeaux | 15 | 2 | 4 | 3 | 13% | 60% | $140,125 |
| Mark Glatt | 14 | 2 | 3 | 2 | 14% | 50% | $110,352 |
Winning Favorites Report
(Current Through Saturday, July 29, 2017 Inclusive)
Winning favorites -- 19 out of 79 -- 24.05%
Winning favorites on dirt -- 12 out of 49 -- 24.49%
Winning favorites on turf -- 7 out of 30 -- 23.33%
Winning odds-on favorites -- 1 out of 10 -- 10.00%
In-the-Money favorites -- 54 out of 79 -- 68.35%
In-the-Money odds-on favorites -- 9 out of 10 -- 90.00%