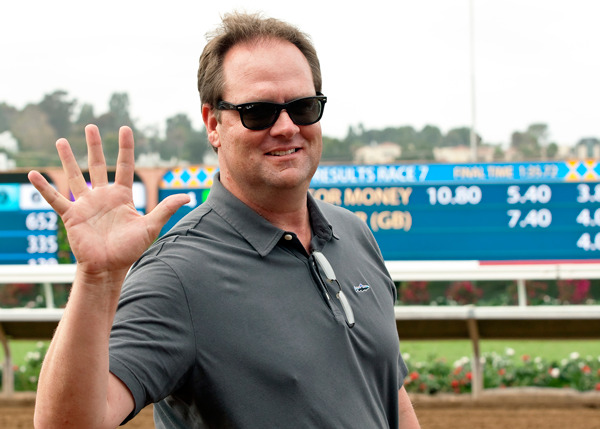 By Hank Wesch
---
'CINCO DE O'NEILL' DAY BRINGS TRAINING RECORD AND CELEBRATION
The celebration dinner following Doug O'Neill's single-day training record five victories was held at the Pamplemousse Grill, just across Via de la Valle from the racetrack.
O'Neill led an entourage that included several Team O'Neill stable personnel and owner J. Paul Reddam, who owned two of the five winners, and his wife. Pamplemousse owner and horse owner Jeffrey Strauss stopped by to offer congratulations.
"Nothing crazy, just a nice dinner at a very nice place to end a beautiful day," O'Neill said Thursday morning between accepting ongoing congratulations and conducting the business of preparing for another day of racing.
Wednesday morning, O'Neill was overseeing the stable's Los Alamitos base while assistant Leandro Mora supervised activity at Del Mar. O'Neill made it down I-405 and I -5 in time for the first race, which provided the start to an unprecedented day for a trainer at Del Mar.
O'Neill saddled Hye I'm Jack to win the first race and wins followed in order from Jimmy Bouncer in the third, Tumbleweed Princess in the fourth, Land Over Sea in the fifth and Lookin for Money in the seventh.
Five wins (and a runner-up in the seventh) in as many tries on an eight-race card.
The 47-year-old native of Dearborn, Michigan eclipsed the mark of four wins on a single program first established by the legendary Red McDaniel on September 4, l954 and equaled by him two days later September 6. Matching the standard in subsequent years were Farrell W. Jones, who won eleven training titles at Del Mar and accomplished the feat August 13, l963, followed by two Hall of Famers, Ron McAnally (August 20, l989) and Jack Van Berg (August 3, l995. Most recently, John Sadler had a quadruple August 29, 2009.
"Like everybody else you enter thinking you're going to win every race. Looking at it, they all looked pretty live. I thought the one in the first (Hye I'm Jack) was the one where we were less confident than the others. After that horse won, you think 'Wow, this could be a two or three-win day.' You never think you're going to win five.
"We got great rides and the horses ran their butts off so you've got to thank the horses and the jockeys."
The five wins were produced by four different jockeys: Tyler Baze (Hye I'm Jack, $28.80, 1st), Mario Gutierrez (Jimmy Bouncer, $8.60, 2nd and Land Over Sea, $3.40, 5th), Alonso Quinonez (Tumbleweedprincess, $8.00, 4th) and Flavien Prat (Lookin for Money, $10.80, 7th).
"I would attribute that to the jockey colony here being so deep," O'Neill said. "You can go 10 deep with how talented our riders are here. If the horses are doing well and they're in live spots I think that any one of 10 guys around here can get it done. I really do."
O'Neill and company all raised their hands palm-side to the cameras in the winning circle following the seventh race to signify the five-win accomplishment. Then O'Neill addressed the subject.
"It's hard to win a single race down here. But to do something like this, what can you say. Just very special.," he said. "I've got to thank all the people around me. Leandro, my help, my riders, my owners, my family, everyone. I'd be here half the night if I thanked all the people that should be thanked for the things I'm able to do.
"You hope for something like this, but you really can't expect it. But it all fell into place today. Great rides, perfect trips for the horses, right spots….you just couldn't ask for more. I'm lucky, really lucky. And I'm so very happy."
---
BEHOLDER-WARREN'S VENEDA PART II IN SATURDAY'S HIRSCH
Beholder and Warren's Veneda finished 1-2 in the Grade III Adoration Stakes at Santa Anita on June 13 at Santa Anita. The impost for Beholder, ridden by Gary Stevens, was 121 pounds, for Warren's Veneda, ridden by Tyler Baze, 124.
"She (Beholder) is a two-time Eclipse Award winner. I've got this little Cal-bred, and I have to give her weight," Craig Lewis, trainer of Warren's Veneda said – somewhat incredulous but not complaining – upon arrival here early this month.
Saturday, Beholder and Warren's Veneda will be matched again, in a field of nine for the $300,000 Grade I Clement L. Hirsch Stakes, a 1 1/16 mile race (same as the Adoration) that has been won in the past by champions like Azeri (2002-03) and Zenyatta (2008-2010).
Accordance to allowance conditions, Beholder is assigned 121 pounds. Warren's Veneda is co-highweight with My Sweet Addiction at 123.
"I have a very difficult time comprehending it," Lewis said. "But the reason we're getting penalized is we won a Grade I (Santa Margarita at Santa Anita on March 14) earlier this year. Beholder has won multiple Grade Is (five) but none this year.
"If it was a handicap I'm sure we'd be getting weight from her. But that's the way it is and we've got to play the game as is."
Warren's Veneda, a 5-year-old daughter of Affirmative, has eight wins from 25 career starts and earnings of $895,612 for owner/breeder Benjamin C. Warren. She rates as the most successful, by far, of hundreds of horses Warren has raced in decades in the racing business.
She's been in Lewis' care since the beginning.
"She always showed promise and she's continued to get better and better and is really thriving this year," Lewis said. More than half of her career earnings ($488,600) have come from three wins in six starts, all but one in graded stakes, starting in January.
Proud as he is of Warren's Veneda, he's realistic about the Hirsch.
"She's going to have to bring her 'A' game and Beholder is going to have to stub her toe, because Beholder is the best mare in the country.
"Chasing Beholder is like when we had Clubhouse Ride and we had to chase Game On Dude all over the country. We made a lot of money doing it. As demanding as it is, it's still good to have nice horses to do it."
The Clement L. Hirsch field from the rail out: Beholder (Gary Stevens, 6-5), Honey Ride (Victor Espinoza, 10-1), My Sweet Addiction (Santiago Gonzalez, 10-1), Warren's Veneda (Tyler Baze, 3-1), Legacy (Edwin Maldonado, 20-1)), My Monet (Gonzalo Nicolas, 15-1), Yahilwa (James Graham, 12-1), Thegirlinthatsong (Martin Garcia, 5-1), Gusto Dolce (Flavien Prat, 20-1).
---
MY PALMILLA FAVORED IN FRIDAY'S CTBA STAKES
Mark Glatt-trained My Palmilla, winner of a maiden special in her racing debut on opening day of the meeting, is the 7-2 favorite in a field of 11 for Friday's featured CTBA Stakes. The 62nd running of the 5 ½-furlong sprint for 2-year-old California-bred fillies will go as the seventh on an eight-race program that starts at 4 p.m.
Approximate post time for the CTBA is 7 p.m.
The field, from the rail out is: Ibelievewewillwin (Edwin Maldonado, 6-1), Aiming Straight (Tyler Baze, 12-1), She's a Classic (Mario Gutierrez, 20-1), Baby Bea Scattin (Drayden Van Dyke, 6-1), My Palmilla (Joe Talamo, 7-2), Reckless Charm (Mike Smith, 9-2), Obey (Tiago Pereira, 5-1), Just Google Me (Rafael Bejarano, 6-1), Marquee Cat (Alex Solis, 20-1), Later My Love (Fernando Perez, 15-1), Sambamzajammin (Keith Desormeaux, 12-1).
---
SMITH, MCCARTHY GUEST ON WEEKEND SEMINARS
Del Mar Senior Media Coordinator Dan Smith and trainer Sean McCarthy will be the guests for Del Mar's handicapping seminars this weekend.
Smith was the subject of a feature story in a recent issue of Blood-Horse Magazine entitled "50 Years of Del Mar Memories." He'll provide a few of those, plus insights into the Saturday program.
On Sunday, Millie Ball will host and McCarthy, who won the 2014 Santa Anita Handicap with Majestic Harbor, will provide selections on the day's card.
The seminars are from 12:45-1:30 both days at the Seaside Terrace near the top of the stretch.
---
DEL MAR RIDERS TO TAKE PLUNGE FOR DISABLED JOCKEYS' FUND
Del Mar's stellar riding colony will provide the targets for a dunk tank at Plaza Del Mar Saturday from 12:30-2:30 as a fund raiser for the Permanently Disabled Jockeys' Fund and part of "PDJF Day Across America."
Fans will get three throws to dunk the rider in the tank, and a colorful, limited edition PDJF Day magazine published by Blood-Horse for $10. The magazine features a fold-out page perfect for jockey autograph signings.
Del Mar is one of nearly 30 tracks which have committed to participating in PDJF Day activities. Saratoga Race Course will reprise last year's successful jockey foot race in which fans can take a "betting" interest ("bets" are donations to PDJF); Gulfstream Park, like Del Mar, will have a jockey dunk tank. A 5k run will be held through the grounds of Arlington Park on Sun., Aug. 2 with all proceeds benefitting the PDJF. Jockeys at Prairie Meadows Racetrack & Casino, in Altoona, IA, will be wrestling in sumo suits. And Arapahoe Park, Aurora, CO, will hold jockey bouncy ball races and an inflatable horse race.
---
CLOSERS – Jockey Edwin Maldonado, with 994 career wins to start the day, has three mounts on Thursday's program … Happy Birthday No. 59 to trainer John Sadler, who has nearly that many stakes winners (50) at Del Mar from 1988-2014 … Ship And Win eligible horses on Thursday's card are: Bartiromo (3rd, Bob Hess, Jr., trainer), Dana's Best (7th, Phil D'Amato), Draw Two (7th, Kristin Mulhall), Lewis Vale (7th, Mike Stidham), Point Piper (7th, Jerry Hollendorfer) … Selected workouts from 135 on the main track and 22 on the turf course officially timed Thursday: Dirt – Savannah Sky (4f, :48.60), Baruta (:37.60); Turf – Queen of The Sand (6f, 1:14.20), Talco (5f, 1:00.60), Forest Blue (5f, 1:03.00), Istanford (4f, :48.60), Her Emmynency (4f, :50.60).
---
DEL MAR STATISTICS
Jockey Standings
(Current Through Wednesday, July 29, 2015 Inclusive)
Jockey
Mts
1st
2nd
3rd
Win%
Money Won
Flavien Prat
57
10
5
10
18%
$785,440
Joseph Talamo
53
10
3
3
19%
$543,800
Rafael Bejarano
49
8
7
6
16%
$517,652
Mario Gutierrez
29
8
4
1
28%
$366,536
Santiago Gonzalez
36
8
2
4
22%
$428,554
Tyler Baze
59
7
11
9
12%
$514,608
Mike Smith
29
5
6
4
17%
$588,030
Kent Desormeaux
34
4
4
7
12%
$234,810
Drayden Van Dyke
28
4
1
5
14%
$191,594
Fernando Perez
36
3
8
4
8%
$173,906
Trainer Standings
(Current Through Wednesday, July 29, 2015 Inclusive)
Trainer
Sts
1st
2nd
3rd
Win%
Money Won
Doug F. O'Neill
32
8
7
3
25%
$393,890
Peter Miller
44
6
5
5
14%
$400,276
Jerry Hollendorfer
24
6
3
1
25%
$462,742
Jeff Mullins
12
4
2
1
33%
$410,042
Philip D'Amato
14
4
2
1
29%
$257,740
John W. Sadler
14
4
1
2
29%
$83,780
Richard Baltas
13
3
3
4
23%
$192,620
Richard E. Mandella
13
3
3
3
23%
$371,680
James M. Cassidy
18
3
2
1
17%
$245,790
Mike Puype
23
3
1
5
13%
$173,820
Winning Favorites Report
(Current Through Wednesday, July 29, 2015 Inclusive)
Winning favorites
27
90
30.00%
Winning favorites on dirt
20
65
30.77%
Winning favorites on turf
7
25
28.00%
Winning odds-on favorites
2
9
22.22%
In-the-Money favorites
53
90
58.89%
In-the-Money odds-on favorites
8
9
88.89%
---
Contact: Dan Smith 858-792-4226/Hank Wesch 858-755-1141 ext. 3793