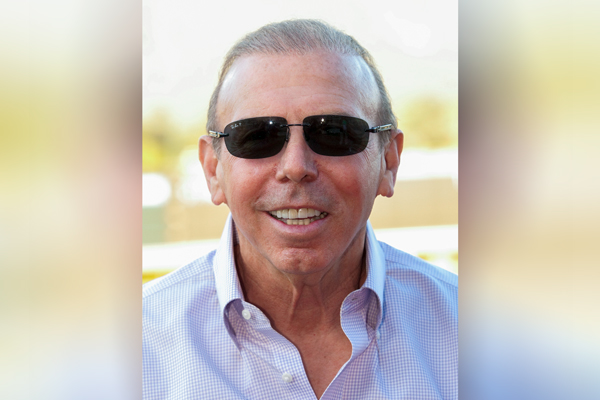 Craig Lewis © Benoit Photo
LEWIS CARRIES CAL-BRED BANNER IN CROSBY AND HIRSCH
Of the nine horses entered in Saturday's 76th running of the $300,000, Grade I Bing Crosby Stakes, six were born and raised in Kentucky and two in Florida.
Then there's the lone California horse, Brickyard Ride. Bred and owned by Alfred Pais and trained by Craig Lewis, the 4-year-old son of Clubhouse Ride out of the Southern Image mare Brickyard Helen steps up from a victory in the $100,000 Thor's Echo overnight stakes in June at Santa Anita to one of the premier Thoroughbred sprints in the country.
Of the seven entered in Sunday's $300,000, Grade I Clement L. Hirsch Stakes, six are Kentucky-bred.
Then there's the lone California filly, Warren's Showtime. Bred and owned by Benjamin and Sally Warren and trained by Lewis, the 4-year-old daughter of Clubhouse Ride out of the Affirmative mare Warren's Veneda comes in off a victory in last month's Grade III Wilshire Stakes at Santa Anita that boosted the multiple graded stakes winner's career earnings to $697,431 from seven wins and 11 other in-the-money finishes from 20 lifetime starts.
The winner's share of the Bing Crosby purse is $180,000. The race is a "Win & You're In" qualifier for the $2 million Breeders' Cup Sprint over the same 6-furlong main track course here on November 6. The competition: defending Crosby champion Collusion Illusion; C Z Rocket, winner of the 7-furlong Pat O'Brien at Del Mar last year and runner-up in the BC Sprint, along with six other speedsters proven at high levels.
The winner's share of the Clement L. Hirsch is also $180,000. The 1 1/16-mile race is a "Win & You're In" qualifier for the $2 million Breeders' Cup Distaff, one-16th of a mile longer but over the same Del Mar dirt, on November 6. Sunday's competition: As Time Goes By, seeking a third straight graded win for trainer Bob Baffert; Eastern invader and multiple Grade I winner Shedaresthedevil from the Brad Cox stable; Grade II winner and Grade I placed Venetian Harbor and two others.
So does Lewis feel the weight of the Cal-bred world on his shoulders?
"I've carried weight before, I can deal with it," Lewis said with a shrug Thursday morning from his stable area office. "We'll see what happens."
First the Bing Crosby.
Brickyard Ride has eight wins in 16 career starts with earnings of $464,477. The lion's share of that ($294,200) has been achieved with three wins from five 2021 starts and, most notably, a wire-to-wire victory against open competition in the Grade II, seven-furlong San Carlos at Santa Anita on March 6.
And while there are rivals with quickness of their own, Lewis figures that out front is the best place for Brickyard Ride to be.
"We're going to do what got us here," Lewis said. "Rock and roll. We're going to leave and if something wants to run with us, that's up to them."
The outside, No. 9 post, Lewis said he is "very happy with." It will give Juan Hernandez, aboard for the first time in the Thor's Echo, a better opportunity to gain control of the race.
Then the Hirsch.
Lewis said that running Warren's Showtime against California-breds in the $150,000 Solana Beach Stakes on August 15 is an option he plans to keep open –"It'll probably be a last minute decision." The Solana Beach is a mile on the Jimmy Durante Turf Course.
"(Warren's Showtime) may be a little bit better on grass, but she definitely can run on dirt as well," Lewis said.
Whatever the ultimate decision, Lewis couldn't be happier with either Brickyard Ride or Warren's Showtime. Lewis trained their sire, Clubhouse Ride.
"They resemble him in appearance and toughness," Lewis said. "He loved to train and run and so do both of them. They have that commonality in that they enjoy races and they're both competitive horses."
Clubhouse Ride, a rising star among California stallions, stands at Legacy Ranch in Clements, CA, for a fee of $6,000.
The Bing Crosby field from the rail with jockeys and morning line odds in parenthesis: Shooters Shoot (Trevor McCarthy, 15-1); Vertical Threat (Joe Bravo, 8-1); C Z Rocket (Florent Geroux, 5-2); Law Abidin Citizen (Wayne Barnett, 12-1); Quick Tempo (Umberto Rispoli, 12-1); Collusion Illusion (Tyler Baze, 4-1); Eight Rings (Abel Cedillo, 10-1); Dr. Schivel (Flavien Prat, 7-2), and Brickyard Ride (Juan Hernandez, 7-2).
The post position draw for the Clement L. Hirsch was scheduled later Thursday. Entries as of noon, in alphabetical order, with jockeys in parenthesis: As Time Goes By (Mike Smith); Clockstrikestwelve (Kyle Frey); Cover Version (Abel Cedillo); Paige Anne (Flavien Prat); Shedaresthedevil (Florent Geroux); Venetian Harbor (Mario Gutierrez), and Warren's Showtime (Juan Hernandez).
---
THE CHOSEN VRON LOOKS TO ROLL ON IN FRIDAY'S REAL GOOD DEAL
The Chosen Vron, with back-to-back Grade III wins in the Affirmed and Laz Barrera stakes at Santa Anita most recently on his record, will be heavily favored to add to a three-race victory streak in Friday's featured $175,000 Real Good Deal Stakes.
The son of Vronsky has won four of five starts for trainer J. Eric Kruljac, with the only loss coming to Concert Tour in the Grade II San Vicente. The Chosen Vron has polished off the competition in two starts against California breds like the kind he will be up against in the seven-furlong Real Good Deal.
"He was very impressive in workouts before his first race and he sure showed a lot the first time out," Kruljac said of a 6 ¾-length maiden win. "The second time (San Vicente) he had trouble and was a little inexperienced but then he came running and didn't lose any ground to some good horses in the stretch.
"Since then, he's just been about perfect. He can go long or short and it's great to see that kind of ability."
The Chosen Vron raced only once as a 2-year-old, debuting on December 27 at Santa Anita.
"We had to wait on him," Kruljac said. "Not many of my 2-year-olds run before October and November for their first start and that was the case with him. But it's been a joy to see that talent develop."
The Real Good Deal field from the rail with jockeys and morning line odds in parenthesis: The Chosen Vron (Umberto Rispoli, 6-5); Found My Ball (Mario Gutierrez, 15-1); Top Harbor (Tiago Pereira, 3-1); Atomic Drop (Abel Cedillo, 4-1); Letsgetlucky (Joe Bravo, 8-1); None Above the Law (Flavien Prat, 6-1), and Touchdown Brown (Trevor McCarthy, 12-1).
---
JERKENS LAYS OUT THE NUMBERS AFTER TWO WEEKS OF RACING
Racing secretary David Jerkens knows his horses and his numbers. Here he lays out what's happened at Turf and Surf Central in the first two weeks of the 2021 season:
2021: (6 Days)
Total Races: 61
Total Starters: 549
Field Size: 9.0
2020: (7 Days) (Raced on a Monday during Week 2 due to previous week cancellation)
Total Races: 73
Total Starters: 628
Field Size: 8.6
Turf Racing:
Total Races: 25
Total Starters: 247
Field Size: 9.88
Last year 34 turf races were run through two weeks.
89 horses have qualified for Ship & Win thus far at the meet. 25 of those horses made their initial start at Santa Anita to qualify.
Leading Meet:
Jockeys:
Prat 12 for 41
Cedillo 7 for 46
Rispoli 5 for 36
Hernandez 5 for 49
Kent Desormeaux, Jessica Pyfer, and Kyle Frey each have won 4 races.
Trainers:
Peter Miller 4 for 33
Richard Baltas 3 for 28
Mark Glatt 3 for 15
Richard Mandella 3 for 11
Victor Garcia 3 for 3
Luis Mendez and Eoin Harty are each 2 for 2.
---
CLOSERS – Word from the Hot Rod Charlie camp is that the Louisiana Derby winner will not take on older horses in the TVG Pacific Classic here on August 21 but continue against 3-year-olds, most likely in the $1 million Pennsylvania Derby on September 25 … Retired Del Mar oddsmaker Jeff Tufts – ever vigilant -- notes from his Oregon home that 58 horses had been claimed through the sixth day of the meeting on Sunday with 197 claim slips submitted, or approximately 3.5 claims per horse. The claiming game, if not as popular as ever, is certainly on the rise once again … Hall of Fame trainer Bob Baffert worked Kentucky Derby winner (pending Kentucky Racing Commission ruling) and Preakness third-place finisher Medina Spirit four furlongs in :49.80 seconds Thursday morning. Other selected works, courtesy of clocker/handicapper Toby Turrell from 106 on dirt and 20 on turf: Dirt—Big Fish (4f, :52.60); Gold Rush Candy (5f, :59.80); Turf – Beer Can Man (4f, :48.00); Going to Vegas (4f, :50.00) and Red Lark (5f, 1:00.80) … The second Del Mar condition book is out and available online (dmtc.com/horsemen) or in the racing office. It covers the period between Day 15 (Thursday, August 12) and Day 22 (Sunday, August 22).
---
Del Mar Statistics
Jockey Standings
(Current Through Sunday, July 25, 2021 Inclusive)
| | | | | | | | |
| --- | --- | --- | --- | --- | --- | --- | --- |
| Jockey | Mts | 1st | 2nd | 3rd | Win% | In-money% | Money Won |
| Flavien Prat | 41 | 12 | 10 | 4 | 29% | 63% | $847,406 |
| Abel Cedillo | 46 | 7 | 6 | 5 | 15% | 39% | $364,050 |
| Umberto Rispoli | 36 | 5 | 9 | 2 | 14% | 44% | $439,120 |
| Juan Hernandez | 49 | 5 | 4 | 7 | 10% | 33% | $507,722 |
| Kent Desormeaux | 24 | 4 | 3 | 2 | 17% | 38% | $224,140 |
| Jessica Pyfer | 24 | 4 | 1 | 0 | 17% | 21% | $138,592 |
| Kyle Frey | 19 | 4 | 0 | 2 | 21% | 32% | $236,870 |
| Trevor McCarthy | 38 | 3 | 3 | 7 | 8% | 34% | $199,280 |
| Joe Bravo | 23 | 3 | 1 | 7 | 13% | 48% | $236,552 |
| Mario Gutierrez | 22 | 2 | 3 | 4 | 9% | 41% | $169,980 |
Trainer Standings
(Current Through Sunday, July 25, 2021 Inclusive)
| | | | | | | | |
| --- | --- | --- | --- | --- | --- | --- | --- |
| Trainer | Sts | 1st | 2nd | 3rd | Win% | In-money% | Money Won |
| Peter Miller | 33 | 4 | 5 | 4 | 12% | 39% | $264,094 |
| Richard Baltas | 28 | 3 | 4 | 5 | 11% | 43% | $283,400 |
| Mark Glatt | 15 | 3 | 4 | 2 | 20% | 60% | $207,650 |
| Richard E. Mandella | 11 | 3 | 0 | 3 | 27% | 55% | $317,720 |
| Victor L. Garcia | 3 | 3 | 0 | 0 | 100% | 100% | $72,600 |
| Doug F. O'Neill | 34 | 2 | 7 | 4 | 6% | 38% | $161,620 |
| Bob Baffert | 13 | 2 | 2 | 3 | 15% | 54% | $150,720 |
| Simon Callaghan | 7 | 2 | 2 | 0 | 29% | 57% | $192,300 |
| Vladimir Cerin | 7 | 2 | 2 | 0 | 29% | 57% | $113,080 |
| John A. Shirreffs | 7 | 2 | 1 | 1 | 29% | 57% | $193,940 |
Winning Favorites Report
(Current Through Sunday, July 25, 2021 Inclusive)
Winning favorites -- 17 out of 61 -- 27.87%
Winning favorites on dirt -- 9 out of 36 -- 25.00%
Winning favorites on turf -- 8 out of 25 -- 32.00%
Winning odds-on favorites -- 6 out of 11 -- 54.55%
In-the-Money favorites -- 34 out of 61 -- 55.74%
In-the-Money odds-on favorites -- 9 out of 11 -- 81.82%