Sunday, July 26th, 2015 ( 6 years ago )
Stable Notes
July 26 2015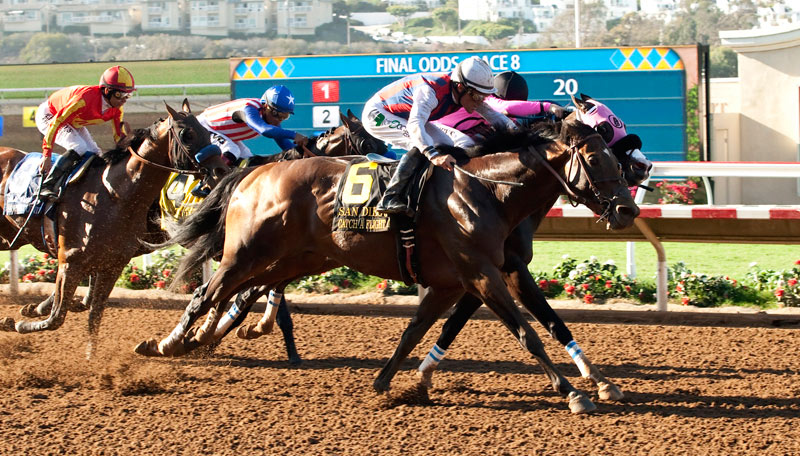 By Hank Wesch
---
PACIFIC CLASSIC IS CATCH A FLIGHT'S NEXT DESTINATION
Catch a Flight has become something of a milestone maker for both Hall of Fame trainer Richard Mandella and Hall of Fame jockey Gary Stevens.
The 5-year-old Argentine-bred's victory in the Grade II Precisionist Stakes on May 2 at Santa Anita was No. 2,000 all-time for Mandella. And Catch a Flight's last-jump victory in Saturday's $200,500 Grade II San Diego Handicap was the first in that race for Mandella albeit his 55th stakes win at Del Mar, fifth on the track's all-time list.
Stevens recorded his 5,000th career victory on Catch a Flight in the South African import's second U.S. start, February 13 in an allowance race at Santa Anita. The San Diego was the first stakes win of the meeting for Stevens and his 83rd overall at Del Mar, tied for seventh all-time with Victor Espinoza. The first two Del Mar stakes wins for Stevens, 52, were recorded in 1985.
That Mandella didn't have a San Diego Handicap win on his Del Mar chart was somewhat surprising since the San Diego is the major prep for the TVG Pacific Classic, which Mandella has won with Dare And Go (1996), Gentlemen (1997) and Pleasantly Perfect (2004).
Mandella didn't hesitate to state that Catch a Flight is TVG Pacific Classic bound. But he did hesitate Sunday morning to compare his latest Classic hope with his past winners.
"It's too early to tell, and not fair to the others who are not here to defend themselves," Mandella said.
"He (Catch a Flight) is a hard trier. He doesn't have anybody over a barrel and he doesn't win races by a big margin. But he's getting better and better every race."
The San Diego was the seventh 2015 start for Catch a Flight, who was put in Mandella's care late last year. Catch a Flight is owned by Brazilian billionaire businessman Julio Bozano who has been involved with thoroughbreds for more than three decades.
Peter Miller called the effort of San Diego runner-up Appealing Tale "fantastic."
"The horse ran unbelievably well, Joe (Talamo) rode an excellent race and even in defeat I'm very happy," Miller said Sunday morning. "He's come out of it well and now we'll look at the Pat O'Brien (7 furlongs, Grade II, $250,000 on Saturday, August 22).
Trainer Bob Baffert said that Bayern and Hoppertunity, third and fourth in the San Diego, are also Pacific Classic bound.
---
KOBE'S BACK FROM THE EAST AND SET FOR CROSBY
Kobe's Back, winner of the Commonwealth Stakes at Keeneland in April and sixth of 10 in the Metropolitan Mile Handicap at Belmont in June, makes his first California start in almost five months in today's Grade I $300,000 Bing Crosby Stakes.
"He seems to like the new track here, he's worked well over it," said trainer Peter Eurton. "Gary (Stevens) is happy with the way he's worked. Now we just need the pace to be right."
Kobe's Back finished fifth behind Big Macher in the 2014 Crosby. Owned by C R K Stable, the 4-year-old Kentucky-bred son of Flatter has three wins from 12 lifetime starts and earnings of $541,250, nearly half of that ($265,000) in three 2015 starts.
---
WHAT'S IN A NAME – BING CROSBY STAKES
The Bing Crosby Stakes honors the legendary entertainer who co-founded Del Mar with Pat O'Brien. Inaugurated in 1946, the Crosby will have its 47th running today.
---
ROCK ME BABY SET TO ROLL IN CALIFORNIA DREAMIN' DEFENSE
Rock Me Baby is the 7-2 morning line favorite in a field of 11 for Sunday's $150,000 California Dreamin' Handicap. The 6-year-old gelded son of Rock Hard Ten is the defending race champion and was second in the event, beaten a head, in 2013.
The race for California bred-or-sired horses is at 1 1/16 miles on the Jimmy Durante Turf Course.
"It came off the turf last year but he won anyway," noted trainer Craig Dollase. "He's training well, it's back on turf and we've got Corey Nakatani who rides this turf course as well as anybody. So everything's good."
---
WHAT'S IN A NAME – CALIFORNIA DREAMIN' HANDICAP
California Dreamin' was a memorable hit recording by The Mamas and the Papas. The race was added to the Del Mar stakes schedule in 2006.
---
AMERICAN PHAROAH TODAY
The Triple Crown champion stood in the gate before proceeding to gallop around the track under exercise rider George Alvarez.
Trainer Bob Baffert said he plans to work American Pharoah five furlongs at 7:45 a.m. on Tuesday. The 3-year-old son of Pioneerof the Nile will travel to Monmouth Park in New Jersey on Wednesday, run in the $1 million Haskell Invitational on Sunday, August, 2, and return to Del Mar the following day.
Baffert said American Pharoah would go an "easy" five furlongs and it could turn out to be less a work than a "fast gallop."
On a preliminary list of potential Haskell opponents for American Pharoah are: Mr. Jordan, Competitive Edge, Keen Ice, War Story and Tekton. Keen Ice was seventh in the Kentucky Derby, beaten 8 ¾ lengths and third in the Belmont Stakes, beaten 7 ½. War Story was 16th, beaten nearly 20 lengths, in the Kentucky Derby.
---
CLOSERS – Ship And Win eligible horses on Sunday's card are: Financial District (4th, J. Eric Kruljac trainer), Handful of Stripes (5th, Mike Stidham), Osceola Pond (5th, Tom Proctor), Rare Candy (5th, Dave Hofmans), Waste It Wisely (5th, Scott Rollins) and Lucky for Danny (9th, Peter Miller) … Selected workouts from 139 officially timed on the main track and 17 on the turf Sunday; Main track: Bolo (5f, 1:00.20), Toowindytohaulrox (4f, :48.00), Papacoolpapacool (4f, :48.00), Ashleyluvssugar (4f, :50.20), Ocho Ocho Ocho (3f, :37.00); Turf course: Obviously (5f, 1:01.60), Prospect Park (5f, 1:00.40), Fanticola (5f, 1:02.20), Soul Driver (4f, :50.80), Gabriel Charles (4f, :51.80).
---
DEL MAR STATISTICS
Jockey Standings
(Current Through Saturday, July 25, 2015 Inclusive)
Jockey
Mts
1st
2nd
3rd
Win%
Money Won
Rafael Bejarano
40
8
7
3
20%
$487,642
Flavien Prat
43
8
4
9
19%
$534,710
Joseph Talamo
40
7
1
2
18%
$347,880
Mario Gutierrez
24
6
4
0
25%
$257,136
Santiago Gonzalez
28
6
1
3
21%
$350,614
Tyler Baze
47
5
7
9
11%
$350,158
Mike Smith
23
4
6
4
17%
$544,030
Kent Desormeaux
26
4
4
6
15%
$219,100
Drayden Van Dyke
24
4
1
4
17%
$174,734
Martin Garcia
38
2
6
5
5%
$218,910
Trainer Standings
(Current Through Saturday, July 25, 2015 Inclusive)
Trainer
Sts
1st
2nd
3rd
Win%
Money Won
Peter Miller
35
5
3
4
14%
$342,426
Jerry Hollendorfer
19
4
2
1
21%
$223,492
Jeff Mullins
9
4
1
1
44%
$395,392
Doug F. O'Neill
25
3
6
3
12%
$211,140
Richard E. Mandella
11
3
3
3
27%
$363,280
Philip D'Amato
12
3
2
1
25%
$214,290
Mike Puype
17
3
1
3
18%
$157,180
Vann Belvoir
13
3
1
1
23%
$95,320
Robert B. Hess, Jr.
14
3
0
5
21%
$84,640
Richard Baltas
8
2
3
2
25%
$159,730
Winning Favorites Report
Winning favorites
22
72
30.56%
Winning favorites on dirt
18
53
33.96%
Winning favorites on turf
4
19
21.05%
Winning odds-on favorites
0
4
0.00%
In-the-Money favorites
42
72
58.33%
In-the-Money odds-on favorites
3
4
75.00%
---
Contact: Dan Smith 858-792-4226/Hank Wesch 858-755-1141 ext. 3793