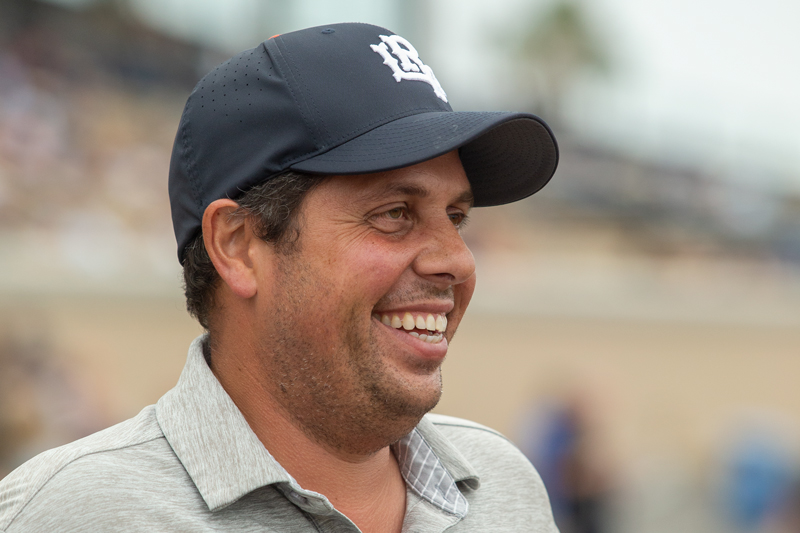 Phil D'Amato
ALL'S WELL AT D'AMATO BARN SUNDAY FOLLOWING 'CLEMENTE SWEEP
Trainer Phil D'Amato was a happy camper Sunday morning at Del Mar. His quartet of 3-year-old fillies all came out of their efforts in Saturday's San Clemente Stakes in good order and cleaned their feed tubs in style.
The conditioner ran one, two, three in the Grade II filly stakes, led by Bellabel, who reported home by two lengths over stablemate Sixteen Arches, who in turn had a neck on stablemate Island of Love. Their other runner, Helens Well, ran into trouble on several occasions during the mile on the lawn and wound up checking in 9th.
All four fillies – each of them an Irish-bred – are seen as candidates for Del Mar's 3-year-old filly jewel, the $300,000, Grade I Del Mar Oaks at nine furlong on the green August 20.
"I'm pleased with the way they all came back," D'Amato said Sunday. "They all ran hard and there was a lot of bumping and snatching going on out there, but everyone is home and sound now. That's what you want.
"We'll see how they train from here, but they're all candidates to come back in the Oaks. You know, I've got another filly, too, named Rhea Moon who I really like and might be a candidate for that race also."
Rhea Moon, an Irish-bred (of course) by Starspangledbanner, runs in today's 11th race, a mile and a sixteenth allowance affair on the Del Mar lawn. She registered her maiden victory on the Santa Anita grass last out on June 4.
On another front, trainer Leonard Powell was quite happy with his hard-knocking racemare Avenue de France, who was a handy winner of the $100,000 Osunitas Stakes, the overnight offering that was the co-feature on the Saturday card. The 5-year-old daughter of Cityscape tallied by better than a length with a big late run under hot-riding Juan Hernandez and increased her bankroll to $325,066 with her seventh career victory.
"She came out of it very well," the personable Frenchman offered Sunday morning. "We'd like to run her back at the meet, but our options are limited. We'd have to consider the John Mabee near the end of the meet. That might be the one."
The John C. Mabee Stakes, a mile and one-eighth on the lawn for fillies and mares, is set for Saturday, September 10. It offers Grade II status and a $250,000 purse.
---
A LONG WAY FROM THE CHICKEN BARN, BAFFERT RETURNS TO DEL MAR
He's been a fixture at Del Mar for nearly 35 years…recognized by most anyone who has followed horse racing in the past three decades. Bob Baffert and his full, white mane are back at Del Mar, greeting and conversing with practically everybody he meets.
He has long been racing's diplomat with his infectious personality and knack for a good quote or, if you're lucky, a compelling story. He also has quite the eye for good horse flesh. On this day he's standing outside his barn, reminiscing about his early days at Del Mar.
"My first year was 1988 or '89," Baffert remembers. "First time I came here they had me in a chicken barn. They don't have it here anymore, they tore it down and built another building, but rookies got the chicken barn. I know I had Thirty Slews (the eventual Breeders' Cup Sprint winner) in there and he leaned against a board and knocked all the boards down in the stall."
Many years later, with Hall of Fame credentials, a couple of Triple Crowns under his belt and a fair share of Kentucky Derby winners, Baffert has brought a string of about 45 horses to Del Mar. He passed on the stakes racing opening weekend but he certainly has the stock to make a mark before the summer meet is over.
Commonwealth Thoroughbreds, et al's Country Grammer will make his first start since his win in the Dubai World Cup in March. The son of Tonalist is being pointed to the mile and a sixteenth, GII San Diego Handicap next Saturday.
"It's going to be tight, you know, he's more of a mile and a quarter type of horse," Baffert says, "but it's nice to have a race into him. We sent him to the farm for a couple of months, Winstar Farm, and they sent him back looking great."
Country Grammar worked a bullet six furlongs in 1:11.40 Sunday morning.
Baoma's Private Mission is coming off a nice win in the G2 Santa Maria at Santa Anita in May and will probably run in G1 Clement L. Hirsch Stakes August 6.
Baffert is waiting to make a decision on a couple of other top horses. The filly Adare Manor is coming off of a runner-up finish to Interstatedaydream in the GII Black Eyed Susan at Pimlico in May.
"She's here," Baffert says. "We freshened her up and she's filling out but we really haven't picked a spot out for her yet." The filly was runner-up to Desert Dawn in the G1 Santa Anita Oaks in April.
Under the Stars is also here at Del Mar but Baffert says he has no plans for her. The daughter of Pioneerof the Nile is coming off a breakout win in the G2 Summertime Oaks.
Baffert has a sizeable stock of 2-year olds he's eager to see run.
"We're mainly young horses," Baffert notes, "the way I started."
Baffert has one running Sunday in Race 4. Owned in partnership by Mike Pegram, Karl Watson and Paul Weitman, Havnameltdown has drawn Post 7 in the maiden special weight. The son of Uncaptured will be ridden by Florent Geroux.
---
CAL-BREDS KICK OFF STAKES ACTION IN WEEK TWO AT DEL MAR
The first of eight Golden State Series races scheduled for this summer at Del Mar will be run Thursday when a group of 3-year old fillies take center stage in the 37th running of the $175,000 Fleet Treat Stakes at Del Mar. The seven-furlong dirt race is restricted to Cal-breds or California-sired fillies.
Trainer Phil D'Amato swings a tough one-two punch with Connie Swingle and Rose Dawson, both owned and bred by Nick Alexander. Connie Swingle, a daughter of top California sire Grazen, has finished first or second in all six of her career starts, winning the General Portion as a 2-year old here at Del Mar last summer. She missed by a head in her 3-year old debut, the Evening Jewel at Santa Anita in April, but rebounded from that loss with two straight allowance victories. Connie Swingle drew Post 7 and will be ridden by Kyle Frey.
Rose Dawson was runner-up to her stablemate last out, an open allowance at Santa Anita in June. She had won the one mile, $200,000 California Cup Oaks at Santa Anita in her 3-year old debut in January. She's drawn the inside post in the eight horse field and will be ridden by Ramon Vazquez.
Trainer Bob Baffert hopes to upset the D'Amato/Alexander duo when he sends out Fun to Dream, a six-length winner in her career debut, a maiden special weight at Santa Anita. The daughter of Arrogate will break from Post 5. Juan Hernandez will ride.
Larry Williams' Tam's Little Angel ships in from Northern California riding a two-race win streak. She wired the field in the mile and a sixteenth $75,000 She's A Tiger Stakes at Pleasanton exactly one month after blasting a group of entry level allowance runners by five lengths at Golden Gate Fields.
The Fleet Treat goes off as Race 7 on Thursday's eight-race program.
---
COOLING OUT: Last fall's riding champion at Del Mar is off to hot start this summer. Juan Hernandez has opened up a sizable lead on the rest of the field, winning three races on Opening Day and another three Saturday … Normally when Del Mar track announcer Trevor Denman exclaims "She's moving like a winner" he's referring to a horse striding away from the field on their way to a convincing victory. On Saturday, a filly named Movinglikeawinner came rolling down the middle of the track to win the second race, leaving Trevor to say "Movinglikeawinner did just that."… Notable works for Sunday: Del Mar's clockers never got to draw a deep breath Sunday as more than 300 horses recorded registered works, including 32 on the turf course.
---
Del Mar Statistics
Jockey Standings
(Current Through Saturday, July 23, 2022 Inclusive)
| | | | | | | | |
| --- | --- | --- | --- | --- | --- | --- | --- |
| Jockey | Mts | 1st | 2nd | 3rd | Win% | In-money% | Money Won |
| Juan Hernandez | 20 | 6 | 4 | 2 | 30% | 60% | $358,196 |
| Joe Bravo | 14 | 3 | 2 | 2 | 21% | 50% | $174,700 |
| Umberto Rispoli | 15 | 3 | 1 | 0 | 20% | 27% | $263,280 |
| Kyle Frey | 16 | 2 | 4 | 1 | 13% | 44% | $150,992 |
| Ramon Vazquez | 13 | 1 | 3 | 3 | 8% | 54% | $140,376 |
| Abel Cedillo | 15 | 1 | 3 | 1 | 7% | 33% | $103,480 |
| Edwin Maldonado | 12 | 1 | 0 | 3 | 8% | 33% | $100,700 |
| Martin Garcia | 3 | 1 | 0 | 1 | 33% | 67% | $60,500 |
| Tyler Baze | 15 | 1 | 0 | 1 | 7% | 13% | $49,760 |
| Jessica Pyfer | 1 | 1 | 0 | 0 | 100% | 100% | $20,400 |
Trainer Standings
(Current Through Saturday, July 23, 2022 Inclusive)
| | | | | | | | |
| --- | --- | --- | --- | --- | --- | --- | --- |
| Trainer | Sts | 1st | 2nd | 3rd | Win% | In-money% | Money Won |
| Philip D'Amato | 15 | 3 | 4 | 3 | 20% | 67% | $365,416 |
| Doug F. O'Neill | 12 | 2 | 2 | 0 | 17% | 33% | $131,120 |
| Peter Miller | 10 | 1 | 4 | 0 | 10% | 50% | $126,400 |
| Bob Baffert | 5 | 1 | 2 | 0 | 20% | 60% | $51,400 |
| Mark Glatt | 8 | 1 | 2 | 0 | 13% | 38% | $52,260 |
| George Papaprodromou | 13 | 1 | 1 | 3 | 8% | 38% | $66,860 |
| Luis Mendez | 3 | 1 | 0 | 2 | 33% | 100% | $67,200 |
| Michael W. McCarthy | 5 | 1 | 0 | 2 | 20% | 60% | $72,740 |
| Simon Callaghan | 2 | 1 | 0 | 1 | 50% | 100% | $60,000 |
| Carla Gaines | 3 | 1 | 0 | 1 | 33% | 67% | $58,340 |
Winning Favorites Report
(Current Through Saturday, July 23, 2022 Inclusive)
Winning favorites -- 5 out of 21 -- 23.81%
Winning favorites on dirt -- 3 out of 13 -- 23.08%
Winning favorites on turf -- 2 out of 8 -- 25.00%
Winning odds-on favorites -- 2 out of 2 -- 100.00%
In-the-Money favorites -- 15 out of 21 -- 71.43%
In-the-Money odds-on favorites -- 2 out of 2 -- 100.00%