Saturday, July 24th, 2021 ( 2 months ago )
Stable Notes
July 24, 2021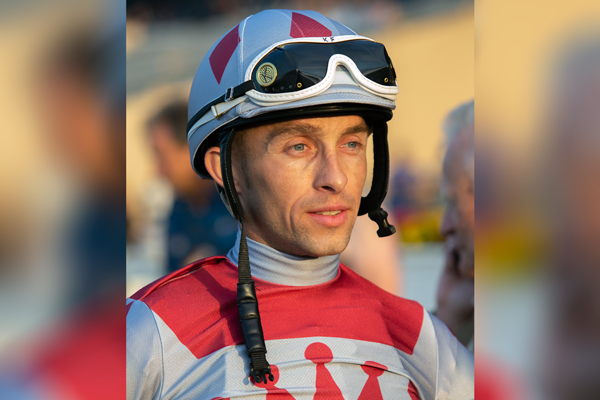 Kyle Frey © Benoit Photo
FAST STARTS HAVE UNEXPECTED NAMES HIGH ON THE LEADERBOARDS
Four days into the 82nd Del Mar summer meeting one can find the usual suspects in the upper reaches of the jockey and trainer standings.
There's Flavien Prat, winner of four of the last five riding titles on top, despite missing a day while on assignment in New Jersey, with seven wins from 24 mounts.
There's eight-time (summer and fall) training champion Peter Miller having saddled three winners from 23 starters. Miller is deadlocked with defending fall champion Richard Baltas who has gone 3-for-21.
But look just below, or in the trainers' case to the side, and one finds names that are not quite so familiar to the casual fan.
In a five-way tie for second behind Prat is Kyle Frey, a 29-year-old journeyman from Tracy, CA, who has three wins from 13 mounts. And level with Miller and Baltas is Victor Garcia, who has gone 3-for-3 to begin the meeting.
Frey notched his first Del Mar stakes victory on Friday aboard I'm So Anna in the $176,000 Fleet Treat Stakes for trainer Steve Sherman and owner/breeders KMN Racing of Kimberly and Kevin Nish of Orlando, FL.
Frey and I'm So Anna out-finished Prat on Teddy's Barino to the delight of Steve Sherman's father Art. The senior Sherman, who trained California Chrome to racing's highest honors, deputized for his son, who remained at their base in Northern California with four scheduled starters at Golden Gate Fields.
"I love it," Art Sherman said. "Give the Northern California guys a chance."
"Northern California guys" have made a summer migration to Del Mar with significant impact for the past three years. First Abel Cedillo in 2019, then Juan Hernandez and Ricky Gonzalez last year. Frey summered at Del Mar a few years ago, but had settled on the Northern California circuit since.
Equibase statistics show Frey in the No. 39 spot for North American jockeys in 2021 with 129 wins from 514 mounts and purse earnings of more than $2.6 million. His career totals: 970 wins from 5,678 mounts and more than $20 million in purses. He's well on his way to his personal record of 153 wins in a calendar year.
"I was planning on heading back up to Northern California after a week here, but I'm doing so good I must admit I am seriously considering sticking around," Frey said after the Fleet Treat. "We'll see."
Art Sherman said Saturday morning that I'm So Anna may race here again this summer with the Tranquility Lake Stakes at a mile on dirt on August 27 one possibility.
Garcia, 56, has been coming to Del Mar since the late 1980s. He saddled Little Juanito to victory in the seventh race on the opening day of the meeting, July 16, and followed that with a pair of wins last Sunday – Cute Impact in the fourth and Miss Alegria in the sixth. Little Juanito and Miss Alegria both paid $6.00 as race favorites, Cute Impact was a $63.80 upsetter.
"This is a good start and I hope the luck will keep going," the conditioner said.
Garcia said he started with eight horses stabled here but lost Miss Alegria for the $20,000 claiming price. The 5-year-old mare was taken by Altamira Racing Stable and Tom Kagele and now is in Miller's barn.
"I'm looking to claim some, but it's tough to do here," Garcia said.
Garcia was born in Tijuana and is a third-generation horseman. His father, Juan Garcia, was known as the "King of Caliente" (the now-closed Tijuana racetrack) after winning dozens of training titles there. He has been a Del Mar regular since the late 1980s and has five graded stakes victories in his career. He saddled Smooth Roller to a Grade I win in the 2015 Awesome Again at Santa Anita and registered Grade II or Grade III wins with Approved To Fly and Wait Til Monday in 1988 and '89.
Going on a winning streak is not new for the Garcia family. "I think my father won five straight in one day at Caliente," he said.
---
SADLER EXPECTS TO HAVE A SAY IN BOTH SUNDAY STAKES
Trainer John Sadler will send out defending champion Galilean in Sunday's featured $150,000 California Dreamin' Stakes and has a three-horse contingent in the $80,000 Daiseycutter Handicap earlier in the program.
At the very least, Sadler's charges figure to factor strongly in both events as the 64-year-old Pasadena native seeks to add to his 78 Del Mar stakes victories, second on the track's all-time list behind Bob Baffert.
Galilean, a 5-year-old son of Uncle Mo owned by West Point Thoroughbreds and partners moved between rivals to get a clear lead entering the stretch and held on for a half-length victory as the 3-2 favorite in last year's California Dreamin', a 1 1/16-mile turf assignment for California breds. It was the fourth start in a seven-race 2020 campaign that has netted earnings of $217,098.
Sunday's title defense, however, is the 2021 debut for Galilean, ending an eight-month layoff since finishing fourth as the favorite in the Cary Grant Stakes in November during Del Mar's Bing Crosby fall meeting.
"It's a little different this year coming off a layoff, but he's a very good horse, doing well, and we're expecting good things," Sadler said.
The field from the rail with riders and morning line odds: Desmond Doss (Abel Cedillo, 5-1); Wound Tight (Kent Desormeaux, 6-1); Unbridled Ethos (Ricky Gonzalez, 20-1); Secret Club (Tyler Baze, 30-1); Indian Peak (Flavien Prat, 8-1); Ward 'n Jerry (Trevor McCarthy, 8-1); Galilean (Joe Bravo, 4-1); Margot's Boy (Juan Hernandez, 12-1); Brandothebartender (Umberto Rispoli, 4-1) and North County Guy (Mario Gutierrez, 7-2).
In the Daisycutter, a 5-furlong turf sprint for older California-bred fillies and mares, Sadler will saddle Constantia, Five Pics Please and Bruja Escarlata for three different ownerships.
Constantia, bred and owned by Keith Abrahams, comes in off a win in the Mizdirection overnight and runner-up in the Grade II Monrovia, both at Santa Anita. Five Pics Please, owned by Desert Sun Stables, has a win, second and third in three starts since joining the Sadler stable for her 2021 campaign.
Bruja Escarlata, which translates from Spanish as "Scarlet Witch," is owned by Hronis Racing. The 4-year-old daughter of Street Boss, a $185,000 purchase at a Florida sale in 2019, debuted with a victory at Los Alamitos in December and followed with wins on the turf at Santa Anita in February and the dirt there in March.
"Two of the fillies (Five Pics Please and Bruja Escarlata) are pretty fast and the other is a deep closer," Sadler pointed out. "I think they all fit pretty well in there."
The field from the rail with riders and morning line odds: Bulletproof One (Gonzalez, 4-1); Querelle (Hernandez, 6-1); Gypsy Spirit (Edwin Maldonado, 20-1); Constantia (Jose Valdivia, Jr., 6-1); Superstition (Prat, 5-2); Lenzi's Lucky Lady (Desormeaux, 20-1); Five Pics Please (Rispoli, 15-1); Never for Money (Giovanni Franco, 20-1); Rakassah (Jessica Pyfer, 6-1) and Bruja Escarlata (Baze, 4-1). Also eligible: Sadie Bluegrass (Brayan Pena, 15-1) and Acting Out (Bravo, 15-1).
---
DESORMEAUX, ESPINOZA EXACTA IS ONE FOR THE AGES
In Friday's fourth race, Kent Desormeaux guided Order and Law ($20.20) to a three-quarter length victory over Victor Espinoza on Taishan. The combined age of the two jockeys: 100. Desormeaux is 51, Espinoza, 49. The combined number of years enshrined in racing's Hall of Fame: 21. Desormeaux was inducted in 2004, Espinoza in 2017.
The veteran Hall of Famer exacta paid $48.80 for a $1 bet.
Desormeaux is tied with five others for second in the rider standings, having won three times from 16 mounts. Espinoza has two wins from nine mounts.
Desormeaux, who missed much of 2020 addressing personal issues, is making a comeback after reuniting with veteran agent Tony Matos.
"He's riding great isn't he," Matos said Saturday morning. "It's like the old days when I had him before. I won two Kentucky Derbies with him (Real Quiet 1998, Fusaichi Pegasus 2000) and he's riding as good as ever."
Mike Smith, just over two weeks away from turning 56, sets the standard for fitness for jockeys of any age, let alone 50-somethings. But Desormeaux, Matos contends, isn't far behind.
"He's as fit as anybody," Matos said. "He's strong. The two (winning) rides he put up (Friday)? Only he could have won on those two horses."
---
CLOSERS – Selected workouts, courtesy of clocker/handicapper Toby Turrell, from 214 officially timed Saturday morning: Brickyard Ride (4f, :48.60); Ce Ce (4f, :48.20); Eight Rings (4f, :47.40); The Chosen Vron (4f, :48.60); The Great One (4f, :49.40); Keeper Ofthe Stars (5f, 1:02.40); Maxim Rate (5f, 1:01.80); Private Mission (5f, 1:00.60) and Vertical Threat (5f, 1:01.40).