Friday, July 23rd, 2021 ( 2 months ago )
Stable Notes
July 23, 2021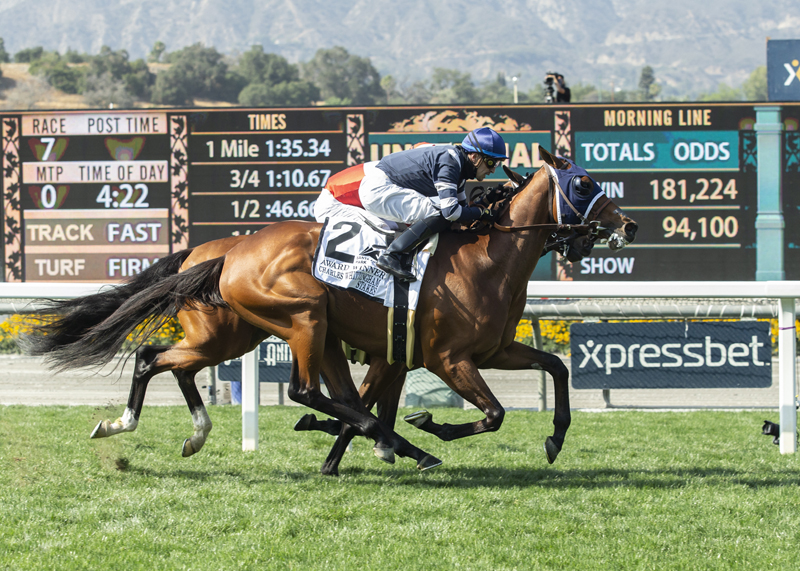 Award Winner © Benoit Photo
AWARD WINNER FIRMLY ESTABLISHED AS READ CONTENDER
Relocating to California has proven to be a good move for Award Winner, a 5-year-old son of Ghostzapper bred and owned by John and Jerry Amerman and trained by David Hofmans.
Four starts at Santa Anita since shipping in from the Midwest produced runner-up results in January and February and a victory in March, all at the allowance level, then an upset victory in the Grade II Charles Whittingham on May 29.
Prior to his recent back-to-back victories, Award Winner was winless in nine starts dating back to May of 2019.
What happened?
"When he got out here, I think he really liked the firm turf," Hofmans said. "I think that's what really helped him more than anything else. I don't think he likes anything soft."
Award Winner, with a record of four wins in 17 lifetime starts and earnings of $328,474 will be sent out seeking third straight win and a second straight Grade II score in Saturday's $250,000 Eddie Read Stakes. At 1 1/8 miles on the Jimmy Durante Turf Course, it's a furlong shorter than the Whittingham but over the firm grass footing that the gelding seems to relish.
"He's coming into this race really well, but it's a tough one," Hofmans said. "Dropping back in distance is not to our advantage. I would prefer to go farther, but the only longer race here is the Del Mar Handicap, which is another month away.
"I'm kind of hoping he can rate like he did in his last race and then finish. He's a free-running horse who likes to be up close. I'm just a little cautious because a mile and an eighth might be a little short for him."
Award Winner was campaigned in the East and Midwest by trainer Brian Lynch through September of last year and moved to Hofmans' stables at Santa Anita in January. Hofmans trained Award Winner's dam, Devine Actress, for the Amermans.
"He came in in good condition," Hofmans said. "But I think that maybe he didn't like the weather back there or something because when he got here he just started gaining weight and getting better and better."
The field from the rail with riders and morning line odds: Vintage Print (Adam Beschizza, 20-1); United (Flavien Prat, 5-2); Say the Word (Mike Smith, 3-1); Count Again (Joe Bravo, 5-1); Award Winner (Juan Hernandez, 8-1); Smooth Like Strait (Umberto Rispoli, 9-5) and Restrainedvengengence (Tyler Baze, 10-1).
---
GOING GLOBAL GOES FOR SIXTH STRAIGHT WIN IN SAN CLEMENTE
Then 2-year-old filly Going Global said goodbye to her native Ireland with a victory at Dundalk last November and was shipped over the Atlantic and across the U.S. to the care of trainer Phil D'Amato at Santa Anita.
To say she's taken well to her new Southern California surroundings would be an understatement. Four starts in 2021 for D'Amato have produced four wins, three of them in Grade III stakes, the most recent being the Honeymoon at Santa Anita on May 22.
Going Global will be sent out to extend the streak as the 4-5 morning line favorite in Saturday's Grade II, $200,000 San Clemente Stakes for 3-year-old fillies at a mile on the Jimmy Durante Turf Course.
"She's a filly that acclimated very quickly to the U.S.," D'Amato said. "Every race has been better than her last and the timing has worked out well. It's a perfect combination of winning that first time, building confidence and maintaining that confidence as we've extended the distances.
"She's always trained like a good horse and we've seen continued progression. Every morning she just seems to be moving more and more forward."
Going Global's U.S. debut was in the six-furlong Grade III Sweet Life Stakes in February and she went from ninth at the half-mile marker to a half-length victory at odds of nearly 9-1.
"Her first race (stateside), rallying like she did, having to split horses and getting the job done off the bench (while) overcoming adversity showed a lot," D'Amato said. "Then when we stretched her out she has really shown her ability to stalk the pace or come from off it. She's very versatile.
"She breezed on the turf course here (last Sunday) and she couldn't be doing any better. Hopefully this is a stepping stone to the Del Mar Oaks."
The field from the rail with riders and morning line odds: Pizzazz (Kyle Frey, 12-1); Going Global (Flavien Prat, 4-5); Founder's Day (Giovanni Franco, 30-1); Freedom Flyer (Victor Espinoza, 30-1); Tetragonal (Joe Bravo, 8-1); Equilove (Ricky Gonzalez, 20-1); Jibber Jabber (Jose Valdivia, Jr., 15-1); Dramatizer (Edwin Maldonado, 30-1); Madone (Juan Hernandez, 4-1); Karakatsie (Kent Desormeaux, 10-1); Nimbostratus (Abel Cedillo, 12-1) and Closing Remarks (Umberto Rispoli, 6-1).
---
HOT ROD CHARLIE HOME IN O'NEILL BARN AWAITING ASSIGNMENT
Hot Rod Charlie is back at the same stall in the Doug O'Neill barn he occupied when starting his racing career a year ago with three unsuccessful attempts in maiden special weight races.
Same stall. Much different horse.
A year later the 3-year-old son of Oxbow has accumulated earnings of $1.5 million with a victory in the Louisiana Derby, runner-up finishes in the Breeders' Cup Juvenile and Belmont Stakes and third-place efforts in the Belmont and Robert B. Lewis Stakes.
And that earnings total would be $600,000 more but for a disqualification from first to last after crossing under the wire just ahead of Mandaloun in the $1 million Haskell last Saturday.
"He knows he won, and I know in my heart he won," said O'Neill assistant Leandro Mora on Thursday, as an alert and curious Hot Rod Charlie leaned into his stall webbing to greet visitors. Mora was the trainer of record for Hot Rod Charlie's victory in the Louisiana Derby that catapulted him onto the Triple Crown series.
O'Neill has followed Hot Rod Charlie in his travels this year and said Friday he was impressed with how the colt, owned by Boat Racing LLC and Gainesway Stable, came out of the rigorous March-to-July campaign.
O'Neill said he plans to meet with the ownership group on Saturday to discuss the next steps in a campaign that has the ultimate goal of the Breeders' Cup Classic here on November 6.
---
TEN ENTERED IN BOTH OF SUNDAY'S FEATURED EVENTS
Full fields have been entered for two stakes events on the Sunday program, the $150,000 California Dreamin' Stakes and the $80,000 Daisycutter Handicap.
North County Guy, a 6-year-old son of The Pamplemousse trained by Richard Baltas, was tabbed the 7-2 favorite on the morning line of oddsmaker Jon White in the 10-horse California Dreamin'. North County Guy enters the 1 1/16-mile turf test off a runner-up finish in the $100,000 Crystal Waters mile at Santa Anita in April, beaten three-quarters of a length by Brandothebartender.
North County Guy drew the far outside post and will have Brandothebartender, the co-second choice on the morning line, just to his inside. The California Dreamin' goes as the ninth on a 10-race card.
The field from the rail with riders and morning line odds: Desmond Doss (Abel Cedillo, 5-1); Wound Tight (Kent Desormeaux, 6-1); Unbridled Ethos (Ricky Gonzalez, 20-1); Secret Club (Tyler Baze, 30-1); Indian Peak (Flavien Prat, 8-1); Ward 'n Jerry (Trevor McCarthy, 8-1); Galilean (Joe Bravo, 4-1); Margot's Boy (Juan Hernandez, 12-1); Brandothebartender (Umberto Rispoli, 4-1) and North County Guy (Mario Gutierrez, 7-2).
Hall of Famer Richard Mandella trains Superstition, a 4-year-old daughter of Ghostzapper installed as the 5-2 morning line choice among 12 entered in the Daisycutter, a 5-furlong turf sprint for older fillies and mares. Superstition has three wins and has been out of the money only once in nine career starts. The Daisycutter goes as the seventh on the 10-race program.
The field from the rail with riders and morning line odds: Bulletproof One (Gonzalez, 4-1); Querelle (Hernandez, 6-1); Gypsy Spirit (Edwin Maldonado, 20-1); Constantia (Jose Valdivia, Jr., 6-1); Superstition (Prat, 5-2); Lenzi's Lucky Lady (Desormeaux, 20-1); Five Pics Please (Rispoli, 15-1); Never for Money (Giovanni Franco, 20-1); Rakassah (Jessica Pyfer, 6-1) and Bruja Escarlata (Baze, 4-1). Also eligible: Sadie Bluegrass (Brayan Pena, 15-1) and Acting Out (Bravo, 15-1).
---
CLOSERS – Starting today, Del Mar is allowing, for the first time since the end of the 2019 fall season, limited general admission walk-up sales at the track. Diamond Club members will receive discounts at the gate … Selected notable works, courtesy of clocker Toby Turrell, from 147 officially timed Friday morning: Bella Vita (4f, :50.80); Defunded (4f, :46.60); Road Rager (:48.40); Stellar Sound (4f, :49.20); At the Spa (5f, 1:00.00); Forest Caraway (5f, :59.40); Independence Hall (5f, 1:03.20) and Collusion Illusion (6f, 1:13.60).